Although India was never on my bucket list, I did secretly wish to see the grand Taj Mahal, especially after I had learned about the story behind it. Thanks to my boyfriend, who always comes up with great ideas (I know he won't read this so I might as well give him the credit :P) we made a "small detour" on our way to Maldives this February. Since it was quite a challenge to get all the relevant information about Taj Mahal in one place, I have decided to write a post where I will gather everything you need to know, such as: what time is the best to visit, which gate is best to enter, how to avoid the crowds, how to get the best picture of Taj Mahal, whether to stay in Agra overnight, and more. Yep, visiting Taj Mahal is quite a challenge 😉
THE STORY OF TAJ MAHAL
First of all, it is good to know the Taj Mahal story. Once you realize that this architectural wonder is actually a mausoleum, dedicated to an amazing woman, you will look at it from a totally different perspective. To make a long story short: Taj Mahal (meaning Crown of the Palace) was built in 17th century by Mughal emperor Shah Jahan to fulfill the last wish of his dying wife, queen Mumtaz Mahal, who was the love of his life. She died shortly after giving birth to their 14th child and she asked him to make a wonderful creation in memory of their eternal love. After months of heavy grieving, Shah found a beautiful location next to Yamuna river and hired the world's best architects to make her wish come true. It took over 20 years and 2000 workers to build the most beautiful tomb in the world. It is now known as one of the Seven Wonders of the World and was designated as a UNESCO World Heritage site in 1983.
HOW TO GET THERE
Taj Mahal is located in Agra, Uttar Pradesh state, around 230 km south from Delhi. Most of the foreign tourists fly to Delhi International Airport and from there you have several options. Bus is the cheapest but I would leave it for the most adventurous souls. Traffic in India is CRAZY, roads are rough and you don't want to be stuck on the bus for over 4 hours. Second option is by local flight, however be prepared for delays or in some cases even cancellations due to heavy smog. The third and I believe the most convenient option is by car – and by car, I mean hiring a professional driver. If he speaks English, even better. You can read more about India travel tips, including when to visit, in my post here.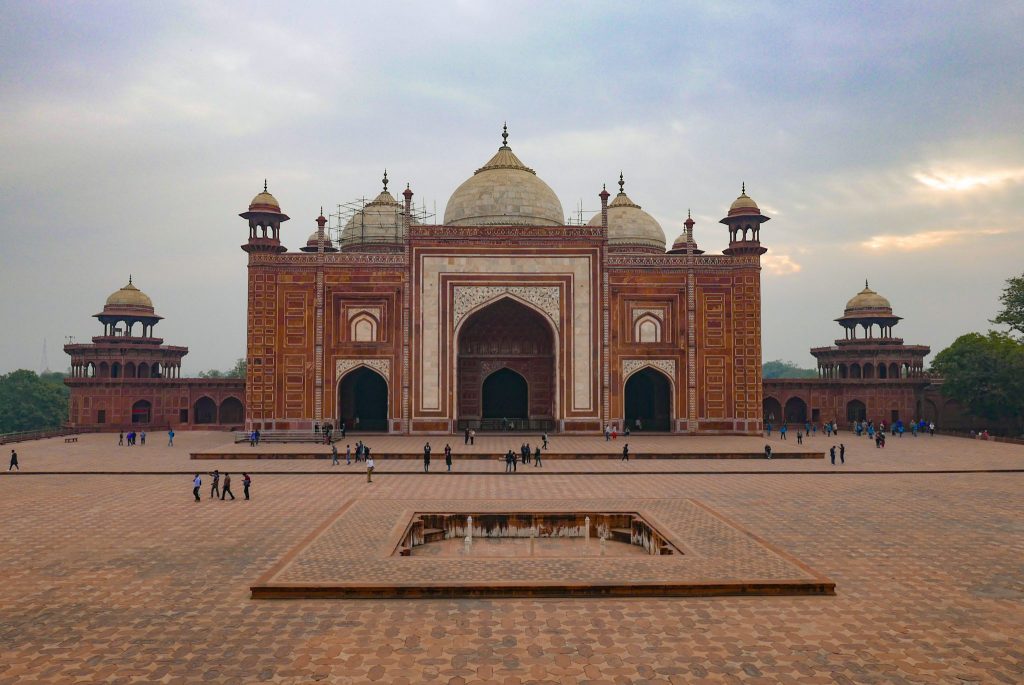 HOW TO AVOID THE CROWDS
Around 40.000 people visit Taj Mahal DAILY, and up to 70.000 on holidays and weekends, now you do the math. No matter which time of year you go, go there early. Taj Mahal opens at sunset and if you want to avoid the crowds, get there before them. In our case the entrance gate opened at 6.30 am, so we went there at 6 – the line was already there, but it was bearable. Try to pass the people who want to make photos the minute they cross the main gate, and head towards the red mosques (left and right from the main building). You will probably be alone there and you will have a perfect view of the white beauty.
STAY IN AGRA OVERNIGHT AND SEE THE AGRA FORT
While it is possible to take a day trip, and a lot of agencies offer it, I recommend staying in Agra the night before. First, for the obvious reason (you DO want to be in Taj Mahal first thing in the morning, right?) and second, because you will have time to visit Agra Fort later on. It is very close to Taj Mahal, it was also built by Shah Jahan (the legend says he spent his last years imprisoned in the fort, from where he watched the tombstone of his beloved wife every day until he died), and it is well worth seeing. We stayed in Crystal Sarovar Premiere and we were very satisfied with our choice. You can search for the hotels in Agra on Booking.com – click here to get a 15€ discount for your next booking.
ENTRANCE FEE
You will need to walk around half a mile to reach the ticket counter (you cannot get there by car), so add around 10 minutes for this as well. And NO, you cannot buy tickets in advance. The foreigners ticket costs 1000 rupees (around 13€) and comes with a bottle of water and shoe coverings which you will need to enter inside of Taj Mahal. After getting the tickets you will need to line up in 4 lines (2 for locals and 2 for foreigners, men and women separately) and you will be inspected. The scene is the same in all three entrance gates, so there is no rule which gate is less crowded.
WHAT TO WEAR AND WHAT NOT TO TAKE WITH YOU
There is no dress code, but ladies try not to look too trashy. There are thousands of locals visiting Taj Mahal daily and if nothing else, you should respect their culture. During winter you might want to dress in layers because it gets very chilly in the morning. If you want to avoid the inspection line, don't take any handbags or purses. You can save a lot of time with this small detail. You can bring your phone, camera and things you can put in your pocket, but you cannot bring: tripod, food and drinks (besides the water you got at the counter), anything plastic, and of course the obvious dangerous objects.
PREPARE YOUR CAMERAS
My first impression when I entered through the main gate was like I had walked into a fairytale: a straight path leading towards the pool in which you can see the reflection of the magnificent curvy shaped giant, posing like a Hollywood pro. Taj Mahal – one of the most beautiful examples of Mughal architecture – is covered in beautiful white marble which changes colors in different lights of the day. We were there in the early morning and its color was dark white because the sun was hiding behind the clouds. But it was just as beautiful as you can see in most of the pictures. The tombstone in the main building is surrounded by 2 identical red-stoned mosques, which represent a symmetry, like everything else in and around the complex. Well, except for one not-so-small detail: while Mumtaz Mahal's casket is located exactly in the center of the "palace", Shah Jahan didn't plan to be buried beside her. So now they lie together in harmony but not in symmetry.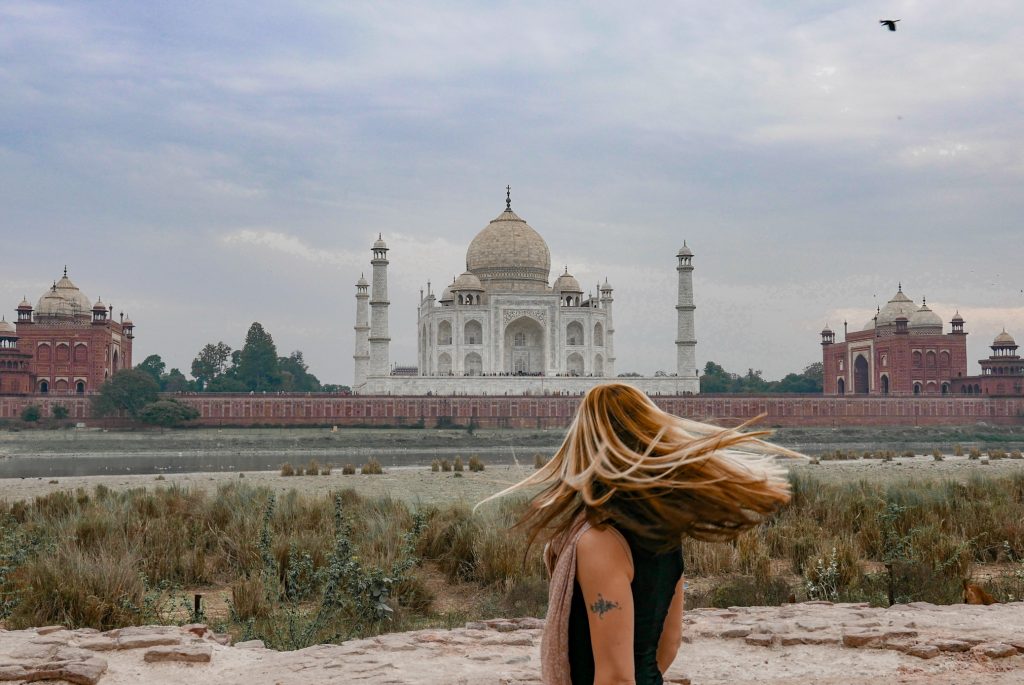 HOW TO GET THE BEST PHOTO OF TAJ MAHAL
If you listened to my advice and entered early AF, then you should be good for that perfect frontal shot from the pool side. And you should get away with only a few tourists on each side of the path, like I did. Of course, you will want to make as many photos as possible but keep in mind that others will not wait for you and it is also polite to make space for others eventually. As I said before, you should hurry towards the red buildings (left one is the actual mosque and you will need to take your shoes on the platform, the one on the opposite side is not, so if you want pictures with your shoes on, head towards the right one) – and you will get awesome views, plus there is a high chance you will be almost alone. There is another great option, but for this one you will need a car (again, it is a very good idea to hire a driver).
MOONLIGHT GARDENS
If you were wondering whether you can see the Taj Mahal without entering through the main gate, or if by some strange coincidence you happen to be in Agra on Friday, here is the answer: you CAN. Mehtab Bagh, which means Moonlight Garden, is located on the opposite side of the Yamuna river and it offers spectacular views of Taj Mahal. The garden is not very big and unfortunately not as well kept as one would expect but it is well worth visiting, even if you already saw Taj Mahal face to face (the entrance fee is just a couple of euros). People usually come here before sunset, however because of frequent fog and clouds this can be a quite a challenge. We were not that lucky, but still managed to get some great shots. You can see more of my Taj Mahal and Agra photos in my Facebook album.
Did you find my review helpful or you have any additional questions? Have you been to Taj Mahal and want to share some other tips with us? Scroll down for comments, I will be happy to read them!