Every metropolitan city has its faults, and Bangkok is no exception. I visited the capital of Thailand at the end of September as a part of a 3-day business trip. It was my second visit after nearly 20 years, and this time my "eyes" were completely different. I used to enjoy the city's hustle and bustle, good bargains, and evening parties. Since then, a lot has changed – me and Bangkok have aged in opposite directions. In this post I'm going to share 5 bad things about Bangkok you should know about before you visit the city.
Traffic jam
With a population of over 10 million, Bangkok is one of the most densely populated cities in the world. As the economic center of Thailand, Bangkok attracts domestic migrants and international expats. Hence, traffic congestion is a common issue due to the high number of vehicles and limited (old) road infrastructure. It took us over 1 hour to drive less than 2 km by a hop on hop off bus during rush hours in the busiest area. It's also quite challenging to cross the street on foot in most of the streets with no traffic lights.
Tourist tip: If you have an early flight, consider staying at a hotel near the airport to save time and avoid the chance of being stuck in traffic.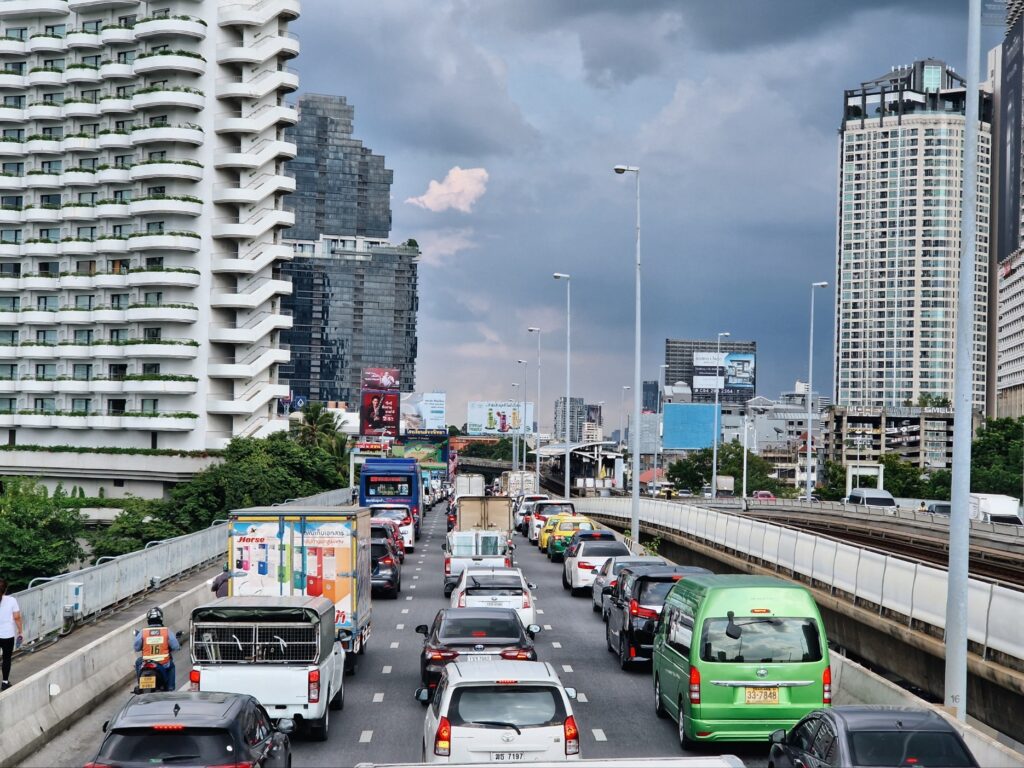 Pollution and smell
Smelly, smellier, Bangkok. Heavy traffic and growing industrial activity result in vehicle emissions and other air pollutants. In the nearby regions, agricultural burning affects the city due to its geographical location in a basin. Bangkok also faces challenges with sewage and drainage systems, leading to sewage leaks and foul odor. Last but not least, local cuisine (which is btw one of my favorites!) and food items sold in the streets can result in heavy odors making it sometimes unbearable to breathe without covering your nose.
Tourist tip: It is still quite common for locals to wear masks on the streets, and I suggest doing the same – carry one with you, you never know when it will come handy.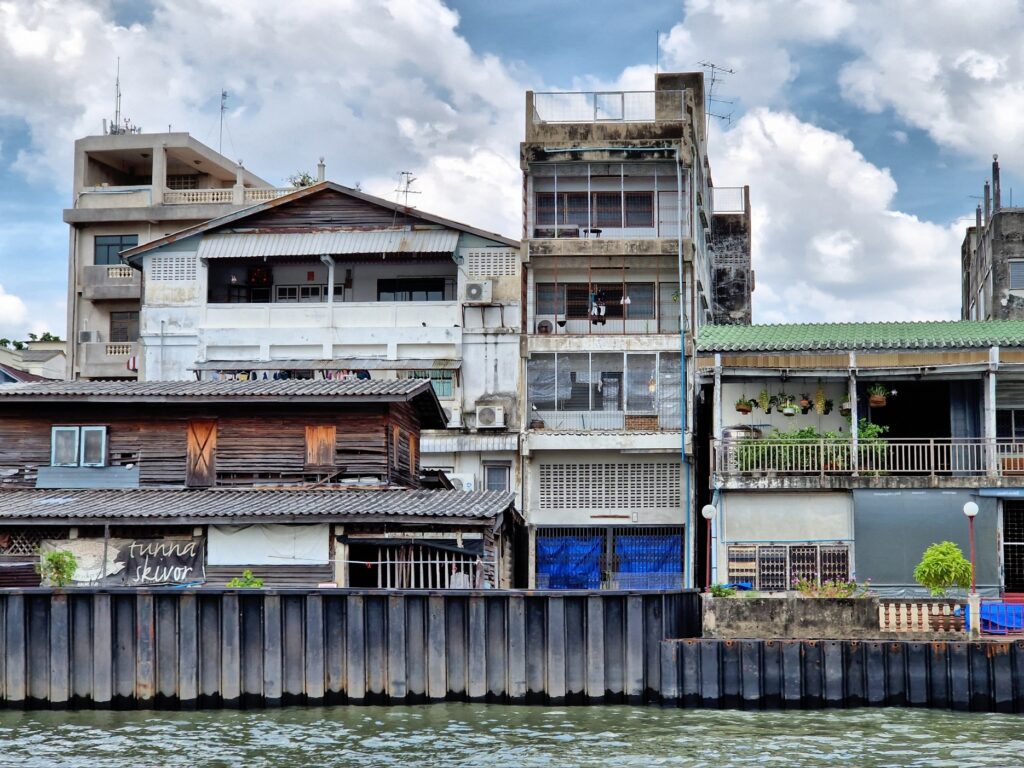 Heat and humidity
September is the peak of the monsoon season, which means a lot of rainy days and humidity in the air. Day temperatures are around 30°C, and nights are not much cooler. I bet you couldn't tell the time of the day if someone tied your eyes and put you on the street. But even during rain season you can get sunny days, which leads to the almost intolerable heat. I skipped Wat Arun (one of the prettiest temples in Bangkok) due to strong sun and visited a nearby shopping mall instead.
Tourist tip: Wear sunscreen and a hat. But also carry a scarf or a light sweater if you plan to visit shopping malls – most of them, like hotel lobbies, are ridiculously cold.
Hardly anyone speaks English
I was shocked to find out that in Bangkok not many people, even in service industry, speak decent English. And I am talking basics here, like ordering food (I tried to order Pad Thai without eggs, and I got one egg extra). Or simple things like asking to pay with a credit card. I literally had to show my card to explain what I wanted. The situation was not much better in hotels – I stayed in two 5-star hotels, and I had to show the pictures of the things I asked for. Again, I am talking about basic things, not rocket science.
Tourist tip: Buy a local sim card and use a translator for painless communication.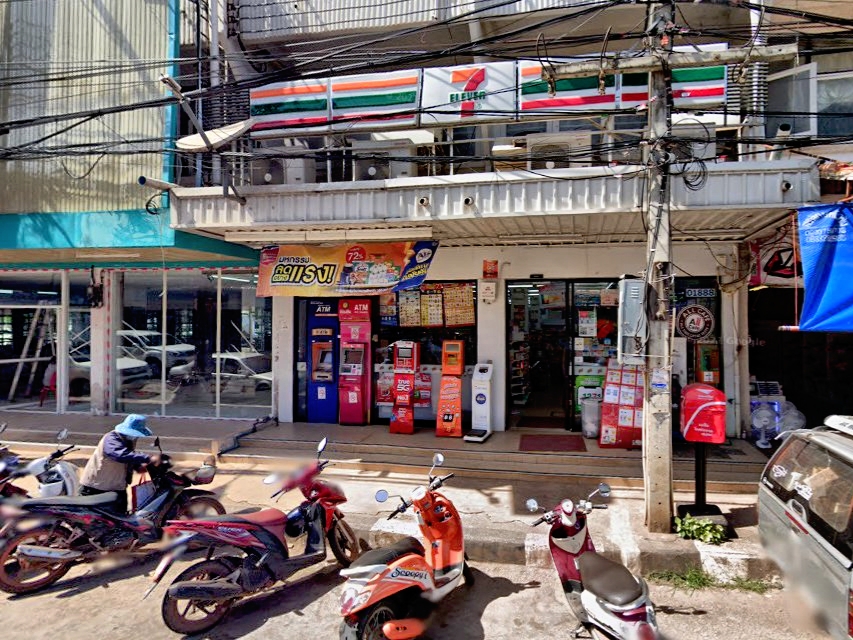 Cash only
At the airport you are greeted with the sign "Visa widely accepted". Sure, in hotels and shopping malls. But anywhere else, forget about it. OMG what a pain in the ass that was. Even in places like temples with official ticket offices, you cannot pay with a credit card. Taxis? Forget about it. I downloaded Bolt app instead (which doesn't require local number, like Grab) to avoid cash and communication headache.
Tourist tip: The sooner you accept the fact that each ATM will charge you around 6-dollar cash withdrawal commission, the better. Do the math and plan withdrawals carefully unless you want to lose a fake Louis Vuitton wallet each time you stick your card in the machine.
Those were the top 5 bad things about Bangkok, that bothered me the most. Of course, there are many more, like some dirty parts of the city, the not-so-attractive brownish Chao Phraya River and scary electric cables hanging above your head. But let's not get too dramatic. On the other hand, Bangkok is a starting point to all beautiful places Thailand has to offer. And if you love food and shopping, Bangkok is still worth visiting. Check out my 5 reasons to visit Bangkok and find out for yourself which side of love-hate relationship you are on. 😉
Got some bad things about Bangkok to add to my post, or have some questions? Let me know in a comment below or follow me on Instagram, especially if you liked this post. 😊