If you ever visit north Adriatic coast and care to spare a day for a short road trip, or if you happen to be bored in Slovenia (which I am sure is pretty impossible if you are a tourist, but happens to locals all the time), this post just might come handy. A lot has been written about Portopiccolo, considering its very short history, however not many people know that there is a very nice castle just around the corner – making a trip to Sistiana bay even more interesting.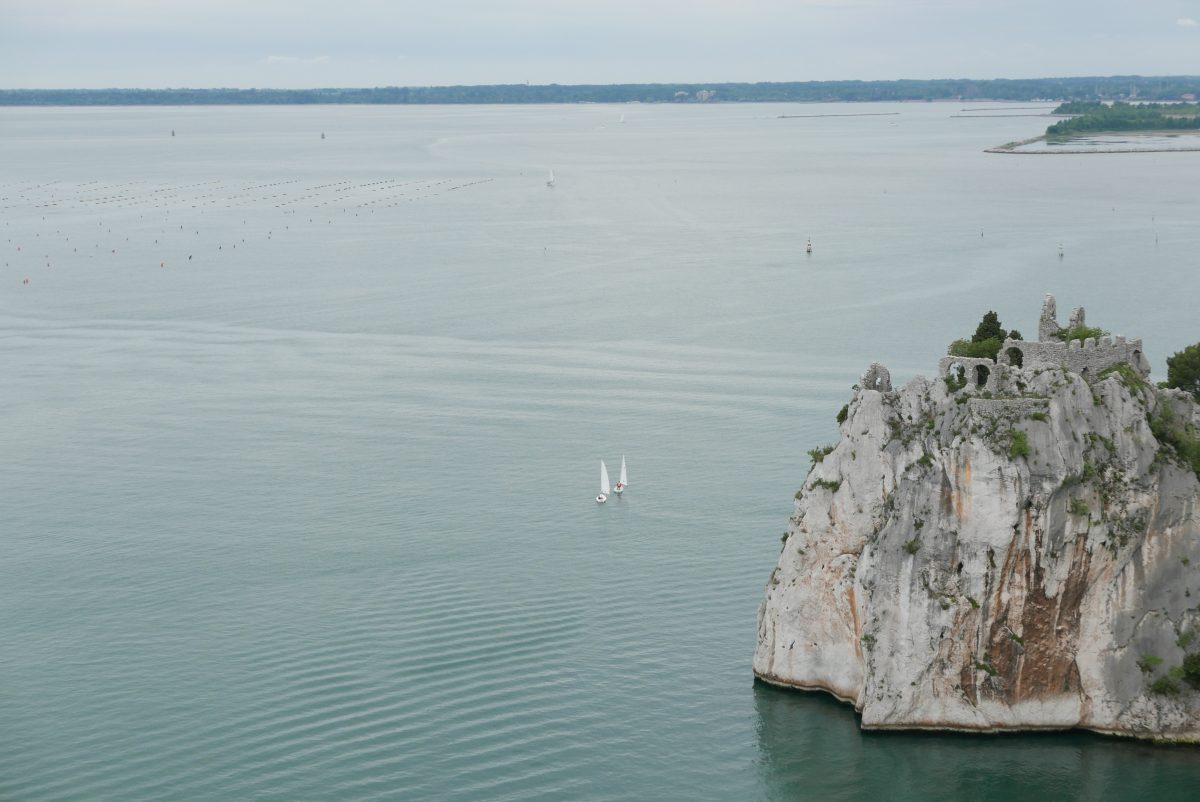 Old castle with a tragic legend
Duino is a municipality in the northern Adriatic coast, just about 1 hour's drive from Slovenian capital Ljubljana (or Venice and Klagenfurt, if you are coming from Austria or Italy). After you arrive to Duino, follow the signs for "Castello di Duino". Duino castle actually consists of 2 castles. The ruins of Old castle lie on a steep hill and are accessible on foot – you have to walk across a very narrow, yet well preserved path. If you are visiting the new Duino castle (which is just a short walk away), I strongly advise you to pay those 2 € extra and visit this old beauty. It offers a grand view of the cliffs where its younger brother stands proudly and watches over the Gulf of Trieste. The old castle is also known for the legend of the White Lady – named for Countess Da Portole, who was thrown out the window into the sea by her jealous husband. The legend says she fell on a white rock and became petrified, and her ghost has been returning to her daughter's room every night since the tragic event. Just try not to lean down too much while picturing this sight – you might get dizzy.
Private residence of the Princess della Torre el Tasso
The new Duino castle (Italian Castello di Duino) was built in 14th century at the order of Wallsee family and became a residence of Torre e Tasso (also known as von Turn und Taxis) family in the 19th century. The castle has been well preserved, thanks to the Torre e Tasso family, which actually still lives there. It is open to the public as a museum and park for an entrance fee of 8 € per adult. On one hand a nice gesture for history, nature and culture lovers and on the other hand a smart way to collect some money for renovation. Can't blame them – preserving these walls, vast greenery and beautiful gardens must cost a fortune.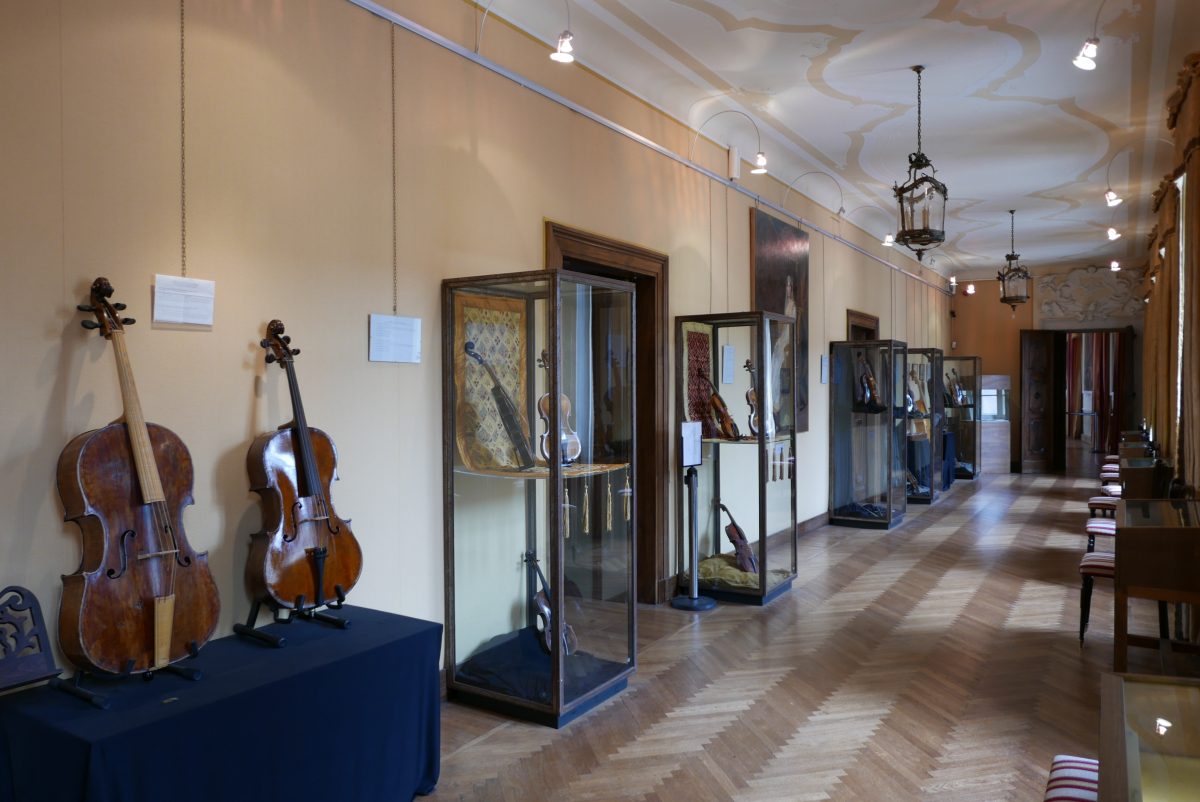 In the past, the owners were known to support and host various artists, musicians and writers, including Dante Alighieri, Mark Twain, Johann Strauss, Franz Lizst and Rainer Maria Rilke, as well as some members of Habsburg Monarchy. Their hospitality and love for art is now reflected in a fine collection of instruments, paintings, statues and famous handwritings.
Another exciting part of Duino castle is an underground bunker which was constructed among World War 2 for the German navy to defend the naval base of Sistiana bay. The bunker can be accessed from the garden by narrow steps, and it showcases the remains of that era, including the infamous Nazi flag. You can see the rest of my photos from Duino castle here.
Rilke trail
One of the most frequent guests of Tore e Tasso family was a poet Rainer Maria Rilke (known for his Duino Elegies), who had a short, yet quite intensive romantic relationship with the Countess Maria von Thurn und Taxis. The poet expressed his affection to the Countess and the beautiful Duino cliffs with these simple but touching words: "Being here is wonderful".
Today "Sentiero Rilke" – a scenic hiking trail – is named after the poet, leading from Duino to Sistiana bay. The trail is about one hour long (just a bit over 2 km) and offers spectacular views over the Adriatic sea, all the way to charming Slovenian coastal town Piran and even towards croatian Savudria. Sistiana bay is a very popular tourist spot, famous for its nightlife as well as nice beaches with crystal clear waters. Rumor has it that you can actually spot a sea horse when the sea is calm. 
Portopiccolo
Rilke's »Being here is wonderful« words welcome you on Portopiccolo web page. Once a disused quarry, today a luxurious resort, famous for picturesque architecture and impressive 360° views. Lovely modern villas below the giant rocks on one side, marina and a fancy beach club with turquoise pool on the other. With boutiques, restaurants and spa in between. They call it "Little Monaco".
Portopiccolo was designed in 2014 as an eco-sustainable luxurious marine village with 460 apartments. Some of the units are still available for sale, and the prices can go up to 7.000€ per square meter. Residents of Portopiccolo have access to private pool and beach club area, Club house and Yacht Club, as well as gardening, maintenance, housekeeping, baby sitting and even dog sitting services. The place was opened to the public in 2015 and now anyone can taste its luxury for a day, weekend or longer, depending on the size of your pocket.
Dolce far niente
What I loved in Portopiccolo was that there is no traffic or noise – guests and residents can park their car in the garage, the rest you have to do on foot. Not too much walking though. You can reach the beach within 5 minutes if you are fast. But don't be. Take your time and enjoy the details of architecture on your way. You can check the rest of my Portopiccolo photos here.
One of the most popular places is the Beach Club, with its turquoise colored pool and white sunbeds. I am not sure how crowded this place gets during summer months, but out of season (which was in my case), you can really enjoy its serenity. Uh, and let's not forget the most important thing: Portopiccolo is covered with free wi-fi, which means you can instantly post all those "life is tough" photos by the pool and count the likes while you drink your coffee or a cocktail. If you can afford one 😉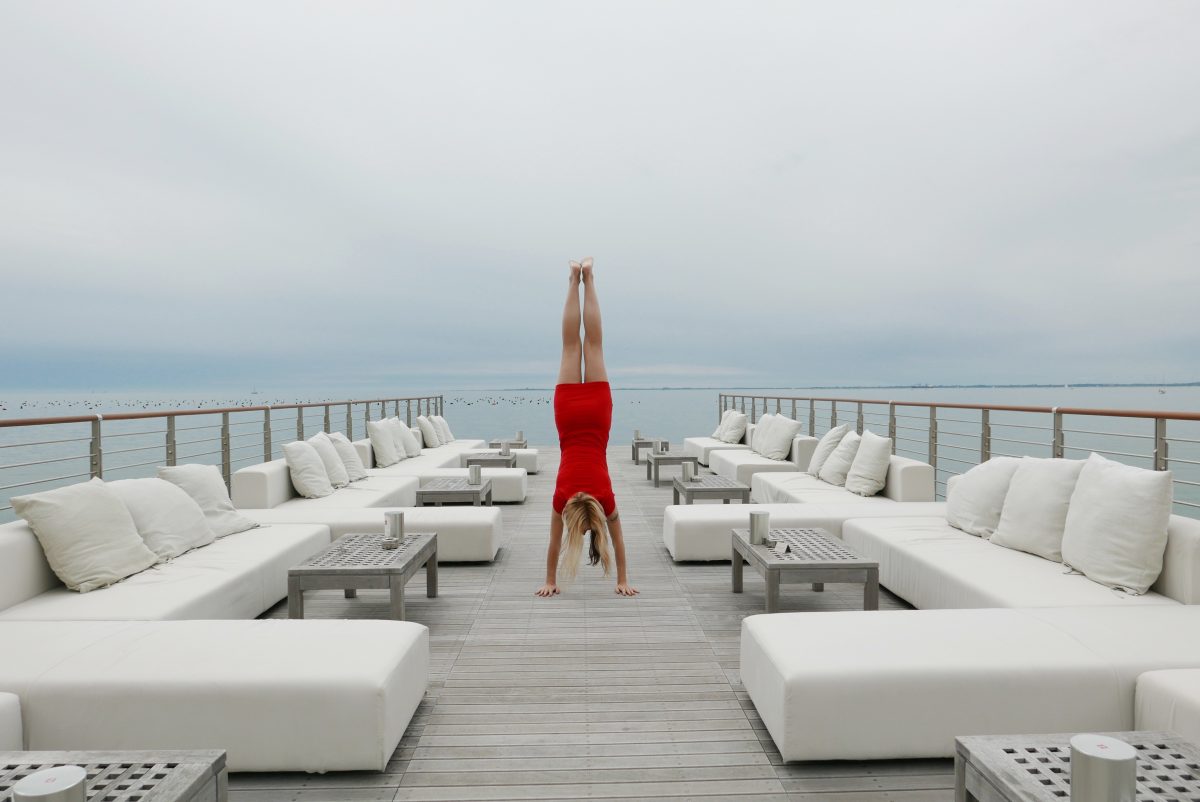 A few tips about Portopiccolo:
Parking in the garage costs 8€/day on week days, and 12€/day on weekends and holidays. If you want to save your money, you can leave your car before the entrance to the town, and walk around 15 minutes to get there. If you are coming from Rilke trail, you won't have that problem anyway.
Access to Portopiccolo beach costs 16€ per person, renting 2 sunbeds and umbrellas will cost you another 70€ during the weekend. Headache, I know. There are some discounts for Beach Club members, you can check the details here.
Beach club serves a delicious Illy coffee – one cappuccino costs 3€, which is very moderate compared to European capitals.
Dogs are welcome <3