Many of you are still asking whether it is safe to travel to Lombok after the series of earthquakes which hit the island in August 2018. The first main shock with 6.9 magnitude, flattening the whole villages, happened on August 5th, just 3 days after I had booked our Lombok vacation. The other big one struck just a few days later – there were reports of even bigger damage and over 500 people killed, with thousands injured. The grounds had been shaking every day, there were also some landslides around Mt. Rinjani, some hotels had been completely destroyed and forums were flooded with travelers asking for new updates about the safety on the island. The answers were different: from "please come, Lombok needs tourists to recover", to "the grounds are still shaking and everything is very unpredictable". All the reports said that the south of Lombok hadn't been affected and after getting the response from our hotel that they were operating normally, we decided to put our lives in the hands of destiny and proceed with our travel plans. Luckily the big earthquakes stopped and aftershocks were very mild (even though very frequent).
We landed in Lombok on September 12th and drove to Jeeva Beloam beach camp  first. We stayed there for 4 nights and it was the best decision in my travel life. We had the whole camp and the beach practically to ourselves during the whole vacation. All the other guests cancelled their stay (besides, September is not a peak season), so we were treated like royals, with unlimited opportunities to enjoy the beach and everything else. Surrounded by monkeys and the nicest staff you can imagine, this was a vacation I will always remember. More importantly, there was no damage from the earthquakes in the south, the camp was intact and also the wider south area seemed fine.
The situation in the west and especially north of Lombok was however completely different. We spent the remaining 5 nights just a few miles north of Senggigi (Jeeva Santai Villas in Mangsit beach) and the drive to the west coast already revealed the images of broken houses along the road. It all started around the capital Mataram, but the real nightmare for the people began north from Senggigi. Our resort and some of Senggigi hotels were fine (some with minor damage but safe to stay in), while others, especially big ones like Sheraton and Katamaran, had to close for renovation. Again, we were very lucky because Jeeva resorts seem to be built in high quality.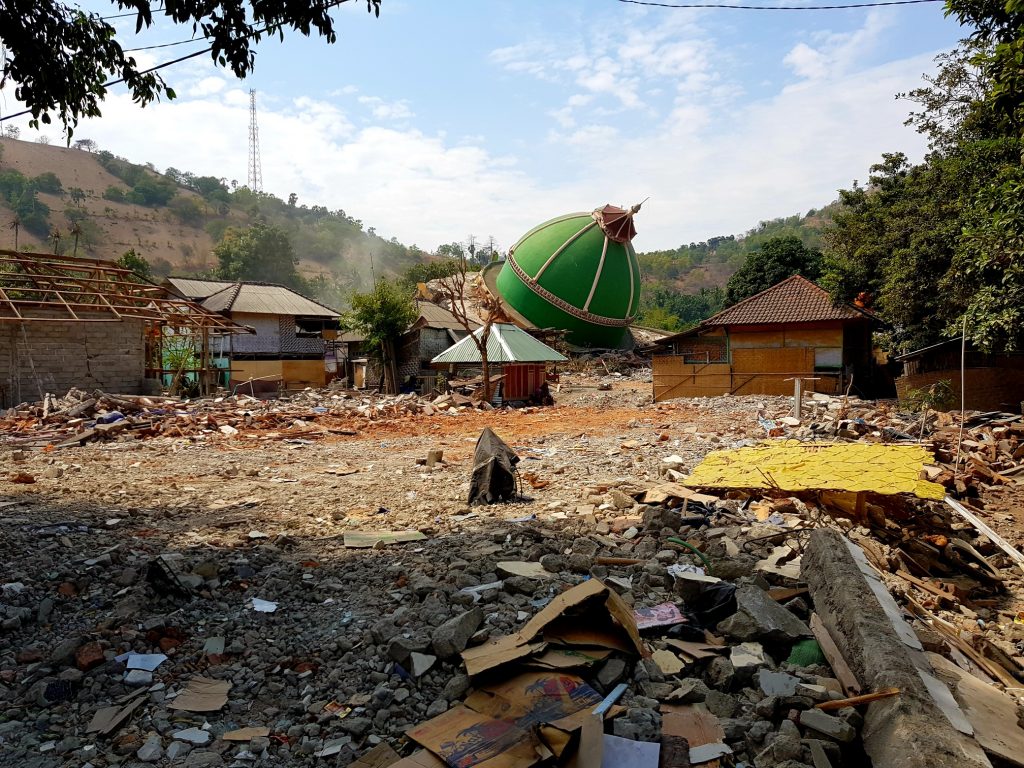 We rented a motorbike in Senggigi because we wanted to explore the west coast and see Mt Rinjani at least from a distance. While driving up north the images of destroyed houses, hotels, cars, even mosques, just broke my heart. Entire villages have been flattened, it seemed as they never even existed. People are sleeping in tents, and slowly rebuilding their homes during the day. A lot of bigger buildings are still standing but they are severely damaged, which means they will collapse eventually. We could also see people standing along the road waiting for the trucks from charity and government organizations to deliver food and aid. But in some strange way it all seemed quite calm and organized – almost as if people were used to this kind of disasters, fighting their way through lives, living one day after another.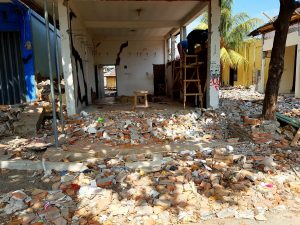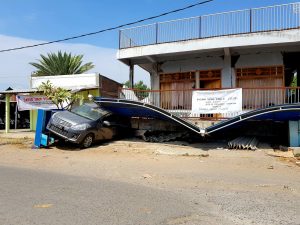 The biggest challenge and also hope for the people of Lombok remains tourism. We have spoken to many residents and hotel staff, and they all said that after more than one month from the disaster cancellations are still happening every day, tourists are still afraid to come. During our entire stay we only saw a few couples wandering around, Lombok gorgeous beaches were practically deserted, restaurants were lonely and grocery stores were empty. We tried our best to spend as much money as possible by buying things and souvenirs we don't need, leaving tips and giving away food to homeless dogs.
I can't say it strong enough: apart from seeing the devastating images in the north, we enjoyed every moment of our Lombok vacation. You can check the photos in my Facebook album. The beaches are fantastic, the nature is wonderful, food is absolutely delicious, most bars and groceries are normally stocked and operating, rental booths and tourist agencies are there for you, so please don't be afraid to come. As long as you stay in safe areas with quality buildings, you have nothing to be afraid of. Lombok needs you and it still has plenty to offer.