Lombok is quite big and if you want to feel its pulse you need to move around the island. Due to relatively bad roads and heavy traffic it is quite tiresome to be on the road daily, so we decided to stay a few days in the South first and spend the rest of our Lombok vacation on the West coast. While I was searching for hotels in Kuta beach, I ran into this small spot in Sunut peninsula, which seemed to be quite isolated. The photos and the reviews of Jeeva Beloam beach camp were very promising – I am a sucker for beaches and the fact that the camp owns an entire bay was the first green light for me. Furthermore, the idea of living in a private luxury wooden lodge sounded very attractive and the location seemed convenient for exploring some of Lombok's famous sights like Pink beach and Tanjug Ringgit cliffs (you can check my photos from Lombok here). After exchanging a few emails with their staff (especially after the earthquakes in Lombok in August 2018), I booked Jeeva Beloam beach camp via booking.com – (click here to get 15€ off with your next booking 😉 )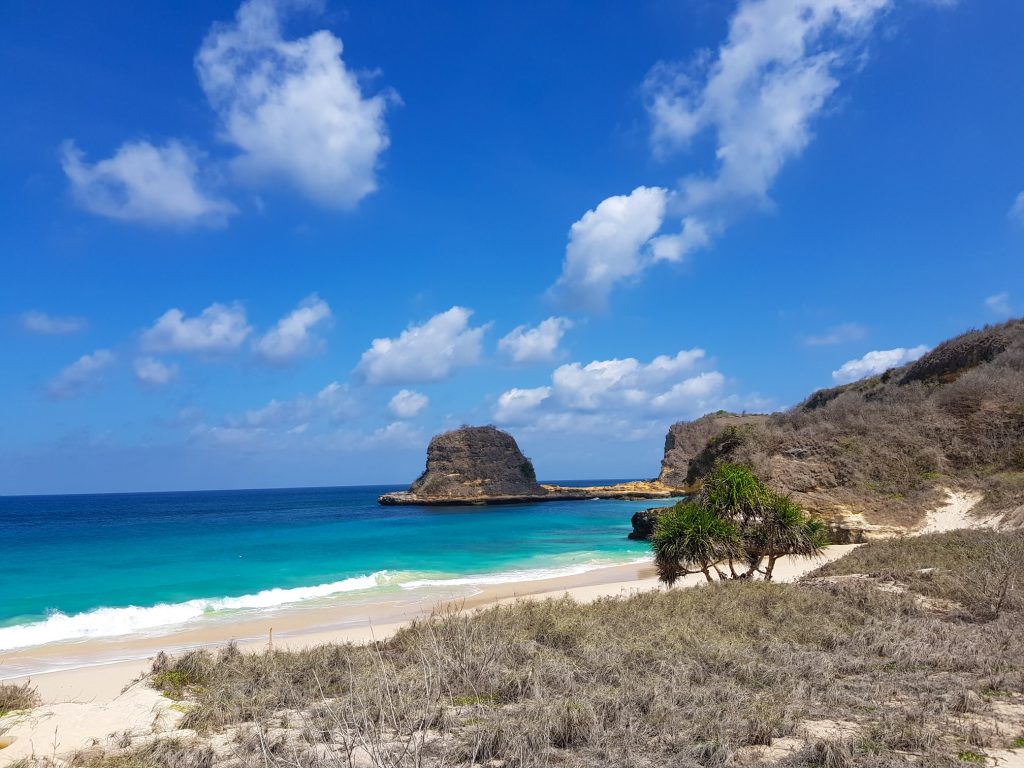 Location
I knew that Jeeva Beloam beach camp was very dislocated and that the drive from the airport would take around an hour and a half. But I didn't realize that the road would be SO bumpy for so many miles. The resort's driver picked us up at the airport (one way transport is included in the price of your stay) and after leaving the main road, we had about half an hour drive of REALLY slow drive ahead. So bumpy, that even I – heavy sleeper – couldn't keep my eyes closed 🙂 But once we reached the camp, we immediately knew it was all worth it. Because the resort not only owns the entire bay but also a large portion of the property, which means no intruders (at least human ones) at all.
The beach
Oh my, THIS BEACH. Words can hardly describe this fantastic piece of heaven. Soft white sand, turquoise and crystal clear water, surrounded by hills from the east and west for the ultimate privacy, with a view of Sumbawa Island's hills far away across the Timur Sea. You can watch the beach directly from your lodge and I was up every morning for the gorgeous sunrise. Images of the sunlight turning from pink to yellow were something I will never forget. There is a BUT though. During the dry season (we were there in September) the wind is quite heavy, which means a lot of high waves. While you can swim rather normally in the morning, afternoons can be quite a struggle, even for fitness freaks like us. So instead of fighting the waves we rather chose to do handstands on the beach and enjoyed the serenity of our terrace – reading books, taking massage and other stuff that couples do 😉
Accommodation
Jeeva Beloam beach camp has 11 "berugas" – 60 m2 wooden lodges, all with covered terraces, mosquito-netted king size beds and bathrooms with luxury showers and amenities of at least 4 star hotels. No TV though – you are in heaven, remember 😉 The electricity is available during most of the day (with some small periods when they save the energy, around 3-times daily), Wi-Fi is quite strong at the reception and in the dining area, but we could also get signal at our lodge from time to time. What a nightmare indeed 😉 We stayed in Beruga 11, at the very end of the bay and we couldn't have chosen better if we wanted.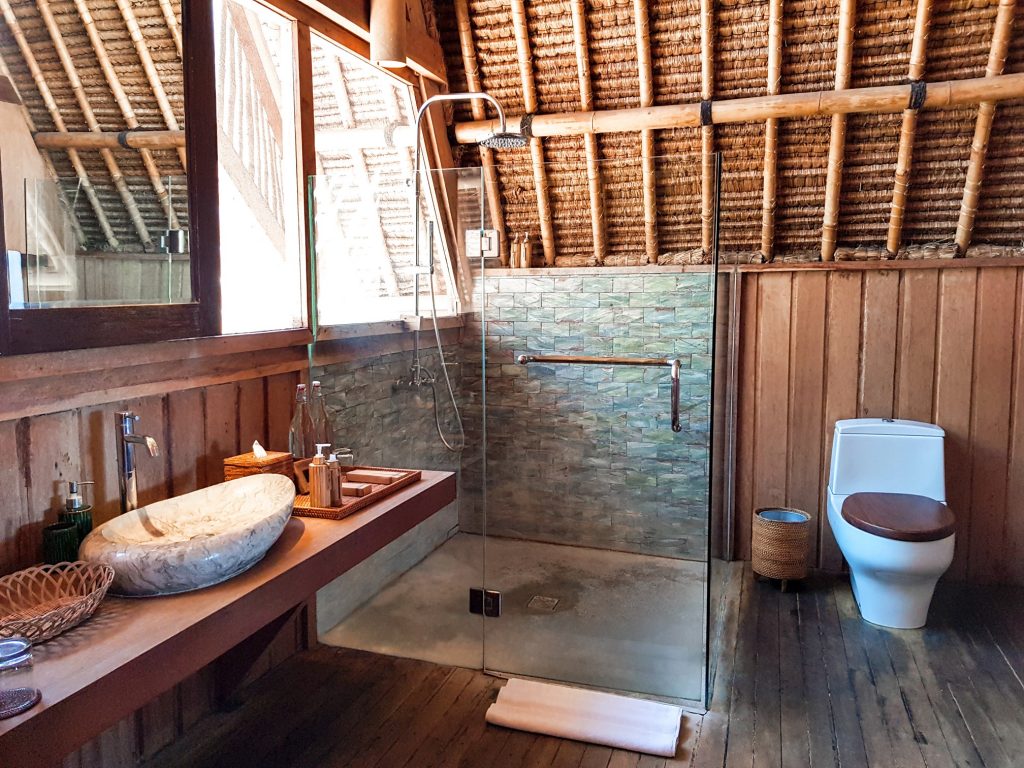 Food
Jeeva Beloam offers "full-board" service, which means you get breakfast, lunch and dinner, with complimentary drinking water 24/7. For other drinks you have to pay extra. The food is absolutely fantastic. Every day you can chose between 2 different dishes – fish or meat. If you are vegan, they can indulge you as well, you just have to mention that at the check in. There is also complimentary tea and coffee from 4 to 5 pm, which comes together with some cookies. The fact is that there is no convenience store or restaurant miles away, so you basically have no other choice but to trust your hosts to do their best. And they will, I promise!
Facilities
Besides the reception and already mentioned dining lodge, which is located in the middle of the camp, again with direct views of the ocean, Jeeva Beloam also has a small wellness room for massages and relaxation. The prices are higher than in Lombok "urban" area, but still much cheaper than in the "West world" (around 30€ for 60 minutes). You can also ask the staff to borrow a motorbike from one of them (for that you will pay around 5€ per day), and drive around the peninsula. You won't get far though, because the roads are really rough and it takes forever to reach anything J The famous Pink beach is quite near though, and Jeeva Beloam offers free trips there every day – they even rent you snorkeling gear.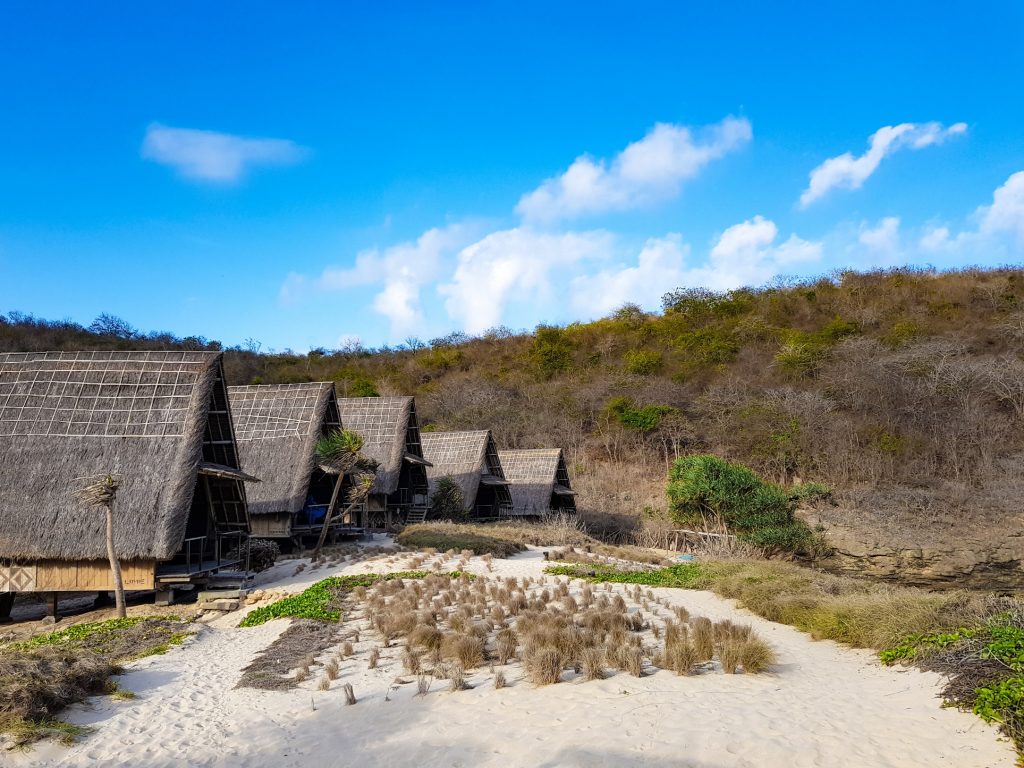 The unexpected visitors
If you are afraid of wild animals, don't come to Jeeva Beloam beach camp. First of all, monkeys are there all the time. Sometimes they come to your terrace and if you don't chase them away, they can even steal something from you. They are not hostile or dangerous though. I found them very cute, made bunch of photos. The darker side of visitors are rats and mice. First rule to keep them away is: don't bring food to your lodge. And I mean NO food at all. I had some bars with me and the bastards chew their way to them, leaving a big hole in my brand new Adidas bag. They even destroyed my joint gel – apparently they thought it was sweet. And yes, it is disturbing when you hear them at night. But this is wilderness. You are out there in the middle of nothing, in wooden tents. And if you are not terrified of animals, you will be fine, don't worry.
Anda's rate: 9,5 of 10
Bottom line: Jeeva Beloam beach camp is the perfect getaway for couples who want privacy and to get away from every day hustle and bustle. I loved absolutely everything and I enjoyed every moment of it. The only thing which bothered me a little (that's why I'm not giving it a perfect 10) were the mice, but I am partly blaming myself because I should have listened the advice about not taking any food with me. I would come back any time indeed!