When you go to Kuala Lumpur for the first time, you obviously want to stay near Petronas Towers, or better yet, with a view of the famous twins. I was in the city for 3 days on business and since I had one whole day off for sightseeing, I wanted to have a perfect location to reach the towers on foot and hop on a tourist bus to see the rest of the city. I checked a number of hotels and in the end I chose Fraser Place due to very good reviews, good location, rooftop pool and quite a reasonable price.  
Location
First of all let me explain there are 2 Fraser hotels in KL – the one I stayed in has 4 stars and is a bit closer to the twins (can't blame a girl for trying to save her feet, right?). The other one, called Fraser Residence, is a 5 star hotel and has slightly better customer reviews, but is also a bit more expensive.
Fraser Place is not a typical hotel, it is actually connected with several buildings and restaurants, and that is quite awesome because you can order room service from any of them. It is located in a very busy area so getting there and away in rush hours is a headache. But this goes for the whole KLCC area. It is about 800 meters away from Petronas towers and the good news is that the bus station (KL hop on hop off and GO KL city buss) is literally just around the corner.
Rooms
Rooms are fantastic. My view was not as fabulous as the one from the pool but still impressive enough to get the feeling how small you actually are. But windows are big and rooms are bright and spacious.
The fanciest thing for me was the glass window in the bathroom which makes you see the rest of the room. And vice versa. So basically you can see your significant other taking a shower without getting wet 😉
Perks like free coffee and tea, rich choice of toiletries, bathtubs and slippers are there to make your stay even more comfortable. On top of that you get the whole kitchen with full equipment so you can be your own chef if you want.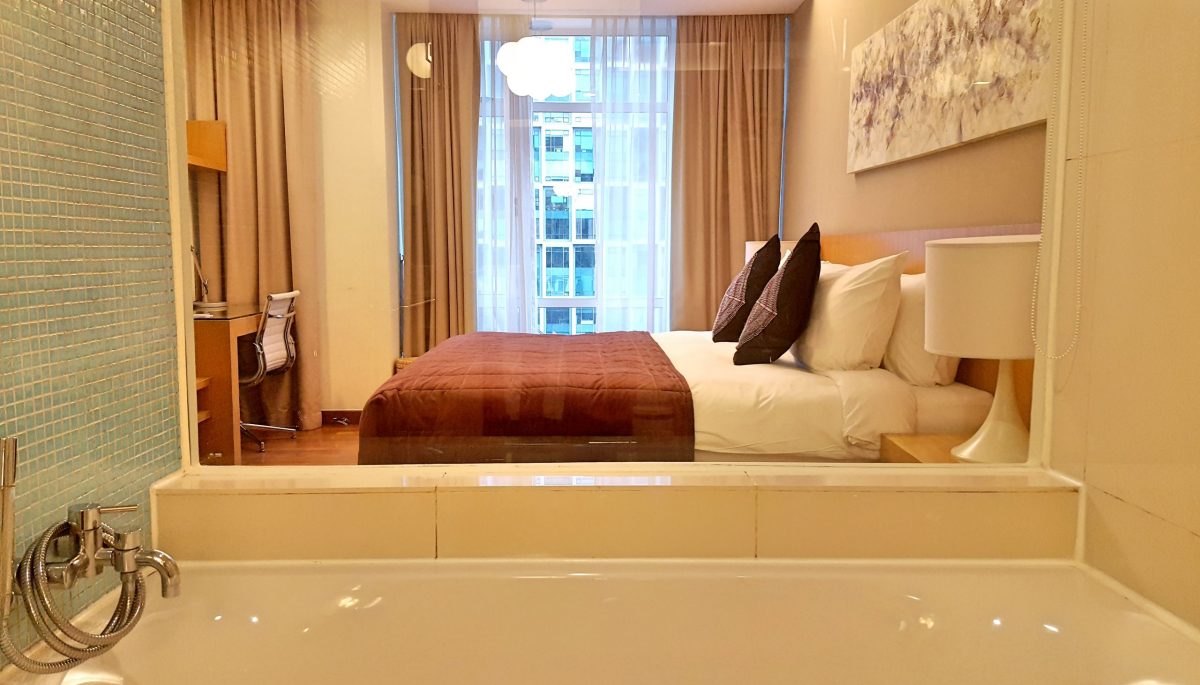 Breakfast and dining
Well, don't be your own chef, because the food is Kuala Lumpur is very good. Breakfast choice in Fraser place was rich and the dining room is charming. For dinner you can choose some of the already mentioned restaurants (I think they have Japanese, Italian and a Steakhouse), or order room service.  I ordered from Italian and it was yummy! The prices are quite high though.
Pool and fitness
Ah, the rooftop infinity pool with the view of skyscrapers! And not just any skyscrapers – the KL Tower! It is really fantastic, especially in the evening if you are lucky with the pink colors of the sunset. The pool is just about the right size to have a good swim and you can enjoy in the sunbeds later. Fraser Place also has fitness but I never used it. Sightseeing in tropical heat was exhausting enough 😉
Anda's rate: 9.5 from 10
Bottom line: Fraser Place is a very good choice for business travelers and those who want a bit of luxury in the heart of the city at a descent price. I am not giving it a perfect 10 because I didn't get the view of the twins. Even though the view of KL tower was quite impressive 😉