Another visit to Dubai calls for another opportunity to try something new, starting by choosing a new hotel. This time I decided to stay close to Dubai World Trade Center because I was attending Arab Health exhibition and had some meetings there in three consecutive days. Hotel rates usually skyrocket during special events and exhibitions (paying almost 300$ a night for Ibis hotel, seriously guys?), but I somehow got lucky: Gevora hotel showed a special rate during my search on booking.com (by the way, you can get 15€ off your next booking by using this link) and I didn't hesitate even for a second. I booked a room and asked for "a nice view". And what a view that was!
Location
Gevora hotel's official address is "Sheikh Zayed Road, Trade Centre area, next to Al Attar Tower", which means that you cannot miss it if you follow the main Dubai highway (well, at least all Taxi drivers can't). It will take you around 20 minutes to reach it from Dubai International Airport (during the night; during the day add at least 20 more, depending on the traffic) and you will pay around 50 AED for Taxi ride. The hotel is conveniently located close to a metro station, which helps a lot if you are visiting Dubai either as a tourist or on business. But honestly, the micro location itself is not very olympic; you cannot reach any interesting sites or shopping malls on foot.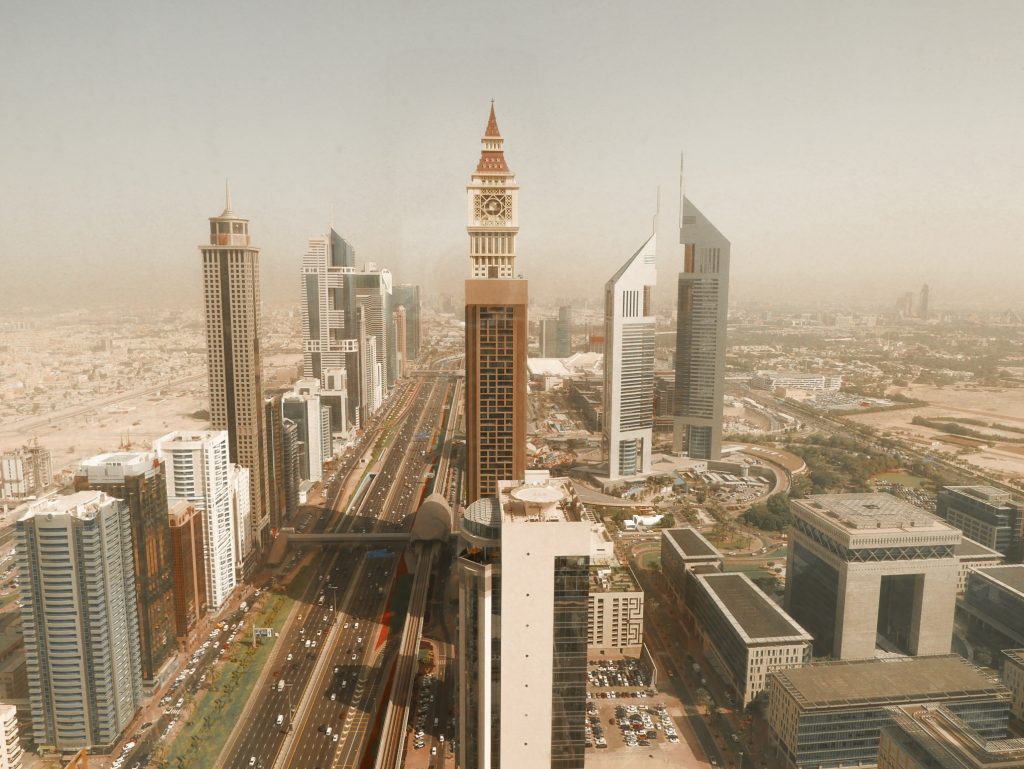 The tallest hotel in the world
I wasn't aware of the fact that Gevora hotel is actually the highest hotel in the world (they received official title from the Guinness World Records on February 9th 2018) and this came as a very pleasant surprise to me. The building itself is 356 meters tall and it features 76 floors with 528 deluxe rooms and suites. A very big minus here is the lack of elevators: only 3 elevators are reserved for floors above 41th which means you can easily wait for 5 minutes for the "open sesame" salvation. What were the architects thinking?
I stayed in 55th floor and you can imagine my view was really breathtaking. Unfortunately the windows couldn't be opened so my photos were all taken behind the dirty glass window – and still results are quite awesome, don't you agree?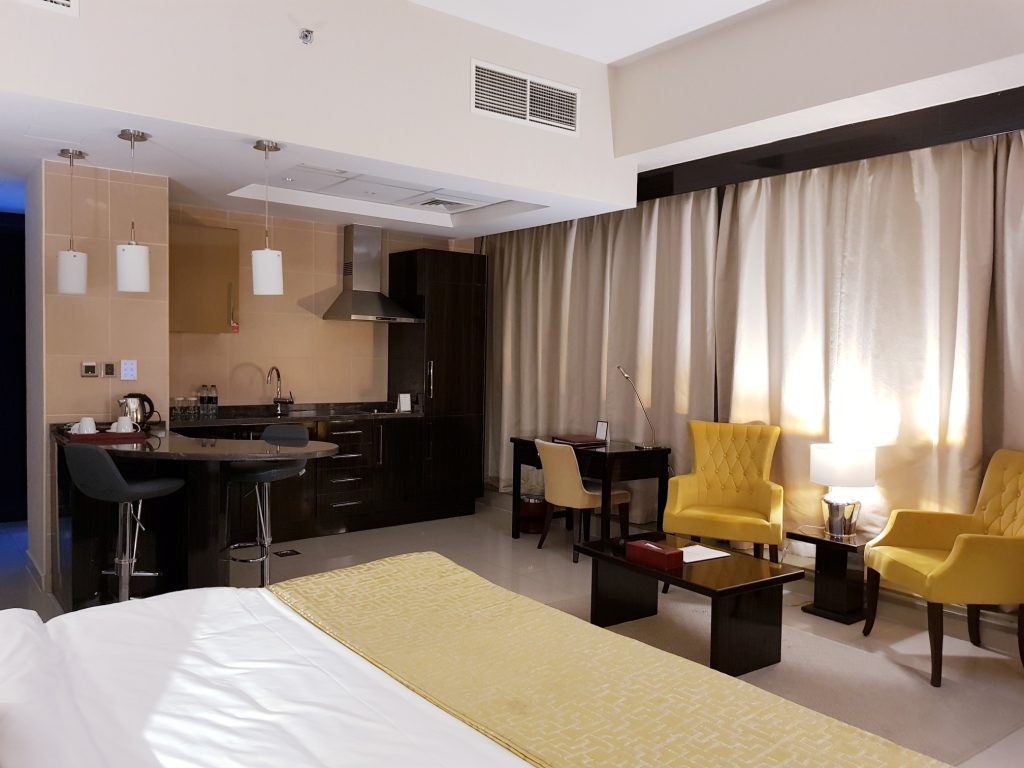 The rooms
I stayed in a suite with large king bed and a small kitchen, which had everything you would expect and need for a short stay in Dubai. The bed was quite comfortable and more importantly it offered 2 types of pillows – hard and soft. What bothered me a lot were a small bathroom (practically no space to put away your toiletries) and very disturbing lights from switches that were shining even during night. There was also a very strong green "emergency" light on the ceiling, which I asked to be turned off by technician. I really don't know what they were thinking… or perhaps a better question would be how do other guests put up with this? Maybe it is just me who doesn't like sleeping under a light show?
Hotel facilities
Gevora hotel features a pool, a wellness club, Jacuzzi, sauna and gyms (separated for men and women) which are accessible through the 12th floor. The view from the pool is not as awesome as it was from my room, but it is still better than most of hotels I stayed in while in Dubai. And it is quite big, so you can actually have a decent swim!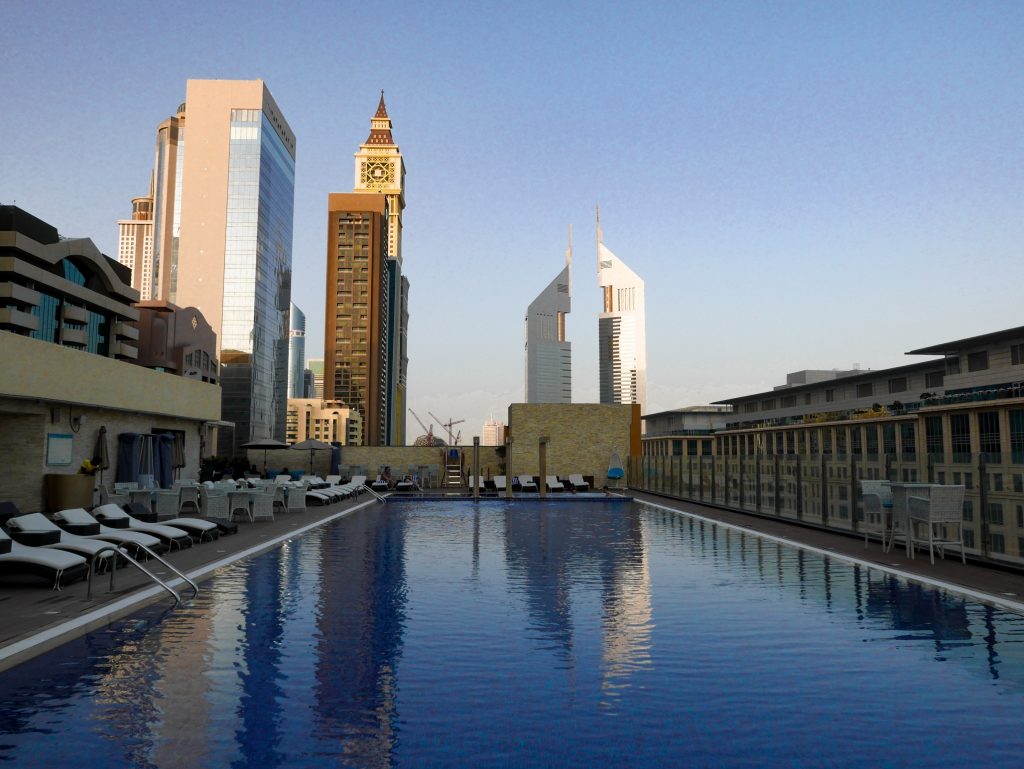 Dining
Another small minus here – not so much for the food as for the ambient. I am talking about breakfast, which is served in mezzanine floor, and there was always a small struggle to get a table. The restaurant itself is not so small and they could have done a much better job there. The choice of food is decent, I did however miss wholegrain bread (sorry guys, but white bread with some oats on top of it is NOT wholegrain bread) and different choice of teas. By the way, tea and coffee is served by staff and if you are lucky, you will get it in the first shot.
I do have to compliment the waiter in the lobby bar – you probably know by now that I am very meticulous when it gets to cappuccino, and he really made a perfect one.
Anda's rate: 8 from 10
Bottom line: While Gevora hotel is still a very decent 4-star hotel, shining in gold from the outside, it does have some points to improve – and it really wouldn't take much to do so. For the price I paid I really cannot complain and I would easily recommend it to anyone. In fact, I would stay there again, if I needed a place close to Trade Center.