You know that thing about neighbors' jealousy, how the grass is always greener on the other side? Well, I am pretty sure Slovenia has the greenest grass you have ever seen, but Croatia can definitely take all the credits for owning one of the best coastlines in the world. While Slovenia only has about 40 km of coastline, Croatia boasts with 1,800 km of diverse beaches, including thousands of islands and some really charming old towns like Dubrovnik (we all watched Game of Thrones, right?), Split and Opatija. Luckily, Opatija riviera is really close to Slovene border and it has become one of my favorite spots to relax on weekends. If you visit Slovenia and want to make a quick trip to Croatia (vice versa would be nice as well), Opatija is a nice choice for catching some vitamin D and pampering your senses with spas, health beneficial aerosols and excellent food. In this post you will find out how to get to Opatija from Slovenia, top things to do in Opatija riviera and surroundings, where to stay and when is the best time to visit.
How to get to Opatija from Slovenia
Opatija is located around 100 km south from Ljubljana and the easiest way to get there is to own or rent a car (you will probably want to visit some other towns around it, so it is good to be flexible). The other option is also by bus – Flixbus drives daily from Ljubljana to Opatija and it costs less than 10 €. As a tourist you probably don't need this advice, but it is still worth a reminder: you will need to show your valid passport or ID card when entering Croatia from Slovenia (due to the so-called Schengen area); and also prepare some change for the toll fee (8 HRK or a bit over 1 € if you pay in Euro currency).
When is the best time to visit Opatija riviera
I would never visit Croatia during summer, for 2 reasons: it is too close to Slovenia, so there is a high chance I would run into people I know (besides, I have traveled Croatia back and forth), and it gets crowded as hell. If you still want to pick Opatija for your summer vacation, I suggest you consider towns like Lovran, Mosceniska Draga or Icici instead – they are all close to Opatija but a bit less busy and without so many daily visitors. But if you don't want to be sandwiched between tourists, I suggest you visit Opatija riviera in spring (April – June) or autumn (September – November). If you are lucky, you will still be able to swim in the Adriatic Sea, especially in June, September or October.
Where to stay
Once a popular winter retreat for rich European aristocrats, Opatija is today an elegant resort town for couples and a perfect getaway for a romantic weekend break. Many of Opatija hotels feature spa & wellness centers, some even have interior swimming pool with sea water for maximum health benefits. However, these things don't come cheap, especially in peak season. Most of hotels also don't offer free parking, so if you are on a budget, you might want to consider renting a room or apartment via Airbnb or booking.com (scroll to the bottom of this post for prices and discounts). Or, as I mentioned before, stay in one of the nearby towns instead. My first choice is always Lovran – a small charming town around 5 km from Opatija with lots of bars, restaurants and parks to enjoy the view of Adriatic Sea. For couples or pet owners I highly recommend staying in Boutique hotel Acacia which is a new property with private beach, fantastic sea-view rooms, great food and very nice staff.
Best things to do in Opatija Riviera and surroundings
I usually visit Opatija (well, Lovran to be more exact) off season, during weekends, for two things: one is to get rid of my boyfriend (if he read this he would say vice versa, but he never reads my posts) for a couple of hours because he is a cycling freak; and the roads around Opatija are fantastic for cycling, especially if you love mountain biking (you can find some great routes to Mount Učka here). The other thing that keeps bringing me back to Lovran is waking up with sea view and enjoying the laid-back atmosphere of the whole Opatija riviera.
Things to do in Opatija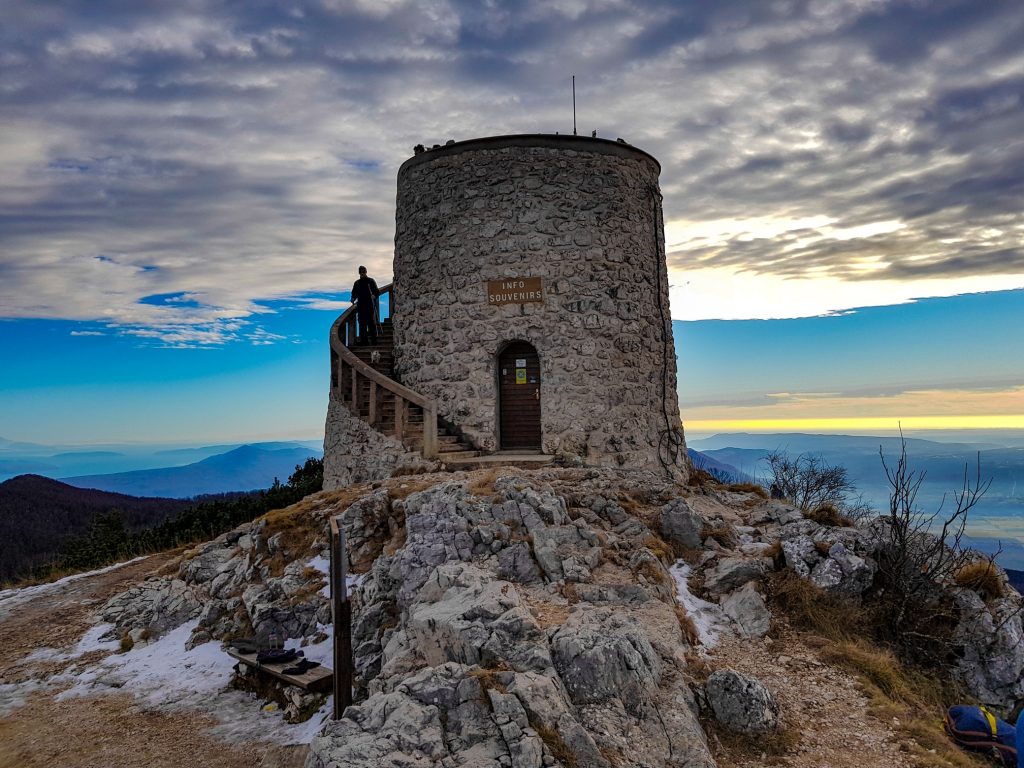 1/ Hiking to Mount Učka: Put on some comfortable shoes and choose a path that suits you most. You can either start right on the beach (in this case the hiking will take you around 3,5 hours in one direction), or leave your car in Poklon parking area and head up to Mount Učka. Either way, be ready to sweat – even if it is called "modest hiking" it IS still quite a hike! In the top of Vojak hill (the highest point is Istria; 1401 meters above the sea) you will be rewarded with fantastic views of Istria and Adriatic Sea with the islands of Cres and Lošinj.
2/ Beach hopping: Opatija's shores are more or less pebbly, however the sea is crystal clear and you can find some fantastic places to stretch your biceps and triceps. While Opatija boasts with diverse public beaches, Mosceniska Draga (located a bit further from Lovran) has mostly sandy beaches – public and nudist ones. Just keep in mind we are not talking Caribbean sand here; the beaches are mostly covered with gravel.
3/ Lungomare walk with wonderful green parks: One of the nicest beach walks in Kvarner area is Opatija's 12 km long seaside promenade called Lungomare. The promenade starts northeast of Opatija in a fishing village of Volosko, and goes all the way to Lovran, southwest of Opatija. It is an easy walk by the sea with many cafes, bars, restaurants, small bays and green parks along the way. The parks, especially Angiolina Park, St. Jacob Park and Margarita Park feature over hundred different varieties of plants originating from all over the world. And don't take a picture with the iconic Maiden with the Seagull Statue. Everyone does that. Be different 😉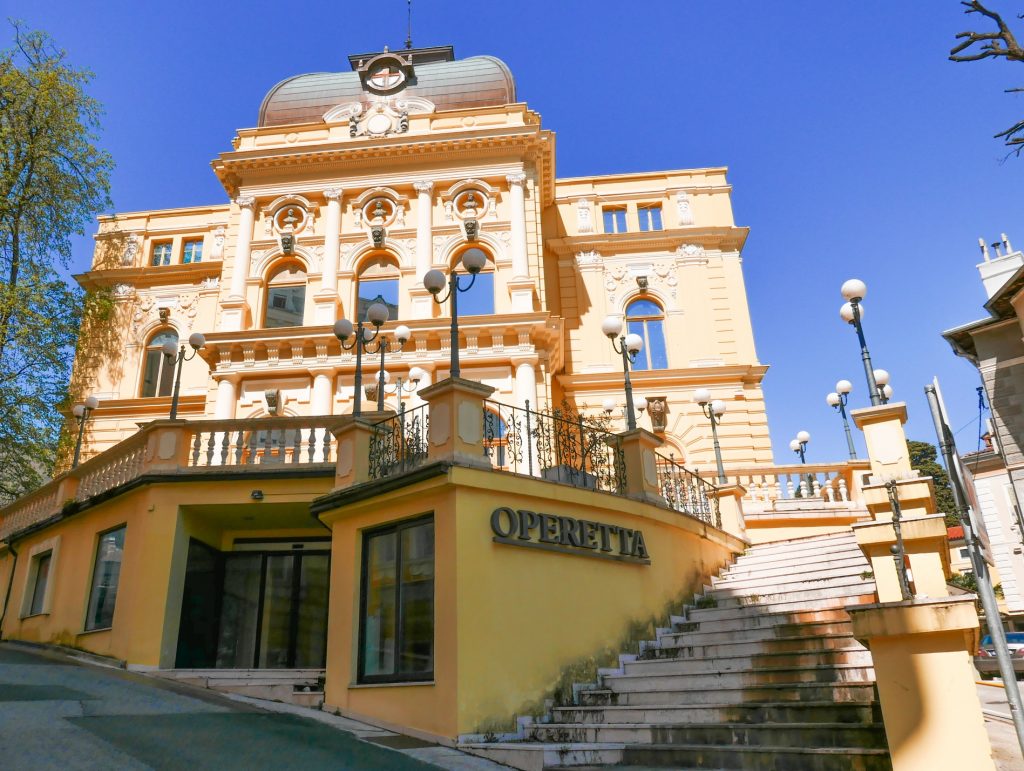 4/ Enjoy the beautiful architecture: Built in late 19th and early 20th century Opatija is often called "Vienna by the sea" due to its history and rich architecture. While the center of Opatija boasts with aristocratic buildings in typical neoclassicism style with some random art-nouveau examples, the towns and villages of Lovran, Volosko and Mošćenice with narrow streets and squares offer more medieval spirit.
5/ Take a tour of Rijeka old town and Trsat castle: Just a short 15 km drive from Opatija lies Rijeka – a very important seaport and the third largest city in Croatia. The heart of Rijeka is called "Korzo" and it is the main city promenade with numerous cafes and opportunities to observe locals and tourists. Like Opatija, Rijeka is also famous for some nice architectural remainings of late 19th century; with the iconic Clock Tower as the city's symbol. Above Rijeka on a 138-meter high hill you will find a lovely 13th-century fortress which is also the best viewpoint in Rijeka. Once a very important observatory and defense system Trsat Castle is now one of the most visited cultural and tourist sites in Gorski Kotar County. The entrance fee off season is free (in season around 10 HRK).
6/ Visit Moščenice: The medieval town, nestled on a hill above Mošćenička Draga, has many sights, including centuries-old churches and Chapel of the Cross on Mount Calvary. From the medieval wall on the top of the old town you can enjoy a really nice view of the beaches and Adriatic Sea with neighboring islands.
7/ Dolce far niente: At last, but not the least, Opatija riviera is famous for its cafes and top-notch restaurants. Many people come here from Slovenia or Zagreb (Croatia's capital) just for a day to have a coffee, cake or ice cream at one of the sea-side bars. My favorite coffee spots are Angiolina and Bevanda with cozy sofas and direct sea-view (to be honest, coffee could be better but vitamin sea makes up for that), while my dinner winner is Stari Grad restaurant in Lovran old town.
APPROXIMATE COSTS OF VISITING OPATIJA RIVIERA:
Toll cost (depends on where you are coming from, but from Slovenia it is around 1 €)
Middle-class hotel room for 2 (no parking, breakfast included) off season: 60 – 80 €
Room / apartment via Booking.com (no breakfast but usually free parking): 40 – 50 €
Parking in the center of Opatija: headache during season. Along the main road you pay per hour, while there are some garages and all-day parking for around 15 €.
Cappuccino on the sea-side promenade: around 2 – 2,5 €.
Tourist menu: around 10 – 15 €.
Dinner with fish and wine for 2: from 50 to 100 €
Have you visited Opatija before? What are your favorite spots? Got any other question? Scroll down and leave me a comment!