Have I told you lately that I love Opatija riviera? Well, more exactly, I love the whole riviera from Rijeka till Mosceniska draga, for many reasons. And I especially love Lovran, because it is quieter and less busy than Opatija, with some fantastic restaurants to enjoy the local Istrian cuisine. The only thing that is a bit disturbing in Lovran is the fact that most of the hotels are closed during low season, starting from November. So, I did some homework and I found this cute pet friendly hotel, rising above the coastline overlooking the Adriatic sea. Boutique hotel Acacia in Lovran is well worth the visit, and here are the reasons why.
Location
Boutique hotel Acacia lies in the very end of Lovran, an easy 1 kilometer walk from the old town center. Trust me, you will want to stretch your legs, and you don't want to look for a parking space in Lovran – they are very limited (or payable), especially during the high season. For us it was very convenient because we had a very good dinner in the old town, accompanied with too much wine so we were actually happy to enjoy the short walk to "clear our thoughts" before going to bed 😉 The hotel has a lot of parking lots, so no worries for that as well.
The rooms
Boutique hotel Acacia has 10 very comfortable and carefully designed rooms. You can really tell the furniture is "fresh", as the hotel started operating in June 2018. The bathrooms are modern and very spacious, offering a rain shower as well as a bathtub, a large sink and all amenities needed for a stress-free vacation (bathrobes and slippers included!). The thing I enjoyed the most was a fantastic sea view with balcony where you can have your morning tea/coffee (complimentary coffee machine in the room) or evening glass of wine. Just keep in mind that the sea view is facing the street so the noise from the street cannot be avoided (didn't bother us during the night at all though, we slept like babies!).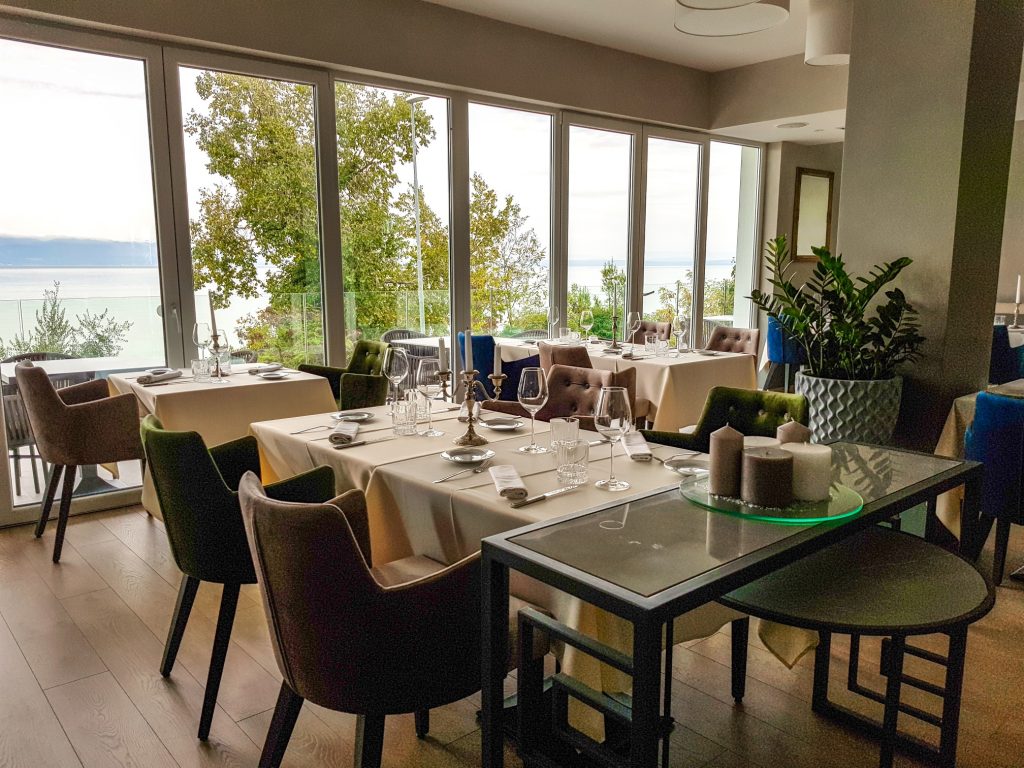 Štanger restaurant
The breakfast was wow as well, especially because we were lucky to enjoy it out in the terrace (it was pleasantly warm in the beginning of November). Also, it was more convenient since Sky was with us – we didn't want her to disturb the other guests with her cute hungry eyes 😊 The breakfast choice is definitely 4 stars, and it is all very "boutique" – you can see they really try hard to please their guests. Štanger restaurant is also popular for evening dining, and since the breakfast was that good, I dare to say their dinner menu will knock you down as well. Unfortunately, we had our dinner pre-arranged so we didn't have the chance to try it but we will definitely come back for a proof.
The beach
If you are staying in Lovran (or anywhere in Opatija riviera) you will probably want to have a swim in the Adriatic Sea. At least during the high season. Boutique hotel Acacia has a private beach just across the street, accessible via stairs. The beach itself is not as nice as some of the public places along the "Lungomare" (12 km path connecting Opatija and Lovran), but it is very quiet and hidden away from all the hustle and bustle and you can enjoy a good swim in the crystal-clear sea. Complimentary sunbeds are also provided for hotel guests. If you prefer sandy beach, just take a stroll around 500 meters towards Lovran center and you will find a cute little bay (which will probably be crowded in July or August).
The spa is coming soon!
The hotel owner has later informed me that they are in the process of building a spa with pool and fitness room, which should be finished before summer 2019. So stay tuned and see it for yourself.
Anda's rate: 9,5 from 10
Bottom line: We chose to stay in Boutique hotel Acacia in Lovran because it is adults only, pet friendly (they even offer dog bowls for food and water) and because it is close to Lovran old town which we love so much. I loved the fact that it is a "boutique hotel", meaning you will always feel special and not just a number. If you want to enjoy a relaxing weekend, or if you are just passing by, I definitely recommend staying here.