Being one of the oldest cities in the US and the capital of Massachusetts, Boston is the city of rich history, culture, education and economy, which attracts over 20 million visitors per year. It is one of those cities which you can easily fall in love with – and honestly, I don't know why I waited so long to finally see it.
Located in the North Atlantic Coast, Boston is easily accessible from Europe with direct flights from most bigger Airports (flight back from Boston to Paris takes less than 7 hours) and if you love to travel to the USA as much as I do, I suggest you put it on your "to do" list right away.
The easiest way to "catch" the city within 2 days (I visited Boston in the end of our summer 2016 road trip) is to take one of the hop on hop off buss tours, which usually include a free 45 minute Boston Harbor cruise (you don't have to do it on the same day). The second option is to rent a bicycle through Bike share program, The Hubway  for as little as 6$ per day. However, Boston downtown is walkable so if you are not in a rush and have basic orientation skills, I suggest you take it easy and enjoy your walking tour.
Tip: The cheapest parking garage we found was at TD Garden Arena and it costs only 10$ until 6 pm (after that they charge per hour). But that is only during weekends, when there are no NBA games or other events. It is also very convenient if you are taking the hop on hop off buss, which stops right across the street.
1. Copley Square with the fabulous Trinity Church
The fact itself, that Trinity Church has been proclaimed as one the 10 most significant buildings in the USA by the American Institute of Architects, should tell you that this is something you need to see. Even though I am not religious, I have kind of a crush on churches in an architectural way and I am telling you, this one truly deserves its reputation. Its beauty also reflects on the inside, with richly colored interior and magical windows arts. The admission is 7$ for adults but keep in mind you are not allowed to take photos of the interior.
Tips: When you walk around the church you can see its reflection in the glass building across the street, which offers you a perfect photo opportunity. Copley Square is a very nice spot to hang around; you can stop and rest at a small fountain, chilling your legs in the water, with a view of another beauty – the Old South Church. Here you will also find the Boston Public Library, which is one of the most popular things to see in Boston.
2. Freedom Trail with Bunker Hill Monument
The monument can be seen from Charlestown Bridge and it is a final destination of the "must do" Freedom Trail. This is around 4 km long path through Boston downtown, passing 16 historical locations and ending in Charlestown. Most of the sites on Freedom Trail are free, only the Old South Meeting House, the Old State House and the Paul Revere House charge admission. We didn't walk the trail exactly by the book, since we didn't have much time to explore and honestly, we are not that much into history. Instead we just spotted some interesting points on our way. We did however want to see the Bunker Hill Monument because the reviews said you could see the whole Boston from up there. Well, you CAN, once (if ever) you manage to catch your breath. There are 294 stairs to reach the top. No elevator. Hot like hell inside. And crowded. But do it. You will feel like a champion and you will get to see Boston from above for free.
Tip: If you book Old Town Trolley tours, the Old State House entrance is complimentary.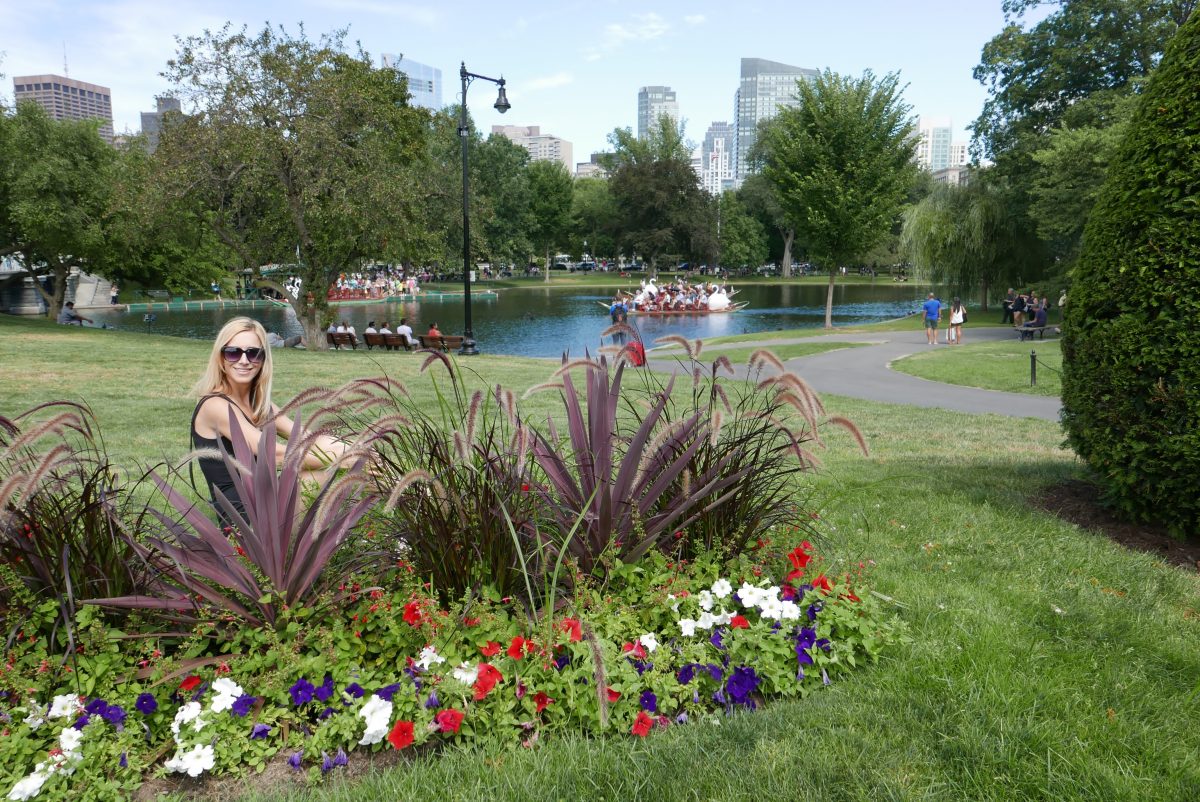 3. Public Garden
Actually I am not sure where Boston Common ends and Public Garden begins, but I chose the latter because of the Swan Lake and because it was more green and less crowded. Boston Common is the oldest park in the US, reminding a lot of NYC's Central park, only smaller. With some interesting spots, like Frog Pond where people walk on the shallow water during summer or ice skate during winter, it is a perfect place for families with children or for catching Pokemons. Boston Public Garden offers boat rides and some very nice spots where you can enjoy the view of skyscrapers from a distance, have a small picnic or read a book. And yes, you can see squirrels. In fact, if you are lucky and not too pushy, you can actually touch them by offering them (or pretending to offer) some small nuts, raw fruits or vegetables.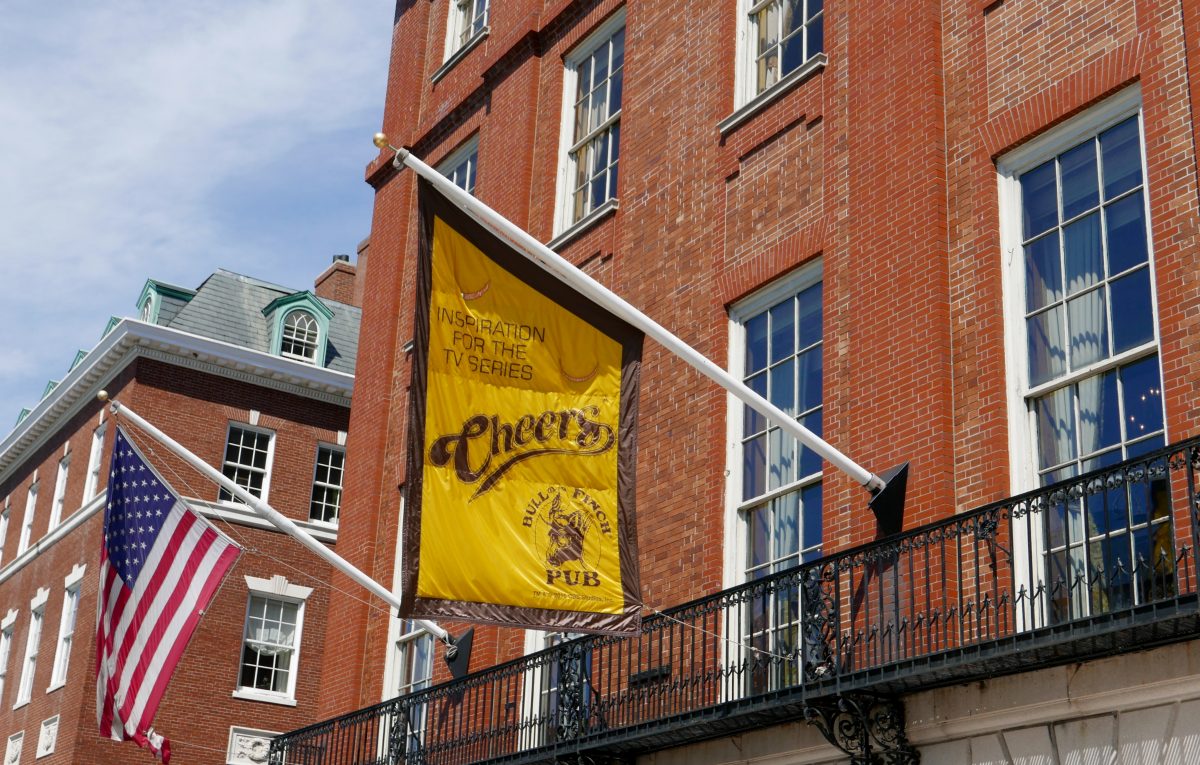 4. Beacon Hill
In Beacon Street, north from Public Garden you will ran into a famous bar, known for the sitcom Cheers, which ran in the late 80's. Actually the bar was initially called Bull & Finch pub and only its exterior was used for the series' establishing shots – no interior was ever used for the shooting and the downstairs pub doesn't resemble the famous Cheers bar in any way. However the place has been successfully attracting tourists and you definitely need to take a selfie there if you ever saw this show. 
Beacon Street is the beginning of Beacon Hill, one of most expensive neighborhoods in Boston. The federal-style row houses rise along very narrow streets with brick sidewalks and vintage gas lamps. Beacon Hill is also home to Acorn Street, second most photographed street in the US and a beautiful Massachusetts State House, which rises at the top of the hill.
5. Boston Harbor
Lying on the North Atlantic Coast, Boston is a major seaport and the oldest continuously operated industrial and fishing port in the Western Hemisphere. So it is only logical to take a stroll to Boston Harbor along the Atlantic avenue, which offers some very good hotels, restaurants and beer/coffee spots. Boston Harbor cruise (21$ or free with hop on hop off bus tours) takes around 45 minutes and offers a nice view of Boston skyline. If you are into history and appreciate some light humor, you might want to take the Boston Tea Party Ships & Museum tour (26$ per adult), where the tour guides, dressed up in colonial style, use humor and audience interaction to recreate the atmosphere of tension between the colonies and "mother" England.
Other things to see in Boston
Actually it is not easy to recommend 5 things to see in Boston because the city offers so much more. However, if you only have a day or two like we did, I dare to say this is the best way you can enjoy it. If you are sports enthusiast, I am sure you will want to hop off at Fenway Park, home of the Boston Red Sox baseball team, or see a basketball match with Boston Celtics at TD Garden Arena. If you are traveling with children, you can drive to Salem and see the Witch Museum or see the New England Aquarium in Boston Harbor.
Tip: Check the rest of Boston photos in my Facebook album.
Boston, I will be back!
Like I said, I will definitely come back to enjoy the city, see Cambridge with its famous Harvard University, enjoy the panoramic views from Boston Skywalk (though I am pretty sure Boston looks much better from the ground) and probably take the Whale Watch tour from New England Aquarium. See you soon! 😉