Ah, Maldives. What can be said about this tropical paradise that hasn't already been written? Or better yet, are words even enough to describe this heaven on Earth? Well, for one thing – every island is a little bit different and each traveler has his own idea of paradise. I have visited Maldives 3 times and I can say with no doubt in my mind that I will keep coming back. After all I have added the islands in my travel favorites list. Because Maldives represent everything that a beach lover like me needs to recover from everyday stress I have to put up with.
SHORT INTRODUCTION
Maldives lie in the middle of Indian Ocean, southwest of India, comprising a territory of around 300 square kilometers, 26 atolls (collections of islands) and around 1200 islands of which only around 100 are open for tourism. Maldives main Velana international airport lies on a separate island next to its capital Male which inhabits around one third of Maldives' total population (altogether around 420.000 inhabitants). Maldives are very religious country – over 98% of people are committed to Islam, which reflects in the culture, architecture and their way of life. As a tourist you won't feel any of this, unless you decide to visit Male where women need to dress properly (covering their shoulders and knees) and no alcohol or pork are served in the restaurants.
WHEN TO VISIT
Maldives have a tropical monsoon climate which means relative high humidity and pleasant temperatures around 30°C year-round. If you want to avoid being wet every day (which actually has its own charm as the rain is always warm and you can jump into the ocean just for the fun of it), you should escape the continental winter and visit the islands from January to May.
GETTING THERE AND AROUND
Usually people book Maldives vacation "in package" which includes the flight from your home destination. The more fun way is to book the flight yourself so you can be more flexible and you can combine your trip with Sri Lanka or India, which are popular destinations as well. In any case you will land in Velana International airport and from there you need to get to your final destination – the island or resort, whatever you want to call it. If you book the package with an agency it is highly likely that the transfer is included in your package. Make sure you get this confirmation because the cost of aerial transfer can be as high as 400 USD per person! Boat transfers are cheaper but can be a real pain for your stomach when the sea is rough and if the ride takes more than 30 minutes. Plus, you will miss all the fun watching other islands from above. Do your math and choose wisely!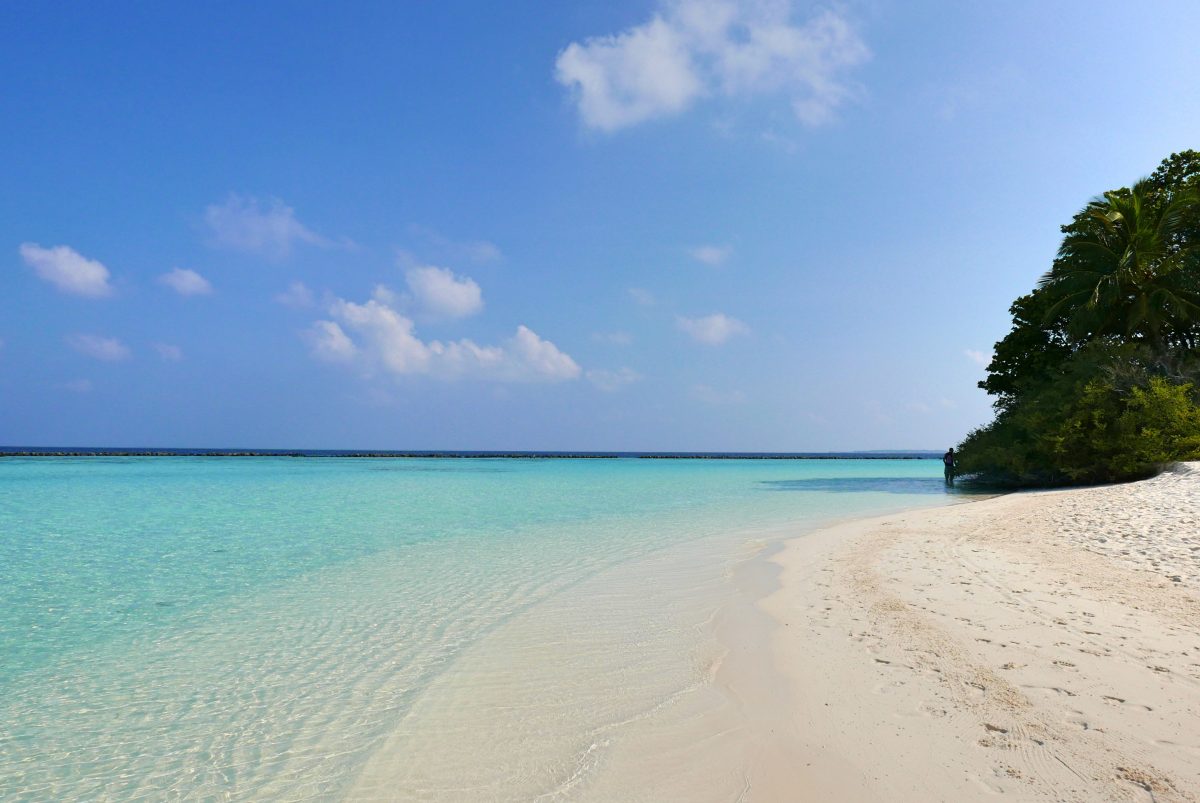 WHICH ISLAND TO CHOOSE
First let me say that each island is actually a resort and most of them are owned by foreign companies. This means only you (and other resort guests) and the staff are on the island and nobody else. Which island to choose depends on your idea of paradise and the depth of your wallet. Prices for 7 nights all-inclusive plan in 4-star resort vary from 1400 – 2000€ per person, depending on which type of villa you rent. By choosing a 3-star resort (in some cases they are well worth the money!) or decreasing your meal option to half board, you can save a few 100€ and still get a good service. Just keep in mind that the drinks will be on you! If you want to save 15€ you can book your hotel through this link.
When it comes to choosing the island, I always follow these steps: 1. the resort has to offer all-inclusive plan (I want my Maldives to be wallet-free), 2. I want to stay in beach villa with direct access to the ocean, 3. I want a gym for my ass to stay fantastic even during vacation, 4. I want free Wi-Fi to communicate with my followers 24/7 (actually it is because of my job, but who would believe me) and 5. The island has to be rated with at least 4 (or better 4.5) stars on TripAdvisor. Of course I look after my budget as well – I usually chose 4-star resorts, and here is one that I can highly recommend: Adaaran Select Meedhupparu.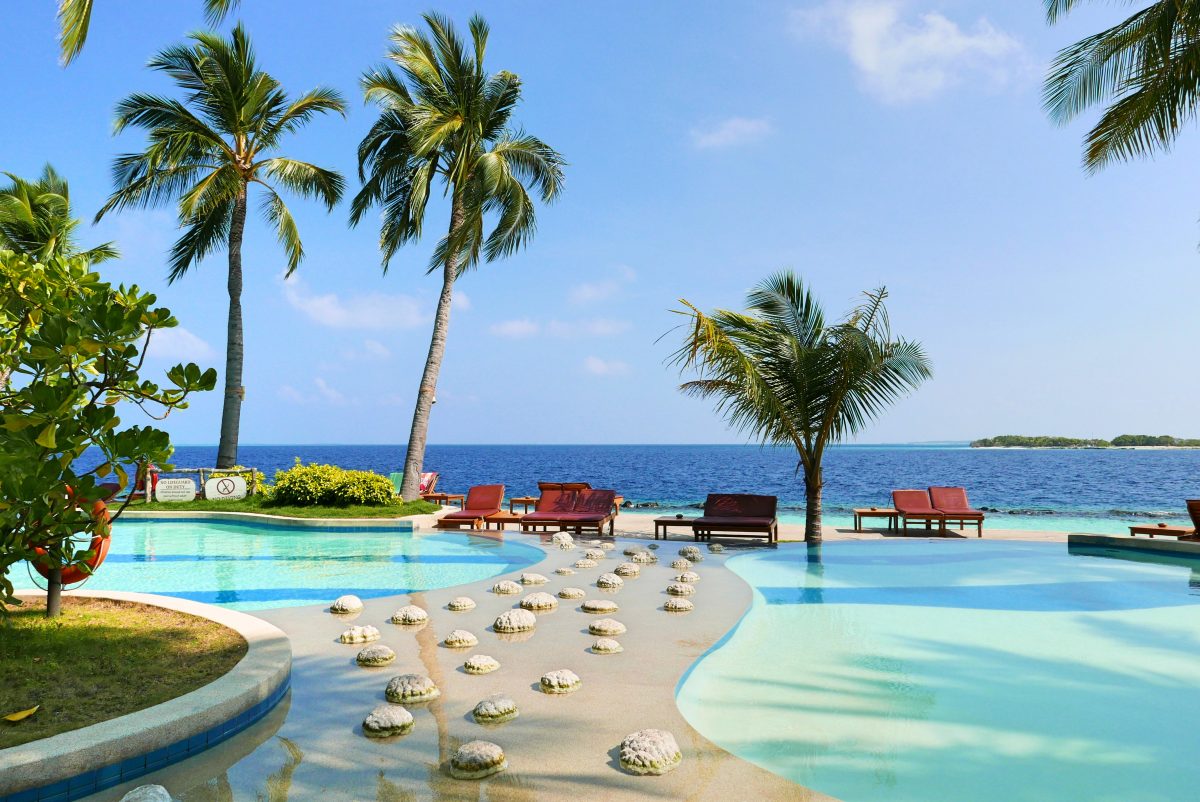 By the way – recently Maldives changed the tourism law which means that locals can rent their homes and guestrooms as well. So there is also an option for low cost vacation. But in that case don't expect that you will have direct beach access, that phenomenal ocean view, the beach won't be cleaned every day, alcohol will probably be off limits… to sum up – don't do Maldives on budget, that is my advice. You deserve better!
THINGS TO DO IN MALDIVES
Besides the obvious – swimming in crystal clear ocean, drinking cocktails in the shade of your private palm, reading a good book and making selfies in your pink flamingo – there is so much more you can do. Atolls are rich with marine life and if your island is surrounded by a coral reef: get under water and snorkel until you drop! I can spend hours under water (make sure you wear heavy sunscreen or a T-shirt), especially in the company of cute little reef sharks. If you are fond of them as well, check my review of Royal Island Resort & Spa.
Following the water activities – most of the resorts offer water sports like kayaking, surfing, kiting and SUPing (not all of them are included in all-inclusive plan though), so plenty of stuff there to keep you awake. If you get tired of the sun you can always sweat in the gym or play pools in the bar. You can also take one of the excursions like deep sea fishing, night fishing or visiting Male. So, make sure your MasterCard or Visa is with you all the time 😉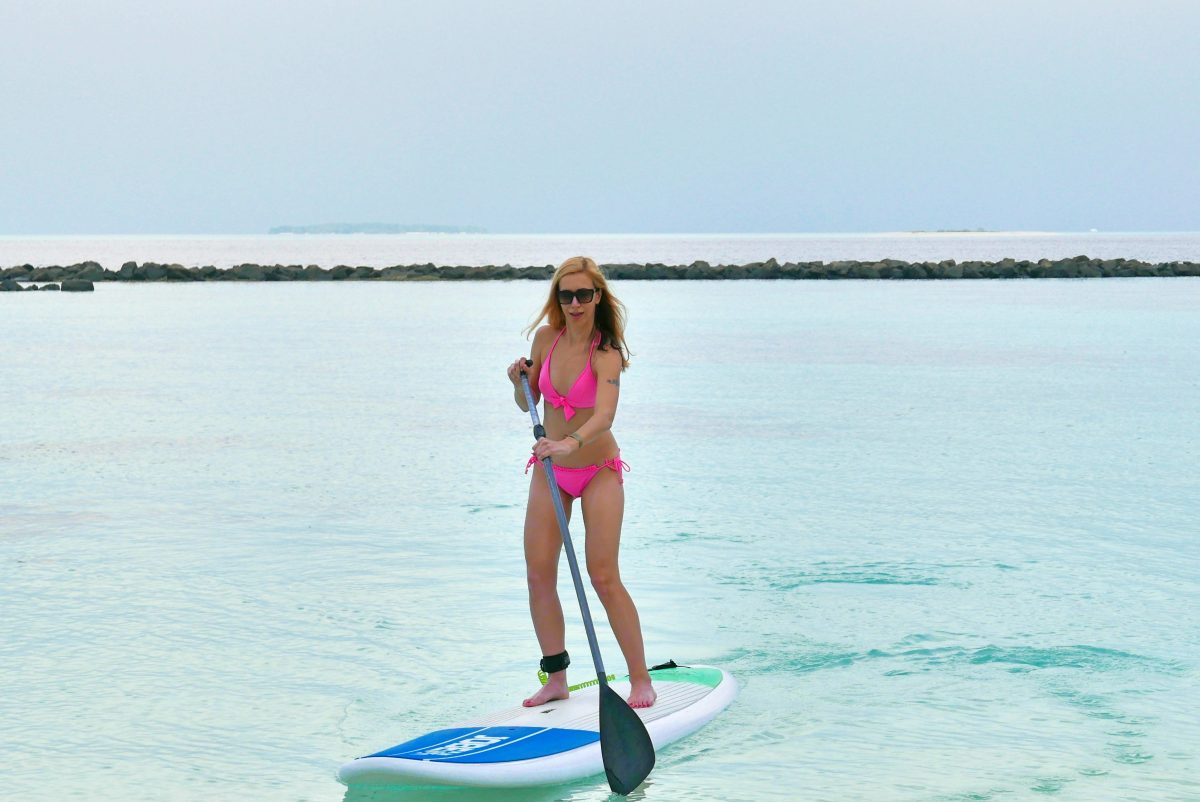 DRESS CODE AND OTHER TIPS
Dress code depends on the type of the island you visit – sometimes all the facilities are paved with sand so you won't need shoes your entire vacation. But usually normal clothing (like shorts and skirts) are necessary for the main restaurants, while you can wear your flip flops throughout the day. My rule when in Maldives is: no makeup and no high heels. And trust me, you don't need any sweaters, even at night, no matter which month you are visiting.
Do bring adapter for electricity as you might need one and make sure you take a lot of sunscreen and the basic first aid kit (you can check mine here). If your island is covered with corals, you might want to bring water shoes (you probably won't wear it but just to put your mind at rest).  Keep in mind that there is not much to do in Maldives after sunsets (which is around 6 – 7 pm), so it won't hurt to bring some books… in my case I brought the first season of The Blacklist and watched it on my computer 😉
SAFETY
This one is tricky. Maldives are known to have had a lot of political issues in the past decades, and current situation is unfortunately no different. You can read about the latest events which call for "state of emergency" here. However, this only reflects to the capital Male and I can say from the first hand that the situation doesn't interfere with tourism on the islands. Still, it might be wise to avoid visiting Male for a while. If you do, make sure you avoid the crowds and try not to stand out too much. Again let me remind you that women should wear proper clothes, as this shows respect to their religion and tradition.
WHY YOU SHOULD VISIT MALDIVES AS SOON AS POSSIBLE
If you are a beach lover who appreciates pristine beaches, crystal clear water in 50 shades of blue, the serenity of nature in the middle of the ocean and a touch of luxury while pampering yourself with great culinary experience (Maldives cuisine is a mixture of Indian and Thai food, rich in fish, vegetables and tropical fruits), then start saving the money and get your ass to this little piece of heaven before it disappears due to the climate change which we all hold responsibility for. In fact, around 100 islands have disappeared already! So don't only ask yourself what Maldives can do for you but what you can do for Maldives.
Got any questions or comments? Scroll down for a comment, I will be happy to read your thoughts! You are also kindly invited to like my Facebook page where you can follow my updates from all over the world 😉