Interested in visiting Golden Triangle in India by yourself and don't know how and where to start? Here is an example of our February itinerary and some useful tips that will help you to get ready for this unique experience. If you haven't visited India before, you need to prepare yourself for quite a rollercoaster, trust me.
HOW MANY DAYS YOU NEED FOR VISITING GOLDEN TRIANGLE
On the map it will seem like you can do the Golden Triangle within 3 days, but the reality is a bit different. First of all, the traffic in India is something beyond your imagination and you can easily spend 6 hours for just over 200 kilometers' drive. There are a lot of agencies that offer "Daily trips from Delhi to Taj Mahal", but that must be one hell of a ride. Not to mention the crowds you will encounter if you are not there first thing in the morning. I'd say that our 4-day (5 nights) Golden Triangle itinerary is perfect if you don't want to spend too much time in India and rather combine your trip with visiting some other destination, like Maldives or Sri Lanka.
WHEN IS THE BEST TIME TO VISIT
In terms of the weather the best time to visit Golden Triangle is from October to mid-April, if you want to avoid the unbearable heat of the summer and the downpour of monsoon season. We were there in the beginning of February and while daily temperatures were somewhere between 22-25°C, it was quite chilly during the nights – winter temperatures can easily drop below 10°C. Unfortunately, in the winter months air pollution rises and brings the smog, especially around Delhi. So, I'd rather chose March for visiting if I were you.
HOW TO TRAVEL
You can visit the Golden Triangle either by car, bus, train or airplane. The easiest way is to hire a driver through a local agent, like we did. He was our "shadow companion" during the whole trip – he picked us up at the airport and dropped us off for the return flight. Hiring a driver in India is a good option for several reasons: the service is relatively cheap, the drivers are very reliable and even if you decide to take a local flight you still need a transport to get to all the attractions. If I had to do it all over again, I would probably consider choosing a return flight from Jaipur to Delhi (check here for local flights) however, keep in mind that in winter months the smog can interfere with flight schedules.
HOW TO PICK THE RIGHT TAVEL GUIDE AND DRIVER
The best way is to contact any tour agency in India. There are plentiful of contacts on the internet, I found mine on Tripadvisor and I was really satisfied with the service. Mr. Deepak was actually the one who suggested the itinerary for us, after I had told him that I only wanted "just to see Taj Mahal". I am grateful that I followed his advice because it would have been a shame to miss Jaipur and Agra fort. Besides arranging the driver, Deepak also advised us to take a guide in each city and that was another good idea – without them we would probably miss more than half of the sights on our way. We arranged everything via email and if you want his contact jus drop me a line. Anyway, make sure that you ask what is included in the price: fuel and tolls, taxes for crossing the state borders, insurance, driver's expenses (his accommodation, food etc)… and also ask if the driver speaks English. That can be quite a challenge, espeically with their funny accent 😉
OUR GOLDEN TRIANGLE ITINERARY – BY CAR
DELHI – AGRA (230 km): We landed in Delhi Airport on Monday at 3 am, spent what was left of the night at the hotel and continued towards Agra at 11 am. We arrived to Agra around 4 pm which was perfect to stop at Mehtab Bagh and see the Taj Mahal across the river. If you are lucky you might catch a beautiful sunset.
AGRA – JAIPUR (240 km): We woke up in Agra at 5 am (I shit you not) to see Taj Mahal. You will need a couple of hours to see it properly, depending on your obsession with selfies and lust for historical details. After seeing Taj Mahal, we visited Agra Fort (another hour or so for the tour) and continued our trip (around 4 hour's drive) towards Jaipur.
JAIPUR – DELHI (270 km): After seeing the most iconic sites of Jaipur (Hawa Mahal, Jal Mahal, Amber Fort and Planetarium) which took us about 4 hours, we returned to Delhi with over 6 hours' ride that I will never forget. The traffic there is really unbelievable.
2 NIGHTS IN DELHI: We stayed in the same hotel as on the night of our arrival and spent our last day to see a piece of Delhi. Unfortunately, we got stuck in the traffic so often that we had to skip a few things but hey, that's life.
WHERE TO STAY DURING THE TRIP
I followed my friend's advice to book only 5-star hotels in order to avoid stomach problems (hygiene is a BIG problem in India!). However, we didn't want to waste too much money just to spend the night in each city, so I went for the most affordable options: for Delhi I booked WelcomHotel Dwarka (relatively close to the airport but over 1 hour drive from the city center, so do your own math…), for Agra I hesitated a little about that Taj Mahal view but I am glad I didn't pay that extra money (we wouldn't have seen it anyway because of the smog/fog) so I picked Crystal Sarovar Premiere, and in Jaipur I booked Ramada Jaipur (let's say it was ok for the money). I advise you to pre-book your hotels especially during high season – remember, Golden Triangle sights get crowded in seconds. And I am sure you can find some good options among 3 or 4-star hotels as well.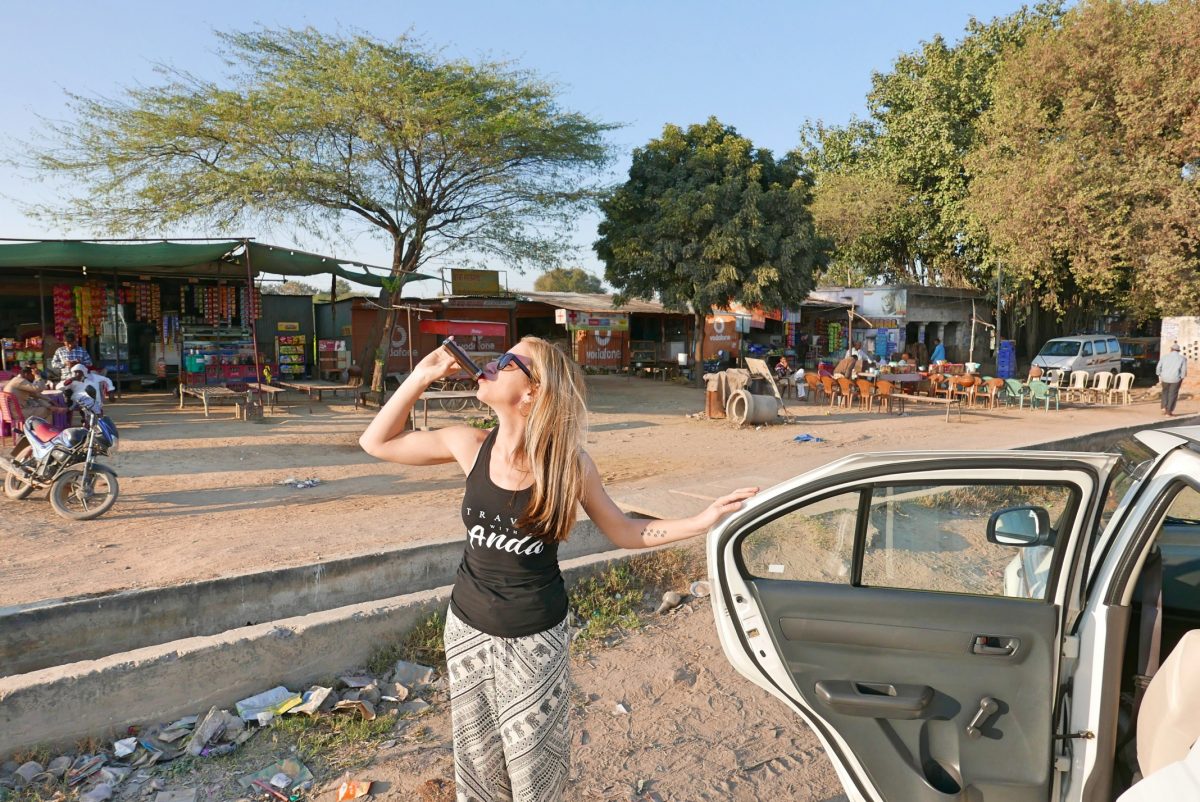 MEDICATION AND VACCINATION – HOW TO AVOID GETTING SICK
Honestly, I was terrified of this trip because of everything I had read and heard about hygiene standards in India. I didn't want to risk even so much as a tiny digestion problem, especially because the best part of the trip (Maldives) was yet to come. I took Hepatitis A and B vaccinations (make sure you calculate the time you need between the intervals) because I plan to travel to Africa soon and I will need it anyway. I didn't complicate with other vaccinations (no need for Malaria medication in this area, especially not in the dry period), but I did fill up my travel health kit with these extras: Carboline chewable tablets, soluble hydration tablets, hand sanitizers and (don't laugh) rubber gloves. I also followed these simple rules: wash your hands all the time, drink only bottled water (I also washed my teeth with it), eat only fruits you can peel, eat only cooked or grilled food and flush everything with some whiskey from time to time. Worked for me perfectly 😉
WHAT TO WEAR IN INDIA
India is an extremely religious country so it is advised for the ladies to dress appropriately. There are no restrictions however and you will see a lot of half-naked women (mostly tourists) wandering around but if you want to avoid getting stared at, at least cover your shoulders. The most elegant way is to wear a scarf (or better yet buy one on one of the markets) and not too tight pants. If you are a solo female traveler, I advise you to follow these rules more carefully because there is a high level of violence against women in India.
AND FINALLY – TRAVEL COSTS AND FEES
Visa: 50$ (yes you need one, you apply online and it takes max 3 days to get it)
5-star hotel: around 80$ for 2, breakfast included
The driver: 250$ for 4 days (plus drop off at the airport), tips included
Travel guides in each city: 20$, tips included
Dinner for 2 in 5-star hotel: 50-60$
Starbucks latte: 5$
Rickshaw ride in Delhi market (around 15 minutes): 200 rupees (3$)
Entrance fees: from 500 to 1000 rupees (8 to 15 $)
Usual tips: around 10%
If you want to save some money, follow the basic rules: bargain for the final price and try not to look like a naïve tourist, pick less expensive restaurants but be careful about what you eat, avoid "guide-recommended" places and shops (they get commission from it)… but make sure you tip your staff properly – it is quite a battle for survival down there.
You are welcome to follow my Facebook page where you can see the rest of my photos from India. Have I missed out something important? Got any questions or your own tips to share? Scroll down for comments, I will be happy to read them!