I was told that when it comes to India, you should stick to 5-star hotels for several reasons: they are safe, they are clean and you don't have to worry about getting stomach problems because of food and kitchen hygiene. Since we only had 4 days to spend on our Golden Triangle trip (and the roads in India are definitely not a joyride if you are having digestion issues) we decided not to take the risk and went for 5-star hotels during the whole trip, including Agra. I chose Crystal Sarovar Premiere hotel because of good recommendations, proximity to the grand Taj Mahal and a decent price, which included breakfast and free Wi-Fi.
Location
First let me say there is probably no such place like fancy location in Agra, unless you chose a direct view of Agra Fort or Taj Mahal (and pay for it properly). The photo below shows the usual situation on the streets of Agra and Crystal Sarovar Premiere is surrounded with similar "sights". The hotel is moved a bit away from the busy street but still in the middle of nowhere – meaning that you can forget about having a decent walk around it and enjoy the views. Unless you love cows. To reach Taj Mahal or Agra fort you will need a car (I do recommend to hire a driver for your Golden Triangle route) and I suppose you don't want to be walking over half an hour early in the morning or late in the evening especially if your GPS is not 100% working.
Rooms
The perks of being a travel blogger sometimes include free room upgrades, though I am not sure if that wouldn't have happened anyway as the hotel was not fully booked. The staff at the reception as well as in other facilities was super friendly and I believe that was not a coincidence – you can see they try very hard to please their guests. Our room was fantastic and it came with very cozy bed, free tea & coffee, bottled water, plentiful of free toiletries, and most important: it was very clean. There was a glass window between the bed and the bathroom but since you probably don't want to observe every move of your partner, it came with a curtain as well 😊
Food & Dining
Breakfast in the main restaurant was fantastic and we decided to have dinner in the hotel as well. Crystal Sarovar Premiere hotel has 3 different restaurants: besides the main one you can chose from Lattice (multi-cuisine) and Sky Grill on the rooftop with a very nice ambient (we even had a romantic live music) and most importantly – fantastic food and great choice of wine. Have to warn you though, such dinners do not come cheap in India at all. You need to add taxes to the prices shown in the price list, so in the end a dinner for two (just soup and main course) costs around 50€.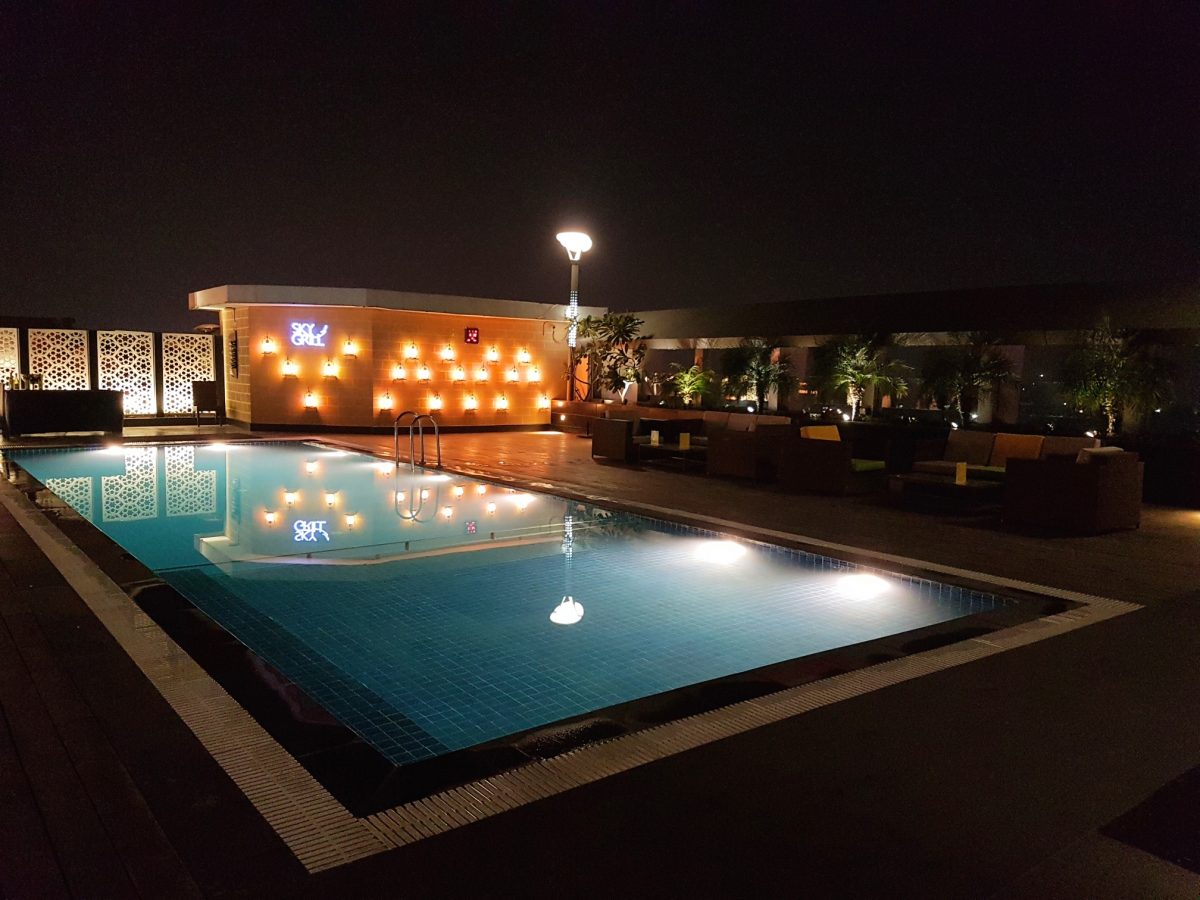 Other facilities
We only stayed at Crystal Sarovar Premiere for one night, so we didn't use any facilities apart from the Sky Grill, but the hotel has fitness and a nice rooftop pool (unfortunately we only saw it in the evening) from where you can actually see Taj Mahal – but only if you are really lucky with clear skies, which is kind of rare in Agra I guess. Wi-Fi worked well and we didn't have any complaints during our stay at all.
Anda's rate: 9 from 10
Bottom line: Crystal Sarovar Premiere hotel is a very good choice for travelers who want to stay in Agra for one night and have their transport taken care of. The hotel has everything you need and the prices are very decent for 5-star hotel standards. If you are not picky about the location and prefer a good service to "walking distance" to one of the 7th world wonder, I definitely recommend staying here.