We visited Maldives in combination with India's Golden Triangle for my birthday in February. Since this was my 3rd time to visit the islands, I knew exactly what I wanted: 1. air transfer to the island, 2. all-inclusive option with Wi-Fi and fitness facilities, 3. private beach villa with sea-view, 4. an island big enough to have a decent walk around it and 5. reef sharks – I am in love with the little beasts. Royal Island Resort & Spa seemed to have it all so I booked a 6 nights vacation through a travel agency which has helped me with my last Maldives booking. If you are going to Maldives for the first time I suggest you read some travel tips first. If you want to book Royal Island by yourself and don't have Booking.com account yet, you can get 15 EUR discount by booking through this link
LOCATION AND GETTING TO ROYAL ISLAND 
Royal Island Resort & Spa is a five-star resort located in the Horubadhoo island (200 x 800 in width and lenght) and you have two options of getting there: by speed boat (which takes around 2,5 hours) or by plane. Unfortunately I didn't know that »by plane« means by a real aircraft, landing at a domestic Dharavandhoo Airport. This means you have to go to local departures terminal on Velana International and wait for your next flight (in our case the waiting time was a bit over 2 hours). The local flight takes only 20 minutes but is not as exciting as a seaplane "atoll transfer" which offers better aerial view of other islands thanks to lower altitude of flying. After landing you are picked up by a shuttle bus and transferred to a boat for a 10 minutes' ride to the island. So, be prepared for quite a journey…
VILLAS AND ROOMS
There are 3 types of villas on Royal Island Resort & Spa, all with direct beach access but none of them are located on the water directly. If you want a bit more luxury experience you can book a superior villa with a small private pool and a bit more space but to me it didn't seem worth the money.
I emailed the resort prior to my arrival and asked for a beach villa on the sunset part of the island as I wanted to jump to the beach to catch the fireball on the sky whenever needed (oh the tough life on an instagrammer 😉 ). They gave us villa number 193 which was nice from several perspectives: the beach was wide and clean, we had plenty of shade, we could see the sunset and it was a short walk to the restaurant – which was handy for stretching our legs from snorkeling.
The villa was quite spacious and had everything we needed: bed was comfy, AC was working well (it would be even better if it wasn't located directly above the bed), Wi-Fi and TV did their jobs, the bathroom had 2 showers (we only used the "outer one" which is much more romantic) with basic toiletries, and the best part was the veranda with comfortable chairs and 2 sunbeds (beach towels changed every day).  Minibar was refilled every day with free bottle of water, Coca-Cola and mango juice.
THE BEACH
The beach is fantastic throughout the island and you can walk round and round it in about 20 minutes (stops for photos included). There are small parts where you can see that the ocean has done some damage with the waves and global warming but even there the water access is very smooth and nice. The lagoon with its turquoise colors is so tempting you can hardly walk around the island without a short swim. There are a lot of broken corals in the water however, so be careful and if you are not fond by that, you might take swimming shoes with you.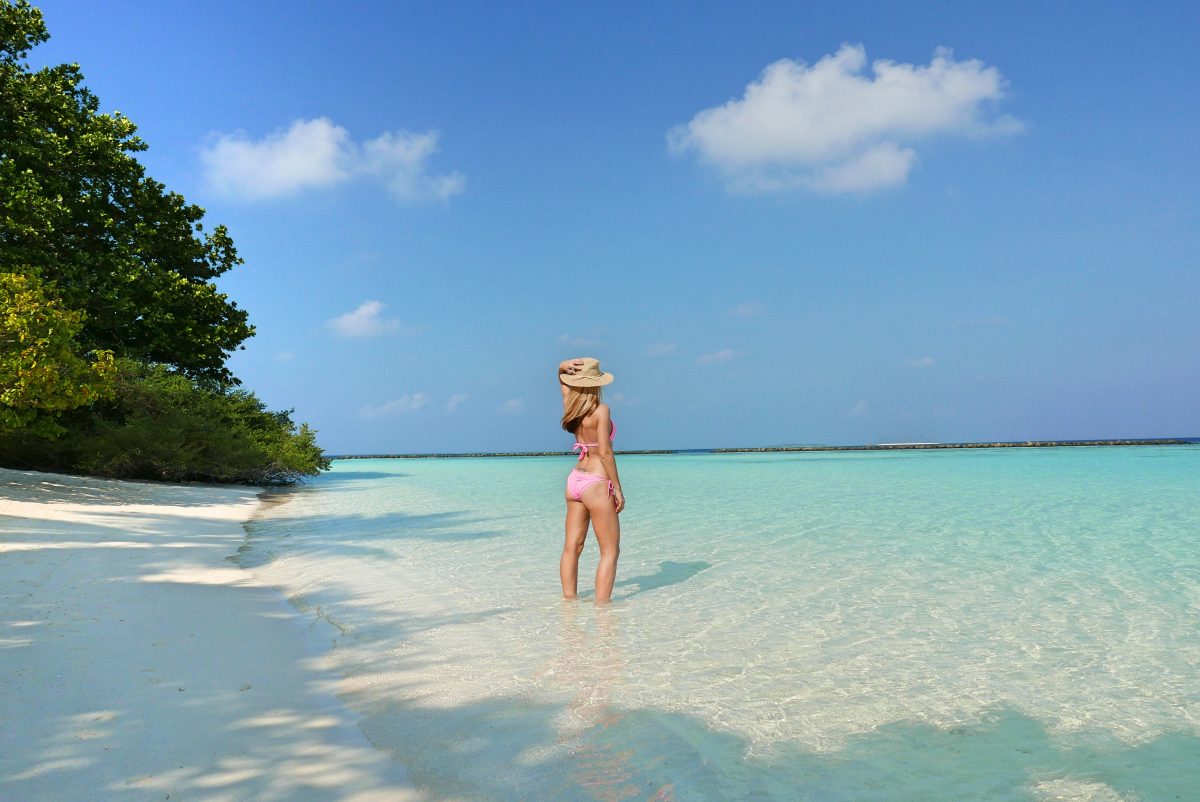 ALL INCLUSIVE PACKAGE
You can choose from 3 options: half board, full board and all inclusive. With all inclusive package you get free meals in the main Maakana restaurant (breakfast, lunch, dinner), afternoon snacks in the main bar by the pool, free drinks throughout the day (alcohol limited to "local" brands, but the choice is not bad – you can get free Carlsberg as well), basic water sports gear (kayak and snorkeling equipment), access to fitness center, squash, badminton, tennis and volleyball playground and table tennis. For Spa access and everything within it you have to pay.
RESTAURANTS
The food in the main Maakana restaurant is absolutely fantastic. Fresh tropical fruits for all meals, excellent choice of Mediterranean and Asian soups, a variety of vegetables, meat and fish – each day prepared a bit differently and with a lot of care. Not to mention the sweets and the decoration. There was no need to book the other restaurant on the beach (for which you have to pay extra and is definitely not cheap) … I probably wouldn't get bored of Maakana even after 14 days. Compliments to the chef indeed!
Also the ambient in Maakana with a big pool in the middle is very nice. On Valentine's evening they covered it with hearts and for Chinese New Year the decoration was thematic again. You can see a lot of effort and care is put into making people happy.
SNORKELING
Horubadhoo island is a part of Baa Atoll which supports one of the largest groups of coral reefs in the Indian Ocean and was designated as a part of UNESCO World Biosphere Reserve due to its rich marine life. Snorkeling around the island is therefore a must. It is also very easy and safe since the island is surrounded by a coral reef.  You can easily spot different types of tropical fish anywhere, sharkies included. The small reef sharks are swimming inside the reef around the entire island so you can spot them from the beach or the piers at any time. You can check some of my underwater photos in my Facebook album. If you are a first-timer in snorkeling, or have some basic questions, check out this post about how to use snorkeling equipment.
THE STAFF
We didn't have much needs during our stay but from what I could see the staff was very kind and helpful – from the waiters to housekeeping and the reception. At one point I got the feeling there was more staff on the island than guests which means they really try hard to please you on every step of the way.
THE "BUT" PART
As you will see in the bottom I am rating the resort with an 8,5 only. Why? Because for my taste the atmosphere was not as cozy as in Adaaran Select, and because somehow we always felt pressured to buy something extra – either Valentine's day couple masage (I think it was over 300$), a romantic dinner (over 200$ per couple, wine not included), the "cocktail of the day", boat trips… not a day went by without someone offering us something. It's not that we can't afford it but when you pay a small fortune for 6 nights all inclusive, you really don't want to look around your shoulder all the time. What I also missed was a beach bar – and I mean a bar directly on the beach. With a relaxed athmosphere and cozy chairs in the shade of palm trees. At last but not the least, for 5 stars resort I would expect to have more than 1 bottle of water in the villa (we had to get extra bottles from the bar all the time), a wider range of bathroom toiletries (like hair conditioner) and at least the Spa basics, like a free entrance to hot tub or sauna.
Anda's rate: 8,5 from 10
Bottom line: If you are Maldives first-timer and want to feel the touch of luxury, Royal Island Resort and Spa is definitely the place for you. I loved the food, the beach and snorkeling, which is exactly what I wanted from this vacation. But for a 5 star resort there is still some room for improvement. Check my other Maldives photos from Royal island on my Facebook page – and follow me for more adventures!