Ah, Rome. One of the most romantic cities in the world. We decided to spoil ourselves for the weekend, so we searched for a higher classed hotel with excellent guest reviews. We didn't want any surprises so we booked hotel Ponte Sisto, which was rated as one of the best in the category of four star hotels.
Saving tip: If you book this hotel (or any other hotel / room for that matter) through this link you and I will both get 15€ pocket money for our travel 😉
Location
Hotel Ponte Sisto has a very romantic location near Tibera river which offers a good starting point for sightseeing. It doesn't offer a direct river view, as it is hidden in the narrow Via dei Pettinari street but it is literally steps away from Ponte Sisto bridge which leads to Trastevere.
The closest metro station is around 2 km away, so this can be a small turnoff if you are arriving to Rome by public transport and carrying a lot of luggage. In this case I recommend renting a taxi, which turned out to be cheaper than Uber. We didn't mind stretching our legs because Rome has so much to offer. For example you can reach Campo di Fiori in 5 minutes, Piazza Navona in 10 and Pantheon in 20 minutes' walk.
Rooms

The interior of the hotel is in a vintage style, however it doesn't give you the impression of being old. Rooms have an interesting ground plan, with separated
entrance which looks like a very convenient hall where you can hang your coats and leave your shoes. The best part for me was the bathroom which is separated from the ground floor by a few stairs. It is very modern and spacious, with a very nice view of the Rome rooftops. I really loved this detail. The bed is comfy and big enough, however be prepared to jump out of it quickly if you feel an earthquake early in the morning. Of course this excitement is not a part of Hotel Ponte Sisto's regular offer – just keep in mind that Rome does shake a lot 😉
Facilities
The reception is very bright, as it runs along a glass hall with a small terrace. There is a lot of space to sit and rest in comfortable sofas while waiting for a taxi or your Italian lover 😉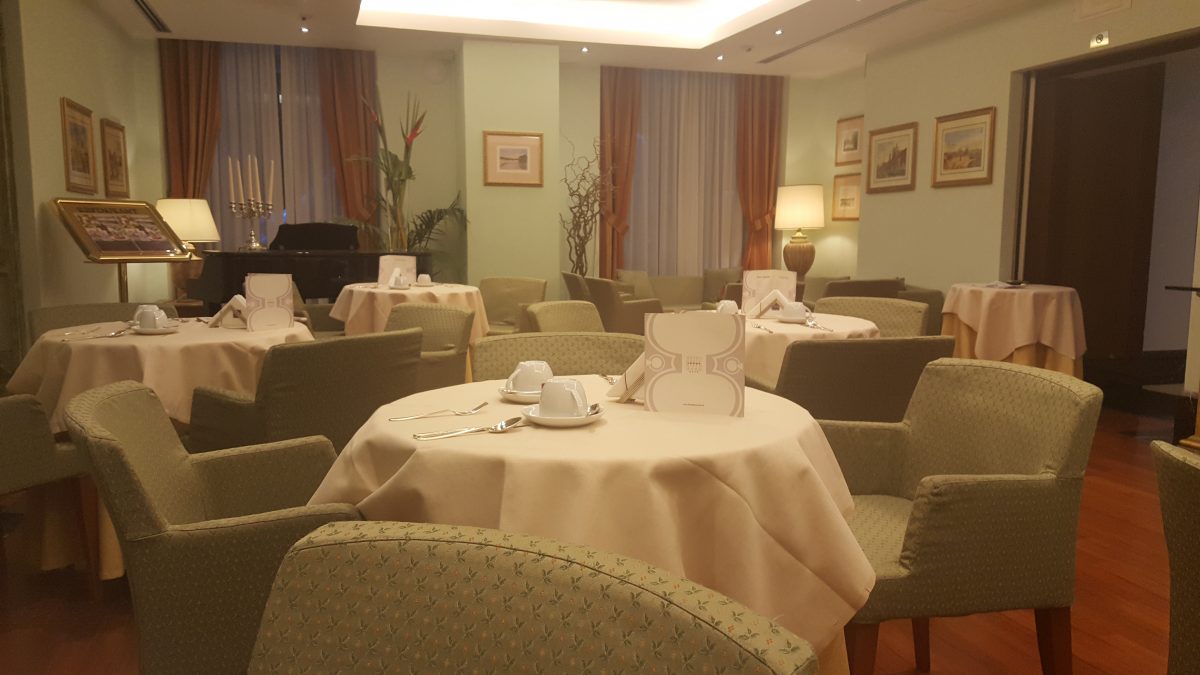 Hotel Ponte Sisto offers a quite rich breakfast, however you have to pay extra for some foods like bacon and eggs different styles. If you are not a morning person, I suggest you skip breakfast and have a brunch across the bridge in Cafe Meccanismo – a perfect spot for Illy coffee or some finger foods with wine for dinner. Italian cuisine is actually my favorite so you can imagine Rome was heaven for me, also in a culinary way. I can't wait to go back!
Anda's rate: 9 from 10
Bottom line: Our Rome trip was perfect in all aspects so I might be a bit bias when it comes to rating this hotel. I have to mention a slight noise from the street, which might be disturbing during summer if you are used to sleeping with your windows opened – so try to ask for a room not facing the street. And if you want a view, go for the high floor. But all in all, I can recommend hotel Ponte Sisto to anyone who wants a care-free vacation in the eternal city.