From the moment we decided we were going to visit Norway, I kept falling more and more in love with this Scandinavian pearl. Strange as it may seem, it was actually the Coronavirus situation that encouraged me to travel to Norway. The idea of being there almost alone (Norway has been very strict with allowing tourists to enter during COVID-19 pandemics), along with lower prices (for that same reason) turned out to be a total winner. Following up on our northern Norway road trip I am going to answer the basic questions like how much does travel to Norway cost, how many days you need to visit Lofoten, must-see places in Lofoten, where to stay, renting a car vs. camper etc.
While this post covers a road trip to northern Norway during Summer (including Lofoten islands, Senja and Tromso), travel tips will pretty much come handy to anyone planning to visit Norway.
First things first, Norway is not a cheap destination and it is definitely not a country where you just go and improvise on the way. Visiting Norway on your own takes a lot of planning, so I suggest you ask yourself first what you want to see there and what is your budget. Here are some basic tips and questions which will help you determine your trip to Norway.
1. Focus on one region
With lots of rugged areas like mountains, islands, fjords you need a lot of patience to self-drive across Norway. Travelers mostly use local flights to get from Oslo to Tromso, Bergen or Trondheim. With that said, I suggest you do your homework and decide what you want to see in Norway. In the end it all comes down to Oslo or Bergen with fjords, Lofoten islands, and optionally the North Cape (Nordkapp) as the northernmost point in Europe.
Insider tip: We decided to visit Lofoten islands with Tromso, Kvaloya and Senja, and left fjords for the next time. Also, Nordkapp didn't seem anything special on the photos so I didn't want to waste 2 days driving just to take the "I was here" photo for Instagram.
2. Timing and seasons
The best time to visit Norway is from June to August, if you want decently warm weather and long days which allow you to make the most of your trip. If you want to see the northern lights (known also as Aurora Borealis), you need dark skies, which means from September to April. If you want to avoid the crowds and don't mind the chilly weather, May and September are probably the best choice.
Insider tip: I am a freezing type of person and August was a perfect choice. Luckily, there were no crowds but this was only due to Coronavirus pandemics. I would probably want to go back in September next time.

3. Weather lottery
First of all, Summer in Norway is nothing like Summer in most parts of the world. With the exception of Oslo and southern parts, expect around 20°C on a "hot sunny day" in Tromso or Lofoten. Which also means you probably won't swim in the ocean (water temperatures in the north are around 10 – 12°C). The most annoying part of traveling to Norway is the unpredictable weather – you can easily end up with 14 days of rain in a row.
Insider tip: Pack and dress in layers. It is annoying, I know, but do take some warm clothes because evenings and nights are cold even during Summer. But take swimsuit as well, because you never know when you get the courage to take that 2-minute swim. 😉
4. Be flexible and plan that extra day
Rent a car or better yet, a camper. Plan ahead but try to be flexible. And don't be disappointed if you don't get to see everything on your bucket list. Try to leave 1 or 2 days empty, so you can fill them up if needed. Follow the weather and if needed, change your route.
Insider tip: Out of 10 days we only had 1 day of rain, and we mostly relied on Accuweather. The forecast was extremely accurate, even by the hour, so it helps if you are flexible. If the weather says "sun in Lofoten tomorrow", hurry there and explore Tromso later.

5. Consider renting a camper
I am not a camper type of person, but Norway is something different. First, there are not many hotels available in the north, especially Senja and Lofotens. Second, food is really expensive (and also not many restaurants on the way), so it helps if you can make your own lunch or coffee. Third, and perhaps most important, with camper you can be flexible and sleep wherever you want. If you rent a camper like WV California, the cost won't be much higher than renting a car. Hence, you can still spend the night in a hotel if needed.
Insider tip: We rented a camper via Airbnb (if you still don't have Airbnb account you can log in via this link and get 30€ off your first booking), and paid less than 100€ more compared to 8-day rental of Ford Mondeo. Our idea was to sleep in hotels every second night to get a decent shower, but in the end we only slept in the camper once.
6. How many days do you need for Lofoten islands?
If you are a nature lover and hiking enthusiast, do yourself a favor and include Senja island in your trip as well. I can say that our 7-day Norway itinerary* was perfect, but we were really lucky with the weather. On top of that count 2 days for traveling back and forth (depends of course where you come from), and 1-2 days for flexibility.
Insider tip: We spent 1 day for traveling from Ljubljana to Tromso (2 transfers in Frankfurt and Oslo), and 1 day back. *Out of 8 remaining days we had 1 rainy day, so I am calling it a 7-day trip. You can also fly to Lofoten directly, or Bodo and take a ferry, but this is probably more expensive option.  

7. Travel budget and prices in Norway
Don't worry, if you plan carefully and if you are not too demanding, you won't go bankrupt. The cheapest option is to rent a camper and cook your own meals. Wild camping is allowed and it is free! Most of the people I know even packed food from home, like pasta and ready to eat canned food. Our budget was not so tight and here are the main expenses:
Flight ticket Ljubljana – Tromso: around 500 € per person
Camper rental for 8 days: around 900 € total
3-4 star hotels with breakfast: around 100 € per night
Airbnb options can be a bit cheaper, and again, you can get 30 € discount if you register via this link (your booking needs to be over 300 €)
Camp fees: from 20 € and up (depending on the services you need)
Ferry Kvaloya – Senja: 28 €
Ferry Senja – Lofoten: 65 €
Town parking: 3 – 4 € per hour (make sure you download EasyPark app)
Taxi from Tromso Airport to the city center: 25 €
Bus from Tromso Airport to the city center: 10 €
Diesel: 1,5 € per liter
Prices in markets are 1,5 – 2x higher compared to Slovenia
Tourist menu in a restaurant: 15 € per basic meal (pizza, pasta)
Cappuccino: 3,5 – 4,5 €
Beer in a restaurant: 8 – 10 € (the only real headache!)
8. 7-day northern Norway itinerary
Finally, here is an example of 7-days itinerary that worked for us prefectly. First, I checked all the must-see places on Instagram, then we booked a camper van and the hotel for the first night in Tromso, and the rest was done more or less on the road. Again, our plan was to sleep in the van if necessary, however due to coronavirus lack of tourists we knew it wouldn't be a problem to book a hotel on the way as well.
Day 1: Tromso with a trip to Kvaloya island for the first short hike
Day 2: Senja island – scenic drive with stopovers and hike to Hesten hill
Day 3: Lofoten – scenic drive to Uttakleiv and Haukland beach to Fredvang
Day 4: Lofoten – morning hike to Ryten, afternoon trip to Reine and hike to Reinebringen
Day 5: Lofoten with short visit to A town and Senja island with another hike to Hesten hill
Day 6: Sommaroy island – short hikes around the island and some beach tranquility
Day 7: Tromso – wandering around the city and hike to Floya hill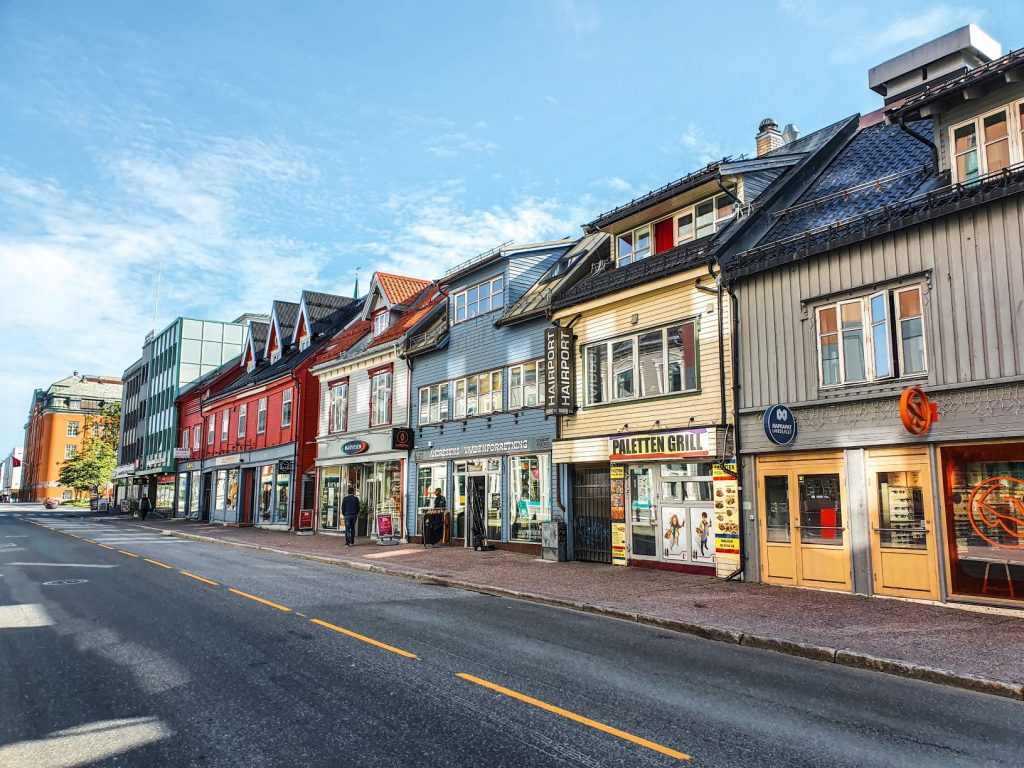 I hope I answered the basic question about travel to Norway. I still plan to write a more detailed post about things to do in Lofoten islands, so I invite you to follow my Instagram account or Facebook page for more information. If you have any comments and questions, please scroll down and leave a comment.