After we chose Maldives for our short winter escape, I searched for the options which promissed the best combination of stunning beaches, all-inclusive options and short hydroplane transport to one of the Maldives islands. For a reasonable price of course, if that word is even allowed when travelling to Maldives. I hesitated between the Sun Island resort, Barefoot Eco Hotel and Adaaran Select Meedhupparu. With no doubt in my mind I can say that I made the best possible choice. If you are visiting Maldives for the first time I suggest you read some basic information in this post.
The Location
Adaaran Select Meedhupparu island is a part of Raa Atoll, approximately 45 minutes' hydroplane drive from the Velana International airport. Be prepared to wait a couple of hours for your transport to pick you up, according to the reviews some people wait for 2 hours or more. Or, if you are lucky like we were, you wait only 30 minutes in a designated space with a free Wi-Fi and drinks, which is peanuts compared to Royal Island Resort & Spa that we visited on another occasion. Meanwhile prepare your camera because what follows will stay in your memory forever: the hydroplane flight offers breathtaking views of other islands and atolls. 
Adaaran Select Meedhupparu resort lies on a small island, about 500 long and 250 meters wide. That sounds very small but to my surprise it actually wasn't. If you are staying on the north east part of the island like we did, you have quite a walk in front of you to get some food. The inside of the island is rich with vegetation and numerous paths which can be a bit confusing at the beginning. Don't worry, everything is marked, but when your brain is on vacation, you just might get lost from time to time.
The bungalows
All bungalows offer direct beach access, and some of them stunning views of the ocan. It just doesn't get better than this, unless you book a water villa and risk a dangerous fall into the ocean in the morning. 😉 All of the beach units are "twin bungalows", so you kind of share the beach access with your neighbour. At first I thought that would be a bit disturbing, but in the end it turned out we saw the other couple 3 times in the whole week for about 10 seconds. So yes, you do get all the privacy you need.
The bungalow itself is simply gorgeous. It is quite spacious and decorated in warm colors, which really make you feel like home. The best surprise was the bathroom, which is partly roofless, so you can shower under the stars. But don't worry, no one can see you. The rest of the bathroom has a normal roof, and also additional shower cabin so you don't get wet. Which actually sounds kind of funny when you say it out loud. By the way, the bathroom floor is partially covered with sand and my advice is not to step in it. Unless you have Sisyphus tendency.
You walk along the island bare footed most of the time and for that reason the bungalows are cleaned twice daily. And very thoroughly, may I add. One day I practically begged the cleaner to finish his job early because it was too hot outside.
The facilities
As I mentioned in the beginning, we chose the all-inclusive option so all of the following facilities and services were included in the orange bracelet which you have to wear on your hand.
Very rich breakfast, lunch and dinner are offered in the main restaurant, which is conveniently hidden behind the front bar and the pool. So just in case you forget to drink hydrate with your meal, you can grab a drink when leaving the restaurant. The drinks with lunch and dinner are served by waiters who never forget to refill your glass. And yes, even though Maldives are a Muslim country, they do serve alcohol in the islands.
Besides the restaurant, the main bar and pool bar there are 3 more bars around the island, all of them on stunning locations. My favorite was Café Mass, which was the closest to our bungalow. It offers the best ambient and a nice view towards the jetty where the hydroplanes are landing. Which happens twice a day I think. The second one on the beach is the Sunset bar with a breathtaking view of the Indian ocean.
Adaaran Select Meedhupparu resort offers a fitness – gym, which is relatively small and with all of the muscles trying to show off it can get a bit crowded during the popular hours. But it IS there so you have no excuses not to burn the calories from all you can eat meal plan. Just bring your own bottle of water, since they missed that little detail when planning the interior. Alternatively you can play tennis on 2 playgrounds surrounded by a beautiful garden, or table tennis, which is located at the main bar.
For those of you who suffer from various types of pains, or just fancy a facial, there is one Chinese massage salon and a beauty corner with hair stylist. If you are into massages, do try the Chinese guys, because they are fabulous. They can hardly speak English, so be prepared to communicate with hands. And be prepared for lots of pain because they mean business. When I couldn't resist any more from moaning, the nice masseuse asked: "Oooo you like?" And to my "No, this is pain" answer, she got very excited "Oooo very pain. Very good!" But trust me, they are worth every dollar.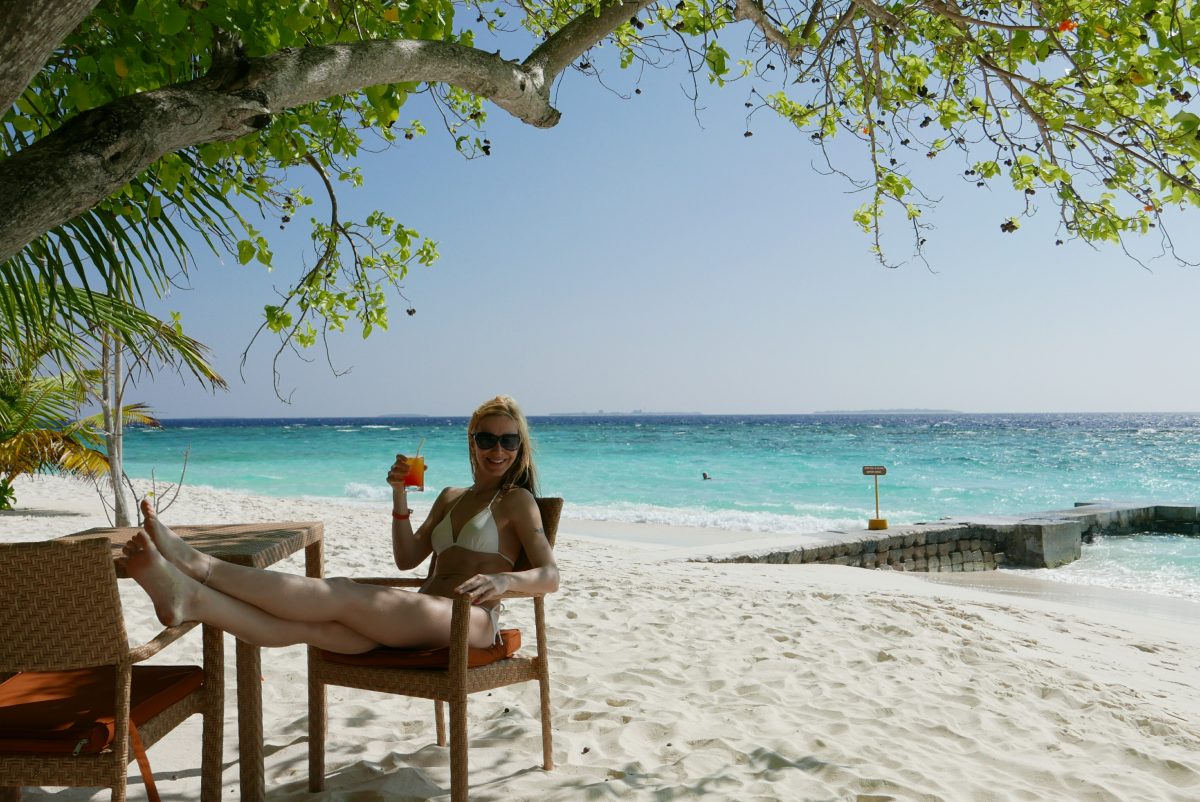 Dress code and other tips
Bring only flip flops or some very light shoes for the evening, so you don't step on a stone or in case you are afraid of the dark.Dress code in the main restaurant is no bikini, so make sure you have some scarf around your body at least. And guys, honestly, no one wants to see you hairy chests at lunch.
You can take quite a few trips from the island, mostly for snorkeling, diving and island hopping. We didn't do any, since we were there for only 1 week. If you want to save some money, bring your own snorkeling gear. Because when it comes to money and those extras… everything is very expensive. If not so on the price list, definitely in the end, when you get your room bill with all the "service fees".
For those of you who are ready to pay 600$ per day extra for staying in water villas… yep, 600 bucks on top of what you already paid… and yep, per day… well, you can still change your mind later. Most of the guests say the money you pay for the luxury is well spent. I won't argue with them since I didn't taste the experience. They do have their own private beach and restaurant. And, remember, they risk their lives every morning when taking that additional step with stretching. 😛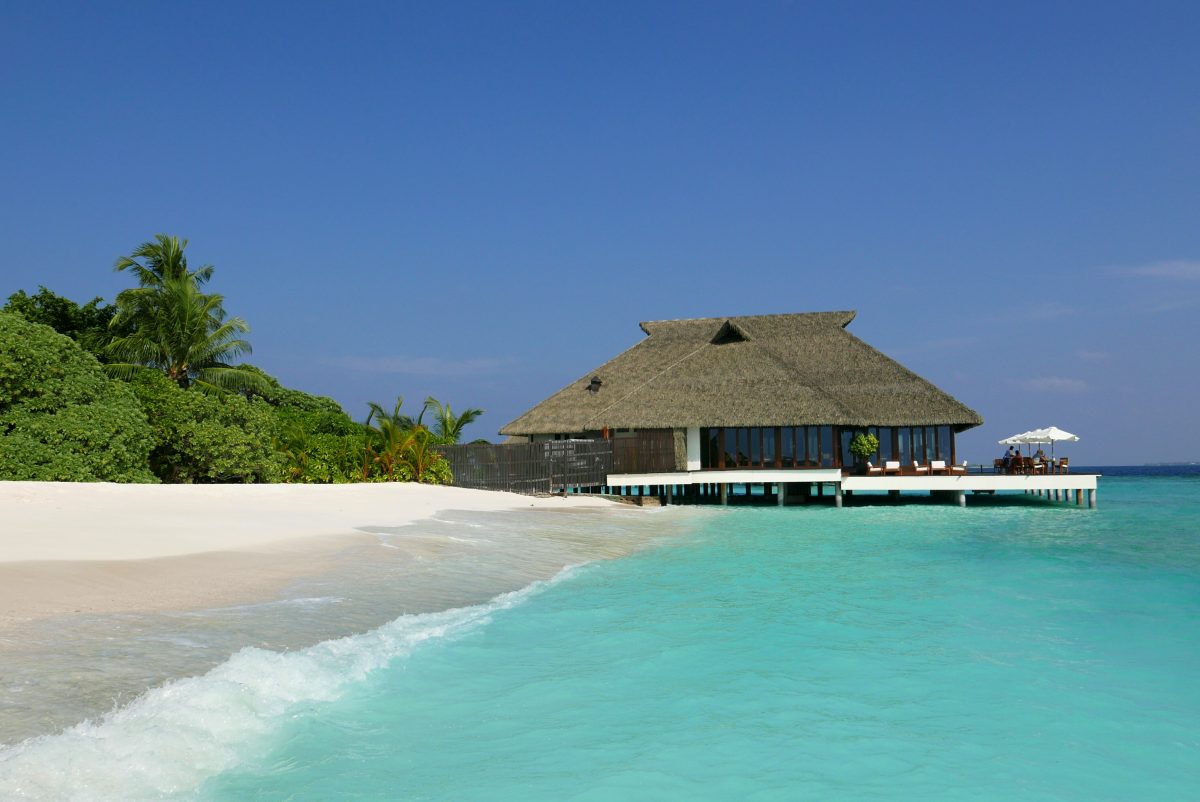 THE beach
I left the beach part for the end on purpose. I am very spoiled when it comes to swimming in crystal clear water and walking on endless white sandy beaches under the palm trees… And Adaaran Select Meedhupparu has it all. The colors of the ocean are beyond gorgeous, the sand is white and soft, and you can actually walk on the beach forever if you keep on circling around the island. 🙂 Our bungalow was Number 206, which is on the north east part and even though the sand there was full of very small parts of corals (like someone would mill them for breakfast), it was a good choice. The east part of the island is more peaceful and calm, while the west one is windier with occasional waves. But don't get excited – the waves aren't even close to do any kind of surfing.
My first step to the ocean in the morning was accompanied by a reef shark, which was my highlight of the week. I got so excited, I scared the little guy immediately. Fortunately he was not the only one and I saw at least one each day. However, the snorkeling part was a bit disappointing. The under water life around the island is kind of boring, unless you approach the pier and wait for the tourists to feed the fish. For snorkeling enthusiasts I recommend taking a trip or two. For beginners, the island's underwater fauna is pretty much enough. For me… well, the sharky compensated it all. And made my second Maldives fairytale unforgettable.
Anda's rate: 9 from 10
Bottom line: Thank you, Adaaran Select Meedhupparu, for making me feel like in heaven. If you are a beach lover and appreciate the cozy atmosphere, than this is the place for you. But if you prefer snorkeling you might consider checking Royal Island Resort & Spa in my blog.