Oh, lovely Cambodia, where do I start? First, I need to say that Cambodia was never on my bucket list. At least until last year when a couple of friends told me about Angkor temples. It took me just a few clicks to realize I needed to see this UNESCO heritage site ASAP. The only question left was: what else to do in Cambodia for one week. Digging deeper for things to do in Cambodia I found a piece of paradise just a short flight away. The island of Koh Rong Sanloem seemed like a perfect choice to escape the European winter and extend Cambodian adventure.
Fast facts about Cambodia
Cambodia lies in South East Asia, nestled between Vietnam, Thailand, Laos and the Gulf of Thailand. The country changed its name 4 times in the past 50 years, mostly due to change of the regime and government. After the restoration of the monarchy in 1993 it is now officially called the Kingdom of Cambodia with the largest city Phnom Pen as its capital. The country has a population of over 16 million and 95% of the people practice Buddhism as their official religion. To visit Cambodia, you will need a tourist visa, which I suggest you purchase online to make your life easier – simply click here, prepare your photo (jpg) and 36$.
A few words about Cambodian history
To understand the country's pulse and culture, you need to know a couple of things about its history. First of all, Cambodia was a part of a huge Khmer Empire (officially called the Angkor Empire) that ruled the mainland Southeast Asia and parts of Southern China from 9th to 15th century. That's where all the gorgeous temples come from. Second, Cambodia suffered a very bloody civil war that ended in 1975. Only during the 4-years rule of the communist regime the Khmer Rouge (Cambodian communist party) killed between 1,5 to 2 million people – which was almost a quarter of 8 million at that time. Even if the regime ended over 40 years ago it left huge consequences, resulting in traumatized population, destroyed infrastructure and over 4 million landmines still laying across the country.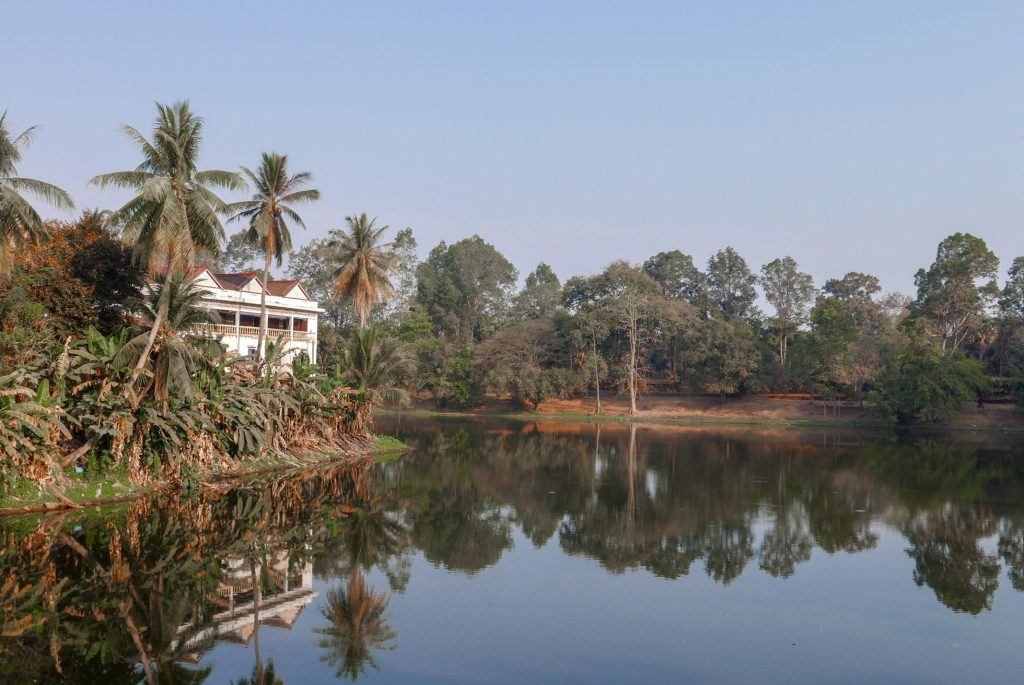 Safety in Cambodia
That said, you are probably wondering whether it is safe to visit Cambodia. Reports say that over 60.000 people have died and a lot more were injured from landmines. Tragic accidents are still happening because no one exactly knows where the landmines are. The most dangerous places are on the border between Laos and Cambodia, so I definitely don't advise you to wander around off the beaten path in that area.
Sadly, the high numbers of victims, especially of working age, are affecting entire families, representing a considerable burden to families' abilities to make for a decent living. There are large areas where an average income is less than 3$ per day. That doesn't mean that the streets are flooded with thieves, but like in every part of the world it is not a good idea to show off and act like you own the world. Also, respect their religion, which means wear appropriate clothes, cover your shoulders and don't wear hot pants if you visit the temples.
We didn't feel unsafe at any point of our stay in Cambodia, although it was sometimes quite challenging to sit in a tuk-tuk, watching the chaotic traffic running by. I'd say the biggest danger in Cambodia presents their (lack of) infrastructure, so instead of renting a car rather sit back and relax at the back of your tuk-tuk or a cab. Oh, and did I mention the deadly snakes and spiders? No? Then do your own research (evil smile).
When is the best time to visit Cambodia
The best time to visit Cambodia depends on what you want to do. All in all the country has a warm to hot tropical climate year-round. The rainy season runs from May to October: it is a little cooler (with lowest temperatures just above 20 °C) but generally accompanied with high humidity. The dry and hot season lasts from November to April. So, if you want to avoid flooding, you should probably plan your visit in February, like we did. April can get too hot (up to 40 °C) and you don't want to be exploring the temples in that (s)heat.
Getting there and around: traffic in Cambodia
We flew to Siem Reap through Bangkok, but there are several direct flights also with Phnom Penh and other Asian capitals. Of course, you always have an option to take a bus or rent a car, but I am too old for this shit – at least when it comes to driving in Asia. Local flights are quite cheap (less than 100€), so it all depends on your budget.
Once you come to Siem Reap airport, you can either take a taxi (it costs around 10 – 20$, depending on your hotel's location), a tuk-tuk (around half price less) or ask your hotel to pick you up (most of hotels have airport transfer included). Driving in Cambodia is not something I would advise, especially as there are only a handful of traffic lights, and the signs are often in local language only. On top of that, it is very common for for tuk-tuks, motorbikes and even cars to drive the opposite side of the streets. Just for the fun of it, I guess. Tuk-tuks and cabs are very cheap, fares are often negotiable, so don't bother practicing the Fast and the Furious hero.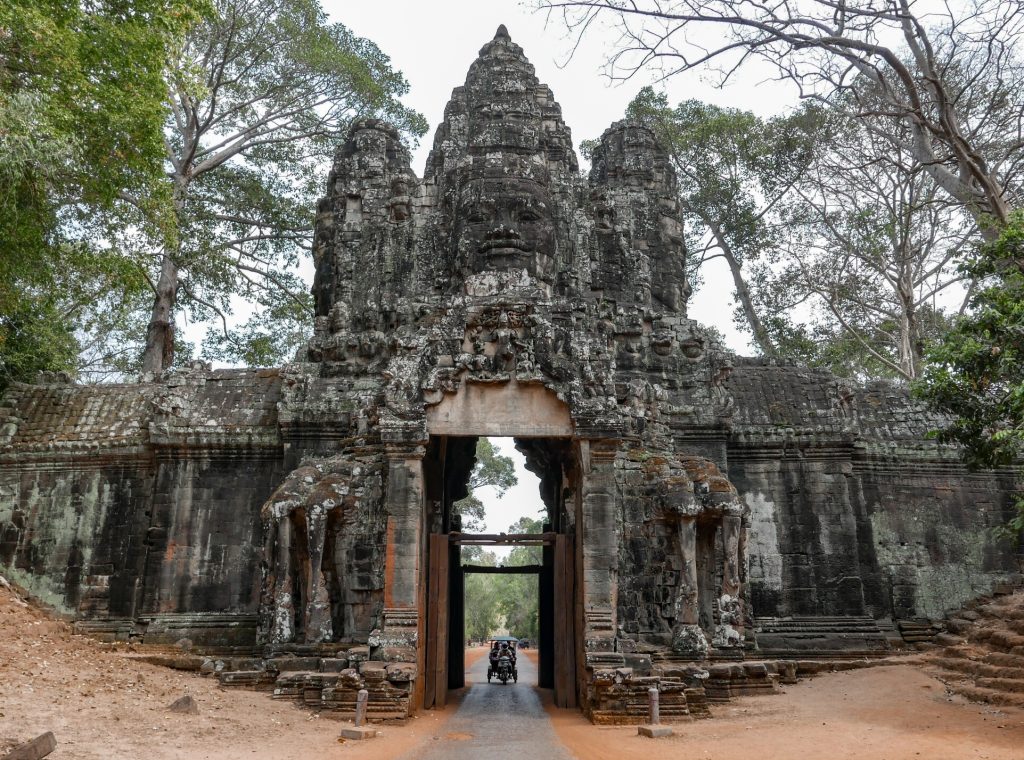 Cambodian cuisine
I love Asian food (Indonesian island Lombok was heaven for me) so you can imagine that I really enjoyed Cambodian cuisine. Although it did feel awkward to see rice and soups being served at any time of the day (even breakfast) I didn't miss western food for a second. No, wait, I am lying – I did crave for whole-wheat bread, especially with those delicious scrambled eggs and sautéed vegetables. But I easily replaced my cravings with delicious tropical fruits (OH THAT MANGO!!!), yummy rice noodles with shrimps and a variety of soups that originate from all parts of Asia.
I do have to warn you of two things when it comes to Cambodian cuisine: 1. There is no McDonald's in Cambodia (I read that KFC is struggling hard not to lose more money there) and western "fast food" is much more expensive if you compare it to local street food. And 2. Cambodians can eat almost anything: you will find exotic food like spiders, locusts, fried crickets, termite eggs… How about tarantula kebab? Yikes, no thanks!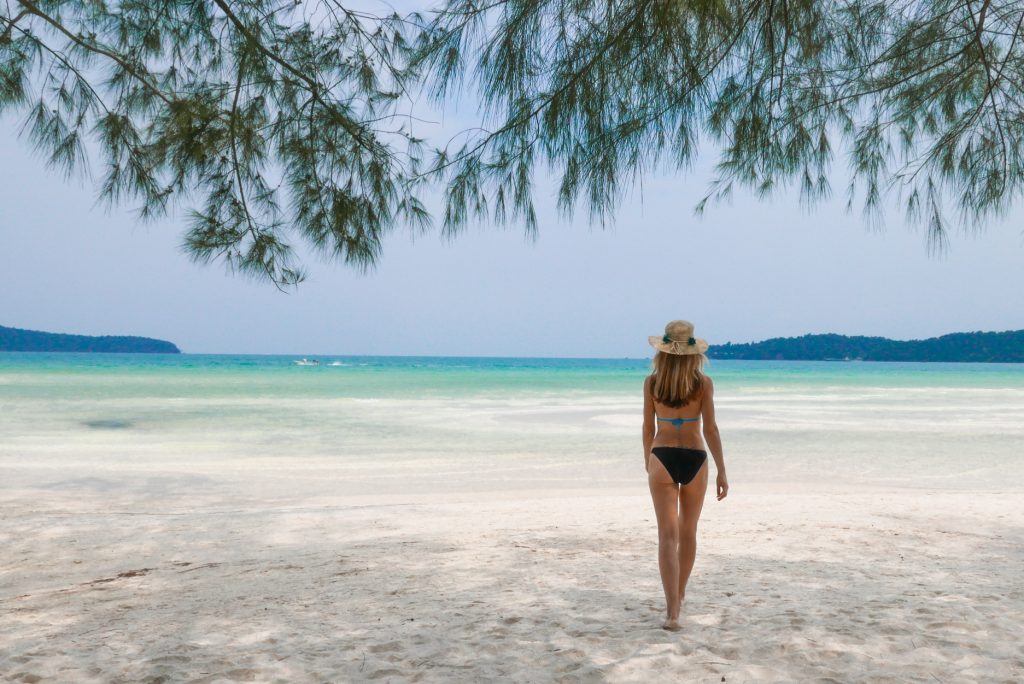 Tourist accommodation and other costs in Cambodia
Cambodia is cheap and we all love cheap. Backpackers can easily find a room for less than 20 USD per day, while 4 or even 5-star hotels in Siem Reap costs less than 80 USD (breakfast and airport transfer included). Service in Cambodia is fantastic: hotels are really nice and clean, food is always abundant, staff is beyond friendly. Average Asian tourist menu (soup + noodles or rice w/ seafood) costs less than 10 USD (and I am talking real restaurants here), while you can grab a beer on Pub street for less than 1 dollar. Non-alcoholic drinks are cheap as well, so don't even bother. But DO pay attention to the money. You can pay with US dollars everywhere in Cambodia but make sure that they are in perfect condition and as new as possible. I kid you not, they won't accept the banknote if it is just so much as schratched.
Things to do in Cambodia
If you want to visit all of the country's popular spots you would need at least one month. So, let's focus on the things to do in Cambodia in a reasonable time, like a week or 10 days. Most of the tourists come to Cambodia to visit Angkor temples, which is really something you need to put on your bucket list if you love traveling and if ancient heritage is your thing. After being put on UNESCO's heritage list and running for the prestigious spot among the 7 new wonders of the world, Angkor Wat (the biggest and most popular among the temples) has been attracting millions of people each year, finally helping Cambodia to recover from the devastating consequences of the civil war.
Luckily, Cambodia not only has a rich historical heritage but also around 440 kilometers of coastline and 60 islands, which makes it a perfect destination for those seeking a bit of both. Not all of the coastline is attractive, however there are a couple of islands worth taking a local flight and waiting in line for an hour boat ride. The islands of Koh Rong and Koh Rong Sanloem are located south from Sihanoukville port and can I can easily compare them to the most beautiful beach destinations in the world. Just check the photos in my Facebook album and you'll see why.
If you don't care about white sand and turquoise ocean, you can extend your stay in Siem Reap by visiting the Phnom Kulen national park. Or fly to Phnom Penh and check another Asian capital from your bucket list. Either way, I am pretty sure that Cambodia will find a special place in your heart. And we will have (one more) thing in common 😉