If Paris is the city of lights, New York the Big Apple and Dubai the city of gold, Las Vegas is all in one. From Ancient Rome and Egypt Pyramids, through the magic of fairytales and science fiction, all the way to Eiffel tower, Brooklyn Bridge and London Eye: Vegas has it all. And honestly, they are doing a pretty good job out there in the middle of the desert. I have visited Las Vegas 5 times, mostly for work, and each time I try to experience something new – different hotels and restaurants, things to do in the Strip and around the town. In this post you will find about where to stay in Las Vegas, how to get in and around the city, a few casino tricks, and things to do in the Strip in general.
Getting there
Las Vegas McCarran Airport is quite busy throughouth the year because Vegas is known for exhibitions, cultural events and shows, parties and it is also a popular vacation spot or stopover for travelers passing trough Nevada, Arizona or Utah. Lots of people also come to Vegas by car, however I would avoid driving in and around the Strip, as it gets quite busy and people do sometimes act crazy (you did watch Hangover, right?). If you live in California and want to save a few dollars, a bus would be a better option. Taxi from McCarran airport costs around 20 – 30$, depending on where your hotel is, Uber is a few dollars cheaper. If you are searching for Uber location in McCarran airport, just follow "Ride Share" signs, to 2nd floor – it is very well marked.
How to get around
Trust me, even though everytning seems close, nothing in Vegas is "just around the corner". Unless you are a gambling addict whose idea of fun is to move from one slot machine to another. If your schedule is tight and want to see as much as possible in one day, I suggest you consider taking the Big Bus Las Vegas – the hop on hop off tour will save you a lot of time and you will find out a bunch of interesting stories about the city and "behind the scenes" stuff. For example the guide on the bus told us that hotel windows can be deceptive. They usually connect two stories, so the object appears closer. So eventually you get tired of walking and "rest" in some Casino on your way. To spend some money there of course.
Big Bus main tour takes you from the Welcome to Fabulous Las Vegas sign (be prepared for the crowd beneath it), along the Strip, all the way to the Circus Circus, as the last stop on the red route. And from there on you can take the blue line, which goes along the Stratosphere (you might see some crazy people there paying to jump from the tower) towards downtown, crosses the lively Fremont street and returns back. This part of the tour is a bit boring for my taste, but since it is included in the price and your legs are probably killing you, take it. It only lasts for about 20 minutes or so. The Night tour is charming as well, since Vegas is the city of lights (sorry, Paris!), but there is no need to pay those extra bucks – you can easily catch a glimpse of Vegas by night if you take the last "Strip" ride at about 7 pm, when it starst to get dark.
Anyway, it is usually too hot to walk the streets of Vegas during the day (except in the short winter period), so the tour comes very handy if you want to see all the famous Hotels and Casinos which are a real masterpiece. Sure, you can take Uber or local busses as well, they are very cheap, but then you won't be able to make all those fabulous shots. Just don't say I didn't warn you.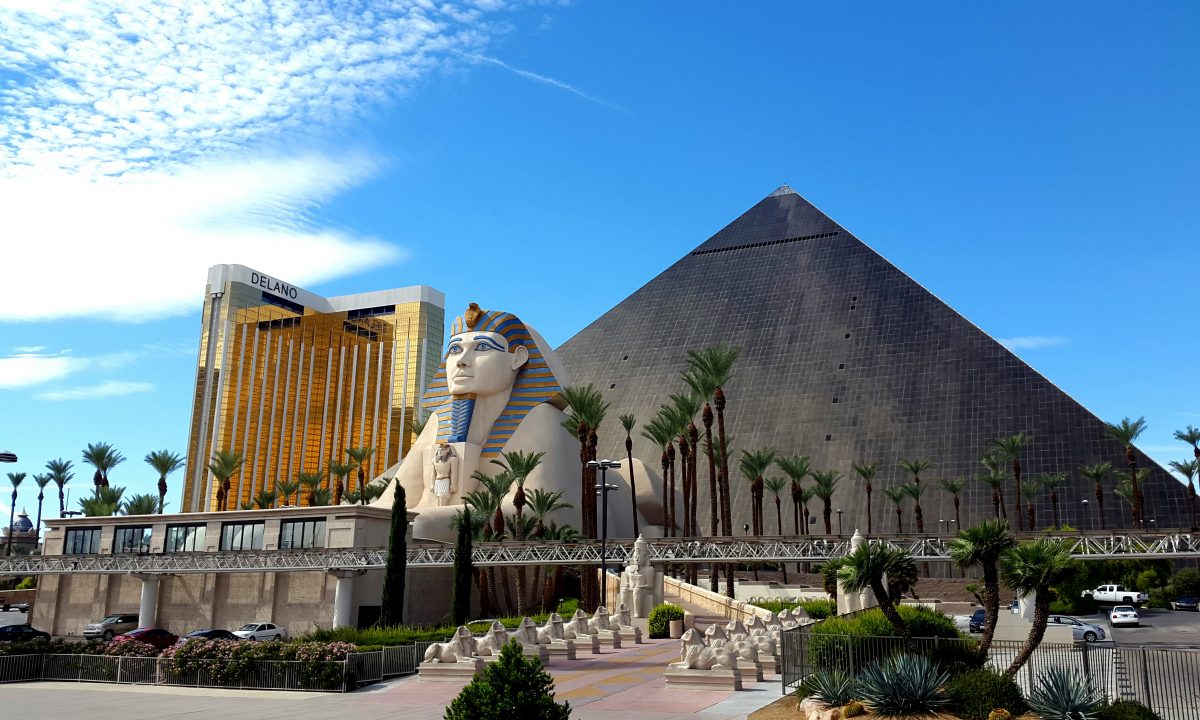 Exploring the Las Vegas Strip
It starts with that "Fabulous " sign which is in my opinion the least fabulous thing in Vegas. I mean, it's just a sign, which looks much nicer on a magnet. The first two beauties on the way are Mandalay Bay and Delano, a gorgeous "golden couple" of hotels, connected with a small express train (free of charge), which runs along the Luxor to the Excalibur as a final destination. Taking the train sounds ridiculous, since all of the mentioned hotels look so damn close. But after you have walked the Mandalay Bay (their Aquarium is supposed to be good, and the "beach" with those show off pools looked very classy) and reached Delano … well, just take the damn train!
In front of the pyramid shaped Luxor you can see the big statues of sphinx and pharaohs and maybe see the Titanic exhibition. I visited the real pyramids in Egypt and I have to say they made quite a good copy. The shot of Luxor I made from the Big bus is actually one of my Vegas favorites. The next one in line is Excalibur, designed as a medevial castle with eye cathcing colored cones, which is actually only magical from the outside. Honestly, you won't miss anything if you just pass by, cross the bridge (with pretty awesome views in all directions) and reach the New York area. Since I am in love with the Big Apple, this part of Vegas was my favorite. The Statue of Liberty (by the way, it is about half size of its original version, and it has male hands – oh the jokers!) stands in front of the New York, New York hotel, followed by a replica of Brooklyn Bridge. Make sure you get some good Italian coffee inside the hotel – the charming ambient reminds of Little Italy.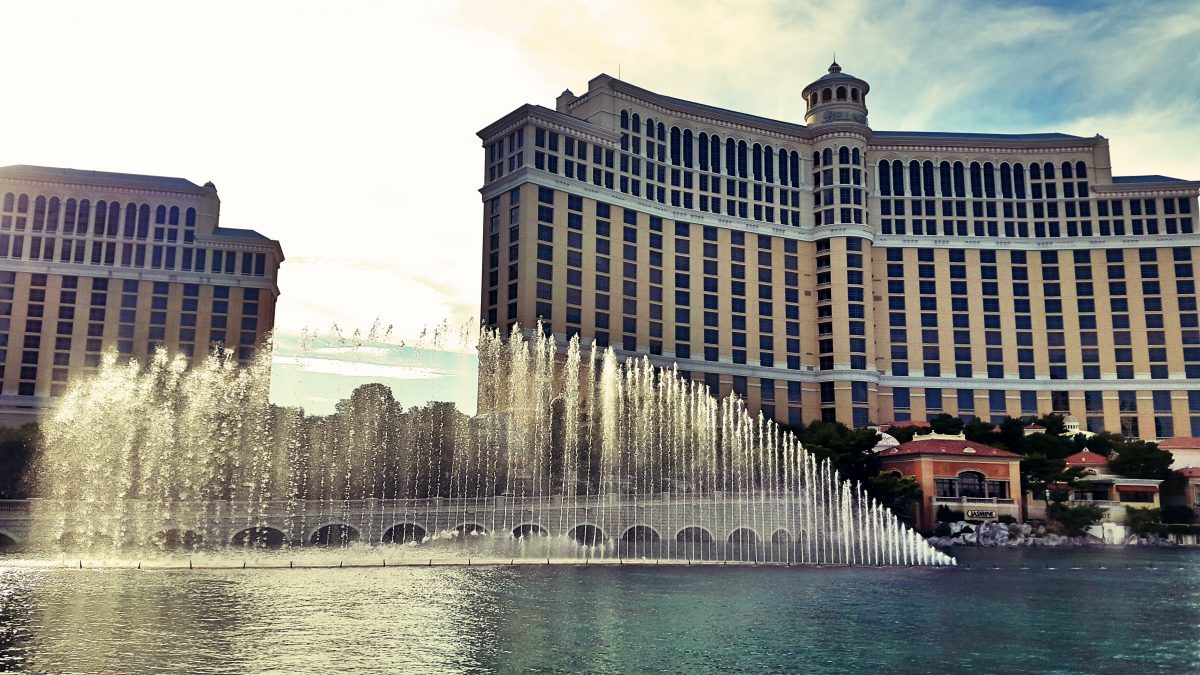 Since you probably don't want to read my Vegas review for 3 hours, I will try to cut things short from here. Make sure to see the fountains in front of the Bellagio during the day and night – both versions have their own charm. I think the water pops up every 15 minutes, so don't worry, you don't need to schedule your time for that. Caesar's palace is gorgeous from the outside, while we have Celine Dion to thank for the Colloseum part – it was built just for her and she performs there regularly. Another masterpiece is the Venetian. Take the time to check it from the inside as well. Again, the night version is very romantic, when the water in those fake canals gets magical colors.
The "modern" part of the Strip, around Aria and CityCenter is a nice contemporary refreshment. The Veer twins, luxury residential towers which lean in opposite directions (about five degrees from center) are indeed eye catching.
And then there are Wynn and Encore. The richest and the most glorious of them all. Make the time and take your time. Even if your legs are about to fall off, trust me, these two giants are worth it. Especially if you learn about Mr. Wynn's story. Once again, take that Big Bus tour, they will tell you all about it. (I swear to my dog I am not getting paid for this.)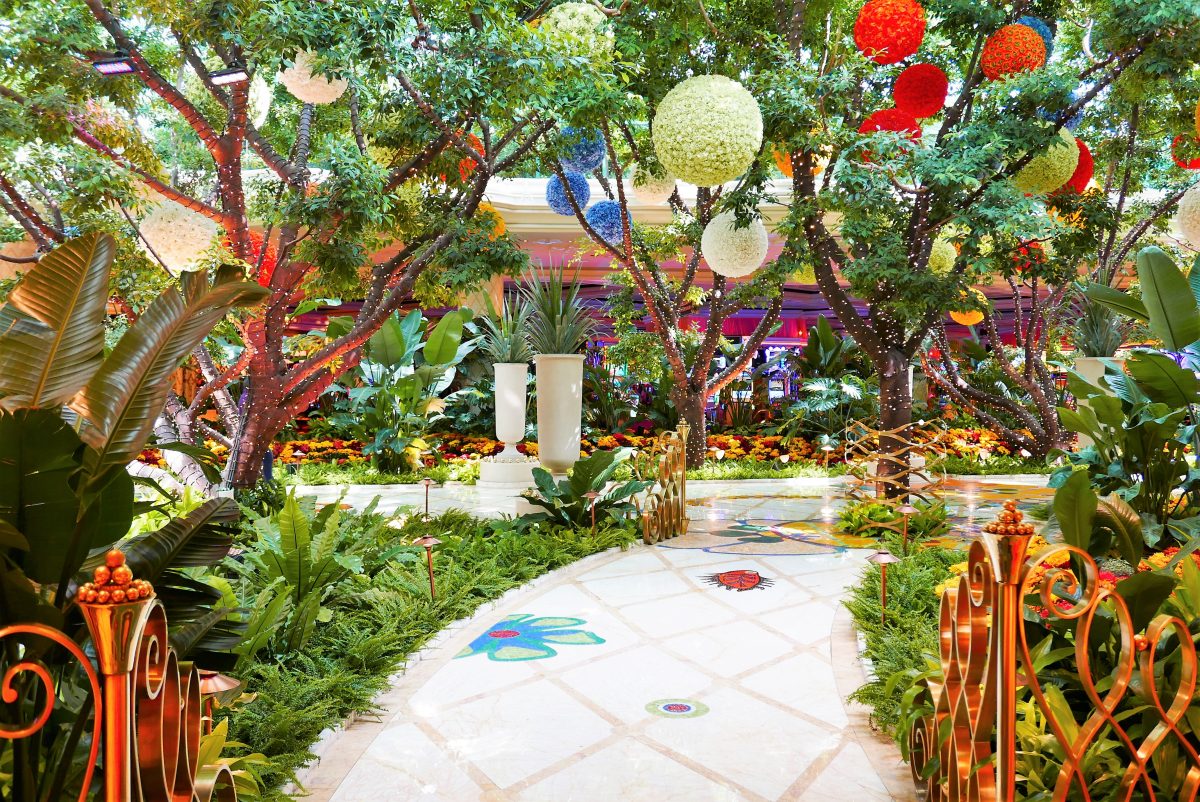 Where to stay in Las Vegas
I have stayed in the Excalibur (the location close to Mandalay bay convention center is quite ok, and since there is also a bus station very close to the hotel, I can easily recommend it), Polo Towers (which is more centrally located) and The Luxury Suites International at the Singature. However, I think that any of the hotels on the Strip serve their "purpose" … and that is to gamble until you drop and preferably not leave the hotel at all. Although I am not the right person to advise you on that part, I did learn that the slot machines are all over the place. They start by welcoming you at the airport and they don't forget to say goodbye when you leave as well. I think they even have them in oil stations …
The prices of Las Vegas hotels can double on weekends, so if you are on a budget, it might be smart of you to take a room a bit off the Strip. Check out Booking.com for deals or try Airbnb – if you register via this link you can get a 30 € discount for your first booking (the total cost of your booking has to be over 300€).
Shopping in Las Vegas
If you are in the city on business (by the way over 22.000 trade shows and conventions are held each year in Vegas so if your job is related to global sales there is a very big chance you will end up there at least once in your life) and if you are not so much into gambling or sightseeing … and especially if you are a woman, you are definitely in the right place to shop until you drop.
You can shop for designers' clothes in the Roman Forum or Fashion Show Mall (the latter included all the "big ones": Bloomingdale's, Macy's, Neiman Marcus, Nordstrom and Saks Fifth Avenue), or you can easily find some fancy boutiques in all high end hotels. Younger fashionistas with slimmer wallets can easily spend a couple of hours at the world's biggest Forever 21 store, which is just around the corner of FSM. Another option is Miracle Mile shopping, which located in the Planet Hollywood, with 170 specialty stores and 15 restaurants. If you prefer good outlet deals, you defintely need to visit Las Vegas Premium Outlets – the south one is smaller, north one has over 150 stores and you can easily find something for everyone there. For even better deals you can visit Ross Dress for Less and Marshalls, which are located in the very center of the Strip – shopping experience there is not so comfortable but sometimes you can really get good bargains.
Other things to do in and around Las Vegas 
If you have an extra day to spend in Vegas and want to do some sightseeing, then take the half an hour drive towards Hoover dam, one of the great miracles of human architecture. It is indeed very impressive, especially if you read about its history and the making. If you are more "nature" person, go for the Red Rock Canyon, which is also jaw dropping.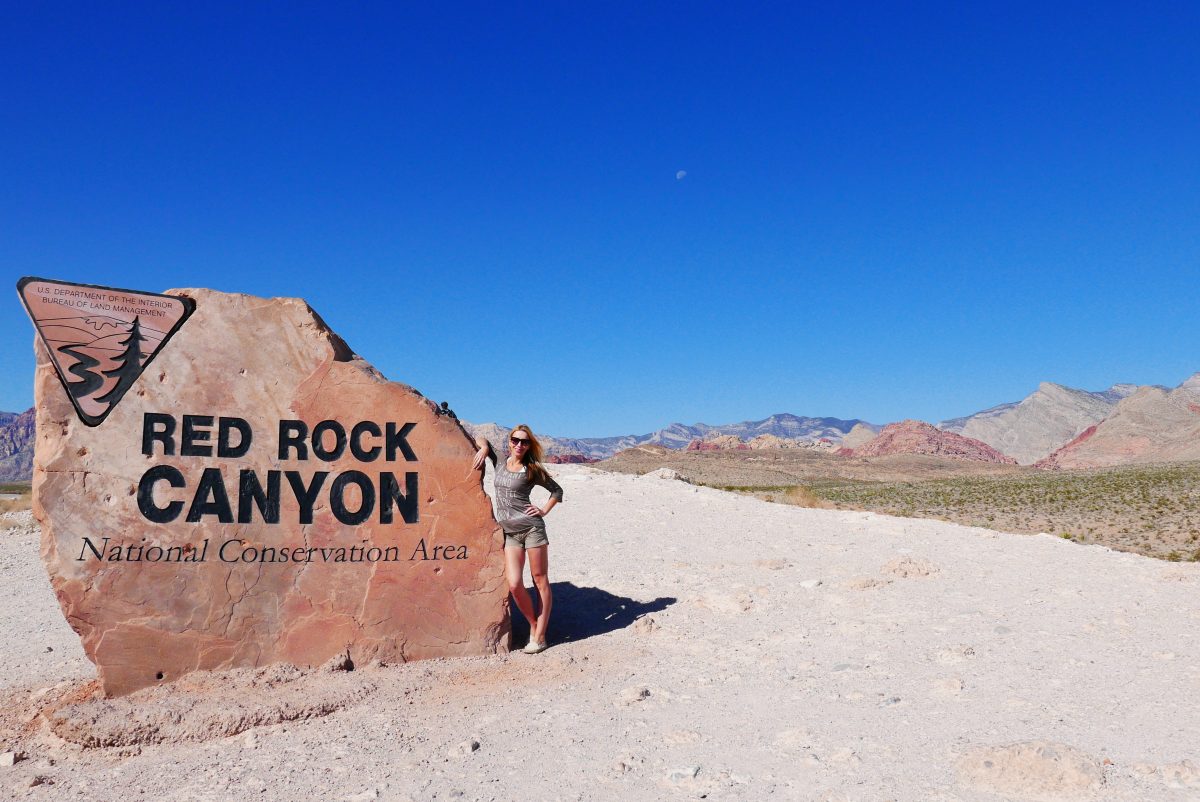 To those of you who have 2 days off, I strongly recommend taking a bit longer, actually about 6 hours' drive to the Grand one. You can either rent a car or go there with a local travel agency. I prefer to do these things on my own, because I can stop on the way whenever and wherever I feel like it. And, if you are tired, you can rent some motel to spend the night there. But trust me, once you see the Grand Canyon, it will stay in your memory forever.
However, if you don't have much time to spend, then you should visit the Stratosphere Tower to see the city in all its glory and to experience a romantic sunset. The Eiffel Tower offers one of the best dining experience, but make sure to book it in advance, so you get a good seat.  But don't worry – if you are on a budget, you can visit any Vegas hotel for free and all of them can offer you their own unique experience. In fact, if you only have a couple of days, you will have more than enough to do just by watching their interiors.
At last, but definitely not the least, do try to throw a coin or two into one of the machines while you are taking the hotel tours. If you are a gambling rookie, then it might be a good idea to check the tricks casinos use to squeeze as much cash from you as possible. Start with the smallest change so you don't spend too much (there I go again … sounding like your wife or mother) and make sure that the waitress sees you. If you just so much as pretend to gamble, she will bring you any drink for free. Well, for a tip, to be more precise. However, if the tip is too small, she probably won't return. At least I wouldn't.
And if you by any chance get lucky… do remember this review, which helped you to cash that BIG FAT CHECK. You are welcome to like my Facebook page and see more Fabulous Las Vegas photos.