Nope, it's not a typo… although some of my friends are starting to think I am visiting Dubai as some kind of a rehab from Slovenia. Rihab Rotana is a part of Rotana chain hotels in Dubai, located conveniently in Deira, very close to the Dubai DXB airport. I have stayed in this 4-star hotel 3 times, so you could say I know a thing or two about their services and accommodation.
Before I continue, let me point out that I joined their Rotana Rewards program during my first stay, so I probably got more "royal" treatment with my second and third visit. Rotana Rewards card was sent to my home address in a very posh envelope, which is a nice gesture, but also quite unnecessary in the app era. Rotana membership can speed up your check-in process, which can come in handy especially if you arrive very late and want to go straight to bed (which is usually the case when arriving to Dubai). The membership also offers some perks like 10% on best available rate, late check out or Wi-Fi discount.
Rooms
The rooms in Rihab Rotana are quite spacious, they have a large bathroom with a washing machine for those enthusiasts who want to do their own laundry. They have relatively big flat screen TV, working desk with all the necessary connections, sofa corner and a very cozy bed, which is one of the things I appreciate the most when I am away from home. They offer 4 different types of pillows – I call them "keep me awake", "sleep tight", "just in case" and "hangover" pillow. All of them are really soft. The room also includes a kitchenette with free tea and coffee. Plus 2 free bottled waters every day.
The hotel is in a direct vicinity of a mosque and if you are lucky you can get a room with "a view". I use the word lucky because I really love this type of architecture. It can be a bit awkward if you are not used to hearing Muslim prayers, but if your windows are closed, you shouldn't be disturbed by the sound too much. However, if you are a very sensitive type, this might be a distraction and in this case ask for a room on the opposite side. I do have to warn you, the street is even louder on the other "traffic" side. But you should know Dubai is always noisy, one way or another.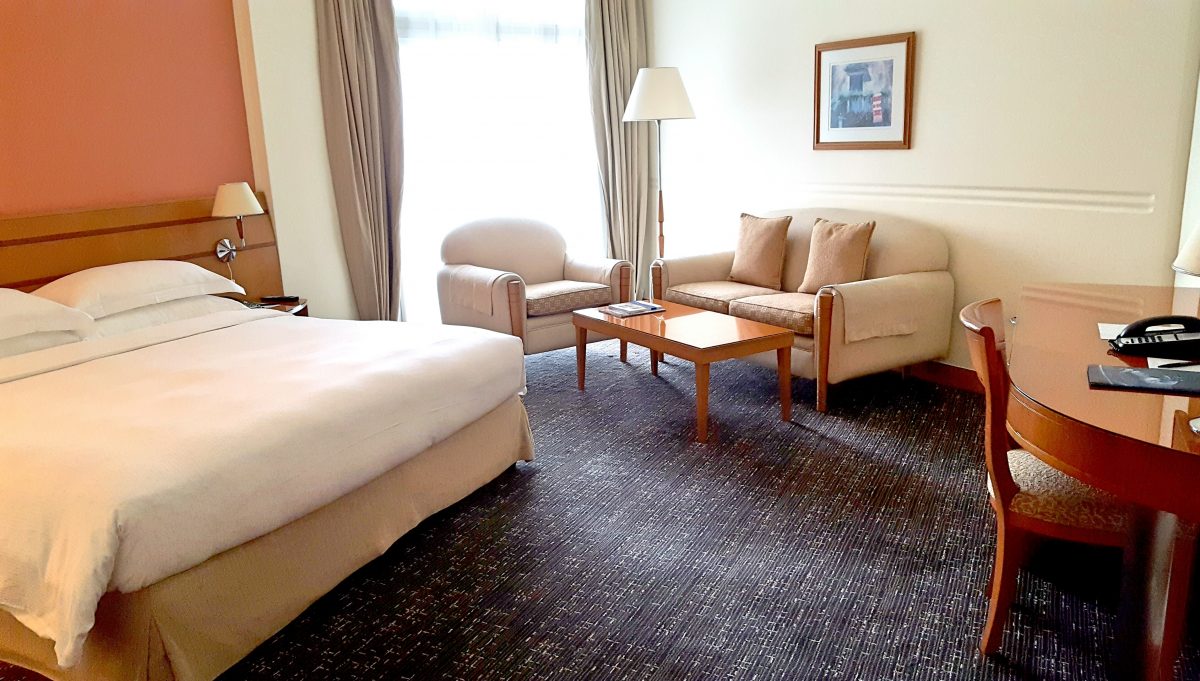 Facilities
As most of Dubai hotels, Rihab Rotana has a rooftop pool, where you can actually swim, not just soak your feet. I do resent a poor ambient up there. A little change, at least some fake flowers or trees would make the area cozier and friendlier. They also offer a gym with very descent equipment, so you have no excuses to gain the weight due to Dubai's delicious cuisine.
Speaking about cuisine, breakfast choice is very good, with lots of fresh fruits, variety of bread, eggs any style (to order), cereals, yogurts and other usual more or less healthy stuff. Make sure you taste their "detox" welcome drink before you enter the dining room. They also offer in-room dining – I always got my order promptly and decently served. Let me add here that all of the staff in Rihab Rotana is super friendly.
Location
Rihab Rotana is very close to Deira City Centre mall, which can be convenient if you want to do some quick shopping, like groceries in Carrefour, gifts or clothes from different European, American or local brands. The mall is not as big as other shopping giants in Dubai, but descent enough to spend those last Dirhams before you leave the city. Just make sure you save some change for the taxi back to the airport. It costs about 15 Dirhams to get to the airport, but count around 25 Dhs starting fee extra for the other way around.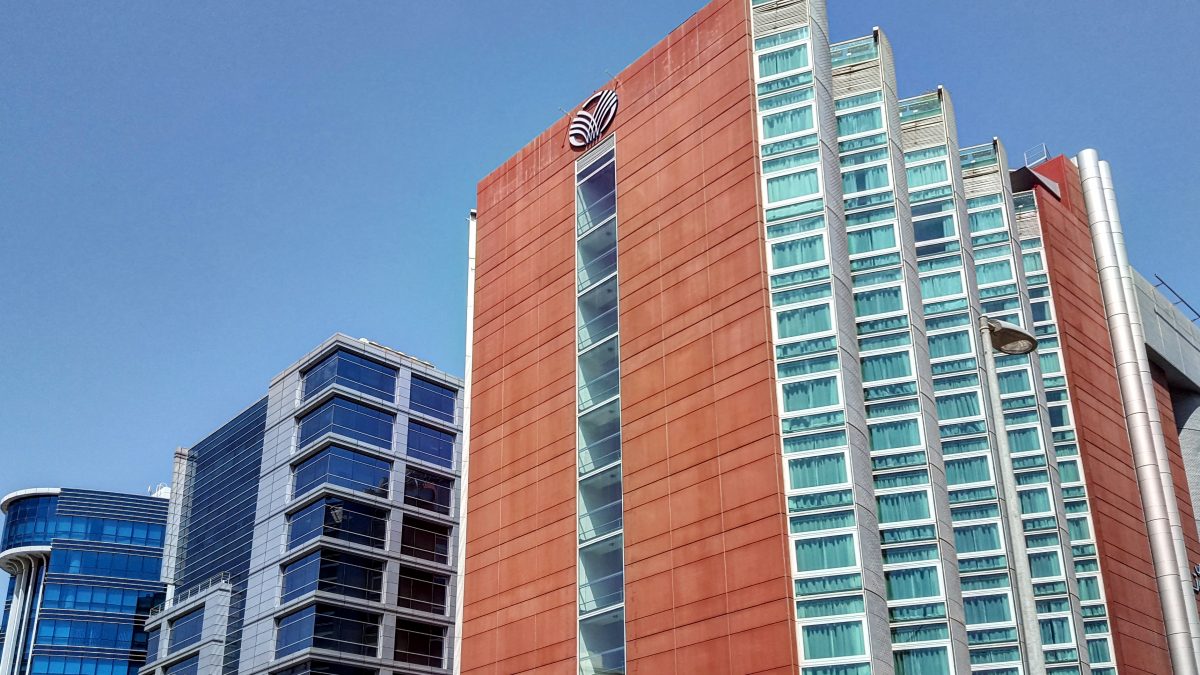 Taxis are available on the location literally all the time. If they are not waiting in front of the hotel, the hotel staff will kindly pull over one from the street. I never waited more than 2 minutes for them to arrive. For those who are on a tight budget the metro station is across the street at Deira City Centre. I am not saying that taxis are expensive but when you get stuck in the traffic jam, which happens A LOT, the price can sometimes double the usual rate. "Across the street" actually means around 10 minutes' walk, just to be on the safe side.
It takes about 10 minutes to get to the airport by taxi and the traffic is usually not heavy in that direction in the morning. So this location is definitely one of my favorites if I need to leave early.
Anda's rate: 8.5 from 10
Bottom line: I enjoyed my stay in Rihab Rotana each time. If you want to stay in a decent hotel close to the Airport with good location to explore Dubai, you shouldn't be dissapointed.