Our USA road trip in October started and finished in Phoenix, Arizona. Since we were facing a lot of hotel-changing on the road, we wanted to stay somewhere nice and comfortable for a start. Our plan was to spend the first 2 days in Phoenix and the itinerary involved some hiking and shopping. We weren't interested in visiting downtown, hence I searched for the hotels in Tempe to be as close to our interest points as possible. When the name "Moxy" appeared in my search, the decision was instant. I love Moxy and Moxy Phoenix Tempe it was. And once again, Moxy did not disappoint.
The location
Moxy Tempe (or Moxy Phoenix Tempe) has a very convenient location. It is close to Phoenix International Airport (I believe it took us less than 15 minutes by car), to Premium Outlets, Downtown and Camelback Mountain. On the other hand, Lost Dutchman State Park with Superstition Mountains, which was our primary point of interest, is 40 minutes' drive away. Taxi from PHX Airport costs around 25 USD. Parking is provided behind the hotel, the fee is 12 USD per day.
The hotel
I fell in love with Moxy in Bergen, Norway, and the Moxy in Tempe, Arizona doesn't fall behind. My lips turned into a big smile the minute I walked in the lobby. Each corner of the hotel has its own features, from the reception (which is actually a bar), to funky gaming space with pink-colored pool table, cozy internet-business corner and funny but stylish Halloween decor. Moxy makes people smile, it is as simple as that.
The property also features an on-site fitness center and an outdoor pool, which comes very handy during hot Arizona days (it was over 30 Celsius in the end of October!). The pool is also a cool hang out spot for parties, or couples in the evening. Might be a bit disturbing if you want some peace and quiet, but luckily, we didn't have any problems with the noise.

The room
We stayed in Patio Poolside room with 2 queen beds. To be honest, the view was nothing special, but I liked the fact that we got a direct pool access from your room. The room itself was quite spacious, with fun details like nostalgic telephone, stylish lights and cool wall-hangers. The beds were extra comfy, and I especially like Moxy's pillow choice – I always find the right one for my delicate neck.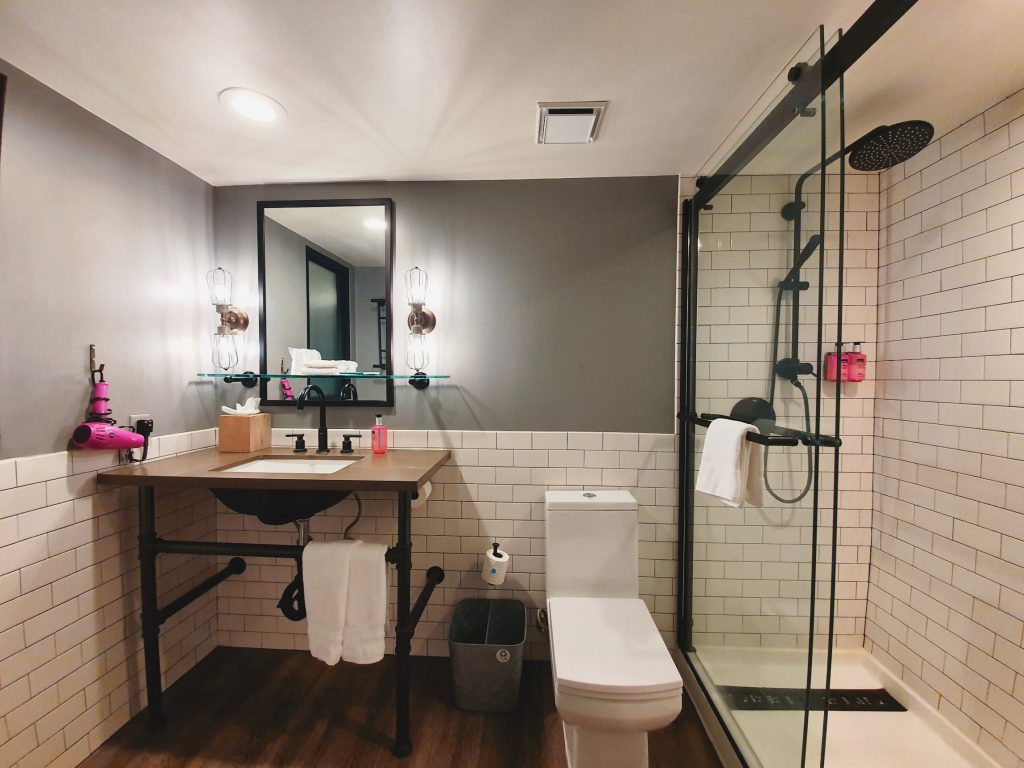 The bathroom was almost a copy from the one in Bergen, with pinkish toiletries and a hair dryer, the bonus were really cool archaic lights by the sink. Oh, and two VERY BIG pluses: the shower is NORMAL (not attached to the wall), and the floor is not carpeted. Much appreciated for those with allergies! One minus: no tea/coffe maker in the room.
The staff
No words needed, everyone is kind and helpful, and there is always someone there to help. I called the reception once and they answered immediately. You could tell that they try to indulge all of their guests, not just the illegall-blonde type. 😉

By the way, breakfast can be ordered at the reception, and they bring it to you pre-packed. Not sure if this is covid-19 style or something usual. There is no official dining room, but you have plenty of cool places to carefully take in the calories. You can either choose from "classics" with eggs and sausages, starting from 10 USD; to some richer and healthier options.
Anda's rate: 9.5 from 10
Bottom line: If you don't need a central location in Downtown, you cannot miss with staying in Tempe. And if you are staying in Tempe, look no further, Moxy Phoenix Tempe is the place to be. The weekly prices are very affordable, while weekends can spice things up. I advise pre-booking to ensure the best price in advance. I'd have easily given the hotel a 10, but I'm addicted to in-room coffee maker, so I'm giving it a 9.5. Actually, I already regret it, but who am I to change my own mind, right? 😉