Beaches. Rainforest. History. Shopping. Food. Puerto Rico has it all. If you are seeking for more than just beach and party time, I suggest you rent a car and explore the country as it has so much to offer. We did just the eastern part of the island, but from what I had read I believe it is fair to say that these are the best 5 things to see in Puerto Rico:
San Juan old town
The capital city is located in the north-eastern coast of Puerto Rico and it is divided into 18 districts. We found San Juan Antiguo (Old San Juan), which lies on a small island and is connected to the mainland by two bridges, the most impressive. This district reflects the influence of Spanish architecture with narrow streets made of blue cobblestone and picturesque colonial buildings from 16th and 17th century. One of the most famous buildings is La Fortaleza (The Fortress) which was built to defend San Juan Harbor in the 16th century and has been the official residence of the Governor of Puerto Rico ever since. The mansion is also known as Santa Catalina's Palace and is included on UNESCO World Heritage List.
Sections of the old city are surrounded by several defensive structures and large walls which offer fascinating views of the city. Stroll down the Paseo de la Princessa to feed some pigeons and then take Paseo del Moro walkway – start from La Fortaleza and continue along the coast all the way to the end of the peninsula. It's really romantic.
Castillo San Felipe del Morro
Just above the Paseo del Moro, in the NW point of Old San Juan, lies a beautiful national park, surrounded with a vast green area with an impressive citadel as its highlight. Castillo San Felipe del Morro was named in honor of King Philip II of Spain. The fortification was designed in 16th century to guard the entrance to the San Juan Bay and defend the city from seaborne enemies.
In 1961 it became a part of the National Park Service and was declared a World Heritage Site by the United Nations in 1983. It is one of Puerto Rico's most visited attractions and I can confirm it is really impressive. The citadel on one side offers views of a smaller fort which lies in the middle of the ocean, while on the other side the view of San Juan cemetery is even more spectacular. It is for sure one of the nicest places in the world to rest in.
Tip: The entrance fee is 5$. Bring a blanket and a food basket, lay in the park and soak up the history of this fabulous place.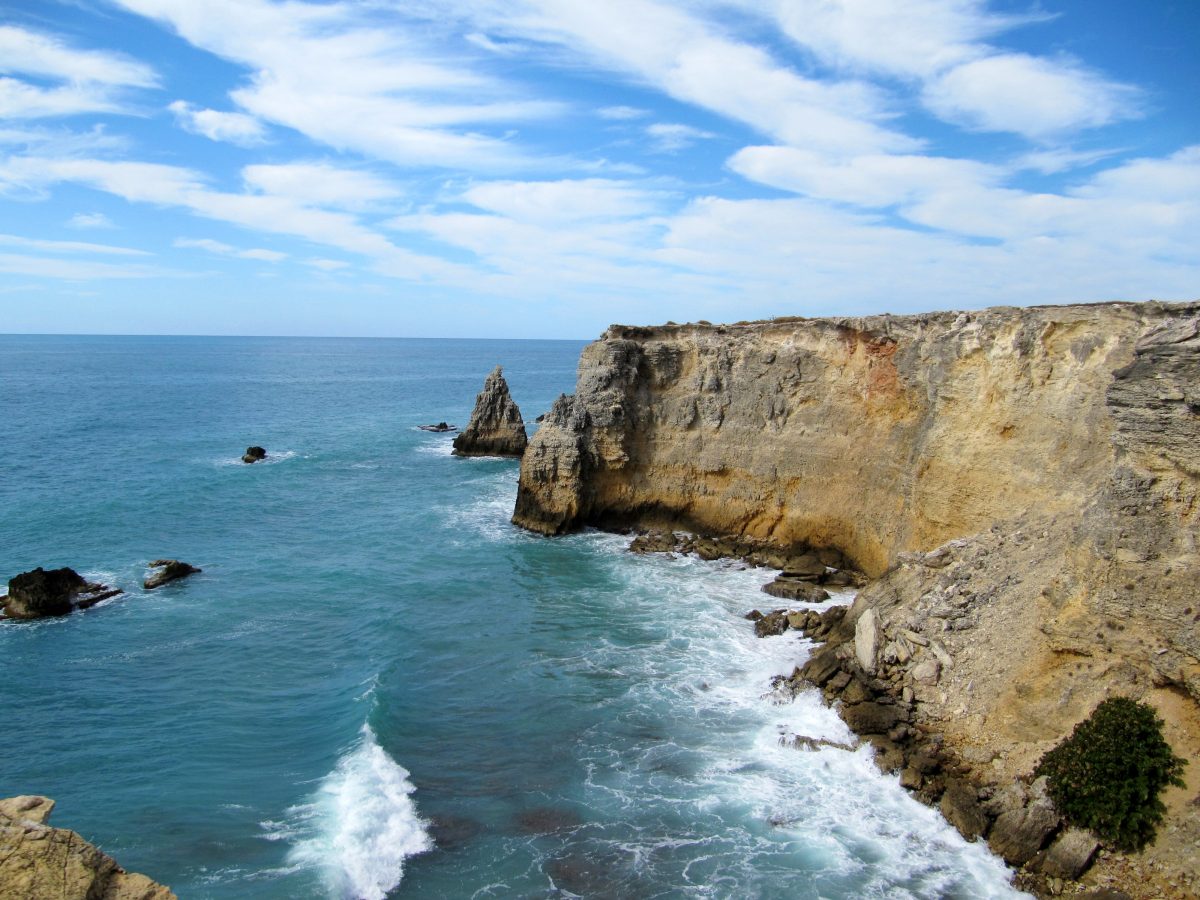 Cabo Rojo lighthouse and cliffs
On our way from Ponce to Mayaguez we decided to turn south towards Los Morrillos Lighthouse which lies in Cabo Rojo wildlife refuge on the southwest coast of Puerto Rico. Situated in the southernmost point of the peninsula (at the end of "Salinas" Road 301) it is a bit off the grid but the trip is worth every hole you will curse while driving on a gravel road.
A fairly steep trail leads from the parking space to the lighthouse and it takes about 10 minutes of modest walking to get up there. We didn't go inside because the interior was closed due to renovation, nevertheless the limestone cliffs overlooking the Carribean Sea themselves are worth the trip. We came expecting "just a lighthouse" but instead we spent hours walking around, enjoying spectacular views and ending up on one of the most beautiful beaches in Puerto Rico – La Playuela (also named Playa Sucia) which lies beneath. I am not sure what was better – looking down at this peace of white-sand heaven from the top or swimming in the turquoise water after we finished our cliffs photo session.
Tip: Take some water with you as there are no restaurants or bars in vicinity. 
Batey Zipline Adventure
Puerto Rico owns one of the world's longest single run ziplines, which is a part of Toro Verde adventure park in Orocovis. Unfortunately the park was closed during our visit, so we went for the second best choice – Batey Zipline adventure park. The night before we slept in Casa Grande Mountain Retreat which I highly recommend if you are in the neighborhood and looking for a place to stay.
Batey Zipline adventure park is located in Utuado and offers lush trails thru Tanamá National Forest vegetation. You can choose from different adventure tours, including hiking, horseback riding, kayaking through the bat cave, rappelling and ziplining.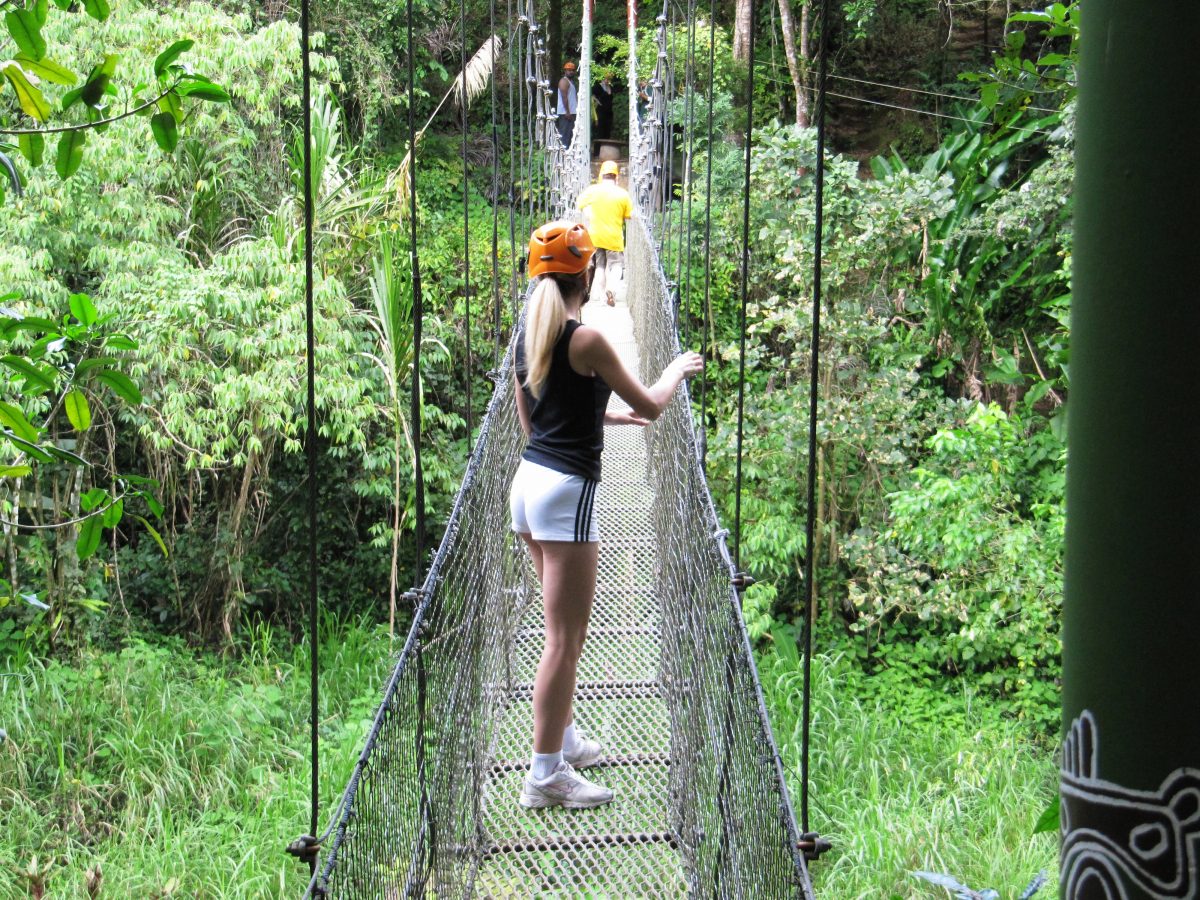 We did the ziplining, which included a short drive through a really nasty road and about 15 minutes walking to get to the starting point. It was my first zipline ever so in the beginning I felt a bit nervous but in the end I was sorry it ended so soon. The staff in Batey Zipline park is very professional and you are safe all the time. Trust me, instead of wasting time with shaking and screaming, just relax and enjoy. And have someone to take your fearless acrobatic pictures while you are hanging out there.
Tip: The road to Ushuaia is not an easy one, so take at least 2 hours if you are arriving from San Juan. Be careful as there are some really narrow parts and the local drivers are sometimes quite reckless.
Gilligan's island
Even though Puerto Rico coast offers a variety of beaches, this little gem is a must see if you are on a road trip or staying somewhere near the town of Guanica. Take Road #333 and follow the turn to Copamarina Beach Resort, after that make a right and soon you'll see a parking lot where you can get your tickets. A small ferry leaves to the island every day, operating from 9 am to 5 pm.
Gilligan's island lies around 2 km off the coast and is one of the three cays that make up Caña Gorda Cays. There is no typical beach around the island as the sea is really shallow – instead just bring your chair, pull it into water and relax. While the crystal clear waters offer nice snorkeling opportunities, the island hosts some birds and friendly lizards which are quite fearless and friendly. I guess they are used to being photographed all the time.
By the way, you can swim all around the island if you are fit to fight the gentle current. Don't worry, the cay is surrounded by mangroves so you can catch them if you get tired 😉
Tip: The ferry ride costs 8$ per person. If you are visiting PR in high season, get there early to grab a spot and picnic table. Locals tend to visit the island on holidays and weekends, especially during the summer so it can get crowded.