The capital of the world. Big Apple. The city that never sleeps. Melting pot. The door to freedom and hope for many immigrants. And the city of disappointments for a lot of people who don't cope with its challenges. New York. You either love it or hate it. But first of all, you need to feel its pulse to have an opinion. So, are you ready to visit New York and don't know where to begin? How to reach Manhattan, where to book a hotel, how much it will all cost you? And, most importantly, top things to see in New York if you are in the city for 5 days? You came to the right place, I am a New York City addict and I got some helpful tips for you 😉
New York vs New York City vs Manhattan
First of all, let us clear the situation with the names: New York is a state, New York City is one of the cities in this state and Manhattan is one of the boroughs in this city. New York City (shorter NYC) comprises 5 boroughs: Brooklyn, Queens, Bronx, Staten Island and Manhattan. So, when people (even me) say they want to "visit New York", they usually refer to Manhattan, which is the most popular and populated borough. That doesn't mean that others are boring or not worth the visit, but let's be honest – most of the people come to New York for around 5 days and this is not nearly enough to even see everything in Manhattan.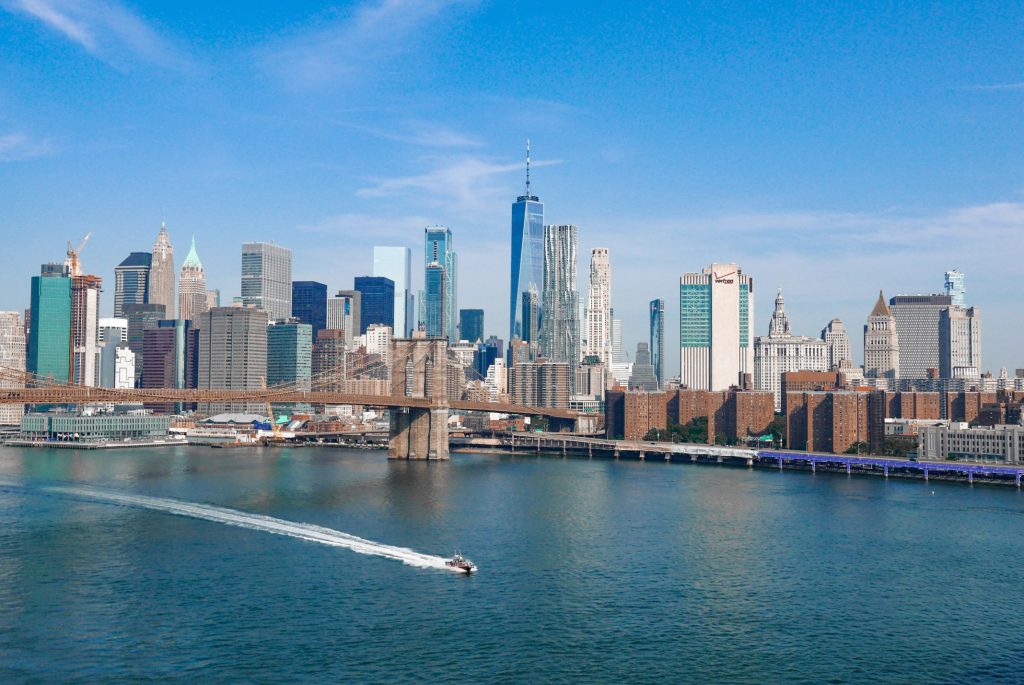 When is the best time to visit New York
As for every big city and popular tourist destination my advice is: don't visit New York during high season, unless you enjoy the crowds and don't mind high airfare and hotel rates. People, especially families, love to visit Manhattan during summer vacation (July – August), and around Thanksgiving-New Year holiday season (November – December), so it is wise to avoid traveling to New York in that period.  If you absolutely need to visit New York during holidays, book well in advance but keep in mind that summer in NYC can be hot and suffocating as hell. That said, I believe the best time to visit New York is from April to May and from September to early November when the weather is pleasant but the tourist crowds are not overwhelming.
Documents and other things to take and not to take with you
Tourists need ESTA and a valid passport for a short term visit to the USA.  ESTA is an automated electronic system that determines the eligibility of visitors to travel to the States under the Visa Waiver Program. You can apply for ESTA online (for Slovene citizens it costs 14$), no less than 72 hours before your departure, and it is valid for 2 years. I suggest you print the confirmation because you will need to show it at the airport (you cannot check-in without it). You also need to have your hotel or accommodation address for entering the US. And last, but not the least, make sure you have a good travel health insurance to cover the costs of medical care in case you happen to end up in hospital. Medical care in the USA is known to be crazy high.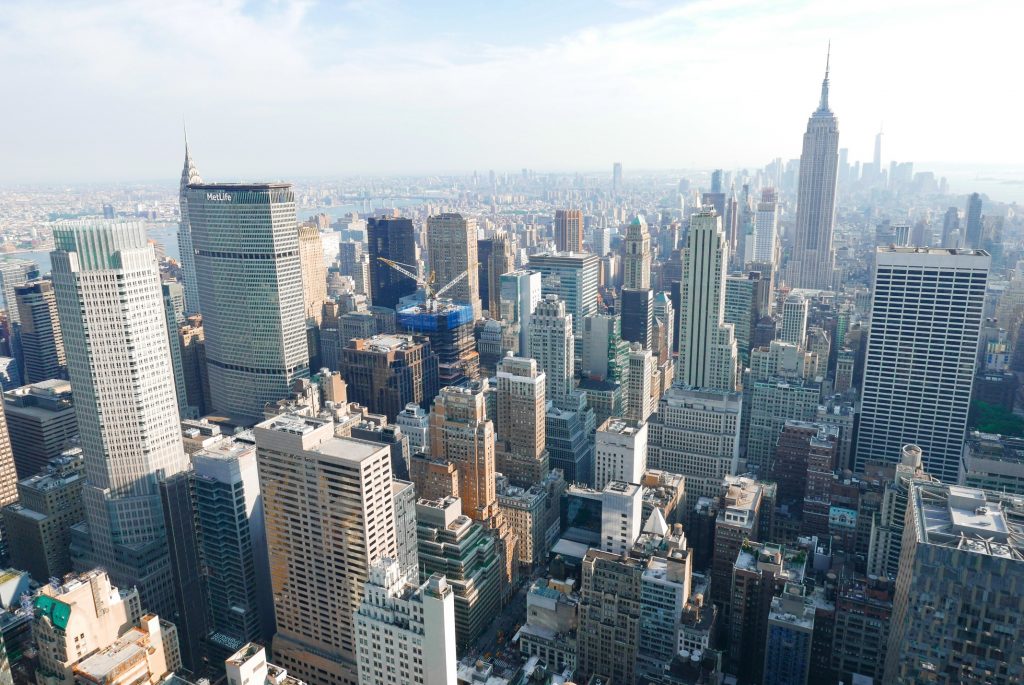 Besides the documents and credit cards (Mastercard is accepted everywhere), check if you need a power plug adapter or voltage converter in the USA. Their power plugs and sockets are of type A and B and the easiest way to check if you need one is to click here. Apart from that I suggest you travel light because you will probably do a lot of shopping – my advice is to bring your suitcase as empty as possible. Shopping in the USA is much more fun when dollar rate is down (speaking from European point of view), however if you shop for local brands like Guess, Calvin Klein, Ralph Lauren, Michael Kors, you will still be able to make some very good deals.
In the end, let me just warn you that you shouldn't bring food, especially fruits, vegetables and meat products into the USA. I almost cried the first time I came to New York, when I had to throw away a whole bag of apples at the customs inspection.
How to get to and around Manhattan
If you are coming to New York by plane, you will probably land in JFK – the biggest and busies airport in the state. You can read more about how to get from JFK to Manhattan in this post. Manhattan is actually an island, surrounded by Hudson, Harlem and East River; connected with other boroughs by bridges and tunnels. It is organized very simply; however, you need to understand the difference between streets and avenues to be able to get around like a pro. The most basic thing to remember is that avenues run north and south while streets run east and west. Most streets and avenues only accommodate one-way traffic (I repeat, most but NOT all), which is also very convenient for pedestrians when crossing the street. Manhattan is organized like a giant grid, with 5th avenue as the "central avenue" (separating East from West) and locations are mostly referred as ""123 West 3rd street", which means that the place is located in the 3rd street west of 5th avenue. If you want to really go into details, check out this post from Andrew.
Where to book a hotel in Manhattan
New York is expensive and hotel rates are no exception. It is also quite important in my opinion to choose a good location where you will be staying. If your budget is limited to less than 100$ per night, you can always go for hostels or shared rooms, which I heard can be a very decent option. Or, you can search for rooms outside Manhattan – for example Queens (especially Astoria or Long Island City) is known to be one of the safest boroughs and you can easily reach it by subway (you will be using it anyway so no biggy if you get off a few stations later). Motels and cheaper hotels cost around 150$ per night, and if you want more comfort, count on 200$ plus per night. If you're not on a tight budget, you're best off staying off in Midtown or the Village since both locations make sightseeing easiest. Keep in mind that all advertised prices are without tax and mostly without breakfast included. To avoid high add-ons for breakfast I suggest you rather eat outside, because there are plentiful of decent eateries on every corner. When deciding where to stay in Manhattan, I suggest you pick a hotel near the subway station. You can thank me later.
Saving tip: use this link on Booking.com to get 15€ off your next hotel booking.  
Safety in New York
A lot of people are afraid to visit USA because of the high crime rate, however New York City is one of the safest cities in the USA.  Though it might sound crazy, especially to us Europeans, Americans call "less than 300 murders per year" a success.  To be honest, with all those sexy NYPD guys standing on every corner of the city, I never felt unsafe in Manhattan. I would however suggest you to avoid walking the parks at night, or joining protest meetings and crowds which are easy targets for potential crimes, and of course to watch your belongings. As far as the dangerous neighborhoods are concerned, I read that parts of Harlem (especially north from 125th street), Bronx, Brooklyn, Union Square and Koreatown have higher crime rates so it is wise to take this into consideration when booking a hotel in NYC.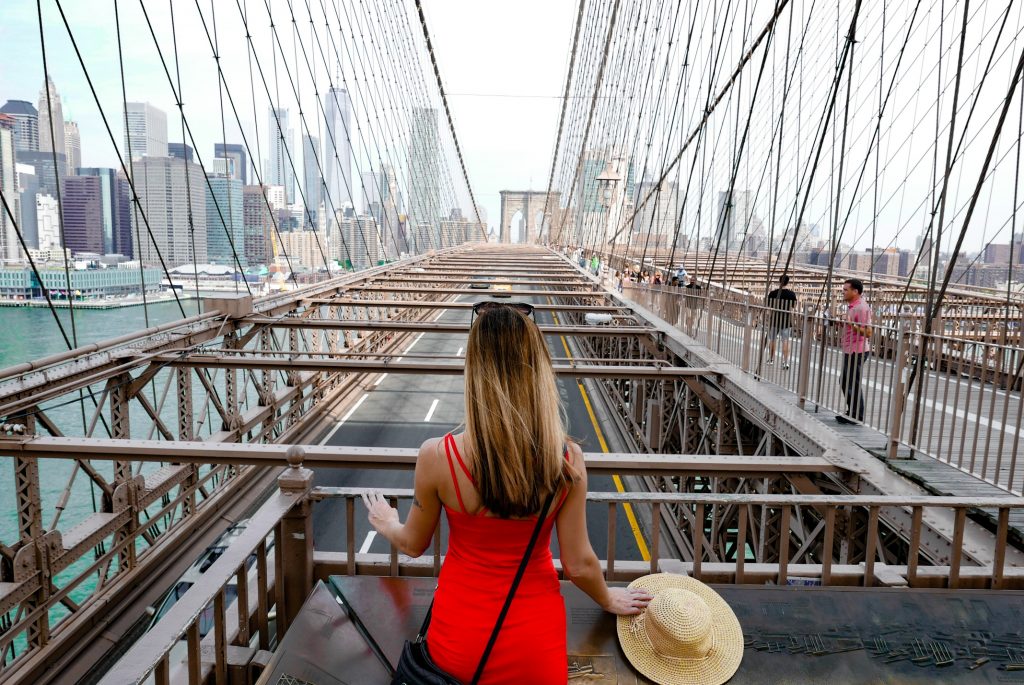 Visiting New York for 5 days
I have visited New York 5 times and as much as I love the city, I have to say that 5 days is enough to see the most popular sights, do some shopping and feel the pulse of the city without going bankrupt. Just do some research, organize well and set your priorities. The biggest challenge is logistics – as I mentioned in my post about "getting around Manhattan", you will do a lot of walking, the distances between popular places are quite challenging and you also need to know that subway stations are not on every corner (plus, you need to transfer between lines a lot). But, if you follow my 5 days in New York itinerary, and if your travel style is similar to mine, you should be just fine. The city never sleeps, so you can catch up some things at night as well. After all, you are on vacation, you will sleep when you get back home, right? 😉
Approximate travel costs for visiting New York:
plane ticket – return from Europe: 400$ is very good price, average around 700$
hotel room: from 50$ (hostels) to 200$ +
street food – hot dogs, tacos, burgers: around 5$
coffee – cappuccino: around 4$
cocktails: 10 – 15$
entrance fees: from 20 – 40$ (consider buying NY CityPass for 126$)
light lunch: around 20$ per person
subway – metro card: 32$ per 7 days unlimited rides
tips (this is very important!): at least 10% in restaurants, bars, for services in general
also note that all displayed prices are always without tax! (around 8,8%)
Got any questions or suggestions? Scroll down for comments, I will be happy to read them all!