My first trip to the USA was to New York, Manhattan, about 15 years ago, when I was accompanying my boyfriend on a short business trip (paying my own plane ticket with a student money may I add). I was so busy being excited to see the Big Apple, I couldn't even think of planning any tourist activity. Honestly, at that age, all I cared about was to see the Statue of Liberty and to experience the legendary shopping in the USA. Which means to shop until I drop. And, as they say, the rest is history.
I have been returning to the States almost every year since then, to different places, and every time I make sure that I come back home with an overweight suitcase, carrying at least one new bag in my hand, wearing 4 layers of clothes and 2 extra shoes which didn't fit in my luggage.
4 reasons why I love shopping in the USA
1. Prices
Currently the exchange rate is not so much in favor of European shoppers (it has been drifting around 1.10 – 1.15 for almost a year now), however with bigger purchases your wallet can still feel the difference. I did have some big saving moments across Atlantic: on my first visit the exchange rate was around 1.30 and at some point it reached up to 1.5, so yeah, that was heaven. But anyway, the fact is that when you go shopping in the USA you go for American brands which are logically cheaper "at home" than in the rest of the world. Not to mention ongoing instore sales and promotions which are sometimes a real bargain. So in the end of the day, at least until the rate reaches 1 : 1 (which I pray it never does, even though I am not religious) you save twice. Trust me, once you see the price of Guess jeans, Calvin Klein shoes, Michale Kors handbag or Ralph Lauren sweater in the USA, you will never want to buy it at home again. At least not at a regular price.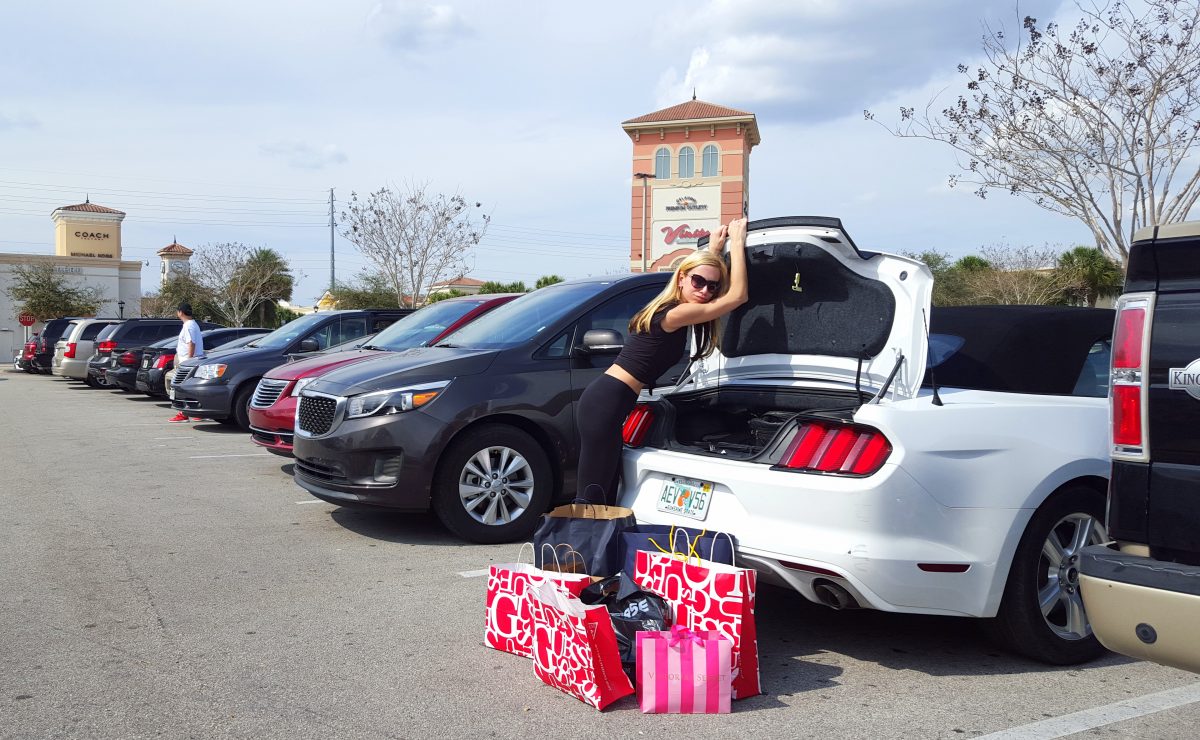 2. Variety
Probably this has a lot to do with the fact that I come from a very small country with two or three big shopping centers where American brands like Guess, Calvin Klein or Tommy Hilfiger are considered as quite premium stuff. I mean don't get me wrong – Italian and French designers are considered as high end class in Slovenia as well, but USA brands are very popular and relatively expensive. So when a girl like me sees those factory outlets laying around the USA like coffee shops, with a variety of sizes, colors and models, not to mention promotions, she just can't stop smiling. Even if in the end of the day her back hurts like hell 🙂
3. Returns
If you are an impulsive buyer and especially if you have a habit in making the wrong shopping choices, USA is the place for you. I am not sure if this is the law or just a very healthy common practice but everything you buy can be returned with a full refund, usually within 30 days or even more. This can also come very handy if you are in a hurry and don't have time to try all those clothes or shoes. I am telling you, USA is every shopper's paradise. Land of the free. Well, at least from shopping point of view.

4. Experience
Unless you are loaded it is very unlikely that you will travel to the USA just for shopping. If you are flexible with dates, you can find some very good deals from European airports. (You can read my post about booking a flight and some useful travel tips here). If you can afford to spend more than 14 days, take the West coast road trip from San Francisco to San Diego (been there, done that, the post will follow sooner or later), or head East in Los Angeles towards Las Vegas ad Grand Canyon. For 10 days I would recommend a roundtrip to Florida starting from Daytona Beach to fabulous Key West during winter or the East coast triangle Washington – Niagara Falls – New York in the summer. OR you can just drop by for an extended weekend, like I do from time to time 😛 Call me crazy but for me visiting the USA is worth the jet lag anytime.
My favorite shopping places in the USA
Here are my top 4 "must go" shopping places which almost never let me down.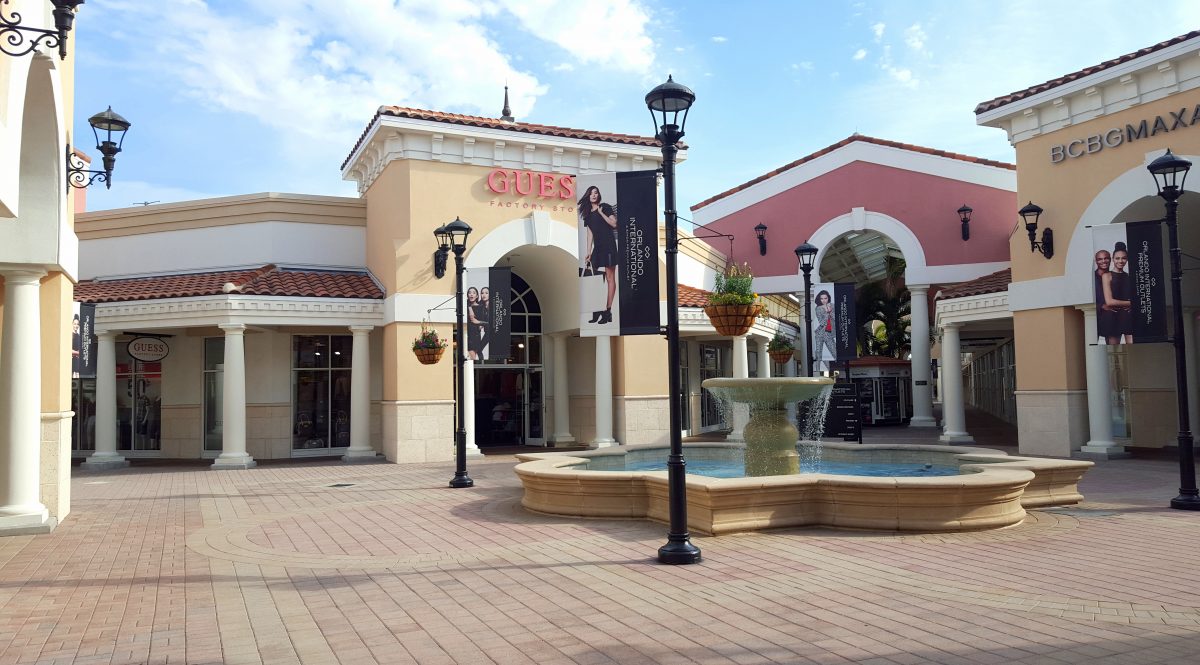 Premium Outlets
I discovered this shoppers' paradise during my first trip to Orlando, Florida and since then every time I plan my vacation in the USA, I make sure that Premium Outlets are somewhere on my way. Which is not very hard because their centers are located in almost every state. This giant group of outlets covers some other shopping mall brands (like Simon Mall and The Mills) and you can check their locations here. Premium outlets are my favorite and I practically know every corner in there. My tour starts with Guess, Calvin Klein, Tommy Hilfiger and Ralph Lauren where I usually find everything I want. They have food courts in every center with a variety of international cuisines and if the center is big enough you might run into some healthy choices as well. No need to replace those calories lost in shopping with saturated fats, right? After lunch I go for shoes and sports stuff and in the evening, that is if my legs can still carry me, I check perfume and other cosmetics shops. So yes, I take the whole day for shopping here and every time I finish my back hurts like hell. But this is a happy pain of a shopaholic 🙂
Hint: before you visit Premium Outlets make sure you register online for VIP membership so you can get a book of coupons and discounts. Sometimes the deals are quite awesome.
Victoria's Secret
Every woman needs a secret. Many of them. Actually the more the better. Of course I am talking about those fabulous pieces of lingerie and accessories represented by human angels with perfect figures and a job to die for. And the "secret" is very simple: women need to buy these promises. We need to think we will look gorgeous in those tiny panties as well. And YES, we need A LOT of time to check each and every piece in that store. So guys, if you are by any chance reading this: be patient. Go outside for a drink. Find an Apple store. Go for another drink. If you are lucky, she will be outside within one hour. But my guy knows better. After I kept him waiting in front of the Victoria's Secret store in Miami for 2 hours and a half…. well, at least now he knows what to expect. So no more fighting over this one 🙂
Hint: don't get excited when a shop assistant asks you if you want to get the Angel card – unless you are from the USA and have social security number, you cannot get it. But sometimes they give away discounts with your next purchase or free gifts with a purchase over $50 or $100. Check for promotions before you reach your wallet 😉
Ross
If you judge by the first impression when entering the store with a big blue sign Ross Dress for Less you will probably want to turn around and walk away. But don't. Ross is a big retail chain with huge discounts on renowned brands. If you want to get good deals you will need some patience because the clothes are stored very confusing with hangers crowded like in a fish can. But Ross says: "We believe in "no frills"—no window displays, mannequins, fancy fixtures or decorations in our stores so we can pass more savings on to our customers." So be patient and try it. What have you got to lose?
Hint: you will be surprised to see that Ross offers much more than just clothes so consider taking the shopping trolley. And keep in mind you can only take up to 6 pieces to the fitting room at once. Headache, I know.

Macy's
And I am not just talking about any Macy's. I am talking about THE Macy's on 151 West 34th Street, Manhattan. Maybe because it was my first "shop until you drop" experience or maybe just because it is one of the largest department stores (if not the largest) in the USA. If you are shopping for clothes and accessories, you have 7 or 8 floors at your disposal (other floors are for home décor, gifts and kitchen stuff). The store is indeed huge and you might easily get lost. Fortunately they have free Wi-Fi so you can Skype your significant other because it is very likely you will separate if one of you is on a shopping mission. By the way, Macy's has a lot of promotions going on and they change it every couple of days. So if you see a good opportunity take it because it might not be there tomorrow.
Hint: take your passport or ID with and present it at Visitor's Center. Every tourist gets a discount card with 10% off everything. Just lovely. And if you are visiting Macy's in New York, you can find about how to prepare for your visit to New York in this post. 
So this is my 5 cents on shopping in the USA. Add the rest and you are on the way. Just one last time: you might get hooked. You have been warned 😉