For my second business trip to Athens I wanted to experience the pulse of the city center so I decided to stay somewhere around Monastiraki square. There were quite a few options to choose from within my budget and I decided to go for Fresh hotel after having a quick chat with my friend who works in a local tourist agency. She told me that her customers usually love this hotel and the location is also very convenient.
The rooms
I booked a double bed room with a small balcony hoping to get some nice view of the streets. When I entered the room I immediately smelled the smoke from cigars, which I believe was coming from the hallway. I am not sure how this is possible because the whole hotel is supposed to be non-smoking. I called the reception to be moved to another room and a very kind guy came immediately to escort me to a higher floor. Unfortunately a higher (3rd) floor did not offer better view – I am not sure if this hotel offers any nice views at all, since it is located in the middle of some tall buildings. Which are not a sight for sore eyes as well. There was an ashtray on the balcony though so I kind of got my answer to the smoking issue.
The room was relatively small, however just about enough what I needed. The bathroom is very "fresh", with some nice design features like the pipes being set on the walls directly. Unfortunately the architect has adopted British cold-hot water system, so you have to adjust the temperature from both handles. Which. Is. A. Headache.
The bed is a bit hard but fortunately you get to choose from different types of pillows, so this is a winner. Also a big high five for the plugs being set right next to the bed.
Hotel facilities
The lobby is very stylish, but quite small. The staff at the reception is very kind and always at your service. The breakfast lounge is in the first floor while the main restaurant with daily bar is located on the rooftop (9th floor). The hotel description promises to offer wonderful views of Acropolis from there, however don't get too excited. You can actually see a small part of the hill from two or three locations, but this is not even close to the views from Athens Gate hotel where I stayed during my previous visit. Fresh hotel does however offer a small swimming pool on the rooftop and if you are lucky enough to be first on the set you might actually enjoy it. Although I cannot imagine myself laying under the Athens sun from June to August. Not even under umbrellas.
The gym is located on the 8th floor but honestly I didn't check it. I stayed at the hotel for only 2 nights and I did quite a lot of walking so I didn't feel too guilty about it 😉
Dining
Breakfast choice is very good, from freshly squeezed orange juice to variety of cold and hot dishes. My friend told me that food in the hotel was supposed to be delicious as the staff learned a few tricks from Jamie Oliver while he was staying there. I am not sure if that is true, however I didn't have the opportunity to check other meals. I guess dinner on the rooftop wouldn't be a bad idea if you stay in Athens for several days. But honestly there are so many delicious restaurants between Monastiraki and Syntagma square that you will probably want to taste them as well. I did have a few smoothies on the rooftop and they were delicious. Also the staff up there is very professional.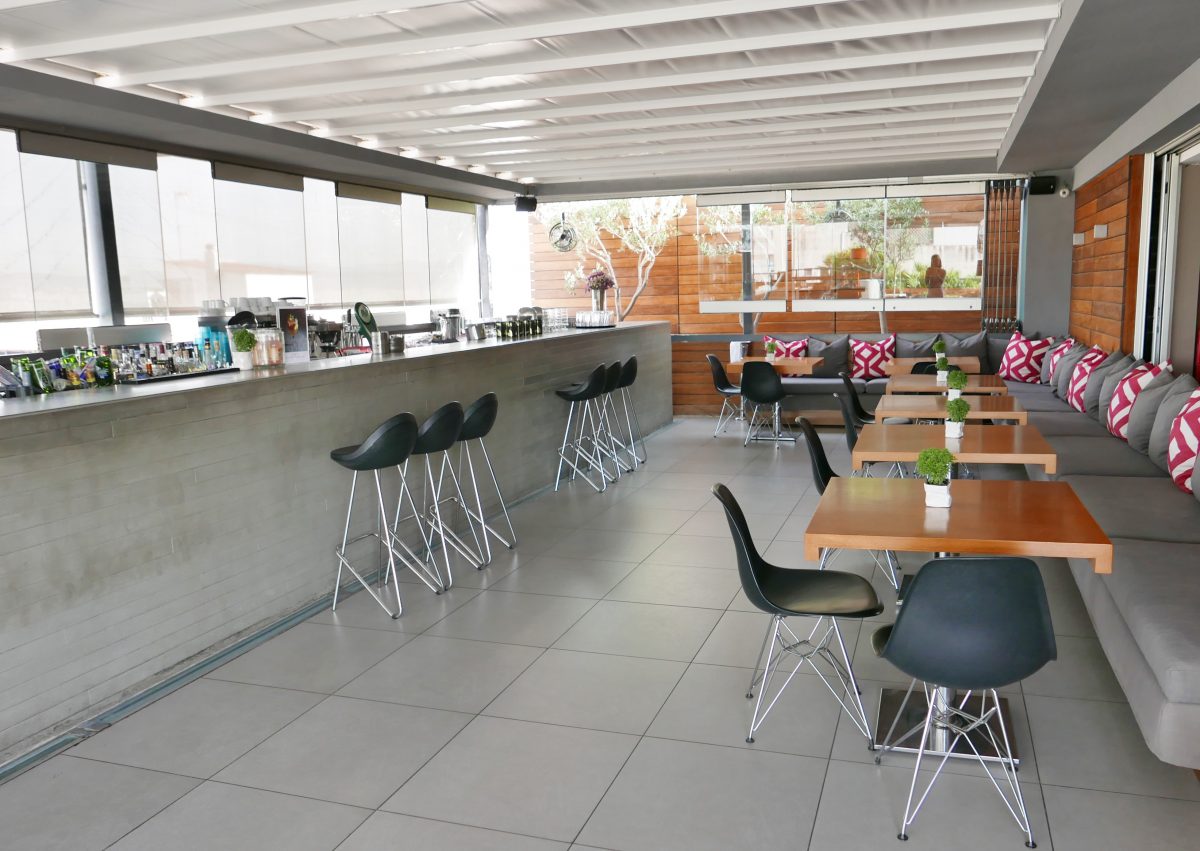 Location
Fresh hotel is located a very short walk from Monastiraki center so I guess you could say the location is convenient. On the other hand they say everything in Athens is within a walking distance. You can also reach Acropolis on foot from the hotel, it took me only about 15 minutes of slow walk.
The close neighborhood itself however is not considered as one of the safest. When I was looking to buy some bottled water to bring with me in my room, I went right on Sofokleous street and I can confirm that was not a pleasant experience at all. I am hardly ever afraid of walking alone on the streets, but when you see a bunch of strange men in front of every door and around every corner, staring at you like you are intruding their world, it can get a bit scary. Only later I was told by my business partners there a lot of thefts in that area in the evening and that I should be careful.
Anda's rate: 8 from 10
Bottom line
I know that Fresh hotel has very good guest reviews so I kind of feel guilty for pointing out some of its weaknesses however I cannot get rid of the feeling that something was missing. This is probably because I stayed in Athens Gate a few months ago and the experience there was really amazing. All in all if you get a reasonable price I can definitely recommend it because there was nothing actually wrong with my stay.