I still remember Miss World contest in 1998, when everyone was staring at gorgeous women, striving for peace on Earth, while my eyes were glued on those magnificent rounded rocks, white sandy beaches and crystal clear ocean in behind. Since then Seychelles had been somewhere on my mind but yet far enough to be saved for this special occasion. Meanwhile I was lucky enough to visit Dominican Republic, Cuba, Turks and Caicos Islands, Bahamas, Maldives and some other beautiful beach destinations, but when looking back it seems to me those were only small steps to reach the "grand finale". Don't get me wrong – all previously mentioned destinations are fantastic and I know there are many more ocean pearls to be discovered, but one thing is for sure: Seychelles were more than worth waiting for.
When planning to visit Seychelles, keep 2 things in mind. One is that you have to go there with someone you love, otherwise you might regret it. The islands are relatively small and unless you are loaded with money to go island hopping or pamper yourself in resort spas, you could get bored. Or at least fight with your significant other. Which brings us to the second one: Seychelles are relatively expensive. If you aren't concerned about the money, then you can pick just about any resort on the beach and I am sure you won't be disappointed. However, I am not here to discourage you. I am here to tell you there is another, more affordable way to visit and discover these beautiful islands.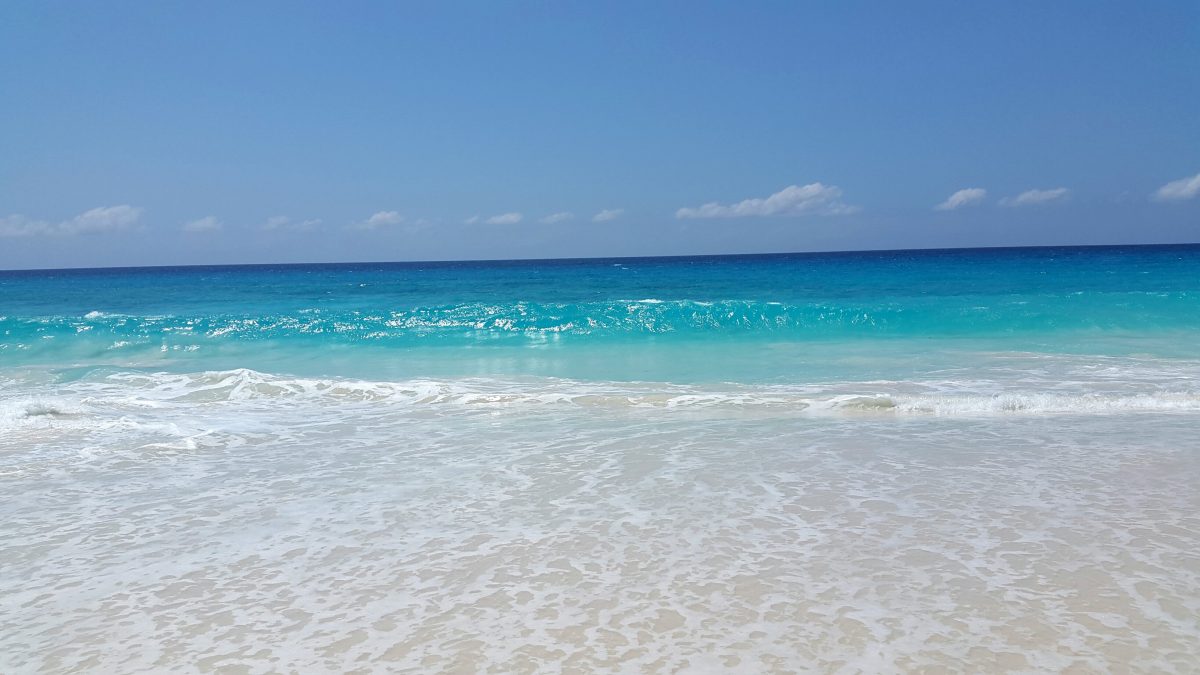 A short introduction
The Republic of Seychelles is an archipelago of 115 islands which lies in the Indian Ocean. Although it is located north from Mauritius, which means flights from Europe to Seychelles are about one hour shorter, Mauritius is far more popular tourist destination (probably because of its size and more affordable prices). The majority of the islands are uninhabited and the total population is just a bit over 90.000. Almost 90% of people live in Mahe, Seychelles' largest island, with the capital Victoria. Mahe, Praslin and La Digue are 3 main islands for tourists, beach lovers and honeymooners.
The climate is tourist friendly year-round, although the islands are quite humid. Temperatures vary from 24°C (the "coolest" months are July and August) to 31°C in the hottest months (March and April). The most pleasant time to visit Seychelles is supposed to be from May to November, however this depends on how much you can stand the humidity and the heat. If you ask me now, I would go back there at any time of the year.
Mahe Island
We visited Mahe in January 2015 for 8 days. It was a special occasion and my boyfriend's turn to pick the destination. (muahahahaha) He wanted to go to Mauritius and to be honest, it was not easy to convince him. Small island with "nothing much to do" vs. large tourist friendly island with numerous options to discover its nature and culture. So there I was, wondering whether he will be bored in one of the most romantic destinations on my TO DO list. As usually I did my homework and I convinced him with a cunning plan: the island was just big enough to rent a car and move around the island, spending 4 nights on the West coast and 4 on the East. Like he could say no, right? 😉
I wanted to be flexible with travel dates, budget and discovering the island, so agency arrangement was not an option. I booked a flight from Ljubljana through Munich and Dubai and for the first 4 days I rented a nice cozy bungalow on the West coast, near Beau Vallon beach. If you are looking for a budget friendly option and you are not so picky in staying directly on the beach, then I can highly recommend Daniella's Bungalows. The owner Daniela is a very warm and friendly person, she welcomes you every morning on the terrace where they serve breakfast but otherwise she minds her own business. There is actually a nice beach just across the street, while more famous Beau Vallon beach is about a mile away. If you have your own car, I suggest you drive there, because you might wanna get some groceries from the local supermarket there.
Best beaches in the world
Beau Vallon beach is about 4 km long white sandy beach in north-west coast and it is the most populated beach on the island. Which also means it is the most "crowded" one (crowded in Seychelles means that perhaps you'll have to wait for a while to make that perfect beach shot with no one on it) with quite a few bars and restaurants. The rule the further you go from the beach the less you pay applies here as well. Which doesn't necessary mean that you'll get lower quality. In fact, everywhere we ate in Mahe, the food was absolutely delicious.
While Beau Vallon beach reminds more or less of other "popular" beaches, the further you go the more astonishing it gets. If you take the North Coast Road you will reach the first hidden gem – the Sunset beach. Actually we discovered it by pure coincidence, while being stopped over by a police officer. It was just a routine check of the documents and while my boyfriend was entertaining the cops, my eyes noticed a nice place to park for our first photo session. It seemed like we hit the jackpot. The Sunset beach was completely empty and the morning sun shining on the crystal clear turquoise water made the scenery absolutely breathtaking. I never thought I would be so happy to be pulled over for police control 🙂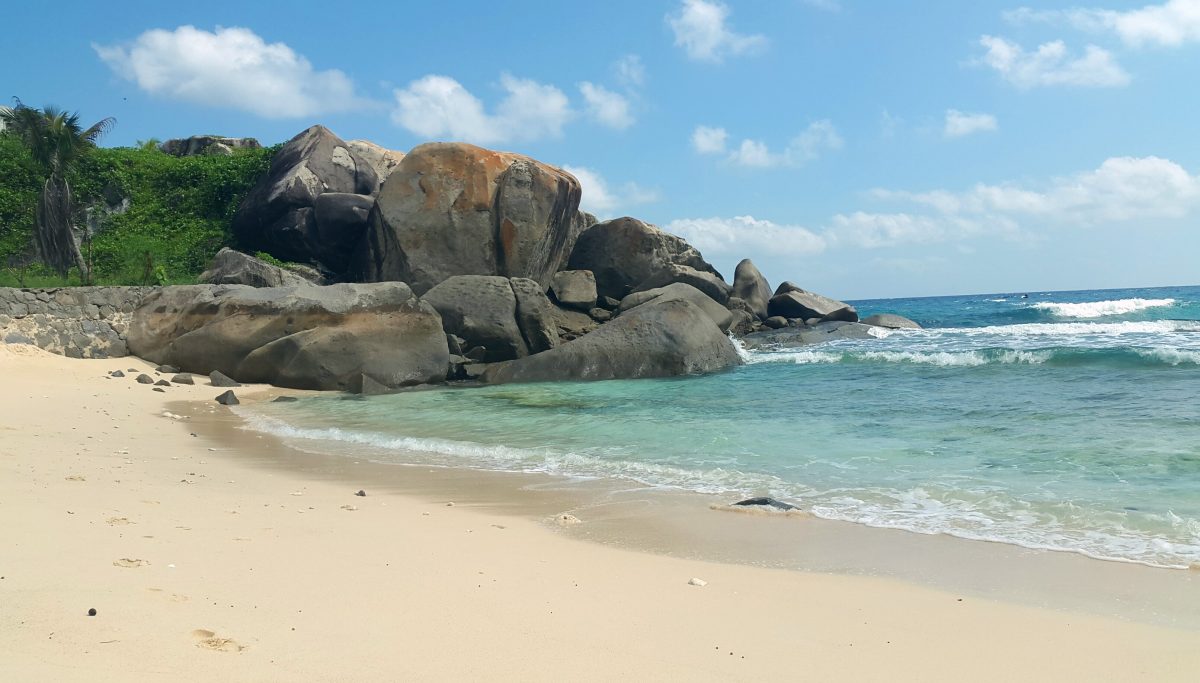 Following the North Coast Road there are some small beaches, also worth stopping at. In fact, almost everywhere you stop your car on Mahe coast you can get a glimpse of either magnificent granite stones or a piece of sandy beach, guarded by palm trees and other tropical vegetation.
Seychelles capital: Victoria
The capital Victoria lies in the North-East coast of Mahe. You can hardly call it a city, especially when you discover that most of the places like tourist offices, banks, supermarkets and convenient stores close at 4 pm. Downtown of Victoria is very cute, with the Clock tower in the crossing of Independence Ave and Albert Street. I found it kind of funny to see a Hindu temple rising above the capital. Arul Mihu Navasakthi Vinayagar Temple is within the walking distance from the center. We didn't go there – in fact we didn't spend much time in Victoria because we thought it was a waste of time. I mean who goes to Seychelles for shopping, right?
Mahe East Coast
The second part of our vacation we stayed in Dorado Villa, which is owned by a Russian lady. It is very stylish, I loved the accommodation and the architecture. The villa has its own garden where they serve breakfast and direct beach access. I have to admit the beach is nothing special, but the location is pretty convenient, so I definitely recommend staying there if you are on a "Mahe roadtrip". If you are lucky you can save a baby turtle, like I did. <3
Just a mile south from the villa lies Anse Royale bay with gorgeous white sandy beach and the coast is amazing all the way to the south – as far as you can go with the car. Unfortunately there are no paved roads to reach the ultimate south point (or at least we didn't find any) and it was too hot for us to explore it by foot. The South Coast Road actually takes you back to the West through some very narrow roads and blind turns so be slow and careful. In fact, this is what I should have mentioned in the beginning – when you rent a car be sure to rent the smallest one available. The roads are ridiculously narrow and meeting a larger vehicle can easily cause you a headache.
Mahe South West Coast
When you drive towards the West coast make sure you turn left (south) to Intendance road which will take you to Anse Intendance bay. No words can describe the beauty of the beach that is hidden between the banyan trees. It is a part of Banyan Tree resort, however it is relatively wide so you shouldn't have any problem finding your own place in this small part of heaven. Just one click on Google map and no words are needed.
Mahe West coast and Sauzier Waterfall
Heading along West Coast Road up North there is a lovely restaurant in Anse L'Islette bay. I usually don't recommend restaurants and bars, but Delplace restaurant deserves a place in my blog because of 2 things: one is the ambient as the restaurant is located on the beach, overlooking small islands which seem reachable across the sea on foot because the crystal clear water looks so shallow. And secondly, the place is a good starting point towards Sauzier Waterfall. WHICH. IS. A. MUST.
As soon as we left the restaurant we were approached by a local boy trying to convince us that he knew the only road which will take us to a very nice waterfall. He claimed that the usual road is closed due to some construction, so he took us through some private property (where we had to pay about 10 dollars to the owner for "trespassing") inside the forest where we did about 10 minutes' hike to reach a small lagoon. The scenery, in the middle of nowhere, looked so pure and innocent… it was amazing. The waterfall itself was nothing special (we have many gorgeous waterfalls in Slovenia), however the dark color of the lagoon was so mysterious – on one hand scary because you never know what lies beneath and on the other hand so tempting to swim in, especially of the heat and humidity in the forest. Trust me and take the swim!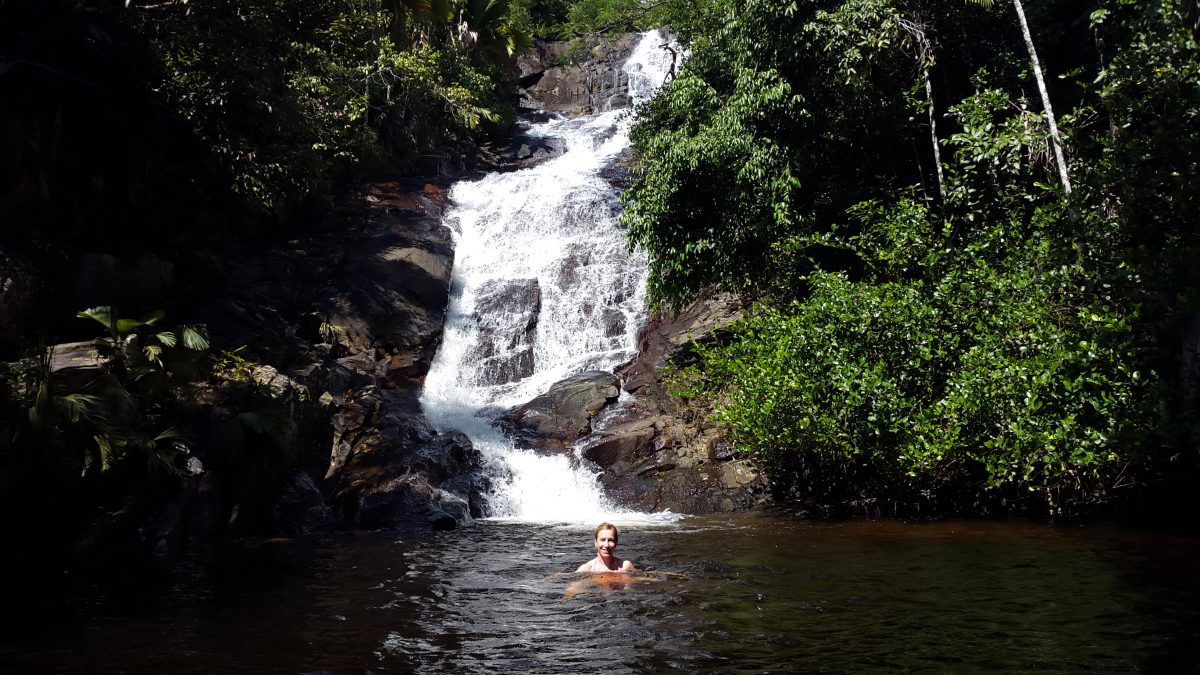 To sum up
Mahe island is just big enough for you not to get bored if you are a beach lover and want to do some sightseeing as well. If you are there on honeymoon and freshly in love, I guess you don't need to wander around, however if you want to experience the island on your own I recommend renting a car, preferably online so you don't risk staying carless when you get there. We had read there were a lot of thefts going on around the island so we always made sure we didn't carry any valuable things with us. But all in all I believe Seychelles are a safe destination, even shark attacks happen very rarely (evil smiley).
While I was writing this review I used Google maps to remember places I loved the most. The feelings when looking at those lovely beaches and special spots can hardly be described. The only thing I regret when looking back is that I didn't take more time to enjoy those special moments. When you sit alone in the white sandy beach and watch the amazing colors of the ocean. I will do it next time. This is a promise to myself.
p.s. You can check some other photos on my Facebook page in the album Mahe, Seychelles. Enjoy! 😉