Business, weekend or vacation – Greece is always a good idea. I visited Thessaloniki on business in the end of April for two days and I had a pleasure of staying at Daios Luxury Living hotel. A perfect mix of sunny weather, great food and good company will keep this visit in my very pleasant memory for a long time. And perhaps this hotel review will help you to put Thessaloniki on your bucket list.
Location
Daios Luxury Living is a 5 star hotel in the heart of Thessaloniki. It is located on the coastal road with a direct access to the sea promenade, between the famous White Tower and Aristotelous Square. The hotel has a parking garage, which is very convenient since parking in Thessaloniki can be a headache.
Numerous restaurants and bars are literally steps away, while shops with clothes from luxury to mid-budget brands are just around the corner. Shopping addicts will be happy to hear that hotel guest are entitled to exclusive discounts at various premium outlets and the hotel also offers transfers to some attractive shopping destinations. The transfer from Makedonia Airport takes around 20 minutes by car.
Rooms
I had a privilege of staying in the executive seaview room on the 4th floor . The room was very spacious, furnished in the combination of modern and rustic style. It had everything I needed for my comfort, even a complimentary minibar, which was a pitty since I was there alone. I mean who wants to get drunk before going to bed, right? 😉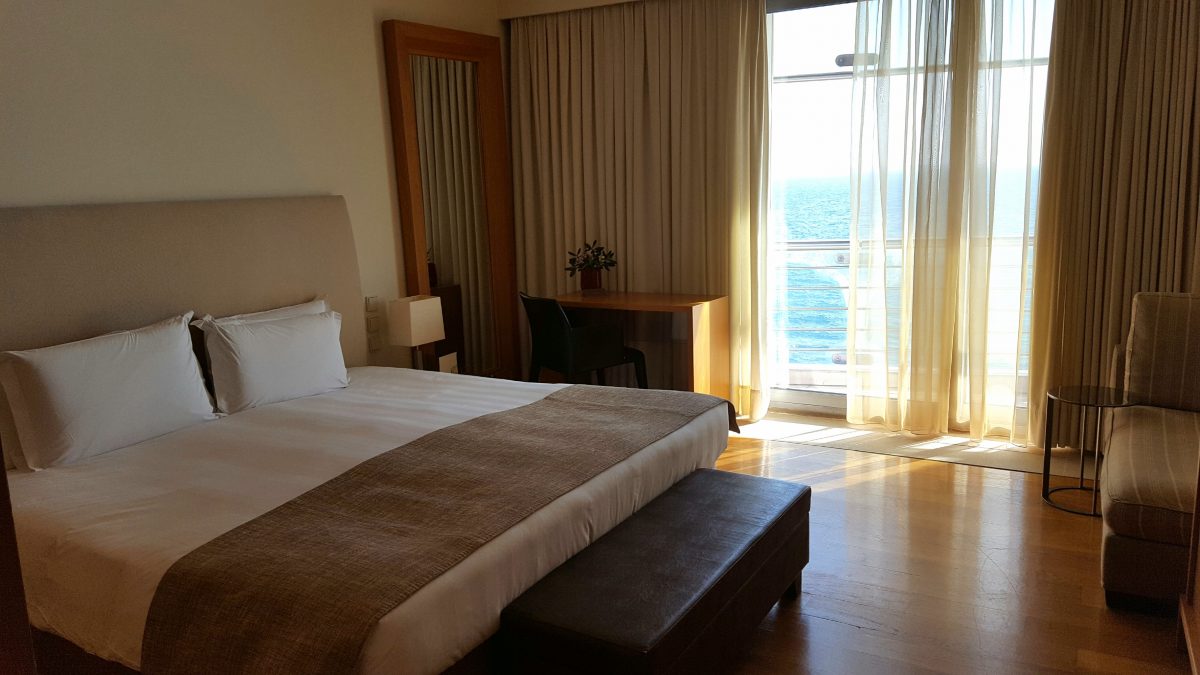 The bathroom was very stylish, partly decorated in wood, with separated bathtub and shower. The only thing I resent is that they put a scales inside it, which is really not fair considering all that delicious Greek food hunting you down around every corner, every minute of the day.
The ultimate luxury of Daios Luxury Living is the balcony which offers a fantastic view of the dark blue sea with ships sailing around the Thessaloniki port. The fact that the hotel is facing the South West side of Thessaloniki makes it even better because you get to enjoy the breathtaking Greek sunsets over and over again. You also get to watch people walking along the promenade, all the way to the White Tower which glows in different sunlight effects throughout the day.
Dining
Daios Luxury Living hotel offers 2 restaurants – Vitrina restaurant is for hotel guests only, while Daios Bar & Restaurant is facing the promenade and serves fine Mediterranean food. As a huge fan of room service I ordered my dinner there once and it was beyond delicious. As was the cappuccino they serve in the bar. Compliments to the chef and the barman!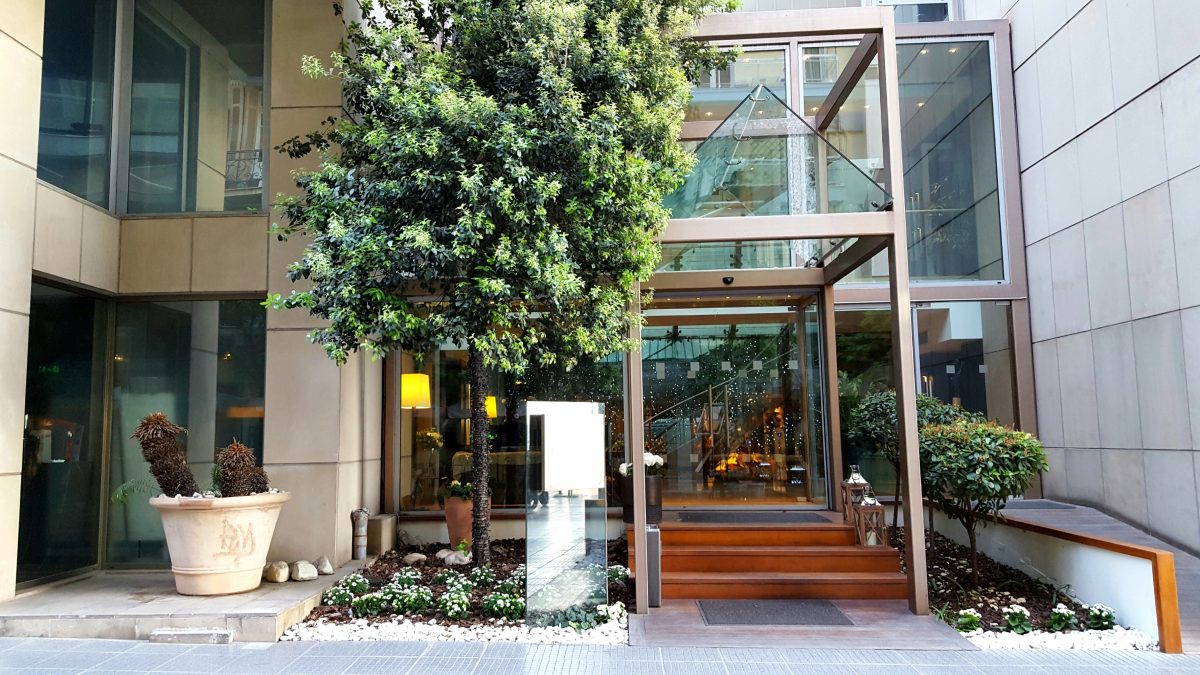 Anda's rate: 9 from 10
Bottom line: Perhaps I am too much under the impression of the fantastic sea view and hotel food, so take this review with a small reservation – but I can honestly say that my stay in Daios Luxury Living was a perfect 10. So why am I giving it a 9? Because I believe a 5 star hotel deserves a fitness and a rooftop pool, especially in Thessaloniki city center where there are no spots for swimming. Nevertheless if you are in town for business and can afford to be spoiled by your wallet, make sure you stay here because I hardly doubt there is any better option on such a fantastic location.