While searching for the accommodation in Hanoi for my business trip, it came as a surprise to me that hotels in the heart of Vietnam capital are relatively cheap. At first I chose a 3-star hotel with a perfect central location and very high ratings. Unfortunately it turned out that the location in the bustling area of Old Quarter was not my cup of tea (after 10 hours flight everyone needs a rest, right?) so I upgraded myself to a 4 star Pan Pacific hotel. A smart decision indeed!
Location
Pan Pacific hotel is located across the street from the West Lake, which offers very romantic day and night views, especially in higher floors. I got a room in 12th floor with lake view and it was spectacular. It is a bit dislocated for those who want to go out for a beer in the lively Old Quarter, but taxis in Hanoi are so cheap that you shouldn't even bother about it. Uber from the hotel to Hoan Kiem Lake (distance about 3 km) costed me just 1 EUR. On the other hand there are many interesting things to see on foot – like Tran Quoc pagoda and a must see Ho Chi Minh Mausoleum.
There are plenty of taxis in front of the hotel all the time, and the Noi Bai International Airport is about 30 minutes' drive away. If you rent a taxi in the hotel it will cost you around 15€, Uber costs a bit less, depending on the demand.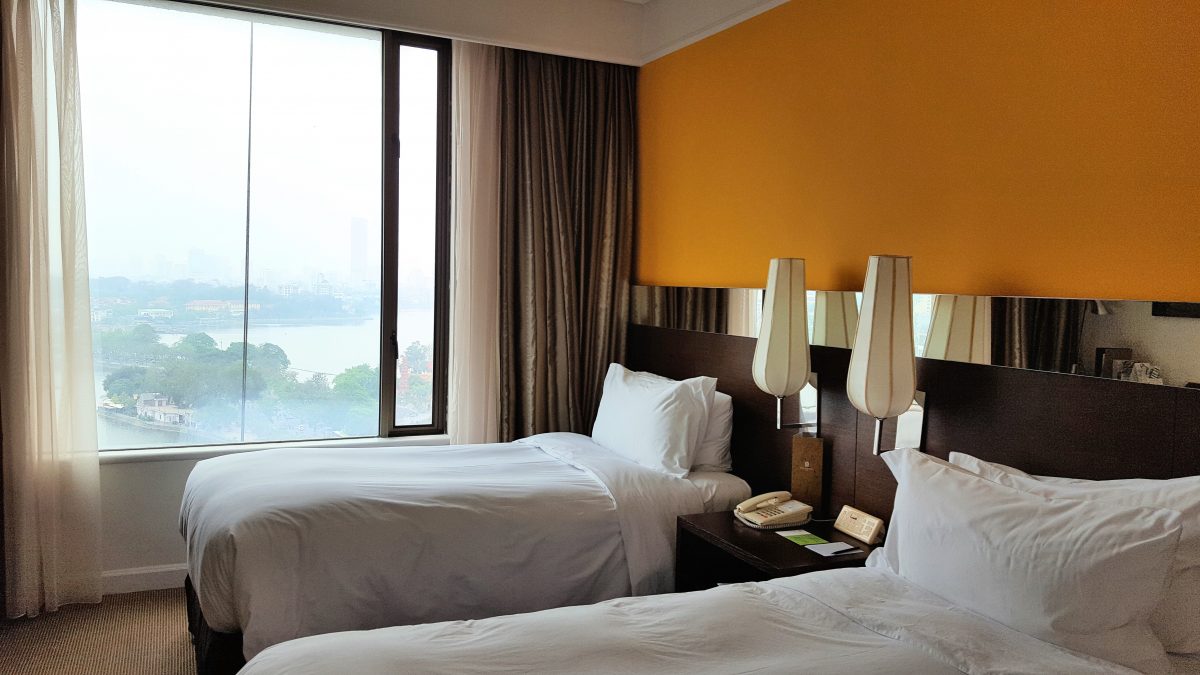 Rooms
Maybe I was under the impression of the first hotel, or maybe it was because of the view – either way, my room was fantastic. It was very spacious, the bathroom was modern, beds were good, wi – fi was working all the time (which can be quite a challenge in other hotels). The only thing that could have bothered me a bit was a carpet on the floor (allergies, remember?), but I was there just for one night so no harm done.
Dining
Breakfast in Pan Pacific hotel was awesome as well – everything you need and hope for. Tropical fruits, which I am a sucker for, cold and hot choices for all tastes and also a chef who makes you almost whatever you want. I think they also had sushi.
Room service food from the main restaurant was again amazing. You are probably starting to think I was paid for this review, but I swear I am being totally honest. I ordered a light dinner as I was too tired to go out: pumpkin soup (absolute killer!), focaccia with mozzarella, tomatoes, salad and free French fries (which I asked the waiter to take back, thank you very much) and a tropical fruit plate. Yummy. At this point I should probably mention that eating in the hotel is not only more expensive as on the streets of Hanoi but also much more boring – but I guess this is a sad life of a businesswoman 😉
Pool, Fitness and Spa
The pool is covered with a transparent roof, and there is also a small terrace outside for those who want some suntan. Fitness is great, and they have very spacious dressing rooms with several showers. I pampered myself in Spa with a 90 minutes Vietnamese massage, which was worth every penny. 35 EUR, to be correct. Again, on the streets these things are much cheaper…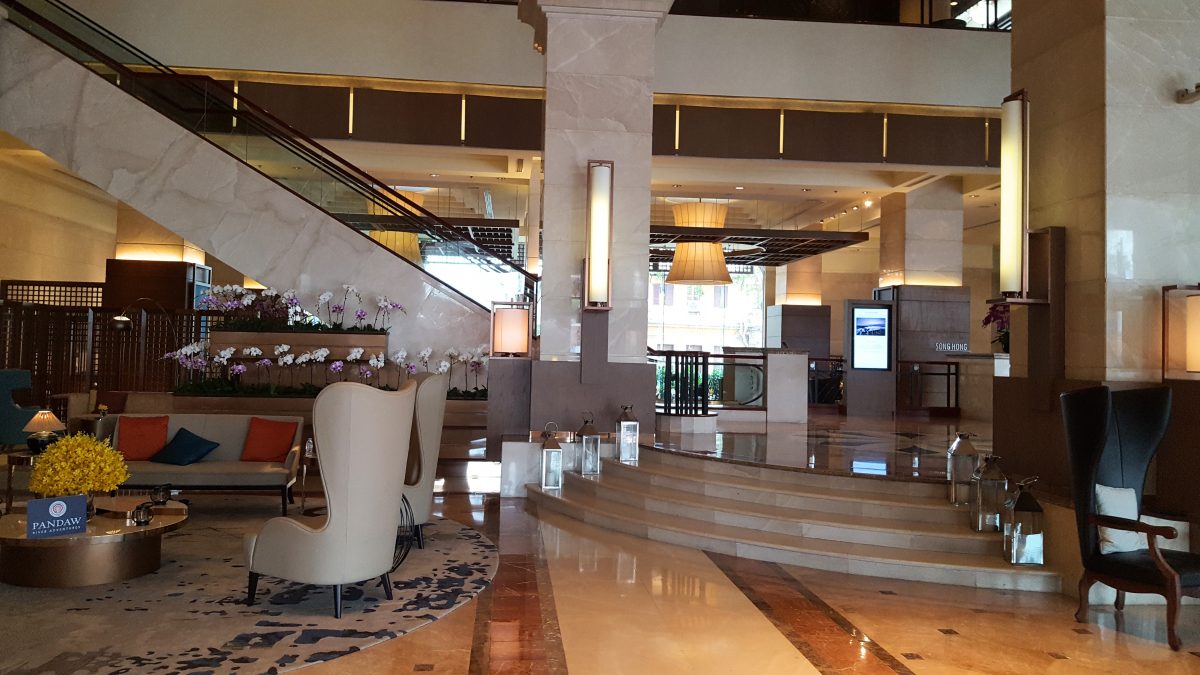 At last but not the least, all the staff was professional, kind and very helpful with everything I needed. Probably this is the reason why I will chose Pan Pacific again – next time I come to Hanoi.
Anda's rate: 9.5 from 10
Bottom line: Pan Pacific hotel was a really pleasant surprise in chaotic Hanoi. The price was actually a bit over my usual budget and I am sure I could have found something cheaper with comparable service, since Hanoi is crowded with hotels. But I definitely don't regret my decision and I can recommend Pan Pacific to everyone. So why 9.5? Well, because of the carpet 😛