Freddie Mercury and Montserrat Caballe, taking each other's hands and reaching for the sky in the open air concert back in 1988. Barcelona – Such a beautiful horizon. Barcelona – Like a jewel in the sun. The song gives me the shiver every time I hear it. And I just can't keep my mouth shut. Can anyone?
I have visited Barcelona three times. First back in the 90's when I was a student on a budget. The only thing I remember from the trip was sangria and a blur of Sagrada Familia. Second time was some kind of a team building trip with a company I used to work in. My memories from that visit upgrade to sangria on a lovely sandy beach. The third and I certainly hope not the last time was this October when I actually walked around the city with open eyes for a couple of days. And finally now I feel qualified to say Barcelona is absolutely gorgeous, with lots of things to see and do for anyone. I do have to warn you here, not to be misled by my itinerary. Two days are just not enough. Neither are three. Make it at least 5 and enjoy the city to the fullest.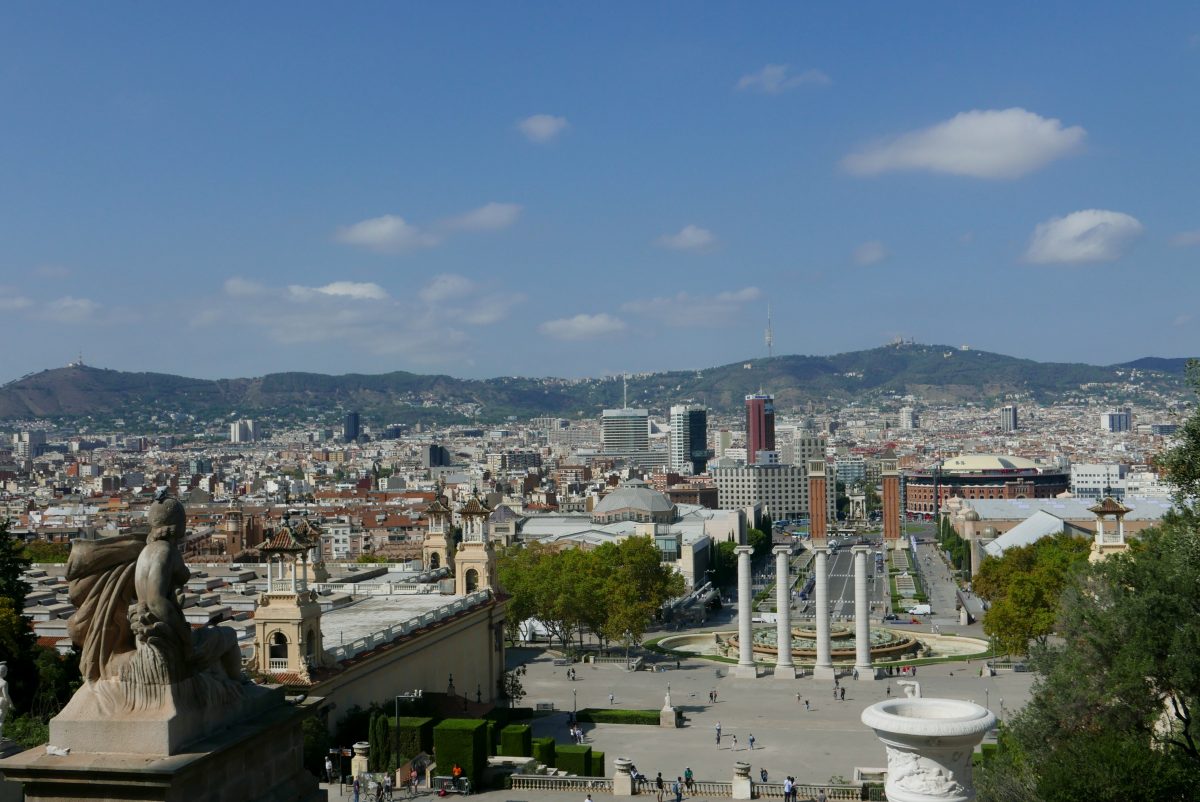 Transport
Unfortunately there are no direct flights from Ljubljana to Barcelona so travelers from Slovenia can either take a connection flight through one of the major European airports or drive to Bergamo (Italy) to catch a cheaper direct flight with Ryan air. You can reach Barcelona city center with Airport Express shuttle bus called Aerobus, which goes to and from the airport every 5-10 minutes (until 1 a.m.) and costs 6€ one way and 10.20€ for a return ticket. It stops at 4 locations and you can take a metro or taxi from there to your hotel. There are some other cheap options which you can check here. The most comfortable option is by taxi which takes around 20 minutes (make sure you add around 10 minutes when returning because traffic can be heavy throughout the city). It will cost you around 30-35€ plus a couple of surprises in the end: 3.10€ airport fee (no matter which direction) and 1€ per each piece of luggage. Unfortunately Uber hasn't reached Barcelona yet so do your own math, depending on how many people you are traveling with.
Accommodation
There is no mild way of putting it, so I'll just shoot: hotels in Barcelona are expensive. I thought I would catch some good deal in October since the summer season was over but it turned out that there is always some trade show or big event going on to fill in the gap. So unless you are ok with staying in hostels (the ones with private bathrooms vanish in a blink of an eye) be prepared to pay at least 150€ per night for a descent 2 star hotel. I stayed in Ibis Sagrada Familia which is located less than 500 meters from the famous Gaudi masterpiece and the metro station so I can say I made a good choice.
The masterplan
This time I was in Barcelona on business and since I only had 2 days to explore the city, I did some quick research at home to make the most of my short visit. A big help here was Barcelona Turisme which offers plenty of useful information on their web page. I usually don't use official tourist information when I travel (I am kind of a spontaneous wanderlust rebel) but I can say that this site was very helpful and it's one of the best I've seen.
My plan was to see Sagrada Familia once again, feel the pulse of La Rambla Street, peak into Picasso museum, see some Gaudi's artwork, catch some vitamin D on the beach and take a selfie at Camp Nou just so I could annoy my Barca friends who know I am actually a Real Madrid fan. I had no idea how much time I would need for all of that so I decided to take the Big Bus Barcelona (hop on hop off bus) to see if anything else would catch my attention. As many times before this proved to be a very good decision.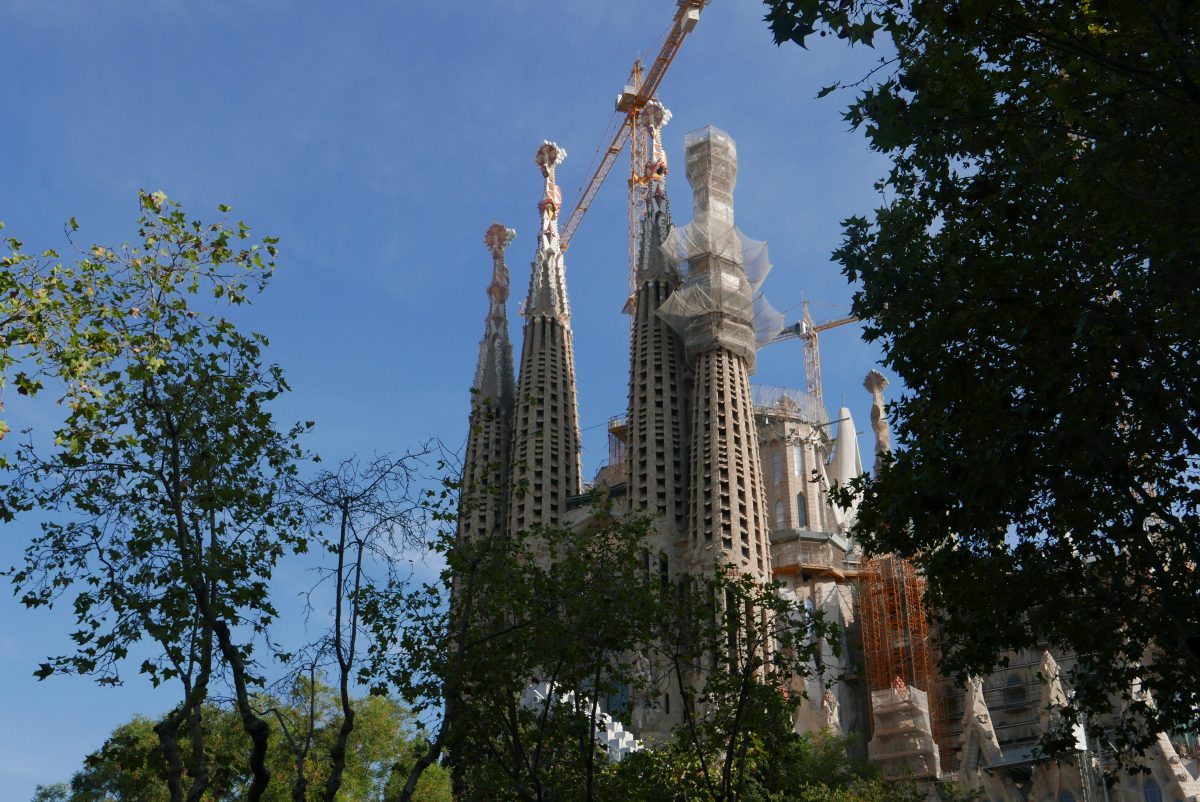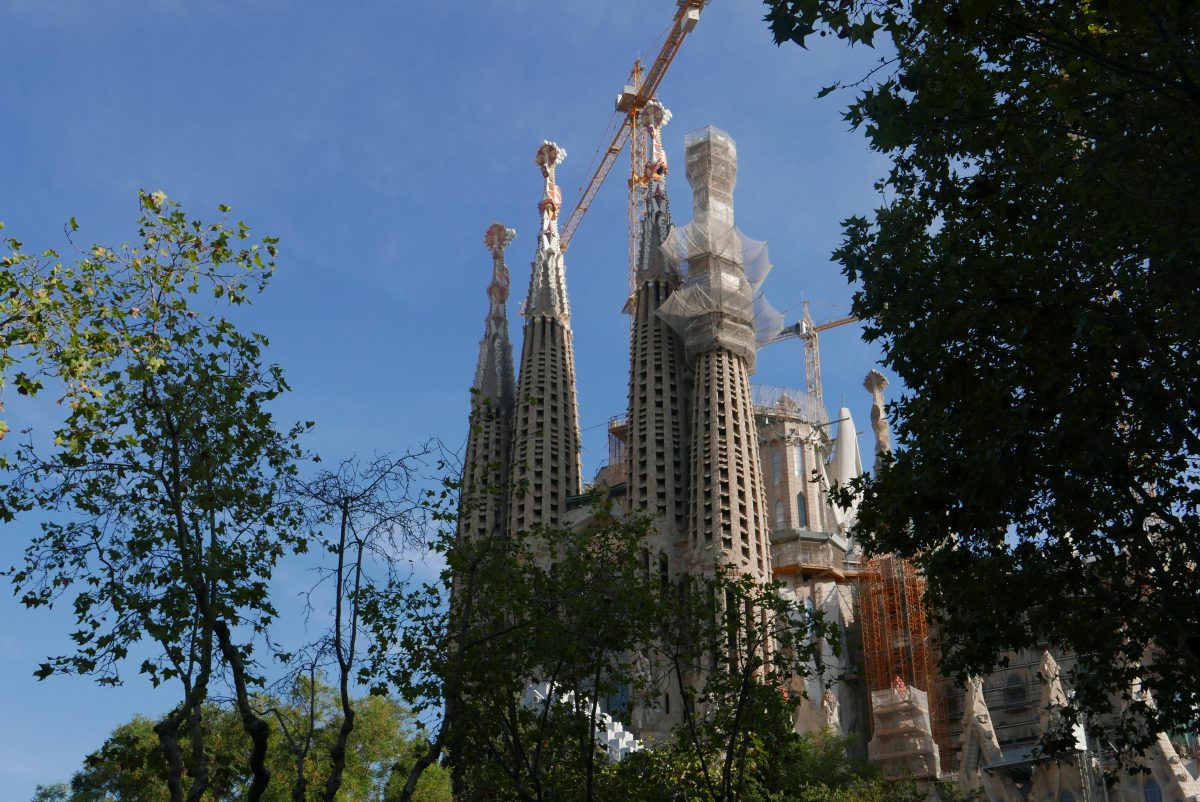 I decided to see Sagrada Familia first, since it was only a short walk away from my hotel. The Basílica de la Sagrada Família as it is officially called, is more than a piece of art. You can almost get scared of the "stone mountain" for a moment, if you don't know what to expect behind the corner when the giant suddenly appears in front of you. Its creator, the famous architect Antonio Gaudi took over the constructions in 1883 and his successors have been building it ever since. If you look carefully at the details of the exterior you will soon get the idea why the construction is taking so long. Make sure you walk round and round as the façade is very different from both sides. I haven't seen it from the inside because the waiting time was too long, but judging from the photos I can easily imagine this could be a never ending story (although the anticipated completion is in 2026). The entrance fee to basilica is 14.30€ (or 18.30€ with audio guide). There is however one option to see some of it for free if you enter the underground crypt left from the main entrance at the time of mass. I was surprised to see that Gaudi himself is buried there. Indeed a nice way to remember and honor the Master.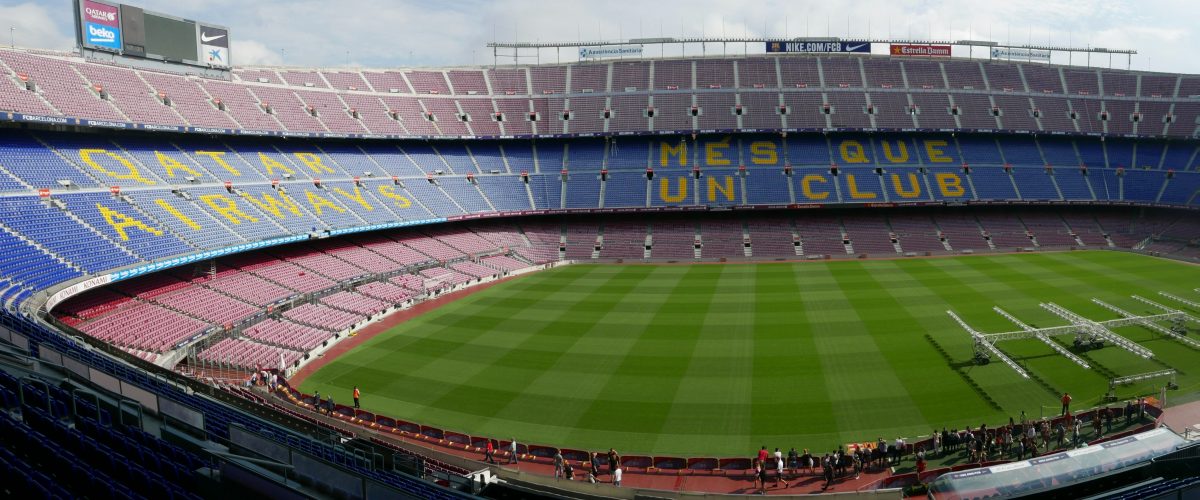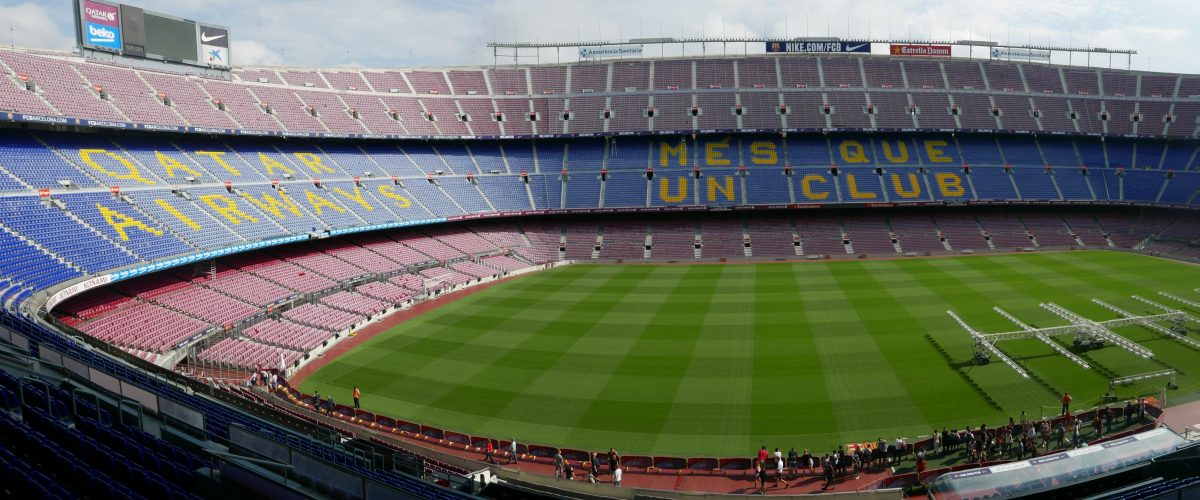 The blue line of Barcelona Big Bus stops right in front of Sagrada Familia so I took it from there to Camp Nou, the European biggest football stadium. Oh my. Even if you are not a football fan, do stop there. At least to see the giant from the outside and peak into their official store. You will probably walk out with at least a small ball. The entrance fee to the stadium and museum is 23€ per adult, which is quite a lot, especially if you have a large family of Barca fans with you. The experience is very unique though and I can only imagine how it must feel like if you are a true Culé. To walk through the same gate Messi walks in. To see the locker room where Neymar gets naked. To sit in the broadcast booth where the reporters scream like they are fighting for their lives when Messi scores. To see the huge green playground and imagine how Christiano hits for the victory. Oh sorry, I got a bit carried away. Have I mentioned I was Real Madrid fan? 😛
Those who are more into art and architecture will probably hop off 2 stops after Sagrada Familia to see Park Güell, Barcelona's second largest park, designed by Gaudi. I vaguely remember seeing this wonderful park during one of my previous visits and since I didn't have time to do it all I decided to skip it this time. It was actually a smart decision because I almost ran out of time to see everything in my schedule. Plus you can see Gaudi's work all over Barcelona if you do some homework and open your eyes.
I switched from blue to red line of Big Bus Barcelona at Plaça de Francesc Macià, one of the most transited points of Barcelona, crossed by Avinguda Diagonal. If the blue line seems a bit long and not so eye catching, I believe the red one is something everyone should experience. Be sure to hop off at Plaça d'Espanya, make a selfie in front of the majestic Venetian towers and walk up towards the Museu Nacional d'Art de Catalunya for breathtaking views of the city. At first I thought I would take the funicular towards Montjuïc but after having such luck to see the Barcelona from MNAC on a clear sunny day I decided to skip the ride and rather enjoy the moment up there. Just sit, relax and watch the city.
From there you can walk (or hop on the bus) all the way to the Olympic stadium which was built for 1992 Summer Olympic Games. The red route which continues towards Barcelona port becomes even more spectacular from there on. On one side you can see the city from above, while suddenly the sea view opens on the other one. If you are with kids you will probably want to visit the Aquarium, which is also a good starting point to walk around Maremagnum center to have some sea food in one of the numerous restaurants nearby.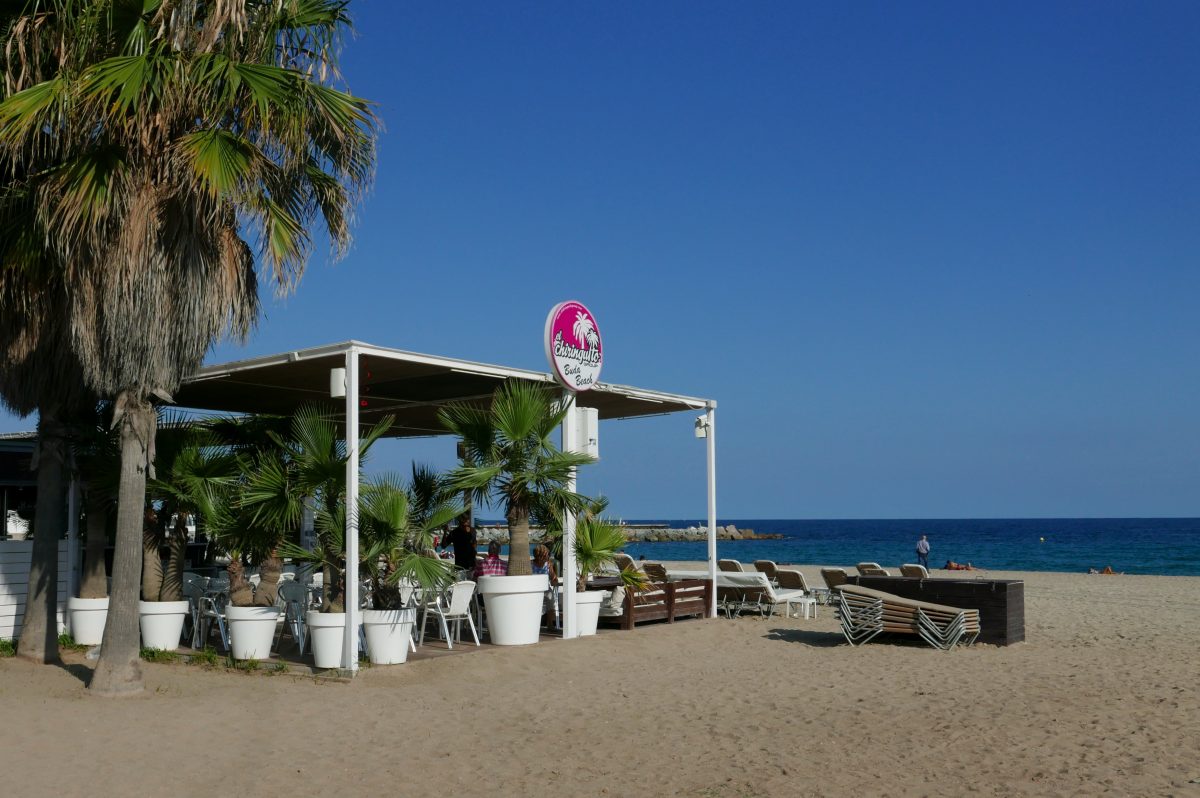 I saved the beach part for the next day. The green line of Barcelona Big Bus looks relatively short on the map so I hopped off at Parc de Diagonal Mar, just before the bus would turn back, and decided to walk along the beach towards the famous sail shaped W hotel which seemed to be the end of something. Oh boy what a walk that was. The coastal area of Barcelona is simply beautiful. The sandy beach is wide and very long with hardly any natural shade, however it is full of bars and umbrella spots to rest under. Make sure you grab one of the delicious natural freshly squeezed juices and enjoy them while watching the sea.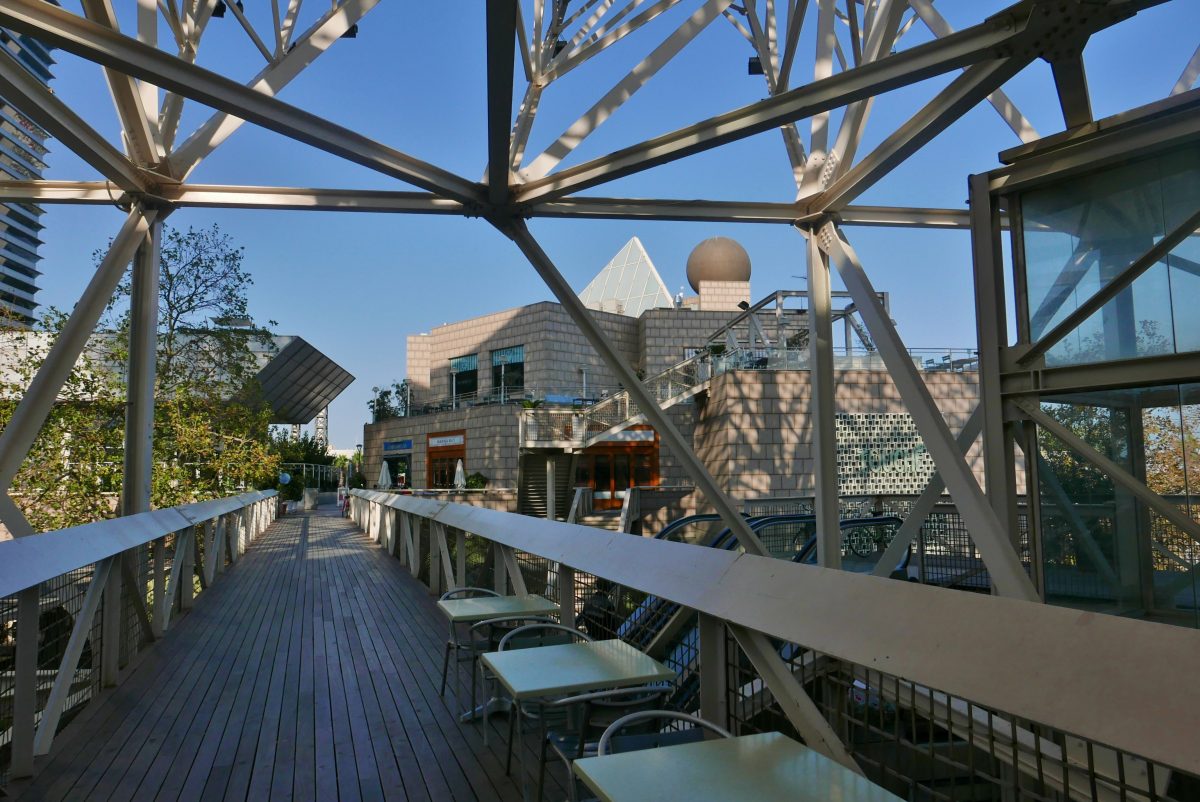 At first I thought I was just walking along famous Barceloneta beach and only later when I checked the map I realized I had passed at least 7 beaches. Yep, I walked them ALL, but it was really worth it. There is also a very nice part in modern architecture style and fancy bars around Port Olimpic. So it just doesn't get boring at any point. I was too tired to walk so I took the red line again towards the Gothic Quarter to see Picasso Museum. The entrance fee is 11 € per adult (or reduced 7€). I wonder what the Master would say if he heard that people pay twice as much to see the "grass" in Camp Nou 😛 You can crucify me as much as you want but after seeing the Picasso's collection, all I can say is: what a waste of great talent.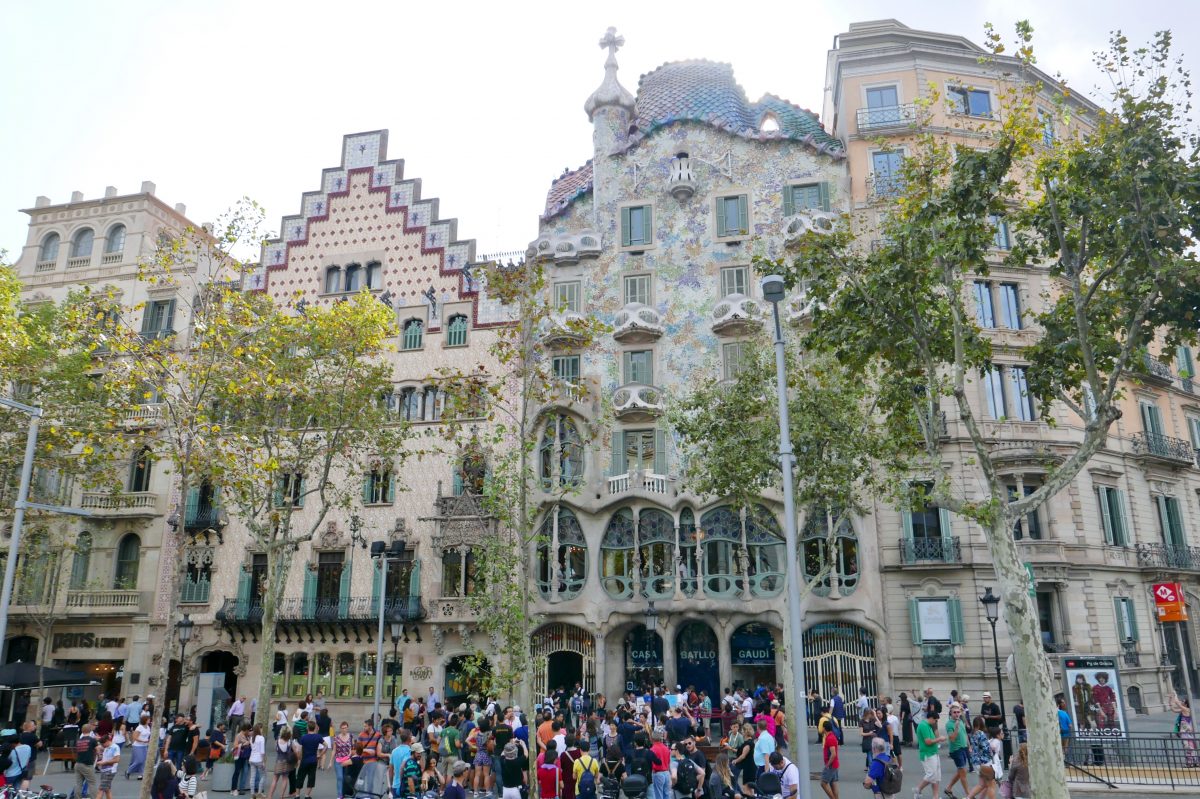 I am not sure where the Gothic Quarter ends but if you head north towards Placa de Catalunya (one of the main squares) you will soon spot the top of the magnificent Barcelona Cathedral, which was built around 15th century. The building is simply brilliant. As is the rest of the city all the way from famous La Rambla Street, the magnet for all tourists, to Casa Batlló and La Pedrera, another 2 Gaudi's masterpieces. Just make sure you take a map because you can easily get lost in those narrow streets of the old city center.
So there you go, I hope you got an idea what Barcelona is all about. You can check the rest of the photos in my Facebook album. As far as the food is concerned, you have to try the paella (some kind of risotto with chicken and seafood, spiced with yellow…) and tapas, small snack bites which you can grab on any corner. Oh and Spanish olives are great as well. And have I mentioned sangria, the sweet red wine with chopped fruit and a sip of brandy? If you like these kind of drinks and can't say no to "just one more", I suggest you wait with them until the evening, when the streets of Barcelona cool off. And start the night tour which I will leave to your imagination.