In Slovenia we have a saying "Kovačeva kobila je vedno bosa" which means "The shoemaker's children always go barefoot" (thank you Barbara for your help with translation 😉 ) I am a bit embarrassed to say I fit perfectly into this category – a global traveler and restless wanderlust who can't see what lies in front of her eyes. And I am not only referring to Slovenia, my home country, which is in my opinion one of the most beautiful places on Earth, but literally my doorstep – the town I have been living in the past couple of years. Bornova pot (Born trail) is definitely something I should have done a long time ago!
I swear this Sunday trip had nothing to do with the fact that National Geographic just recently put Tržič on a global map, describing it as "an outdoor sanctuary, nestled among the alpine peaks of northern Slovenia near the Austrian border, where nature is part of daily life". Nevertheless, thank you, NG and thank you, Ciril Jazbec for your awesome work!
It just so happened that it has been a whole month full of traveling and happening, so it felt right to stay home for at least one day. As long as "staying home" is just a figure of speech. I mean you can't literally sit on your ass for 12 hours on a sunny Sunday, right?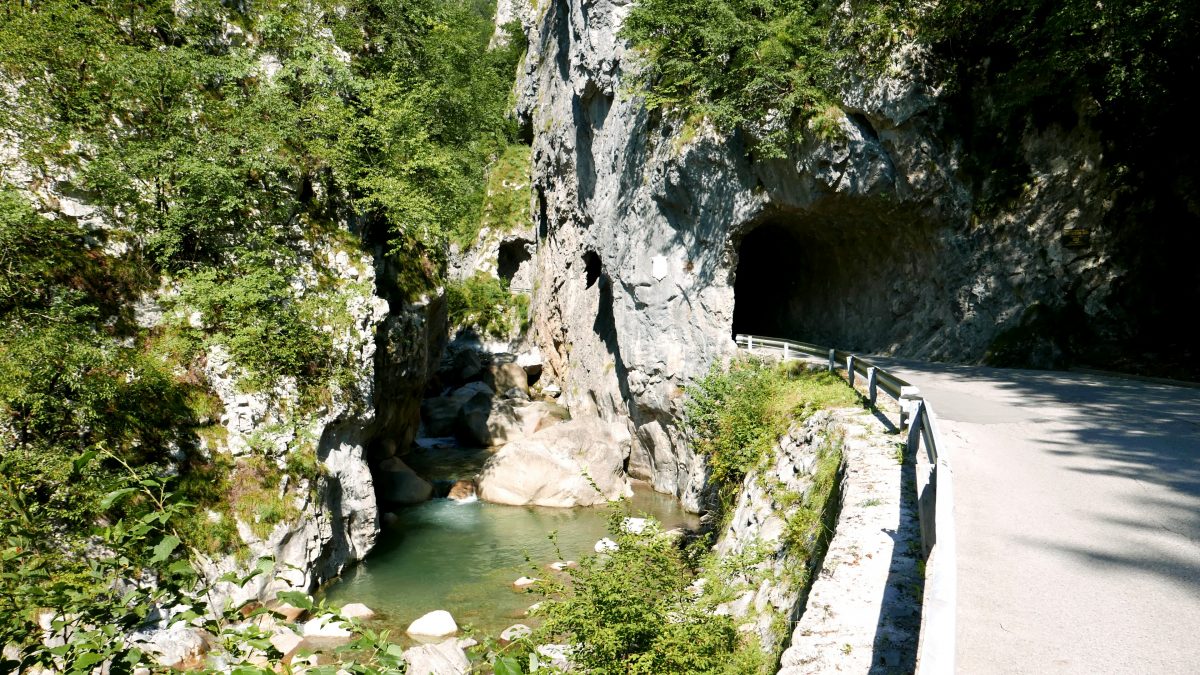 If you happen to be near Tržič and have a day or two to spend around here, you have quite a few really nice opportunities to stretch your legs and free your mind. You can hike up to Kriška gora (Kriska mountain, 1.471 m, which takes about 1.5 hour walk through rather steep path in the woods, with a nice view of Gorenjska region, Julian alps and Stol mountain on the top), bicycle through 300 million years old protected natural monument Dovžanova soteska (Dovzan Gorge), or walk up the old unpaved Ljubelj road, known for the International oldtimers' mountain race (by the way, the next race is scheduled on September 10th 2017 so see you there 😉 ) But for really nice views you have to hike Bornova pot (Born trail), which I somehow hesitated to take until this Sunday.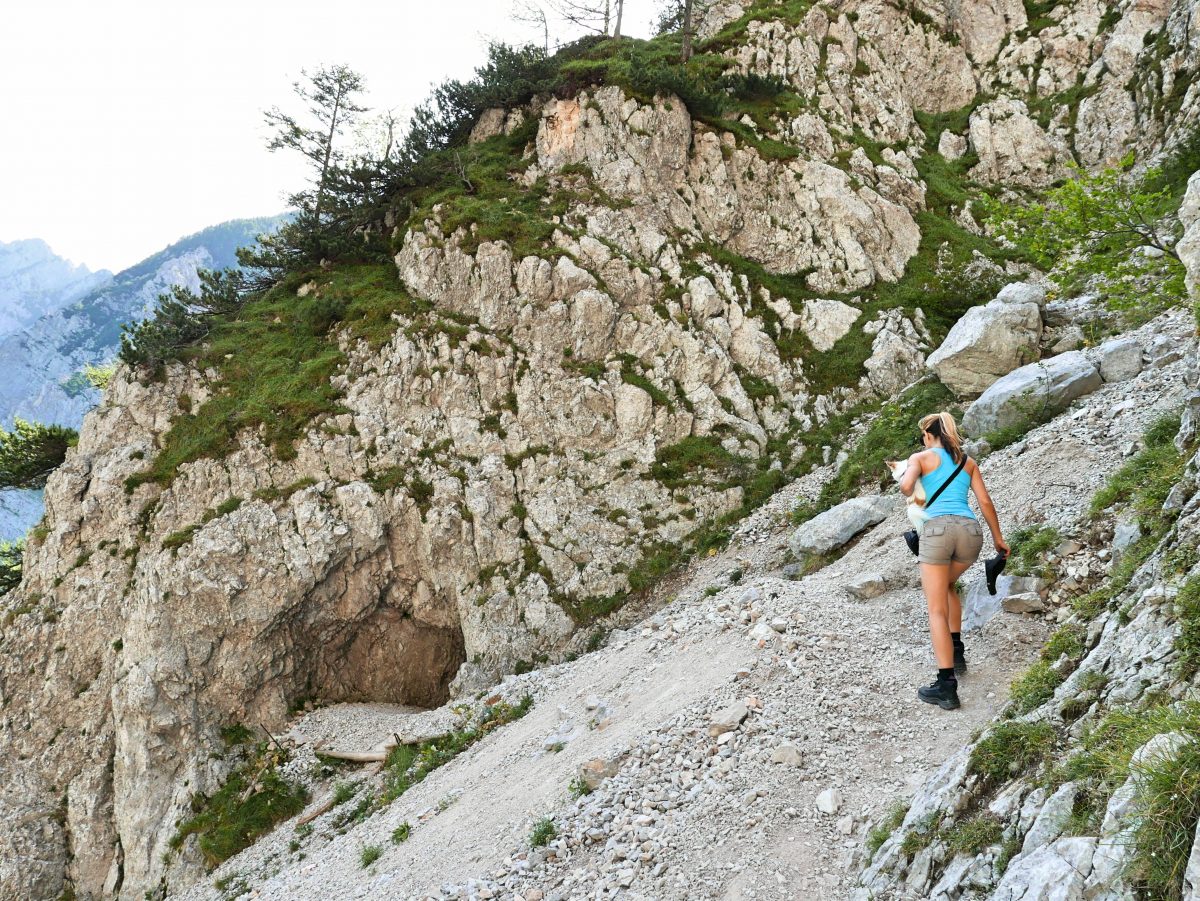 You can leave your car on the parking lot right before the Ljubelj tunnel (which leads to Austria), put on your hiking shoes (you can also do it in sneakers, but definitely don't wear flip flops, even if you are British), take a bottle of water and get ready for about 1.5 hour adventure. By the way Born trail was made in late 19th century by Karl Born, a baron from Berlin who loved these mountains and bought a land nearby. The trail was originally used for hunting but the legend says that the baron had used it for secret meetings with his mistresses.
First half of the path is the most picturesque with really nice views of Ljubelj concentration camp, Podljubelj village and the road that leads to Tržič. But this part is also the most slippery due to a few scree slopes which could lead to landslide if you don't watch your step. I mean people do take small children here and even my Chihuahua passed easily – I just want to point out that you should take the hike seriously. Soon you will spot a small tunnel which you need to pass to get to the other side of the hill and even though it is only about 50 meters long, carrying a light with you is practically a must.
If you are hiking on a hot sunny day you will appreciate the shade of the trees which cover the second half of the path. It does get a little steep there from time to time, especially when you have to "jump over" the roots, but it's really not that a big of a deal. The biggest challenge when it comes to stretching your legs are actually the last 100 meters – the grand finale – before you reach the top. From that point you also need to put your dog on a leash as there are cows wandering around. And watch your step if you don't want it to get dirty 🙂
The top in my case was Prevala cabin (1.311 m), but lots of hikers use that place just as a pit stop on their way to Begunjščica (Begunjscica mountain, 2.060 m) which is another 2 hours uphill. The cabin offers some traditional "hiking" dishes like ajdovi žganci (buckwheat meal with sour milk), jota (sour cabbage with beans & sausage) and štruklji (dumplings) at very reasonable prices. You can find your spot on the terrace and enjoy the views of nearby hills, Radovljica town and the grand Triglav – the tallest mountain in Slovenia (2.864 m). Feeling accomplished and wanting to do it all over again soon.
(p.s. scroll down for some hiking tips and check my Facebook album Up and around Trzic for more photos about Bornova pot and Tržič).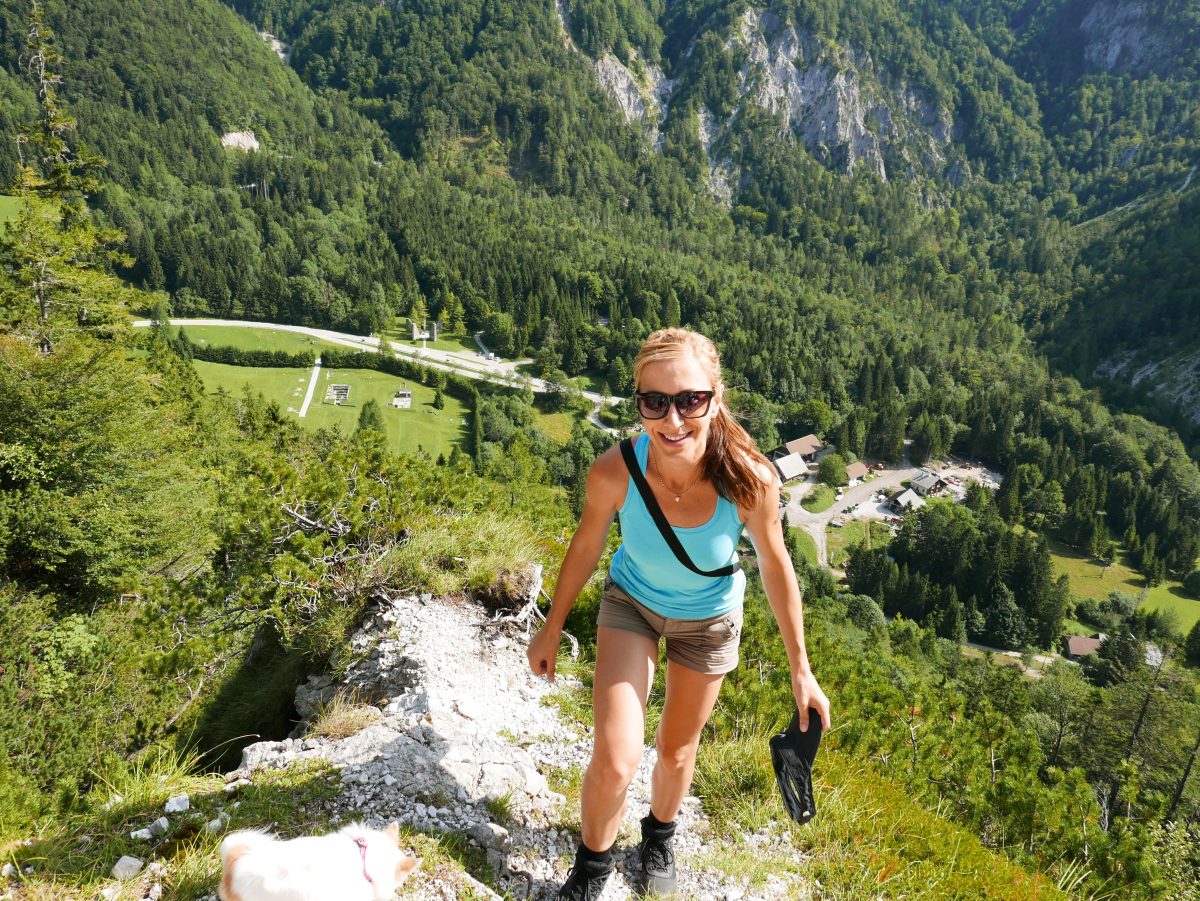 Some hiking tips:
The trail itself is actually not that long but you will definitely make a few stops for photos, so consider about 1.5 hours to reach the top. If you forgot your camera and are superfit you can do it in less than an hour.
There are actually 2 tunnels (in a row) and it is really advisable to take along some kind of lamp, or at least use your cell phone light to pass them. Sometimes the grounds can be partly covered with water so do watch your step.
Dogs are welcome, and they only need to be on a leash up at the cabin because of the cows.
Children are welcome only if they behave nicely 😛
Take a bottle of water as it might get superhot from time to time on the way. You can refill at the cabin.