Wow, Hanoi, where do I start? 🙂 First of all, I'd like to say that if it weren't for my job, I would have probably never visited it. I am not even sure why but I am not much of a fan of Asian destinations. I do know Thailand has awesome beaches. Been there done that. But that's about it, right?
Wrong, of course. I know Asia has a lot to offer, I just couldn't seem to find the opportunity to go back. Until this April when I needed to visit Hanoi on business. It was a tough bargain but I managed to find a good distributor for our products in Vietnam. And after one year of "online relationship" it was time for me to pack my bags and meet their team in person.
Honestly, I was scared to shit out of this trip. I have never flown so far on my own (I always have someone to "hold my hand" up there in the air) and I kept on postponing it for as long as I could. But a woman's gotta do what a woman's gotta do, so I booked a flight to Kuala Lumpur (I also had some business to take care of there) and took a connecting flight to Hanoi. Che sera, sera 🙂
The traffic "wow"
Landing in Hanoi was a sight for sore eyes! The view of vast green areas, lakes, rivers and colorful settlements finally calmed me down after an extremely turbulent flight. I had a taxi driver waiting for me at Noi Bai airport, arranged online by the hotel. I read that taxi cheats in Hanoi are quite often and after the additional warning from the hotel staff I decided not to take the risk. I am glad I didn't because the taxi driver could barely speak English and I am not sure how I would argue with him if he wanted to pull some scam on me.
The minute I sat in the car I knew this trip would be very different from what I had been used to. Traffic jams, scooters with three or sometimes even four people "on board", drivers horning and people jaywalking everywhere… well, let's just say you need to take a deep breath and realize you are in Vietnam 🙂
Hanoi traffic is beyond chaotic. Most of the people drive scooters, because this is the fastest and the most flexible option to move around the city. But the problem is that there are "9 billion" scooters in Hanoi. And none of the drivers seem to give a shit about you. They never stop in front of the crosswalks (with the exceptions of some traffic lights) – they just slow down and try to avoid you somehow. The same goes for the car drivers. And here is the catch – this is how things actually work here. Avoiding the traffic and simply crossing the road as hundreds of motorbikes whiz around you is all part of the fun. It is a bit challenging for the first, second and third time, but you get used to it very quickly 🙂
The cash "wow"
You can easily get confused by the high numbers on banknotes: 1 USD is about 22,000 Vietnamese Dongs (VND) and I suggest you study them well because some of them look the same. And it might be challenging for those who can't do the math quickly enough (myself included) to pay 50,000 VD for something, what in fact only costs about 2 dollars.
I strongly recommend you to carry some change with you all the time. Credit cards are only accepted in hotels, but not in bars, street shops or taxis. Change around 20$ in the airport, because you will need it for your ride to the city, but don't change too much because the currency exchange rate is not very good there.
The food "wow"
The food "wow" goes for cheap prices as well as for Vietnamese cuisine and habits. Most places just have plastic stools and small low tables that are literally placed in the road. On top of that add hundreds of motorbikes speeding past sometimes only a meter away and imagine the thrill 🙂 But at least the street food is good and very cheap. Their traditional local food is Phὁ – a noodle soup with chicken and vegetables. You can find it around every corner and it costs only around 1.5 $. The same goes for the drinks – you'll pay less than 2$ for a local beer Bia Hoi which is quite popular in Hanoi. One reason is because of the heat and humidity, especially during summer, and the other is that the beer tastes great and it is freshly made every day.
The dark side of the "food wow" is the fact that some restaurants in Vietnam still serve dogs meet as their specialty 🙁 Fortunately I didn't see any of them because honestly I don't know what I'd do if I saw human's best friend on the menu. If you are challenged by exotic food, please rather go for snakes or insects which are plentifully served as well.
Where to stay in Hanoi
If you want to feel the real pulse of Hanoi, I suggest you stay somewhere in the charming Old Quarter. Accommodation options in Hanoi are vast and you can easily get a very good 3 star hotel for less than 50$ per night in a very good location. I stayed in Splendora Boutique Hotel the first night, but it was too noisy for me (if you don't mind the noise from the street, I highly recommend it because the staff is super friendly, rooms are nice and breakfast is 5 stars!), so the next day I switched to Pan Pacific Hanoi hotel, which was fantastic and just what I needed. You can search for the hotels in Hanoi on Booking.com – click here to get a 15€ discount for your next booking.
Things to see in Hanoi
A must see is Hoan Kiem lake with a small island and Ngoc Son Temple, and if you walk around the lake you can see some fascinating old buildings from French colonialism era, like Hanoi Opera House, St Joseph's Cathedral, Hanoi Post office, et. The second area worth exploring is the one from West Lake towards Ba Dinh square where you will find the impressive Ho Chi Minh mausoleum, with the embalmed body of "Uncle Ho" – the first Vietnamese President, as well as the President Palace, and some other imposing government buildings. You can check my top 5 things to see in Hanoi here.  And the beauty of it is that you won't go broke even if you want to see everything. Entrance fees to most of the places worth visiting are usually around one or two USD.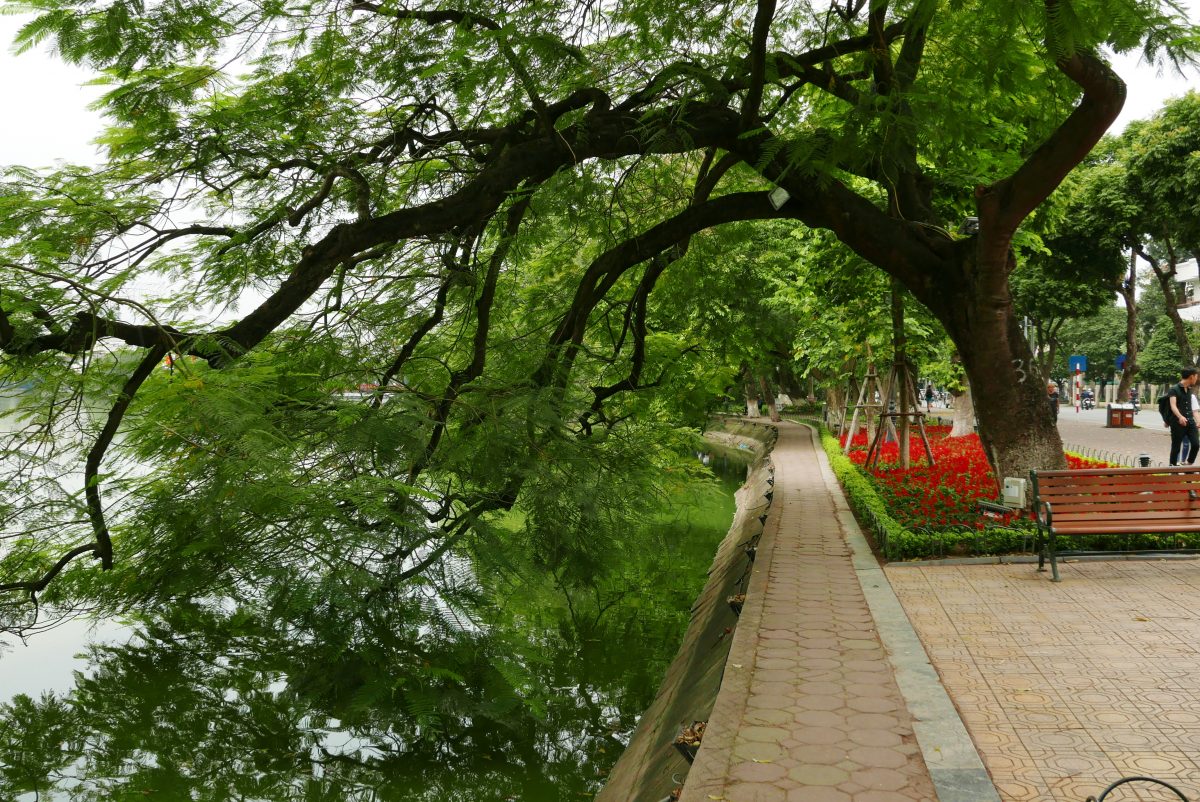 To sum up
If you are already decided to visit Hanoi, scroll down to the very end of this post for some other useful price and travel tips and check the rest of my Hanoi photos here. For those who are only reading this for fun and still hesitating to go there one day: don't. Hesitate, I mean. Hanoi is chaotic but charming. People are very friendly and the whole atmosphere is unexplainably romantic. Not to mention it is really affordable for all kinds of travelers and obviously a very popular backpakers destination. If you add a trip to the famous "James Bond" Ha Long Bay (many agencies in Hanoi offer one or 2 day trips there!) you can have a complete Hanoi Experience. And if you add a weak in one of the fabulous Vietnam beaches I bet you will be in heaven. OR you can wait and read about it in my blog. I am definitely visiting Vietnam again very soon! Scroll down for some other useful tips and prices!
Some other price and travel tips
Check your visa requirements at least 14 days before your departure. I applied for visa online with one of the agencies who »take care of it all«. I paid around 40$ for everything (hassle free, no waiting lines, personal approach), but if you do it yourself and are prepared to wait in line (sometimes over one hour!), you can get it for less than 15$ per person.
If you take an official and reliable taxi, you should look for "Taxi Group" with typical red and blue color or "Mai Linh Taxi" with typical green color. Taxi ride from Noi Bai Airport to Hanoi center costs fixed 15$ for a 5-seats car and 17$ for a van.
Uber in Hanoi runs surprisingly smoothly and they also offer scooter rides. Uber was my number one choice after I got to Hanoi. I also took it for my ride back to the airport and paid around 12$.
Local city busses cost less than 1$ in one direction.
If you are staying in Hanoi for more than just a day or two it is smart to buy a local sim card. The monthly package with VIETTEL (calls, SMS and unlimited mobile data) costs around 4 USD. Wi-Fi can come very handy if you get lost and want to use your GPS.
Weather: Despite the fact that Hanoi is located in Southeast Asia, it still has winters (December to February) with temperatures around 10 – 20°C. Springs and autumns are warmer, but have less sunny days – in my case (April) the sun was hiding behind the clouds and fog for 3 days in a row. Summers (June – August) are the hottest and craziest: the temperatures can reach up to 40 °C with high humidity and regular downpours.
Some entrance fees: Ngoc Son Temple: 0.70$, Hoa Lo Prison: 1.50$, Ho Chi Minh Mausoleum: 0.50$, Tran Quoc Pagoda and St Joseph's Cathedral: free.