If you want to visit Croatian coast but don't want to drive too far south, spending a week or two in Kvarner bay is also a good option. In this post I will focus on Lovran, a small town in Opatija Riviera, which has just as much to offer as any other town in Croatian coastline. Especially if waiting in line for the ferry to one of the Kvarner islands is not your cup of tea. This charming little town has almost become my second home now, at least when it comes to sunny weekends, when I want to catch some vitamin sea. So, I will be happy to share top things to do in Lovran, where to stay, best restaurants and some other useful tips that will help you to decide if this is your next vacation destination.
How to get to Lovran
Lovran is located about 2 hours' drive (180 km) from Zagreb, and a little bit less from Ljubljana. Hence, it makes a good choice for a weekend escape from the hustle and bustle Croatia's or Slovenia's capital. The easiest way to get to Lovran is by car (in Europe I usually choose Sixt Car Rental, because they have reliable cars and a good choice of pickup and drop off spots) but you can also try Flixbus as a cheaper option. If you are entering Croatia from Slovenia you will need a passport or ID card, and 8 Croatian Kunas for the toll fee.
When is the best time to visit Lovran
If you are anything like me, you will want to avoid visiting Croatian coastline during Summer as it gets packed with tourists. This narrows your choice to May and September (perhaps even October) if you still want to swim in the sea. July and August are the busiest and the hottest, while winter months can be quite cold during the night.

Where to stay in Lovran
Lovran offers a variety of places to stay, from hostels to mid-range hotels and boutique accommodations. My first choice is always Boutique Hotel Acacia Lovran, adults only and dog friendly hotel located around kilometer away from Lovran old town. This hotel has amazing sea-view rooms, great staff, fantastic breakfast and also direct access to a small beach. Fancy sunbeds for hotel guests are included. I also stayed in Villa Eugenia (nice place but no direct beach access), hotel Bristol (could be great if the staff wasn't so rude) and Hotel Lovran (worn out rooms but decent choice for non-demanding guests).
Where to eat in Lovran
I believe it is safe to say that most of the restaurants in Lovran offer very good food, however my favorites are Stari Grad restaurant (yummy risottos, pastas, fish and meat choices), Lovran Pub with a nice and quiet garden, and Štanger Restaurant which is inside of Boutique Hotel Acacia. Cheaper options of "street food" are available kiosks or bakeries, and you can also grab some decent salads and fresh groceries in Plodine super market.
Tip for foodies: Lovran boasts with a Michelin-star restaurant Draga di Lovrana.
Top things to do in Lovran
Besides the obvious, which is swimming in the crystal-clear Adriatic Sea, these are your options if you get bored of washing the salt off your body: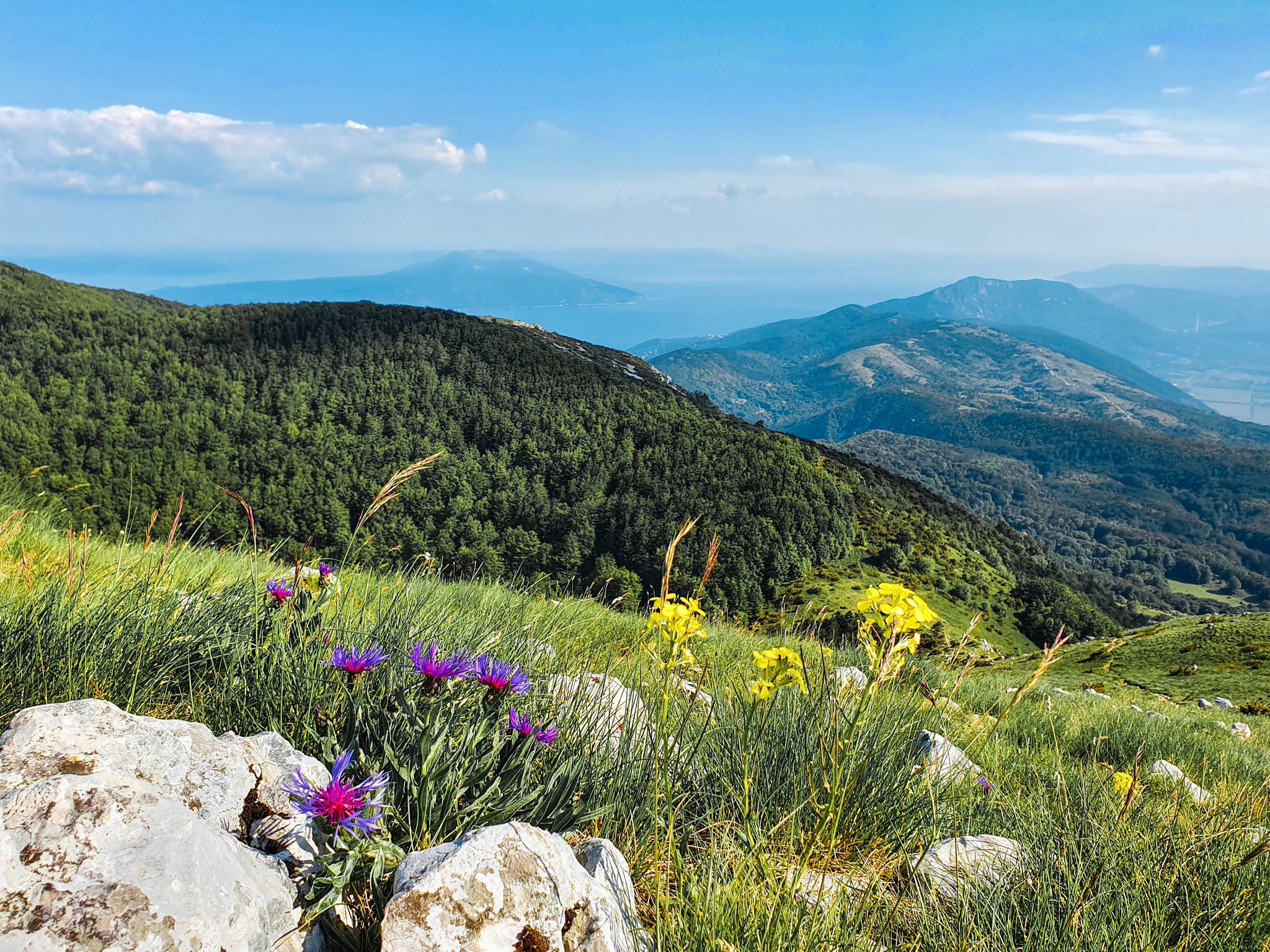 Hike (or bicycle to) Mount Učka
If you are a nature lover and hiking enthusiast, you will definitely appreciate Učka nature park. While you can also reach its top by car, I suggest you bring some comfortable hiking shoes and hit the road. You can either start hiking from Lovran (in this case the hiking will take you around 3,5 hours in one direction), or leave your car in Poklon parking area and head up to Vojak hill summit. Hiking the highest point in Istria (1401 meters above the sea) takes around 1 hour and rewards you with fantastic views of Adriatic Sea with the islands of Cres and Lošinj.
Opatija Riviera has some really beautiful beaches and even if you are not into queuing among hundreds of "dead bodies" frying under the hot Croatian sun, they are still worth the visit. My advice here is to wake up early and you might get lucky to catch some great photos (or swims) before they get crowded. My favorite is Klančac beach in Brseč, which could be a hidden gem if it wasn't famous for being one of the most beautiful beaches in Kvarner. Second comes Sipar beach in Mošćenička draga (try walking a bit further from the central beach, there are many small bays hidden behind the rocks). Or just stop over at the road and try to find pathways that lead to small bays – there are plenty!
Built in late 19th and early 20th century Opatija is often called "Vienna by the sea" due to its history and rich architecture. While the center of Opatija boasts with aristocratic buildings in typical neoclassicism style with some random art-nouveau pieces, its beach promenade is packed with bars and restaurants. Don't forget to take a picture with the iconic Maiden with the Seagull Statue.
One of the nicest beach walks in Kvarner area is 12 km long seaside promenade called Lungomare. The promenade starts in a fishing village of Volosko, and goes all the way to Lovran. It is a flat and easy walk by the sea with many cafes, bars, restaurants, small bays and green parks along the way. The parks, especially Angiolina Park, St. Jacob Park and Margarita Park feature over hundred different varieties of plants originating from all over the world.
Visit Rijeka old town and Trsat castle:
Around 20 km drive from Lovran lies Rijeka – a very important seaport and the third largest city in Croatia. The heart of Rijeka is called "Korzo" and it is the main city promenade with numerous cafes and opportunities to observe locals and tourists. Rijeka is also famous for some nice architectural remaining of late 19th century; with the iconic Clock Tower as the city's symbol. Above Rijeka on a 138-meter high hill you will find a lovely 13th-century fortress which offers the best viewpoint in Rijeka. Once a very important observatory and defense system Trsat Castle is now one of the most visited cultural and tourist sites in Primorsko-Goranska County.
The medieval town, nestled on a hill above Mošćenička Draga, has many sights, including centuries-old churches and Chapel of the Cross on Mount Calvary. From the medieval wall on the top of the old town you can enjoy a really nice view of the beaches and Adriatic Sea with neighboring islands.
At last, but not the least, Opatija riviera is known for some great spas, so spoil yourself with a massage or some beauty treatment. Because you are worth it! 😉