Veni, vidi, amavi. I came, I saw and I loved it. After spending 5 days in Cape Town this February, two things are certain. First, Cape Town is the most beautiful city in the world. And second, I am determined to come back very soon. If you want to know why I fell in love with the "Mother City", when is the best time to visit Cape Town, is it safe and what are the best things to do there, you came to the right place. I'll try to keep things short and simple, which should be more than enough to get you an idea about the city and start planning your trip to Cape Town.  
Where is Cape Town located
With the population of over 4.6 million people, Cape Town is the second most populous city in South Africa and the largest city of the Western Cape province. Let me explain that by saying Cape Town, I am referring to the area from Victoria & Albert Waterfront to the south, all the way to Cape Peninsula and the Cape of Good Point. However, the City of Cape Town is a metropolitan municipality that covers much larger area.  It is something similar to when you say "Los Angeles" and usually refer to Beverly Hills, Hollywood, Santa Monica and Venice Beach.
When is the best time to visit Cape Town
If you are anything like me, you'll probably want to visit Cape Town during Summer months, from December to February. South Africa lies in the southern hemisphere and the seasons are just the opposite of the ones in Europe. Summer also means some heavy winds, which is good news for surfers and kiters, and little less good for those who prefer their hair in one place. The temperatures during Summer are very pleasant (around 22 – 25 °C) with January being the driest month, while winters are wetter and chillier but still not freezing (around 10 – 15 °C).
Getting there and around
All major airlines fly to Cape Town, and the flights from Europe usually last around 10 hours. You have several options to drive to your hotel in from Cape Town International airport. The one I recommend the most is renting a car because you will need it to explore the area. Just keep in mind that you have to drive on the left side of the road. I'd go for one of the cheapest options because the roads are in a very good condition and you don't want to stand out too much.
Second option is calling Uber which is very reliable and runs smoothly in Cape Town (as it did in Johannesburg). If you plan on using Uber, I recommend you to buy a prepaid local SIM card because roaming is very expensive and Wi-Fi is not available on every corner. Of course you can always call a taxi which will be a bit more expensive, or use My Citibus service (you can buy a transport code from one of the stations and top it up as you go).
Safety in Cape Town
South Africa is known for high crime rate, and I am not talking about petty crimes here. Cape Town is no exception, however there are some very safe areas in and around the city. Compared to Johannesburg, Cape Town felt like we were on a different planet. Probably because we were smart and made a lot or research about where to stay, how to move around and how not to stand out. As long as you consider safety tips such as don't carry around valuable stuff, never leave anything in the car and don't walk alone at night in deserted areas, you should be fine.
Where to stay in Cape Town
Cape Town and the Cape peninsula is considered as quite safe area for tourists, so the real question is what you expect from the location.  I wanted to stay in a quiet place, not too far away from all must-see places, with possible ocean view. I found it in Hout Bay, and it was the best possible decision. In fact, when I return to Cape Town, I will probably stay there again because it offers best value for the money. Camps Bay and Clifton are also a good option if you are not on a tight budget, while Simon's Town is lovely yet quite remote, especially if you don't want to waste time driving back and forth.
Beaches and swimming in Cape Town
Being famous for heavy winds, penguins and cold waters of Atlantic Ocean, everything eventually comes down to one question: can you swim in Cape Town, is the warm enough? Sadly, the answer is no. At least for most of the people. While the water does "warm up" to 20°C in February, coming out in the cold wind is just not my cup of tea. We did wet our legs in Boulders beach though where the water is quite shallow and gets pleasant during calm sunny days.
However, some of the beaches around Cape Town, like the ones in Clifton, Camps Bay, Nordhoek, Hout Bay and Llandudno, are absolutely fantastic. As a beach lover my only resent towards this beautiful city is not being able to swim in the ocean. But on the other hand, this is the beauty of nature – it keeps the crowds away and you can always find a place to yourself and make some great photos.

Things to do in Cape Town
You can find my proposed itinerary for a 5-day trip in Cape Town in this post. Most of the people combine Cape Town with visiting Kruger National park, or with the Garden Route scenic drive along the south-eastern coast of South Africa. While I have done safari in Kruger twice, I still have Garden Route on my bucket list, so hopefully I'll be able to share more information about it soon. However, if you can spare more than 5 days to visit Cape Town, I suggest you take it easy and enjoy it to the fullest. Enjoy the wine routes, take a trip to botanical gardens, do some hiking and try to spend a day in of the smaller game reserves that are closer to the city but still quite authentic.
Why you need to put Cape Town on your bucket list
First of all, check photos on the internet and no words will be needed. You can also check my Facebook album for more photos to get a quick idea what it was like for us. Second, South Africa has absolutely fantastic local food and wine, so if you are a foodie visiting Cape Town is a must. Third, Cape Town has one of the most beautiful harbors in the world, called Victoria and Albert Waterfront, with the picturesque view of the iconic Table Mountain. Fourth, where else can you swim with penguins in their natural habitat so easily? At last but not the least: Cape Town is suitable for everything and everyone. Whether you are a nature lover, shopaholic, museum junkie, foodie, party animal… Cape Town has it all.
Other useful information and prices in Cape Town
Currency: South African Rand. The majority of retailers and restaurants accept credit cards, however make sure to always have some change with you for tolls and parking.
Parking: Open space parking is usually free, but there are locals that are "guarding" your car. Once you return to your car, they will run to you and expect some change, so give them one or two Rands (1 €), just to get rid of them. Parking in garages around V&A Waterfront is very cheap, so use it, especially in hot Summer days.
Water issues: Due to long dry periods CT has been known to have problems with water, so act responsibly and expect the unexpected. Make sure to check the internet about the current situation.
Prices in restaurants are usually lower than in Europe. You'll pay around 1.5 € for cappuccino, 2 to 3 € for beer, less than 1 € for bottle of water and around 10 € per tourist meal. Food, drinks and fruits in supermarkets are also cheaper than in Europe. 1 liter of gas costs around 0.70 €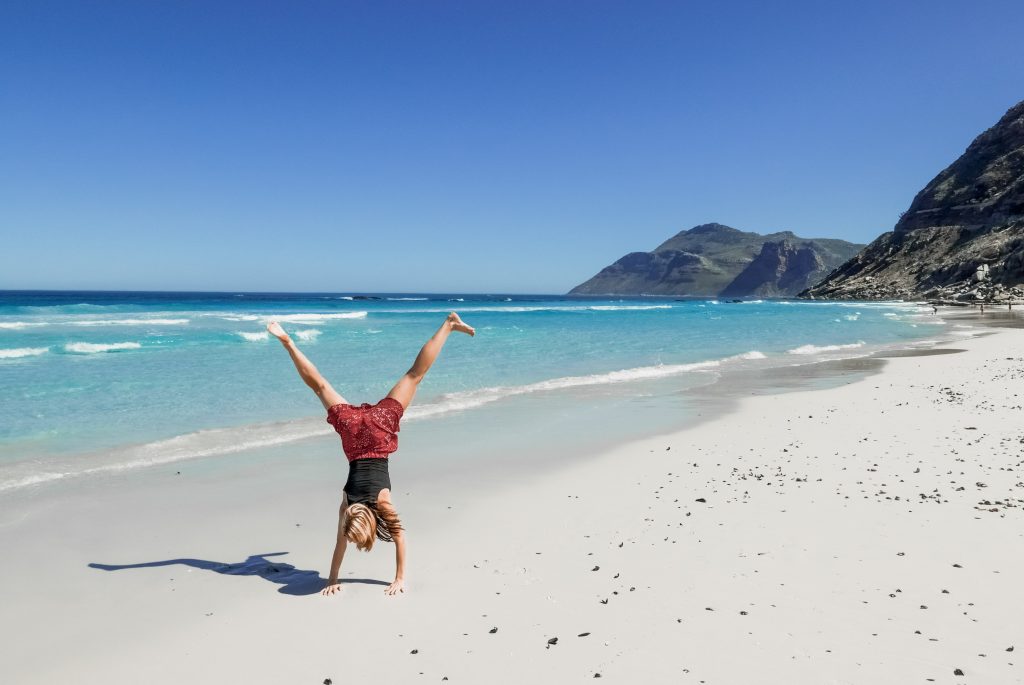 Is the Mother City also on your bucket list? What are your must-see things once you visit Cape Town? Share your tips and questions with me in the comments below. 😉