So you have decided to visit Bratislava but you don't have the time or the patience to google it all up? No problem, I have done it for you (you can thank me in a comment 😉 ). In this post you can find 5 things to see in Bratislava, and in this link you can catch up on other basic information about the city, such as when is the best time to visit, which hotel to book and other handy stuff.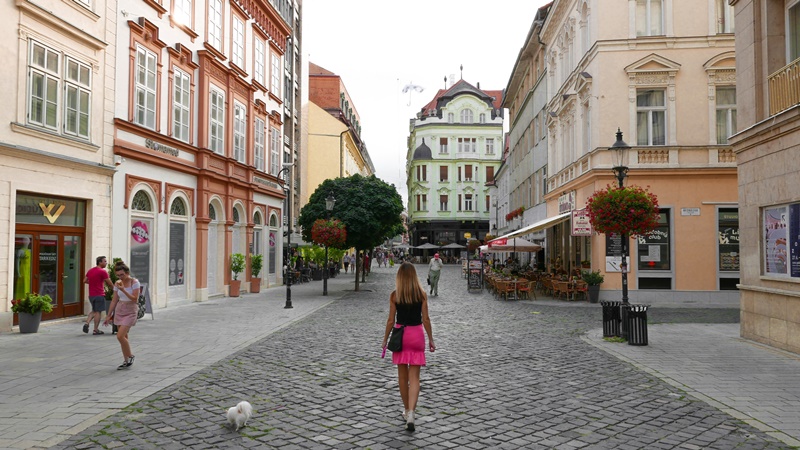 1. Old town
This is so cliché, I know. But Bratislava old town is indeed something that has to be considered as a whole. I can't even begin to describe how cute and easy going it is. Starting from the iconic St Michael's gate, which leads to lively Michal street, minding your step not to stumble over Cumil (a worker statue sticking out of a manhole), say cheese to silver Schone Nazi guy, pass by Maximillian's Fountain and the Primatial Palace all the way to the instafamous Blue church – a kitchy Art Nouveau style beauty – while enjoying the refreshing water mist spraying gently from steel constructions on your way. And don't worry, you practically won't need a map – there will be lots of interesting and photogenic buildings and squares waiting for you behind every corner. Just make sure you take your time for lunch or dinner – Bratislava is crowded with fantastic restaurants, offering both local and foreign cuisine. And all of them are yummy!
2. Bratislava castle
Bratislava castle is nestled on the hill overlooking the Danube and the New Bridge. It has a very nice viewing platform which you can enter for free and make some nice shots of the old town and the river. Dogs are not allowed in the castle, so if you are taking your hairy friend with you, keep that in mind. We weren't too disappointed because the stroll up the hill and around the castle and the views were really nice. We spent around one hour there (bought a magnet from a hippie, yay) and walked back along the old city wall from where you can also catch a nice photo of the bridge.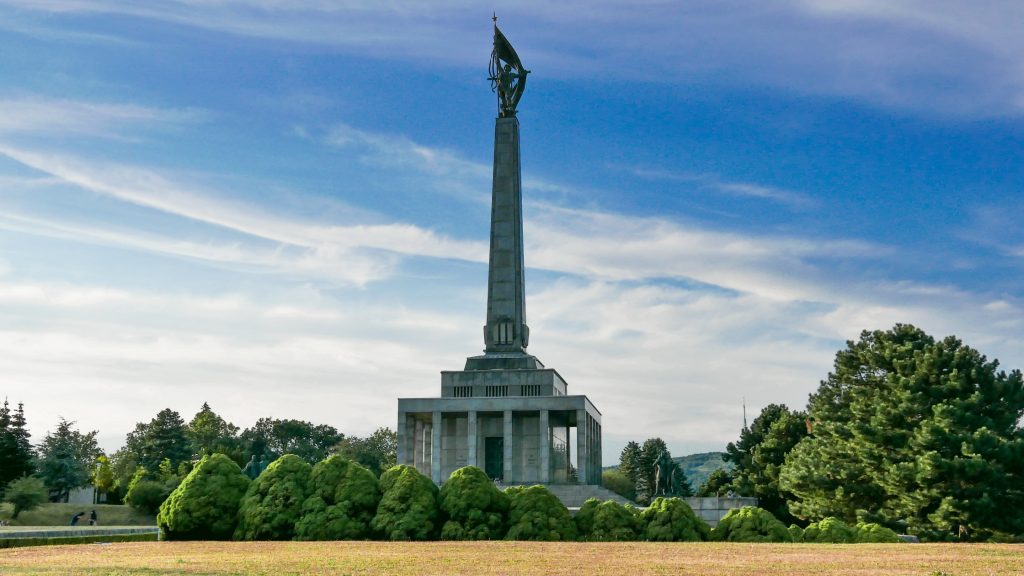 3. Slavin
This memorial monument and military cemetery, dedicated to the fallen Soviet soldiers during the World War II is located on a hill above the castle and thus offers beautiful views of Bratislava. Slavin is also a very nice and quiet place to get away from the hustle and bustle of the city – lots of people come up there jogging or just for a stroll to enjoy in the tranquility of the monument. You can reach the hill by car and easily park up there, or you can get the trolley bus Nr. 203 or 207 and get off Budkova stop – from there you will have to walk a bit but you'll enjoy the views at the same time so that shouldn't be too big of a headache.
4. Danube river walk with Eurovea
On the prime riverside, a few minutes' walk from the historical center, lies Eurovea – Bratislava's most popular shopping mall. Eurovea is not only popular for shopping but also for many nice bars and restaurants, nestled along the Danube, overlooking the river and two bridges. About one kilometer long green promenade is a fantastic opportunity for a nice romantic stroll – have a sit on the grass or on one of the benches and blend in with the locals.  Eurovea has become a commercial heart of the city and a popular social spot as a counterweight to Bratislava's old town. This one is definitely my favorite place in town.
5. Kamzik TV tower and UFO
For more glamorous views you will want to visit either UFO or Kamzik TV tower. UFO is a viewing tower with a restaurant in a shape of flying saucer, located in the end of New Bridge, overlooking the Danube river, Bratislava castle and much more – from the platform you can enjoy 360 degrees views of the city. The lift to the top costs 6,50 € but if you decide to eat in the restaurant, this fee is deducted from the bill. The story is similar with Kamzik TV tower, but this one is located on the hill and is the second highest point of Bratislava. If you are lucky enough to have a good weather when being up there, you can actually see Austria, Hungary and Czech Republic. To enter the TV tower you will need a reservation for the bar or the restaurant, so do your homework.
Accommodation tips: If you want to book a hotel in Bratislava, check Booking.com and click here to get a 15€ off your next booking. You can read review of Lindner Gallery Central hotel here. If you are more comfortable being hosted by locals, you can try with Airbnb – through this link you will get a 30€ (or $36) travel credit if you sign up and book with Airbnb.
You can see the rest of my photos from Bratislava in my Facebook album. What are your favorite places there? Have I missed something out? Scroll down and write it down in a comment 😉