There is a saying in Slovenia that goes something like: "Nothing that comes from Tržič is good, not even the wind". Well, there is always some truth in local jokes, can't argue with that. Tržič is probably the last place that comes to your mind if you want to visit Slovenia. And I can't blame you – the town itself is nothing special. However, if you want to visit Gorenjska region, Tržič just might be the place to settle down for a couple of days. After all, it is less than 30 minutes' drive from Ljubljana airport, hence a good starting point to visit Bled, Bohinj, Kranjska Gora and Triglav National park. Whether you want to explore its surroundings, or you're just passing by, check out the top things to do in Tržič municipality. You just might want to stay a day longer.
1. The Born Trail (Bornova pot) – from Ljubelj pass to Prevala  
The Born Trail was my first hike after I moved near Tržič 10 years ago, and I have done it many times since. It starts from the top of the Ljubelj pass (just before the Ljubelj tunnel which leads to Austria) and leads to the Prevala mountain pasture (1311 m). While the trail leads mostly through forest, there are some open parts which offer very nice views, and some very narrow parts which can be a bit dizzy for some people. In general, the trail is considered family friendly. You can find more detailed description of the Born Trail in this post.
Duration: 1 – 1.5 hours one way; easy hike with some spicy moments
Tips: Don't forget to bring a light as you will be passing 2 small tunnels (cell phone light will do just fine). You can have lunch and refreshments at the cabin in Prevala mountain pasture. If you are up to some serious hiking, follow the trail (around 2 more hours) up to the summit of Begunjščica mountain (2060 m).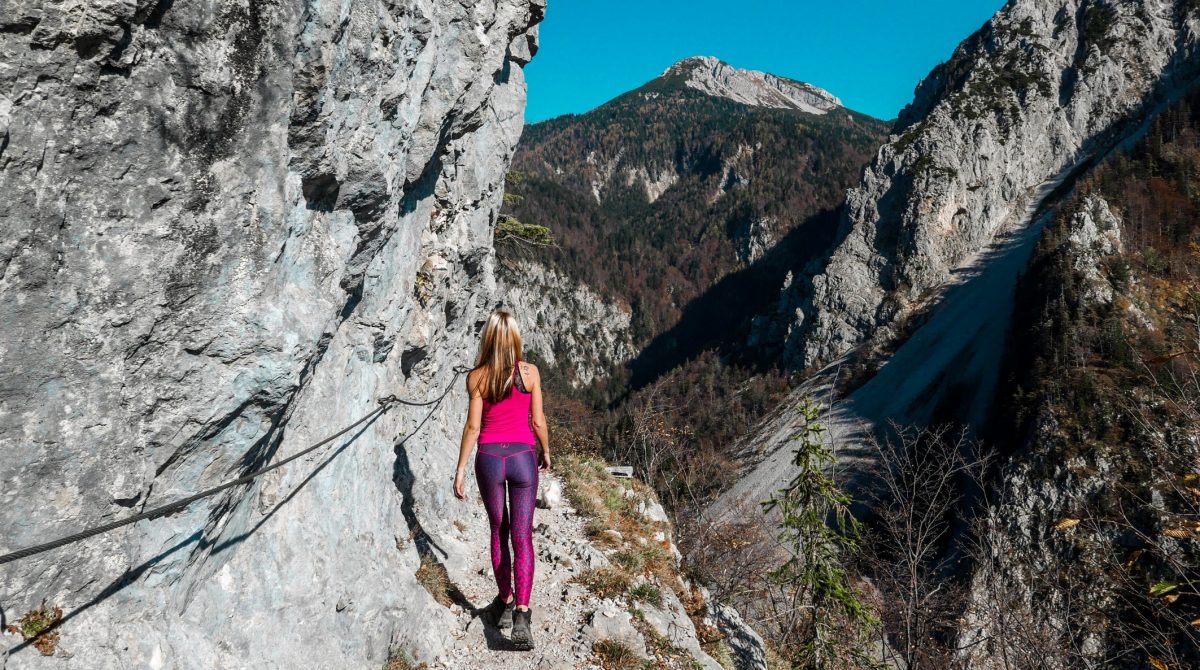 2. Kriška mountain (Kriška gora)
With its summit at 1.471 meters above the sea level it is not really a mountain in my book, however the hike to Kriška gora is to be taken with all due respect. It will take you from 1.5 to 2.5 hours to reach the top, depending where you start from. The shortest trail leads from Gozd village, and the longest one starts literally at my doorstep in Križe town. The last part of the trail offers spectacular views – on a clear day you can even see the capital Ljubljana, all the way to Julian Alps and Slovenia's highest mountain Triglav.
Duration: 1.5 – 2.5 hours one way; modest hike with some steep but not dangerous areas
Tips: There is a cabin at the summit, where you can freshen up and grab something to eat. And don't even think of parking in front of my door, I own a chihuahua!
3. Dovžan gorge (Dovžanova soteska) and Stegovnik waterfall
The Dovžan Gorge is a protected natural monument, nestled between rocks, tunnels and Tržiška Bistrica river. The gorge itself exhibits fossilized remains and unique rock formations dating from the late Paleozoic Era. If you are into minerals and geology, this place is not to be missed. Cross the hanging bridge, take a short walk through the picturesque gorge (involves a few steep stairs) and learn about the fossils along the way. If you have time, drive around 15 minutes further up towards Stegovnik waterfall (around 10-minute walk from parking lot), which offers spectacular scenery when the rainfall is abundant.
Duration: around 30 minutes for the gorge and another 30 for the waterfall
Tips: Dovžan gorge is also popular and crowded on weekends, and driving through the narrow tunnels can be painful for unexperienced drivers. Take your time. It has been there for at least 300 million years, so it will wait a couple of more minutes for you. 😉
4. Tržič – old town
Tržič is not much of a city to be honest, however its old town with narrow streets and old houses nestled along the river have some kind of a charm. You can park in front of the old (and sadly abandoned) building of Peko factory, and take an easy 10-minute walk, pass the statue of dragon, and cross the bridge to reach the center. Once you are there, take a few steps further toward a small hill (with an ugly old building called Neuhaus which used to be a castle) from where you can have a nice view of Tržič and the surrounding hills. Oh, and don't forget to visit the city museum – one of the highlights of Tržič.
Duration: 1 – 2 hours
Tips: Just before you enter Tržič, you'll spot a nice outdoor public pool – great place for kids during Summer. And if you stop over for coffee at Apolo bar, around 500 meters further, you might spot a blondie with a chihuahua there. Ask nicely and she'll make a selfie with you. 😉

5. Kamnek hill
If you want a nice view of Tržič valley, you need to hike up to the "city hill" called Kamnek (873 m). It is something like Šmarna gora in Ljubljana, or Šmarjetna gora in Kranj. Start from the already mentioned "castle hill" (or park at primary school parking lot) and you'll reach the top in around 30 minutes. The path leads through a nice forest and it opens up at the very top. You'll have really nice views of Lom valley, Storžič mountain and Bistrica pri Tržiču town.
Duration: 25 – 40 minutes one way, depending on your fitness level
Tips: The hike might be short, but wear comfortable shoes, as it gets steep in the end. Bring your own water, there is literally nothing at the top. And watch out for the snakes in the Summer. I kid you not. Unless I do.
6. Javornik hill
Yep, another hill. And another breathtaking view of Storžič on one side, and Triglav mountain on the other. Start from Dom pod Storžičem (a cabin below Storžič parking lot) and take an easy 1-hour hike towards the Javornik mountain pasture. From there you have another 10-15 minutes steep (but not dangerous) hike to the summit (1550 m). You'll be out of breath one way or another, that is a promise.
Duration: 1 – 1.5 hours one way
Tips: Bring your own water and a protein bar, as there is nothing on the top but the views. You can grab a bite at Dom pod Storžičem cabin where you parked your car. If you are up to some serious hiking, there is a trail to Storžič mountain just below the Javornik mountain pasture. It will take you another 2-3 hours to reach Storžič summit (2132 m).
7. Kofce mountain pasture
If you want to taste some real Slovene "štruklji", you need to go to Kofce alpine farm. It is an easy and very popular 30-minute walk from the parking lot. They say that Kofce alpine farm has one of the best versions of this traditional Slovene dumplings. Not to mention that the landscape is really photogenic.
Duration: 30 minutes' walk one way + 1 hour for foodies give or take
Tips: As one of the most popular and easy hiking trails, Kofce gets crazy crowded during sunny weekends, so plan your visit. If you want to burn the calories, you can either take a longer trail (start from Podljubelj or Tržič), or hike the steep trail towards Veliki Vrh Košuta mountain (2088 m) for some spectacular views.

8. Dobrča mountain
Like Kriška gora, Dobrča with its peak at 1.634 m above sea level is not really a mountain, but it takes a good fitness level to get up there. The shortest trail leads from Bistriška planina, however a lot of people head up from Tržič as well (around 2.5 – 3 hours' hike). The cabin at Dobrča peak is known for its warm hospitality and has been very popular among hikers.
Duration: from 1 – 3 hours, depending where you start from
Tips: I have only done it once and in my opinion other hikes are much better in terms of views and the trail itself.
A few more useful tips for those who want to visit Tržič and spend more time here:
Where to stay: Mountain Fairy Tale glamping, or Airbnb (get 46 $ off by registering and booking through this link)
Where to eat: Pizzerija pod Gradom, Firbc okn (by the pool)
Coffee and drinks: Apollo (best coffee), The Old English House (best ice cream and cakes)
Groceries: Spar, Lidl, Hofer, Mercator – all the "big ones" are here
Nightlife: practically non-existent, occasional theme parties at The Old English House on weekends, and a few open-air concerts during Summer at the pool.
More photos of Tržič and its surroundings in my Facebook album.
Any comments or questions about Tržič? And how well do you know your hometown? Scroll down and leave me a comment!