Here is an embarrasing confession. The night before my first hike to Angels Landing in 2019, I watched a YouTube video about the place and almost got a nervous breakdown. I literally cried and started writing a farewell letter to my parents. After my boyfriend managed to calm me down, I decided that I'd just hike as far as I felt safe. To cut things short, I made it safely to the top and back. And I did it again in November 2021. 😉 So, what is it about Angels Landing hike that makes it so iconic? Is it really that difficult? Is there an easier way to reach the summit? At last, but not the least, is it worth the trouble?
Angels Landing hike is one of the most famous hikes in the US not only for its scenic views but also for its difficulty. While the trail itself is not considered as technically very demanding, the real challenge lies in your physical and mental strength. The most intimidating part is not so much the summit itself, but the final spine that looks incredibly thin from all angles. Only after my second round, do I feel confident enough to tell you everything you need to know about Angels Landing hike.
Location: Zion National Park, Utah
Entrance fee: 35 $ per vehicle (valid for 7 days)
Difficulty: Strenuous
Hiking Time:3 – 6 hours (we reached the summit in 1 hour)
Distance:5 miles (8 km) roundtrip
Elevation change:1,488 feet (453 meters)
Summit: 790 feet (1.764 m) above sea level
How hard is the Angels Landing hike?
Angels Landing is considered as one of the most dangerous hikes in the US. However, although described as difficult, Angels Landing is not technically challenging. For most hikers it's more about the fear of heights and exposed areas than about the actual danger. Have people died on Angels Landing? Yes, there are casualties almost every year. But it is also one of the most crowded hikes, hence the accidents.
I'd say Angels Landing is a challenging hike for occasional hikers and a very difficult hike for tourists and those with fear of heights. For me, it was challenging in terms of fear, but for my partner it was like a walk in the park.

Angels Landing trail description
Here is my "Angels Landing for dummies", a step-to-step guide about each section of the trail.
First, know that private vehicles are not allowed to enter the Zion Canyon Scenic Drive during shuttle season. Shuttles normally run March through November, so make sure to check the schedule. Park your car at Zion National Park Visitor Center (South entrance) and walk over to the shuttle stop. If you're self-driving into the park outside the season, drive into the canyon and park at the Grotto picnic area.
Exit at The Grotto shuttle stop No. 6 and walk across the bridge over the Virgin River. Then turn right and simply follow the well-marked trail along the river. From there you'll spot the Angels Landing summit for the first time. It will look scary AF. Luckily, the first section of the trail is almost flat, so your heart rate can slowly return to normal.
Soon, the trail starts to slowly ascend into a series of switchbacks. Although elevated, the trail is quite wide, partially paved, and safe to walk. Here is the first part with gorgeous views of Zion Canyon but if you followed my advice and got there early, it'll still be a bit dark. Don't worry, you'll have plenty of time to take photos on your way back.
After losing a sight of Zion Canyon, you'll get into Refrigerator Canyon, carved between the cliffs of Cathedral Mountain and Angels Landing. The scenery here is beautiful with plenty of trees and plants of different colors, especially in autumn. Relax, breathe, and save your energy for what's coming next.
When you reach the 1.8-mile (3 km) point, the so-called Walter's Wiggles begin. This is a series of 21 steep (19% grade) switchbacks and the point where you'll start to question your fitness ability. The good part is that the trail here is still paved, wide and safe.
On the top of Walter's Wiggles, you will reach Scout Lookout. This is the part where non-demanding trail ends and the part where lots of hikers with vertigo stop. Luckily, this is also the part with beautiful views of Zion Canyon and the Angels Landing Summit.
Trust me, take your time, go at slow pace, and hike up to Scout Lookout. This part is safe, anyone can do it, and no one regrets it.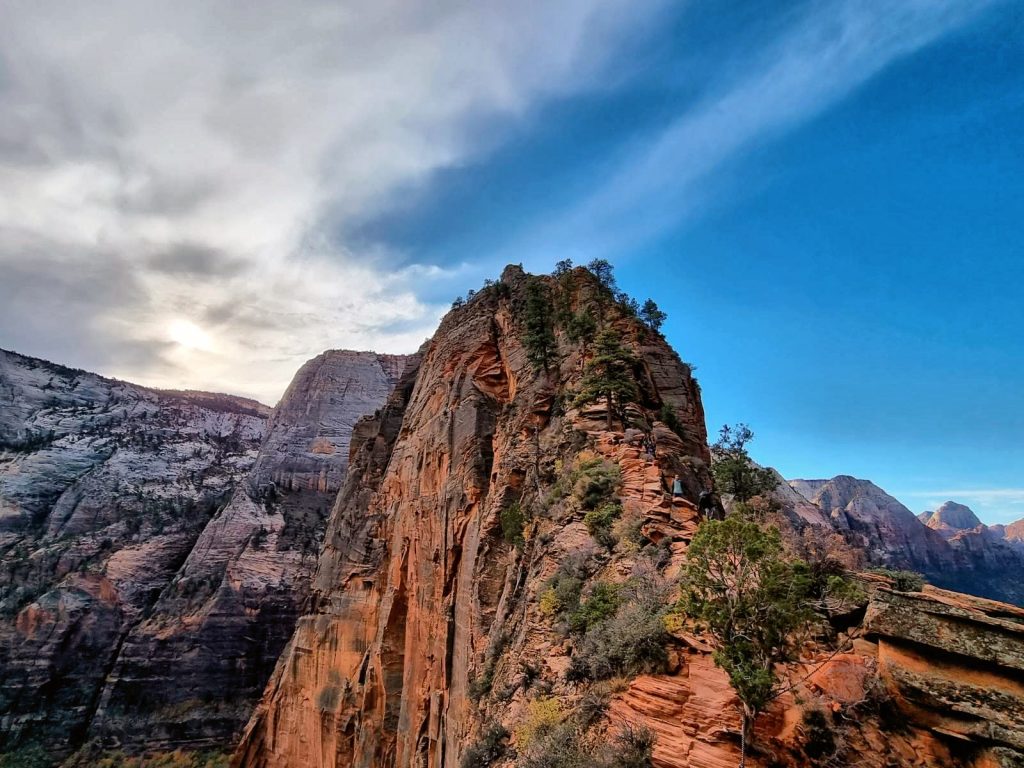 The last 0.4 miles of Angels Landing trail is called The Spine. From here on it's all about basic climbing skills and conquering your fear of heights. While this is the most dangerous part of the hike, it is also the most iconic. The trail is exposed and partly covered in chains to use as handholds. However, the chains are not there the entire way so this can be intimidating for some people. For me, the 2-way traffic on the exposed sections was the scariest part.
It will seem forever before you reach the Angels Landing summit, but when you do, it will be something you'll never forget. Surprisingly, the summit is quite flat with enough space to sit down, grab a snack and enjoy the views. Besides other hikers you'll also enjoy a company of chipmunks. Don't feed them as they can bite you and they also can carry diseases.
Finally, you'll be happy to hear that the hike back down is much easier. Probably because you get a different perspective of the terrain beneath. However, (again) the hard part are the crowds. The later in the day it gets, the more people start hiking Angels Landing. Don't rush, be respectful, but be persistent if you don't want to wait for your turn forever.
Do you need a permit for hiking Angels Landing?
I was lucky to hike Angels Landing when permits were not yet needed. However, since overcrowding has become a serious safety issue, the NPS authority has decided to issue permits to limit the access. Starting in April 2022, the visitors will have to enter an online lottery to try to get the permit. Similar as with The Wave hike in Arizona. Check the details here.
Other useful tips
In a nutshell: check out my short Angels Landing hike video to get a better feeling about the terrain.
Start early: Try to catch the first shuttle (check the schedule) at 7 AM.
Best time to hike Angels Landing: Spring and Fall. I'd avoid hiking to Angels Landing during Winter, in icy conditions.
Best time for photography: To catch the Zion Canyon beneath in sunlight: after 10 AM, when the sun is high enough. If you want good portrait light: early morning (around 9 AM) or before sunset.
Toilets: Use the bathrooms at The Grotto stop. There are also toilets as Scout Lookout but count on the crowds.
No dogs allowed: I salute this rule. <3
Check the weather: Don't hike in/right after the rain or during the day in hot summer months.
What to wear: Again, check the weather and dress in layers. It can be very chilly in the morning.
Shoes: Wear proper shoes with a good grip. Some parts are sandy and you don't want to slip.
Backpack: Try to carry the smallest possible backpack and tighten it as close to your body as possible. It will help you a lot on those climbing and exposed parts.
America the Beautiful annual pass: If you are visiting more national parks, consider buying the annual pass for 80 USD.
Where to stay: Springdale is the closest option, but also the most expensive one. If you are on a budget, try Hurricane instead.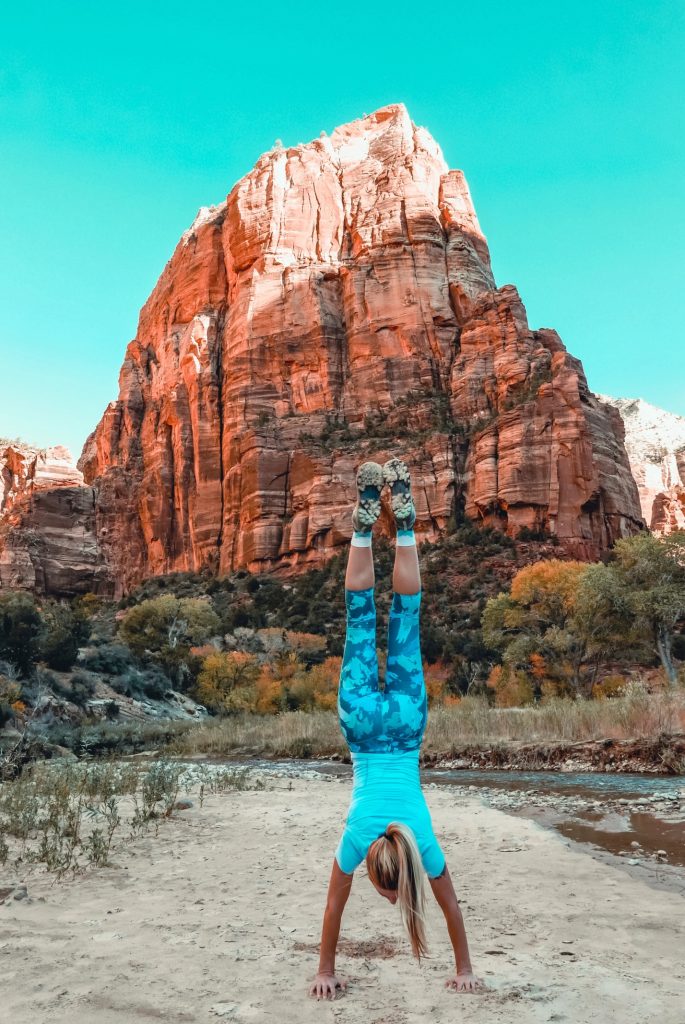 There, I believe I covered the most frequent questions about Angels Landing hike. I hope you got the answers you were looking for. If I missed something, let me know in the comment below. And if you liked this post, you are welcome to follow my Instagram and Facebook account for other travel tips and tricks. 😉