"If you're going to San Francisco, be sure to wear some flowers in your hair" – listening to this beautiful song with a gentle voice of Scott Mckenzie is definitely the right way to start planning your trip to northern California. With so many iconic sights to see and things to do, you will be spoilt for choice if you are planning to visit Frisco, as the locals usually call this vibrant city. If you are only in town for the weekend, or if you don't have time to do your own plans, here are 5 things to do in San Francisco.
1. Golden Gate Bridge
If you google San Francisco, this gigantic consctruction will be among the first things to pop up in your search. You couldn't possibly pay a visit to San Fran without capturing that iconic Instagram photo, right? Exploring the bridge is totally free and a must do for every tourist. You will only be able to appreciate the scale of it when you're actually experiencing for yourself! Just a friendly reminder: don't look for anything glittering above the San Francisco bay – the color of Golden Gate Bridge is actually red 😉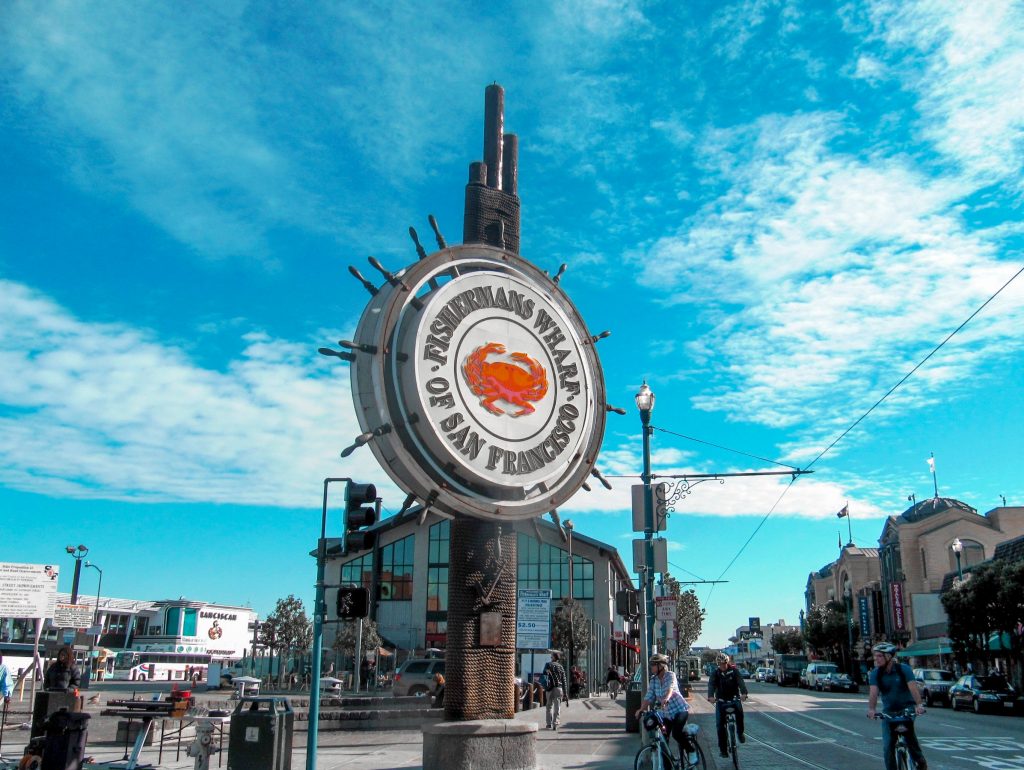 2. Fisherman's Wharf
Lively hub for locals and tourists is a must see for all foodies, especially seafood lovers. The food around this area is awesome, especially if you fancy some fresh clam chowder. Make sure you check out the gorgeous sea lions on Fisherman's Wharf. Although this is a classic tourist activity to undertake, you will take delight in seeing these beautiful creatures in their natural habitats.
3. A Haunted Walking Tour
An unknown, but unmissable activity to undertake during your time in the Golden City is a haunted walking tour. When you embark up a san francisco scary tour you will be blown away by intriguing, murderous stories. This is certainly not just a ghost tour, it is a whole evening full of entertainment and information about serial killers, assassins and the Black Plague. If you're travelling with kids, this might not be recommended, but grab your bravest friend and enjoy something a little bit different during your vacation.
4. The Alcatraz
We've all heard of the famous island prison, right? A trip to Alcatraz is a must not only for its rich and interesting history of the island, but also for the stunning views of the San Francisco Bay and the city Skyline. Being a fan of gangster movies this was probably the best part of my San Francisco visit – you can actually step into a cell and experience how it feels to be isolated from the rest of the world. Hearing stories about the attempts to escape the island… yep, still gives me the chills! You can buy tickets online or at Pier 33 near Fisherman's Wharf.
5. Take a Hike to Lan's End
If you're into hiking, then you need to take the beautiful Land's End trail. This 4 mile trail lies in the Sutro District of Golden Gate National Recreation Area. It's a very relaxing and calm walk that can be carried out by people with all physical abilities. There are miles of trails here, and they provide fantastic examples of coastal terrain while also letting you see the Golden Gate Bridge from many different angles. The trail is accessed by the parking lot at the end of Geary Avenue.
Whether you're getting lost on the Golden Gate Bridge or scaring yourself silly on the haunted tour, there are so many opportunities in San Francisco. There are also the Painted Ladies, charming set of houses, also known from TV show Full House and the famous San Francisco cable car… There is something for everybody to enjoy, so stop making excuses, grab your favourite travel buddy, put some flowers in your hair and start packing now!
(this post includes a sponsored link)