"It's not enough to imagine it. Come and live it." A bold statement from such a tiny country, don't you think? The Republic of San Marino is actually the 5th smallest country in the world. Can you tell the first 4 without using Google? 😉 Anyway, we are talking about a pocket state here, entirely surrounded by Italy, located on a mountain with killer views of Italian landscape and Adriatic Sea. We visited San Marino in the end of April, during our road trip to Italian region Umbria. At first, our plan was only to stay there for a couple of hours but the atmosphere of San Marino old town was so pleasant that we decided to spend the night. So, let me tell you in short "how to visit San Marino", including tips for those who are traveling with a dog.
How to get to San Marino
Most people visit San Marino as a part of a trip to Umbria or Emilia Romagna region. Visiting San Marino is also a popular day trip from Rimini, one of the biggest and most famous seaside resorts in Europe. In fact, if 15 kilometers of long sandy beach, over 1.000 hotels, thousands of bars and millions of tourists is your idea of great summer vacation, this is a good point to say "thank you Anda". Furthermore, if you book your hotel through this link you will get 15€ discount. You are welcome. Twice. 😉
From Rimini you can reach San Marino by bus (departs hourly; one-way ticket costs only 5 €) and the ride takes around 45 minutes. If you are coming by car, you can follow the signs to San Marino historic center and park in one of the 9 well marked parking lots just outside the walls. The daily parking fee is 8 € (discounted if you stay in a hotel). The best parking place for most of hotels and visiting the old town is parking number 6 (alternatively 7, just a couple hundred meters further). Obviously, San Marino with only 61 square kilometers of land doesn't have an airport, so if you are traveling by air, you will probably fly to Bologna, Ancona or Rimini continue by road.
Getting around San Marino
Everything you need to see in San Marino is concentrated inside the walls of the old town, which is easily walkable. You cannot enter with a car unless you have a special permit, so forget about sneaking in. Also, forget about renting a scooter or bicycle, as you will get from starting point to the finish line before you know it. I didn't measure my steps but I am pretty sure the distance from the main gate (parking 6 or 7) to the viewing platform is just over 1 kilometer.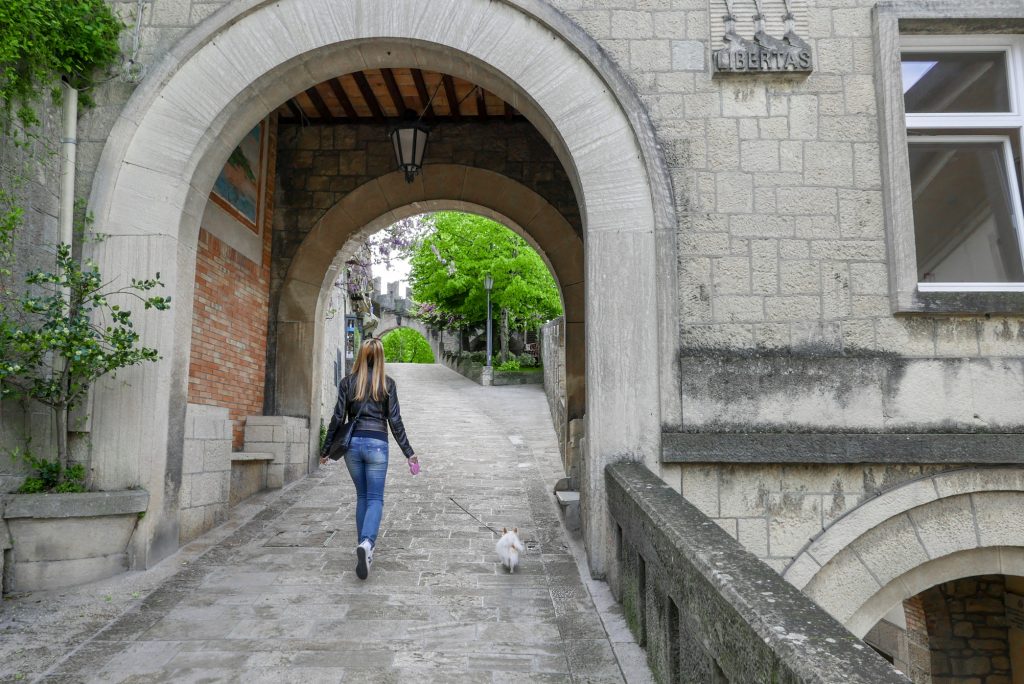 Tip for dog owners: San Marino old town is dog friendly, so please respect it by cleaning after your pets.
When to visit San Marino
The best months to visit San Marino are May, June, September and October when the sun is not too hot to walk between towers. While April and November can get you wet, winters can be quite cool. Of course, as I always say, try to avoid the peak season and holidays if you want to be alone in your Instagram photos. In our case (we visited San Marino on Tuesday when there was no official holiday) despite full parking lots everything was relatively calm. Only a few groups of screaming adolescents and Asian tourists were spoiling the serenity of the old town from time to time. You can get an idea of "empty" San Marino from the photos in my Facebook album.
Tip for dog owners: I would avoid hot summer months, as well as the period from Christmas till New Year. I am not sure about the laws in San Marino, but if they are allowed to have fireworks, I can't even imagine the echoes among those walls.
Top things to see in San Marino
The whole San Marino old town is one big museum and everything there seems to have a story. Each building has its own charm, each block its own soul, every restaurant its own ambient.  You almost get the feeling as if you were teleported back to medieval period. Everything is so well preserved and clean, which probably has a lot to do with the fact that the old town of San Marino was inscribed on UNESCO World Heritage list in 2008. If you only have a couple of hours to visit San Marino, I suggest you include the following in your itinerary:
Second Tower (Torre Cesta) is one of the two fortress towers situated on Mount Titano that gives you a fascinating view of its neighbor towers and beautiful Italian landscape all the way to the Adriatic Sea. The second tower also hosts a weaponry museum from 13th century, which is far more interesting compared to some other museums in the old town. The first tower (Torre Guaita) also offers nice views, however if you need to save some time, entering just Falesia is enough. The third tower (Torre del Montale) is not open for visitors, but is worth a short stroll in the nature.
Restaurants – oh my god THAT food. If I ever come back to San Marino it will be for the food. Although I have to admit I am a sucker for Italian food and since San Marino cuisine is largely influenced by the Italians, this was a win-win situation for me. Not only the taste itself, but also the ambient in all of the restaurants is very pleasant, each and every place is something special – either for the charming décor or for the breathtaking views.
Piazza della Libertà is the main Square of San Marino, known for the neo-Gothic Public Palace and Statue of Liberty. The palace is actually the building where official ceremonies take place and the seat of San Marino main institutional and administrative bodies. Tourists especially love the change of guard – republic's militia (Guardie di Rocca) in a colorful ceremony several times per day.
Shopping in San Marino is quite popular, and especially the historic part of town is full of shops with sunglasses, perfumes (also fake ones that cost 5 €), watches, handbags and huge quantities of toys and replica weaponry. Below the citadel, along the snaking main road, are large modern shops and malls which can be reached by bus or by car.
Mix of everything You can choose from seeing the State Museum (Museo di Stato), with historical exhibits and artwork, or visit a museum of torture, waxworks, vampires and weaponry. There are also 2 quite nice churches worth passing by, one is the Basilica of San Marino, which preserves the saint's bones in an urn, and Chiesa di San Francesco from the fourteenth century. Of course, when I say "passing by" I mean you will pass them by anyway, probably several times because everything is just around the corner 😊
Tip for dog owners: We were traveling with Chihuahua and didn't have problems with visiting all museums, towers, even a church. They only asked us to hold her a couple of times. However, bigger dogs are not allowed to most of these spots – the towers are actually quite claustrophobic, so I wouldn't recommend smuggling a dog up there.
How much time do you need to see San Marino's main attractions
You are probably confused and wondering whether to visit San Marino in one day or spend the night in one of the hotels. Honestly, San Marino is so small that you can easily squeeze everything in a short day trip. However, if you are fond of shopping and fine dining, I suggest you take another day to go with the flow and enjoy the city to its fullest. Our itinerary (arriving around 2 pm, spending the night and leaving around noon the next day) was just perfect. We got to see a couple of museums and bought some souvenirs on the first day, and did the towers tour on the second day. With a fantastic lunch, dinner and coffee breaks in between.
Where to stay in San Marino
If you decide to spend the night in San Marino, you have two options. First, you can book a hotel in the old town, which is very convenient if you want to enjoy some wine in the evening. The second one is to rent a room outside the walls and get up there eventually. Either way you will end up in the parking lot, so do the math and check the size of your wallet. You can also take a funicular that connects San Marino town with Borgo Maggiore, a settlement lower down the slopes of Monte Titano. Of course, the "old town" hotels are more expensive. We were very happy with La Grotta hotel, which is also pet friendly and has a very good location. If you want to save 15 € you can book the hotel in San Marino through this link.
Prices and some useful tourist information
San Marino is very pet-friendly, dogs can enter most of restaurants and hotels
Hotel room in the old town: from 80 € and up (per room with breakfast)
Hotel room outside the old town: from 50€ and up (per room)
You can get 15 € discount for your room on Booking.com via this link
Cappuccino: 2 – 2,5€ (usually tastes heavenly!)
Beer: 4€ (middle)
Regular tourist meal (one course): 8 to 15€ (again, all food is heaven on earth!)
Museums and towers admission: 10,5 € combo ticket for key attractions
Parking fee: 8 € per day (or 4 € if you stay in one of the old town hotels)
Official currency: Euro
Visa/Passport: no need for one, San Marino is a part of Schengen area
Official language: Italian, and be prepared to wave with your hands a lot 😉
You can visit San Marino tourist office for more information. Or if you want to buy "visa" (to get stamp in your passport), which costs 5 €
See my other photos from San Marino in my Facebook album.
Have you been to San Marino and have some interesting tips to share with us? Have I missed something out and you want to ask me? Scroll down and let me know in a comment!