If you are a Game of Thrones fan, nature lover or just chasing UNESCO World Heritage sites, Dubrovnik will eventually land on your bucket list. This ancient city, also known as Kings Landing and the Pearl of Adriatic, is one of the most beautifully preserved medieval cities in Europe. I have visited Dubrovnik twice: first time a couple of years ago in May, and second time this July, during the infamous COVID-19 pandemics. It was a two nights stay in both cases and this is enough to explore the city. In this post you will find "Dubrovnik in 2 days" itinerary, together with prices and practical tips for Dubrovnik first-timers.
Getting there and around
Dubrovnik lies on the Adriatic coast in southern Dalmatia region of Croatia. To reach Dubrovnik by car (for example from Zagreb or Split), you need to cross border with Bosnia and Herzegovina. This is a normal procedure and you'll have your Passport with you anyway. It is only 10 km territory where you pass a peaceful coastal town of Neum. If you are somehow reluctant to drive through Bosnia, you can take a ferry in Ploce to Peljesac peninsula and then drive south. If you have a couple of days to spare, I highly recommend staying in Peljesac – it has some really nice beaches and beautiful nature.
Should you decide to fly to Dubrovnik local airport, you can either rent a car there or call Uber or Taxi. Uber is actually the best option to move around town – it is convenient and it saves you money for parking. However, you don't actually need a car to explore Dubrovnik. The old town is closed for traffic anyway, besides all the must-see spots are more or less reachable on foot. However, if you want to explore Dalmatia, you'll probably rent a car sooner or later because there are so many wonderful places to visit on your way.
Dubrovnik is also a popular European cruise ship stop; however, this is a headache for everyone – when tourist ships land, the place gets crowded and masses of tourists head towards the city wall. If you want to avoid that, do your homework properly.
Where to stay in Dubrovnik
My advice is to avoid staying inside the city walls. First, the prices during the season are ridiculously high, second, you will need to drag your luggage to your apartment (remember, no cars allowed) and third, parking is really expensive. Besides, why would you want to look at the old buildings when you can have a fantastic sea view (or the view of the city) from just about anywhere else.
First choice is of course to rent a room outside the walls, so you can still walk to the old town. We rented a really comfortable apartment via Airbnb and we were more than happy with our choice (for saving tip scroll down to the "cost" section). If you are on a budget, then try staying in Lapad (plenty of bus connections or Uber), or perhaps even outside of Dubrovnik, like Mlini or Cavtat. Busses run every half hour, the ride takes 15-30 minutes, depending on where you stay.
Costs of visiting Dubrovnik
Being a part of UNESCO Heritage list, and the growing popularity due the GOT series comes with a price – for tourists and locals. If you want to save some money, avoid having coffee, lunch or dinner on Stradun – Dubrovnik's most famous street. Or anywhere close to the city walls for that matter. Below are some prices without "COVID-19" discounts:
Accommodation: rooms from 80 €, hotels from 150 € and up
If you don't have Airbnb account, regster via this link to get a 30 € discount for your first booking (the total cost of your booking has to be over 300€).
Pasta / pizza: from 8/ 10 € and up
Cappuccino: 2 – 5 €
Beer: 3 € and up
Entrance fee for the Dubrovnik wall*: 200 HRK (around 27 €) per adult, 50 HRK for kids
Uber: from city walls to nearby locations (a few km): around 5 – 10 €
Parking rates: 25 – 40 HRK (4 – 6 €) per hour
*If you are a fan of history and museums, you might want to buy Dubrovnik Card for 225 HRK which gives you free entrance to 6 museums and free use of public transport for 24 hours (for 1-day card). 

Top things to do in Dubrovnik
Dubrovnik is a small town, so unless you plan to take day trips to nearby islands or other attractions, two days is the perfect amount of time to get to know it.
Stradun and Dubrovnik old town
Start your visit with of Dubrovnik old town with entering through Pile Gate, the city's natural entry point where most of the buses stop. While the gate itself is already photogenic AF, the true beauty hides behind it. Starting with 15th century Onofrio fountain, in the beginning of Stradun, the 300-meter long main street of old Dubrovnik. After walking Stradun like a pro, I suggest you just get lost in the streets of the old town where each building has a story to tell.
Tips: If you want to make the most of your Dubrovnik trip, my advice is to visit Stradun at 7 AM. There is a high chance no one will be there, so you will be able to take some nice photos and go to the entrance of the city walls at 8 AM.
Walk the city walls
I know, paying almost 30 € to walk the city walls sounds ridiculous, but you can't visit Dubrovnik without doing it. Is it worth it? In my opinion, if the weather is nice and if you are lucky with avoiding the crowds, definitely yes. Check my photos here and see it for yourself. On the other hand, it is less than 2-kilometer walk, so try to stop on every corner to enjoy the view of red rooftops and Adriatic Sea. Morning sun is also the best for photography.
Tips: Get there at 8 AM when the gate opens. Hopefully not too many people will have the same idea and you will avoid the summer heat. There is practically no shadow on the walls, so wear a heat and a sunscreen.
Lovrijenac Fort
Luckily, the ticket for Dubrovnik city walls also includes the same-day entrance to the nearby Lovrijenac Fort. While the fort itself is not much of a sight, it offers a great view of Dubrovnik. Not to mention the place is far less crowded.
Tips: The best time to visit Lovrijenac Fort is late afternoon, when the sun is already behind it.
Mount Srđ
With 412 meters above the sea level it is not really a mountain but Srđ offers a nice hike and spectacular views. Don't worry, you can also reach it by car (head south and turn left at the sign for "Bosanka"), or take the cable car. That is if you don't mind paying almost 20 € per person for about 3 minutes' drive. (Now is a good time to shout that "Dracarys!" 😉 ) You'll also find the famous-for-the-view Panorama restaurant at the top of Mount Srđ, for which is best to make a reservation during peak months.
Tips: The best time to visit mount Srđ is early morning or just before the sunset. If you have time, I suggest you do it like a pro: on the first day of your visit drive up by car in the late afternoon (the chances are you will be tired from exploring Dubrovnik anyway), and on the second day hike up to see the city in the morning light.  
Lapad, Banje beach and Lokrum island
Being a coastal town, Dubrovnik is obviously not only a cultural destination. Lapad, a suburb of Dubrovnik, offers a nice escape from the tourist crowds. Take a stroll along a nice and quiet coastal walk toward Babin Kuk area. And definitely take swimsuit with you because you didn't come all the way to Dubrovnik just to see the walls, right?
Famous for showing off is also a very scenic and instagrammable Banje beach, located less than 1 km from the old city. And if you have a couple of hours more, take the 10-minute boat ride to Lokrum island (see the view of the island on the picture above). Lokrum boasts with olive trees and a botanical garden, but you will also find some nice spots to rest and swim in various rock pools.
Tips: If you are doing a road trip in Dalmatia, don't forget to visit Ston in Peljesac penninsula – a quiet small town with awesome city walls and a really nice laid-back town square.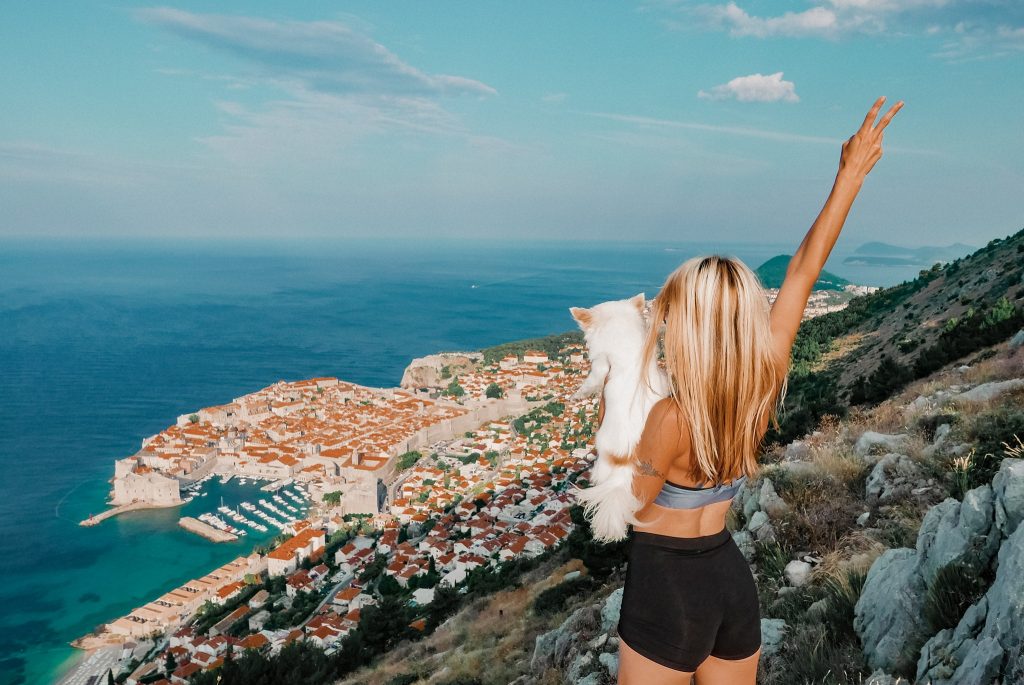 p.s. Dubrovnik is pet-friendly, I took Sky on our last road trip and it was not a problem at all. However, I advise you to avoid traveling with bigger dogs during Summer months, because of the crowds. Also keep in mind that the walls get hot and if your dog doesn't fit in a purse – don't torture him, let him stay at home.
Is dubrovnik on your bucket list? Have you been there already and have some other tips for "Dubrovnik in 2 days" itinerary? Scroll down for comments, I would love to hear from you!