.After spending a couple of wonderful days in Makarska last September (and due to the limited number of countries we are allowed to visit due to COVID-19), we agreed to repeat the trip this Summer. We especially loved Biokovo Nature park, so this time we decided to visit it on foot, by car and by bicycle. What can I say, laying on the beach all day is just not our thing. 😉 If you are wondering whether Biokovo Nature park is worth seeing and if you would like a few tips on how to make the most of your visit, read on.
WHERE IS BIOKOVO NATURE PARK LOCATED
Biokovo is a beautiful mountain range, rising above Makarska Riviera. To be more exact, it overlooks the area from the towns of Brela to Podgora in the central Dalmatian county in Croatia. Due to its unique geomorphology and biological diversity the area has become a nature park, which attracts thousands of tourists each year.
IS BIOKOVO NATURE PARK WORTH THE VISIT
Whether you are a hiking enthusiast, cycling freak, nature lover or just want to take some spectacular shots of the Adriatic coast, a visit to Biokovo Nature park is a must if you are staying in Central Dalmatia. Mount Biokovo is the 2nd highest mountain in Croatia, with the summit of Sveti Jure (St. George) at 1.762 meters above the sea level. Rising above Adriatic Sea and turquoise beaches of Makarska, Baska Voda and Brela, you can imagine that the views from above are definitely worth the visit. You can check more photos from Biokovo in my Facebook album.
ENTRANCE FEE
In my eyes visiting Biokovo Nature Park is priceless, but in terms of money, it costs 50 Croatian Kunas (less than 7 EUR) per person in a car or reduced 25 HRK for cyclists, school children and students. Children under 7 enter free. The entrance fee includes entering the newest attraction, the Biokovo Skywalk, which is a real bonus. However, if you plan to visit Biokovo Nature park several times, you can save some money with buying multi-day tickets.
5 THINGS TO DO IN BIOKOVO NATURE PARK
Drive to the top of Sveti Jure
If you are just killing your time, or if you are traveling with kids, Biokovo Nature park offers a nice getaway from the busy Croatian beaches. Well, to be honest, the park itself does get crowded during Summer, but this mostly reflects in the traffic. There is only one road leading to the top and it is very narrow, so if you are inexperienced driver, it can be a headache. To avoid that, get there early or visit Biokovo Nature park during less busy months (like Summer or Autumn). The drive itself takes about half an hour one way, and you can enjoy beautiful views along the way.
Biokovo Skywalk
Approximately half way to the top you will find the newest attraction, a "heavenly promenade", called Skywalk viewpont at the altitude of 1228 meters. It was opened for public on July 2nd 2020, and I am proud to say I was one of the first tourists to enter this glass viewing platform. As I said, Skywalk Biokovo is included in the park entrance fee, so there is no reason for you not to walk those 12 meters on the glass bottomed surface. Unless you have issues with vertigo or getting dizzy. If you do, I suggest you don't look down and you'll be fine. 😉
Hiking in Biokovo
Biokovo mountain range offers several hiking options. The most popular hike is from Makarska to Vošac hill, which in my opinion offers the best view in Biokovo. This hike takes around 3 hours, depending on your fitness level and where you start from (you can also park in Makar, where the trail starts). The easier option to hike to Vošac is from a parking lot, just a few kilometers farther from the Skywalk. It will still take you 15 – 20 minutes to get up there and I do recommend wearing comfortable shoes because it is not "a walk in the park". Below Vošac there is another lookout point called Štrbina, which is even easier to reach (from the same parking lot), and the views are also spectacular.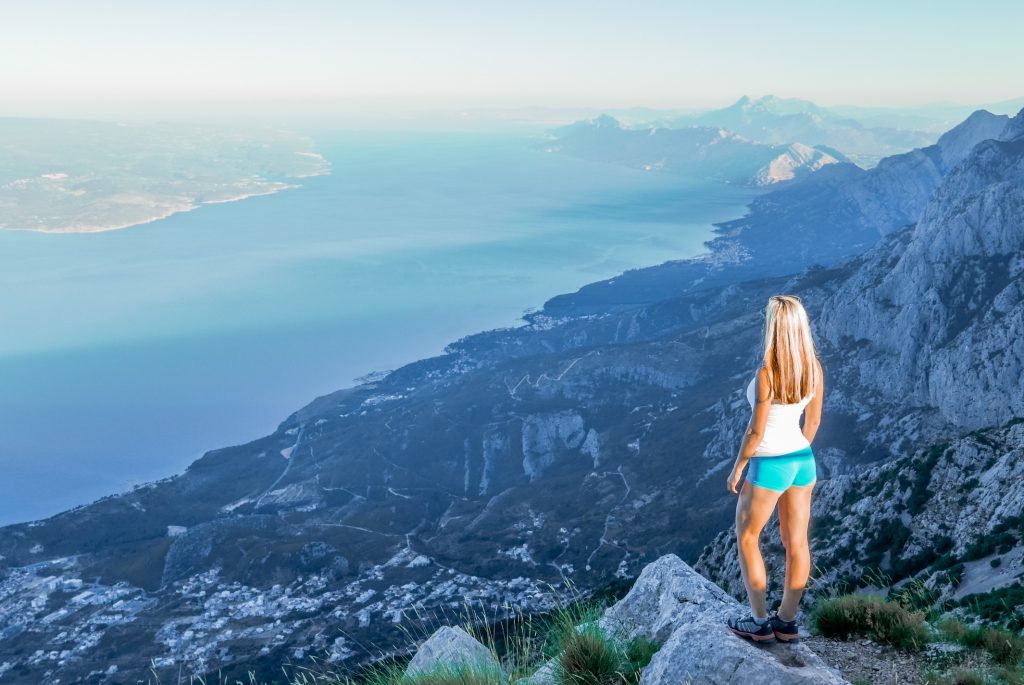 Cycling in Biokovo
If you are a cycling enthusiast, riding Biokovo road is a must. You can start from the sea or park before the entrance gate and head up to Sveti Jure. The road from the gate to the top is 23 km long and with different inclinations; the final 0,5 km are the hardest (above 10%). Bring a lot of water with you and no matter the season or weather, take some windproof clothes for the top and the downhill. The clouds and wind can come any time and it can get pretty nasty up there.
Hiking to Biokovsko oko (Biokovo eye)
This one was quite challenging to find but well worth the trouble getting there. I discovered Biokovsko oko (known also as "šuplja stina" which means "hollow wall") by chance, when browsing alternative hiking trails outside Biokovo Nature park. I found literally no information about how to get to Biokovsko oko, hence we got lost several times. I'll save you the trouble and lead you exactly to the point.
The easiest and shortest way to reach Biokovsko oko is to drive towards Gornja Brela, turn right at the sign Biokovo Nature park (here) and drive on the gravel road for around 2 kilometers. Leave the car somewhere before the sign for Sv. Nikola church which points left, and opposite of this sign you will see a yellow board "Državno lovište Biokovo". This is your starting point and from there just follow the red-white marks on the rocks. You should reach Biokovsko oko in about 30 minutes. The rock formation is amazing itself, not to mention the fantastic views of Adriatic Sea. I promise it will be worth it!
OTHER USEFUL TIPS
To explore other options in Biokovo Nature park, like educational trails and Botanical garden Kotišina, click here to learn more information. Bring water and snacks if you plan to spend some time in the park, as there are no stores there. You'll find a small kiosk along the road with basic drinks and souvenirs. Half-way between the gates and the top you'll find a restaurant Vrata Biokova, where you can try some traditional dishes.
If you plan to do some hiking, be sure to watch your step, as there are snakes in Biokovo. There are also other animals on the road, like cows and horses. Hence, pack some patience with you if you are driving by car or bicycle. They were here first. 😉
Have you ever visited Biokovo Nature park? How did you like it? Scroll down and leave me a comment!