Let's be honest, everyone who visits Los Angeles secretly hopes to spot a celebrity. After all, most of the Hollywood movie stars have a house in one of the fancy neighborhoods like Beverly Hills, Bel Air, Malibu or Santa Monica. And they DO go out for dinners, drinks or shopping, right? Well, I have visited Los Angeles three times and I haven't seen shit. The truth is that most of tourists visit Walk of Fame and other "must see" attractions and those are definitely NOT the spots to meet celebrities. There are some bars and restaurants where the stars usually hang out, but those places are not cheap and you need reservations to get there. The easiest option to get close to Hollywood celebrities is to visit their homes. Not literally, of course, but with the help of tours and guides who know exactly where most of them live. Last year I took Hollywood with movie star's homes tour and if was pretty fun. We didn't see celebrities washing their cars or taking out trash, however we did get a pretty good feeling about the neighborhoods, heard some "local stories" and saw a few movie locations. So, this year I decided to book another tour with Starline Tours and do the Malibu part. The tour is officially called Malibu Stars Homes tour and I liked it even better than the Hollywood one.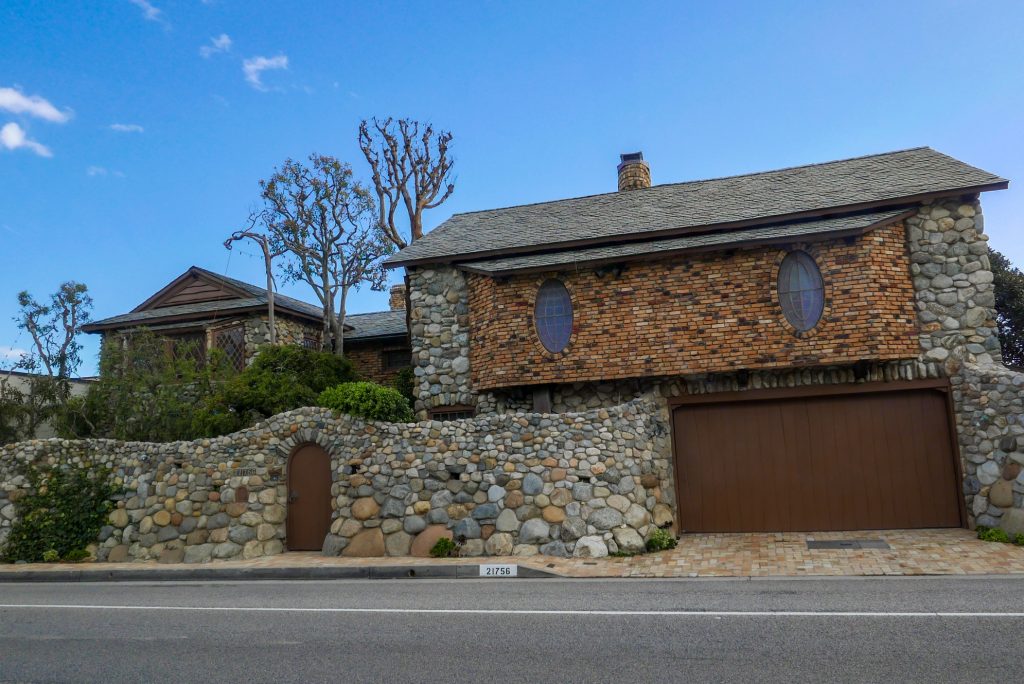 Basic details about Malibu Stars homes tour
The tickets cost 55 USD per adult and 45 USD per child.
The tours start at 9:30 am, 12:30 am, 3:30 pm (Summer) and 10.30 am, 2.30 pm (Winter)
Each tour takes around 2 hours – from Santa Monica to Malibu and back (the same way)
The tour departs from the Starline kiosk in Santa Monica Pier (opposite of Bubba Gump Shrimp); you need to check in there at least 5 minutes before departure and the tour guide will escort you to the bus
Vehicle: in case of rain, cold or heavy wind you will sit in a normal (closed) mini bus, otherwise they use open top vans.
Malibu Stars Homes tour itinerary – what to expect
You will start from Santa Monica pier where your guide (who is also your driver) will tell you a few jokes and tips about what to expect and how to get the most out of your tour. While driving the scenic Pacific Coast highway (also known as Highway 1) you will see the iconic Los Angeles coastline featured in Iron Man, Forrest Gump, Planet of the Apes and Baywatch. I do have to warn you that you will not stop at those locations, and you actually won't be able to take decent photos from the bus. The celebrities homes start in Malibu area, and these are the ones which I remembered either because they are my favorites, or because the houses looked cool: Bruce Willis, Courtney Cox, Adam Sandler, Paris Hilton, Eva Longoria, Cher, Cindy Crawford, Leonardo DiCaprio, Mathew Perry, Jim Carrey, Jennifer Lopez and many, many more (some of them are "local" stars, not so familiar to us non-USA citizens).
Here is another warning: the bus will stop on the road for a minute or two in front of the popular ones, so you can get good photos, but don't expect to see big dream houses or mansions like the ones you see in the magazines. Those are usually photographed with drones or from the front – what you will see is actually just garages and entrance doors; and they are NOT so impressive. However, you WILL see much more than in the Hollywood tour because here the houses are basically aligned by the road and most of them are not hidden behind the bushes. The biggest surprise for me was the stop we made at the entrance of Malibu Bluffs beach park, which overlooks the luxurious Malibu estates and the Pacific Ocean. The stop was short (the guide said we could have 5 minutes but we took 10 😉 ), but we got to walk on the beach and take some nice shots of the celebrities' homes from the oceanside. There was a couple walking their dogs and I pretended that they were very important so I took a few shots 😊 You can see my Malibu Stars Homes gallery in my Facebook album.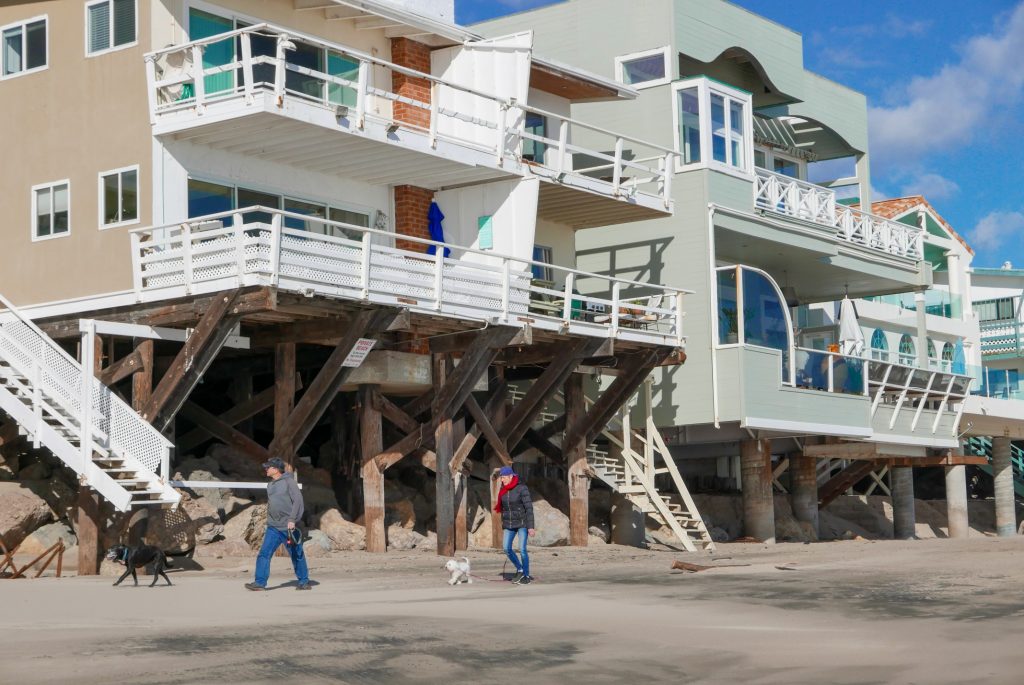 Will I actually see celebrities in the Malibu Stars Homes tour?
The celebrities don't just hang out in front of their garages, so don't expect to see anyone. However, it is quite possible that you will see someone's car parked in front, or if you are lucky, he or she will have his or her garage open (like Courtney Cox had in our case), so it does feel kind of exciting if you imagine they are "home". Even though they are probably not, because let's not forget that they have staff working for them, and most of these celebrities own a couple of houses in LA or around the world. What makes the tour special are the Starline guides who spice up the tour by saying stuff like "Paris Hilton is really friendly, she even talked to us last time when we saw her getting out of her car" or "Adam Sandler is the friendliest guy, he is always smiling and waving at us"… I am not sure how much of this is true, however if you imagine that they make several tours daily, there is probably a chance they actually meet someone from time to time.
Some other useful tips to make Malibu Stars tour hassle free
Book online: I advise you to book your tour online because the number of seats is limited and it is a high chance you will be left with nothing if you just show up at the booth. You will need to pick a specific date and hour, however if something comes up and you can't go, you just email them and they will try to reschedule you. I was late for my 10.30 tour and the staff was very kind to let me on the next one at 2.30.
Take the window seat, if possible: depending on the seats taken, it is fair to sit together with your mom/partner/friend, as much as I know that you would all love to sit by the window. You can actually switch places when you are diving back because it is going to be the same route, just the guide will show you different houses (for example if there are 40 celebrities' homes in Malibu, the guide will point you to 25 on the way to Malibu and the rest 15 on the way back). So, it doesn't matter where you sit, you will see it all.
Should you take the morning or afternoon tour: well, this depends on the season – I was there in March and I took the 2.30 pm tour, which was not the best choice for taking photos because the sun was shining at us and you could see the reflections in the bus windows. However, we could take some really nice shots at the beach – these ones are better in the afternoon.
Tip the tour guides: Let's give them a credit here – without the tour guides your celebrity tour would be empty, because you would only be looking at a bunch of houses… so it is appropriate to give them tips at the end. People usually pay what they want, and if they see a celebrity they are prepared to dig deeper into their pockets, but I'd say a 5 to 10 USD per person is a fair tip.
At last, but not the least: Remember the spots and go back by yourself
If you want to see some celebrities' homes in Malibu and don't know where to start, I suggest you do it with Starline Tours first and perhaps come back later by bus or your rented car. This is actually the only thing I missed in this tour (apart from taking a selfie with Leonardo DiCaprio): to go out of the bus a few times more and stalk the celebrities. So, next time I am in town, I just might do that. Leo, get your 6-pack ready!