Ready for a detailed post about one of world's most famous hikes? If hiking to Trolltunga is on your bucket list, do yourself a favor: take your time and read every word in this post. In my case, gathering information and writing a blog about Trolltunga took more time than the hike itself. I just couldn't keep it shorter and leave anything out because this is exactly what I missed in other blogs: Incomplete information.
First time I saw Trolltunga photos on Instagram a couple of years ago, I was like "get me there immediately." But the enthusiasm disappeared very quickly when I started digging into how to get there. All the official pages and most travel blogs advise to take Trolltunga as a 2-day hike. That was and still is a no-go for us because we are not a camping type of people and I sure as hell won't drag my sleeping bag with me into the wilderness. Fortunately, the idea of hiking to Trolltunga came alive again this year, ironically "thanks to" covid.
Luckily, Norway opened to European citizens in July and we already knew how to handle Norway road trip from last year, so the choice was obvious. The only question left was: can I hike to Trolltunga in one day? Of course, million other questions crossed my mind, like what if the weather gets bad or what if we don't get a room in Odda? But on the other hand, I knew that the world-stopping pandemics is the only opportunity to avoid massive crowds in Norway's most famous hike.
Before I start with the tips for planning the trip to Trolltunga, let me say we are not the world's quickest hikers, however we do hike a lot at home. We are quite fit, but on the other hand I have never done a hike longer than 3 hours one way. If you are a hiking beginner, read some of my tips in this post. Second, I did my homework before hiking to Trolltunga and there were still many surprises on the way. In fact, I was quietly cursing all the blogs for not giving the accurate information. On the other hand, things can change (like adding new parking lots, or changing the parking fees), so make sure you still double check everything before you blindly follow my tips. 😉
Finally, here is my detailed guide for hiking to Trolltunga for all types of hikers.
What is Trolltunga?
Trolltunga (Troll's Tongue in English) is a rock formation sticking out from a cliff where people stand in line for hours to take the insta-worthy photo. What makes Trolltunga so popular, besides the interesting shape, is the angle of the rock – if you catch it from the right perspective, it looks scary AF. There is however another "fun fact" about Trolltung: the hike is described as challenging and it takes 10-12 hours.
Where is Trolltunga located and how to get there?
Trolltunga is situated in Vestland county in Norway, above the lake (reservoir) Ringedalsvatnet. The closest city is Bergen (3-4 hours' drive, including ferries), however you can also get to Trolltunga from Oslo (around 6 hours' drive). We planned the hike for the 5th day of our West Norway road trip, it was on our way from Stavanger to Alesund. The parking and starting point to Trolltunga is around 6 km or 30-minute drive away from Odda town. No ferries from Odda to Trolltunga, luckily! 😊
Trolltunga parking and fees
This one takes a special chapter, because it all depends on how much money you are willing to spend and how long do you want your hike to be. There are 3 parking lots for Trolltunga trailhead. P1 (Tyssedal) has 220 spots and it is the farthest from the entrance. Hence, the cheapest parking fee of 300 NOK for one day (500 NOK for 2 days). I recommend this parking if you are taking the overnight 2-day Trolltunga hike because this is a 40 km roundtrip (total ascent appr. 2000 m). P2 (Skjeggedal) is the one we parked at and it is also the last one before the toll road. It has 180 spots and it costs 500 NOK for one day. The distance from P2 to Trolltunga is 14 km, which means 28 km roundtrip and appr. 1200 m total ascent.
The newest, and also the closest parking to Trolltunga is P3 (Magelitopp) with only 30 parking spots. The fee for P3 is 600 NOK, but you need to pay additional 200 NOK for the 4-km toll road. We were willing to pay the extra money because P3 saves you the toughest 8 km, but we didn't know that you need to book it online in advance. Luckily, we found out about this "little detail" one day before the hike, so we came psychologically prepared.
Homework tip: You can also take a bus or taxi from Odda to P2 and even shuttle bus from P2 to P3, but I'll leave it to you to do some homework as well. 😉
Trolltunga trail description
If you start from P2, you are facing almost immediate 4 km steep hike up the paved and winding road (the one you can drive with the car if you pay the toll fee and park in P3). We started at 5 AM and since we knew that the first bus departs at 6 AM from P2 we wanted to be faster than that. We made it but it was quite challenging. Before the road ends there is a sign "Trolltunga" which means you turn left and continue up the gravel path.
This part of the trail allows you to rest a bit, and since you pass a lot of streams and even small bridges you almost forget that there is still roughly 10 km of walk ahead of you. A good thing was that there were signs showing how many km are left to the final point.
Soon the trail gets steeper and Anda starts cursing because she was not prepared for this little surprise. I had read that only the first 4 km were steep and the rest of the trail was supposed to be "nothing special". Well, that's not true. After around 30 minutes or so the trail gets easier and also the views start to remind you why you are here for. Small lakes, streams, boulders and snow peaks in the distance are really something that keeps you going.
The final part of the trail, around 5 km from the finish line, you get closer to the lake Ringedalsvatnet and that breathtaking scene deserves a longer stop. We did it on the way back because we wanted to get to Trolltunga as early as possible. After that, the terrain is all about small ups and downs, but really nothing serious. The last kilometer is the longest and, in my opinion, the most boring, but flat enough to speed it up towards the main goal.
Finally, you reach the plateau where you see other hikers sitting and resting and you know you have made it. However, you have to walk almost till the end of the cliff to spot the Trolltunga in all its glory. I was actually too excited to enjoy the view because "insta photo first and relax later". Luckily, only 2 people were waiting in line and almost no one behind us so we could take our time.
Trolltunga trail in numbers
Distance from P2 to Trolltunga: 28 km roundtrip
Hiking time: on paper 10 – 12 hours roundtip
Our actual hiking time: 6 hours roundtrip (photo stops not included)
Total elevation gain: around 200 meters
Elevation from Ringedalsvatnet lake to Trolltunga: 700 meters

Is standing on Trolltunga scary?
Trolltunga looks scary on the first sight but once you actually step on it, it is "just a plateau" – almost like Preikestolen, but muuuuch smaller. I have fear of heights but my legs were only shaking when I got closer to its edge. I'd say anyone can walk at least till the middle. My advice is: go as far as you think it is safe for you.
Is Trolltunga hike dangerous?
In my opinion hiking to Trolltunga is not dangerous, as there a no cliffs to fall or slip from, and no options of rocks falling down – it is an "open space" terrain. I also wouldn't say it is an extremely demanding hike because it doesn't involve any climbing. It is however long, and can be exhausting if you are not in shape. I'll hate myself for writing this but yes, the hike is also suitable for children, if you think they are up to the challenge. Bring water and snacks, take it easy and you will be fine.
When is the best time to hike to Trolltunga?
The best, but also the busiest period is from June to late September. Not only for the kind and more stable weather but also because of long days. In Summer the sun rises around 5 AM and setts after 9 PM so you get about 16 hours of daylight. That should be more than enough to finish the Trolltunga hike in one day. From October to May the terrain is mostly covered in snow and it is highly advisable to hike with a guide during winter. However, the snow itself is not the trickiest thing, the snowy storms and the fast-changing weather is.
Is Trolltunga worth the visit?
If you asked me 2 years ago, there was no way I was going to stand in line to take the Trolltunga photo. Also, I was not ready to go for a 2-day hike, as I already mentioned. But then everything somehow added up. In was on the way, we found the last available room in Odda, the weather was perfect, I knew we could make it up there in less than 4 hours and there was almost no queue for taking pictures. To cut things short: yes, Trolltunga hike is definitely worth the effort if you are one lucky SOB like me.
Where to stay near Trolltunga
Your best option to stay closest to Trollgunga staring point is Odda, however if you don't book at least a couple of days (if not weeks) ahead, you can easily end up roofless. We were willing to take the chance, because we were traveling "with the weather". Had it been raining, we would have passed by and return on our way back. It was quite frustrating, because the only room we could find on Booking was 1,5 hours' drive away. Our plan was to start hiking at 5 am, so do the math. Luckily, we decided to ask for a vacancy at Trolltunga camping and bingo! We got the last room and I was never that happy to get a shared bathroom! 😀
Other useful tips:
Start early to avoid the crowds. We started at 5 AM from P2 and there were hardly any people on the top. Most of them were overnight hikers.
Early birds get the best photos. The sun rises behind the rock so it shines on your back which makes it perfect for taking best photos. In our case (mid-July) it lit the tongue around 8 AM, so no point in getting there earlier. Late evening (sunset) is probably also a good option.
Get your own water, snacks and toilet paper. Yep, no shops and no toilets for 14 km! Calculate carefully what you need so you don't dehydrate or starve. You can fill in the bottles in a few running streams along the way, if really necessary.
Dress in layers. It was less than 10 Celsius when we started hiking and over 20 when we reached Trolltunga. And this was a perfect sunny non-windy day in July.
How to take the best photo? Ask your partner to take it from different angles. Everyone does that, but be quick and consider the queue behind you. Personally, I found the best photo spot above the Trolltunga because you get the best view of the lake and landscape. (see this photo below).
More photos: see my Facebook album and my Instagram higlhights. By following me, you show appreciation for my work. I look forward to saying hi!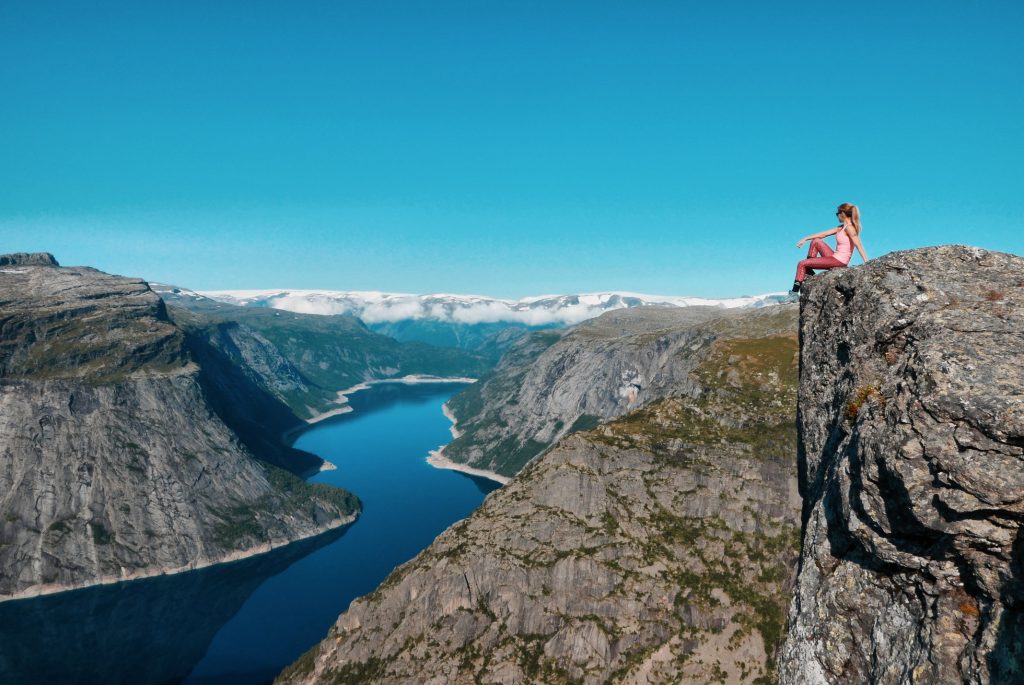 Congratulations for reading until the end!!! 🙂 I hope I covered everything you wanted to know about Trolltunga hike. If not, scroll down and leave me a comment.