Imposing red rock formations that rise from the desert like skyscrapers have been on my bucket list ever since my first visit to Arizona in 2012 when I failed to see them due to the lack of time. And even this time our road trip schedule was so tight, it only allowed us one day to pass through this beautiful valley. However, even one day is enough to feel the grandeur of Sedona, stretch your legs with some modest hiking and have a great meal in one of the Uptown restaurants.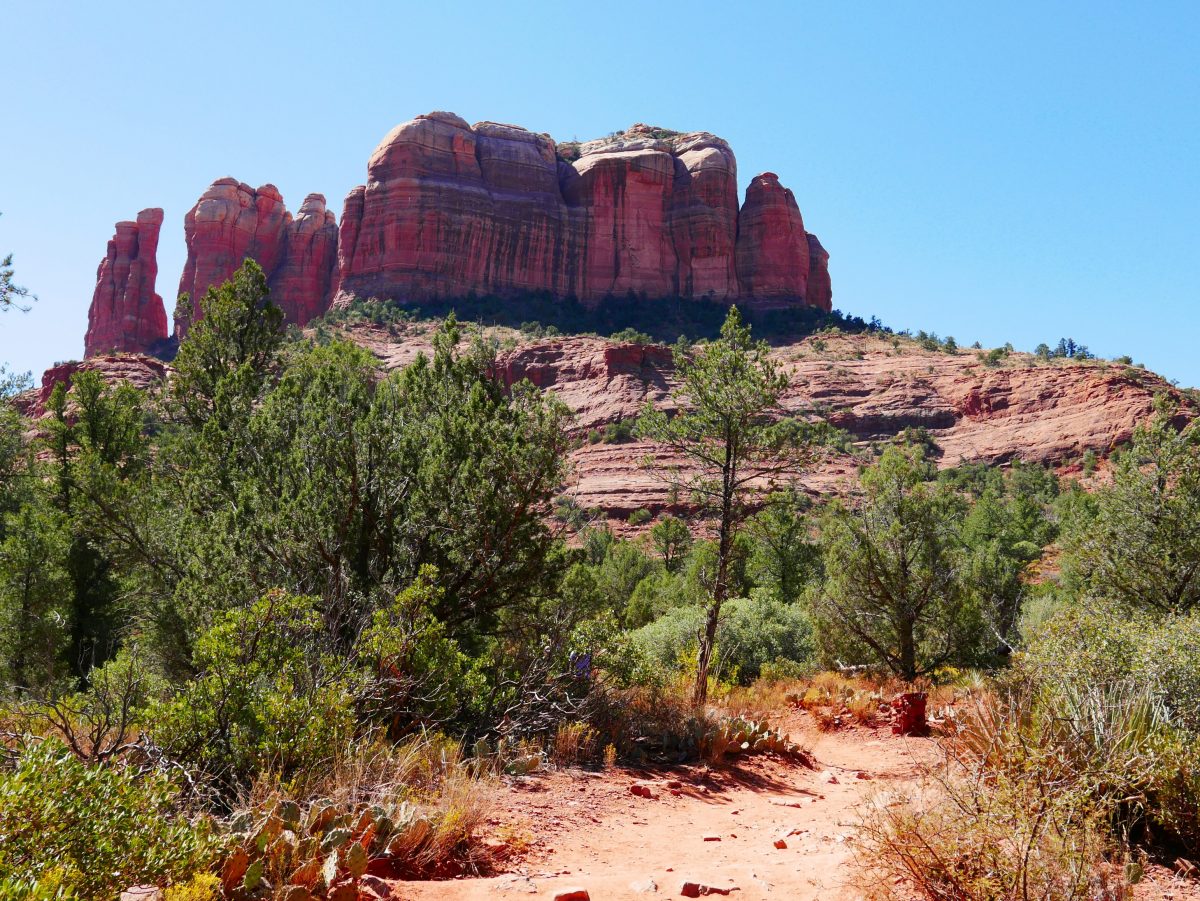 The most famous landmark in Sedona is the Cathedral Rock and climbing up there is practically a must. The trail to the rock is quite short (just over one-mile roundtrip), however it's very steep at some points and it requires some climbing, sliding on your butt and spider-walking through the most slippery area. We met different age and shapes of people on the way so I guess anyone can do it. At least  climb half the way to the plateau, the lookout is spectacular from there as well. Just wear proper hiking shoes and lots of water.
After Cathedral Rock you can drive up to the Chapel of the Holy Cross (or leave your car below and walk less than 5 minutes to reach the chapel). Built in 1956 this Roman Catholic Chapel reminds more of an imposing tombstone and can be visible from quite far due its white color in contrast with those lovely red rocks that surround it. The views from the chapel are great as well. You can see some of the photos in my Facebook album.
As I already mentioned, we didn't have much time left to spend in Sedona so we went for a pretty awesome lunch to a Mexican restaurant in the Uptown Sedona and walked through the shops at Pinion Pointe. It is hard not to buy a souvenir on every corner of your way but we did manage to stick to our tradition – a magnet from each state we visit.
Some travel tips:
Do stop at Visitor Center in Uptown Sedona, where you can get a very informative map of the area, chat with the friendly staff, refill your bottles with water and use the restrooms. Parking around there is free for a limited time.
If you have more than one day (I do recommend you to organize better than we did), you can drive to the Airport which is opposite of the Cathedral Rock and take the Airport loop trailhead – you will get a different view of the valley.
Sedona is a part of Verde Valley, named after Verde River – which means "green". So, you can imagine there is much more to see in the area: you can do some boat trips, take the scenic route to Clarkdale and Jerome, visit a small "Out of Africa wildlife park" with a Predator Zip line (I absolutely hate myself for not taking more time to go there), or even take a helicopter ride with Sedona Air tours.
Wherever you go, find a spot to sit for yourself and watch the rocks. Take your time and enjoy the view.
Saving tip: If you book a hotel in Sedona (or anywhere else for that matter) through this link you and I will both get 15€ pocket money for our travel 😉
Have you ever been to Sedona and want to share your experience with me? Leave your comment below, I would really appreciate it – I just might go back one day 😉