Since hiking is one of my favorite addictions, I'll simply start with: Hi, I am Anda. Hiking beginners, consider yourself warned. 😉 However, despite its growing popularity, hiking is not something to be taken lightly. Sooner or later you'll find yourself either lost, thursty, cold, wet or in the dark. And believe me, at one point it won't be fun. In the past years I've learned that only safe and responsible hiking allows you to enjoy the journey and the rewarding views at the top. Don't repeat my rookie mistakes and read the most important hiking tips for beginners, including basic equipment and clothes.
Before you scroll down to my basic hiking gear list, please note first that my hikes are usually up to 8-hour round-trips. Hence, this post covers tips for day hikes, which are perfect for beginners. Second, I always hike in pair because a) I am an easy quitter, b) I could get lost in a second and c) someone needs to take those Instagram photos. At last but not the least, we are both in quite good shape. That doesn't mean you need to be an athlete to start hiking, but it does help to know how much time you'll need to reach the destination.
Hiking safety information
What if I told you that I got myself rescued by a helicopter in the mountains last year? Would you still want to skip this paragraph? Trust me and don't! 😉 At least take a glance at these 9 safety tips for hiking beginners:
Plan your route: Find local trail maps online (in Slovenia we use hribi.net) with detailed route description. Study it well and choose marked trails. As a backup, bring your GPS.
Plan your time: If you are a hiking beginner and it says 4-hour round trip, rather count on 5, just in case you need to be back before it gets dark. Usually walking times are written for slow people though. 😉
Check the weather: Check it the day before and again in the morning. Especially, if your planned hike is longer than 2 hours. You don't want to get caught in a storm or fog, trust me.
Bring the hiking essentials (see detailed list below): It pays off to have basic gear always with you. No matter the weather or time of the day.
Hike with a companion: If you don't find one, tell somebody where you are going and when you expect to be back. Don't forget to let them know you got back safely. 😉
Charge your phone: you will need it for GPS, photos and a help call, if needed. Memorize your SOS number (in Slovenia it is 112).
Quit before it's too late: If the storm is coming, turn back and hurry back home. If you get seriously lost and or find yourself in dangerous situation, call for help. Don't push forward, hoping you will find a path, especially if you are high in the mountains.
What goes up must come down: If a steep climb seems doable on the way up, know that you'll have to go down the same path. Choose your steps wisely.
Hands Y for help: If if gets really nasty and if your ass is getting rescued by a helicopter, signal the crew by standing with your back to the wind and hold your arms out in a Y-shape. Don't wave, because they'll think you are ok.
(Slovenski članek o neslavnem reševanju najdete tukaj.)
My basic hiking gear list
1. Hiking backpack
For shorter day hikes a 10 – 20 liters backpack should be enough. Hiking backpack is more adjustable, it has outer pockets for quick access, it comes with a breathable back, padded shoulder straps etc. Such backpacks usually cost 40 – 120 €. I've been using Deuter for a while now and I am very sattisfied.
Pro tip: if you want to keep your phone close, try out the smart Reeloq case for smartphones. You can get 10% discount by using this link. (code ANDA10)
2. Good hiking shoes or boots
Personally, I prefer hiking boots because I stumble a lot when I am tired and kicking a rock can be painful. Recently, I bought La Sportiva hiking boots (around 130 € with a discount) and I am very happy with their performance. I also own Adidas Terrex shoes (around 70 €) for non-demanding terrain.
Pro tip: The more you hike the better (and more expensive) shoes you need. You'll get there eventually. If you only buy one, I highly recommend getting shoes with Gore-Tex (waterproof) material.
3. Upper layers
If you want to be comfortable during the entire hike, dress in layers. I highly recommend wearing "Dri-Fit" T-shirts that absorb sweat quickly. Ideally, take one extra to change at the summit because it's usually windy up there and you don't want to catch a cold. Also, buy a light windproof jacket which doesn't take much space. During summer I usually wear casual sweatshirts, or even just sports bras. In colder months I prefer Craft baselayer as it's very warm and soft. (in Slovenia use code ANDA15 to get 15% off at mojsport.si).
4. Refreshments
First, take enough water. I usually take a simple reused PET bottle because it is also the lightest. For hikes, longer than 3 hours, I also take light snacks like banana, energy bar or some chocolate protein powder. The lighter the better. 😉
5. Trekking sticks (trekking poles)
A fact: the older you get, the more problems you'll have with your knees. First I bought cheap sticks for less than 20 € but they got bended with the first challenge. Now I own Masters Ranger sticks, and so far they have served their purpose. (also available at mojsport.si).
Pro tip: If you have issues with your joints, take glucosamine supplements. My favorite is Proflex from Valens and it actually works!
6. Sun protection
Anyone else gets sunburned easily? No matter how long the hike, I always apply thick layers of sunscreen. I am quite happy with Neutrogena (55-70 SPF) and I am in love with Evy Technology SPF 50 face foam which is a bit more expensive. (in Slovenia available on superskin.si) Equally important for sun protection are sunglasses. I usually buy the cheapest ones with UV-400 protection because I throw them around a lot. I also bring a sun cap cos there's no such thing as too much sun protection.
7. Leggings or hiking pants
Leggings get a special chapter because I've done A LOT of research here. To cut things short: Alpine Princess is the best outdoor leggings brand in the world. It represents everything I expect from good outdoor leggings: high quality, scratch resistant, and most important, they stay in place. You'll see them in most of my Instagram hiking photos. Alpine Princess ships internationally and you can use code ANDA20 for discount in their web shop.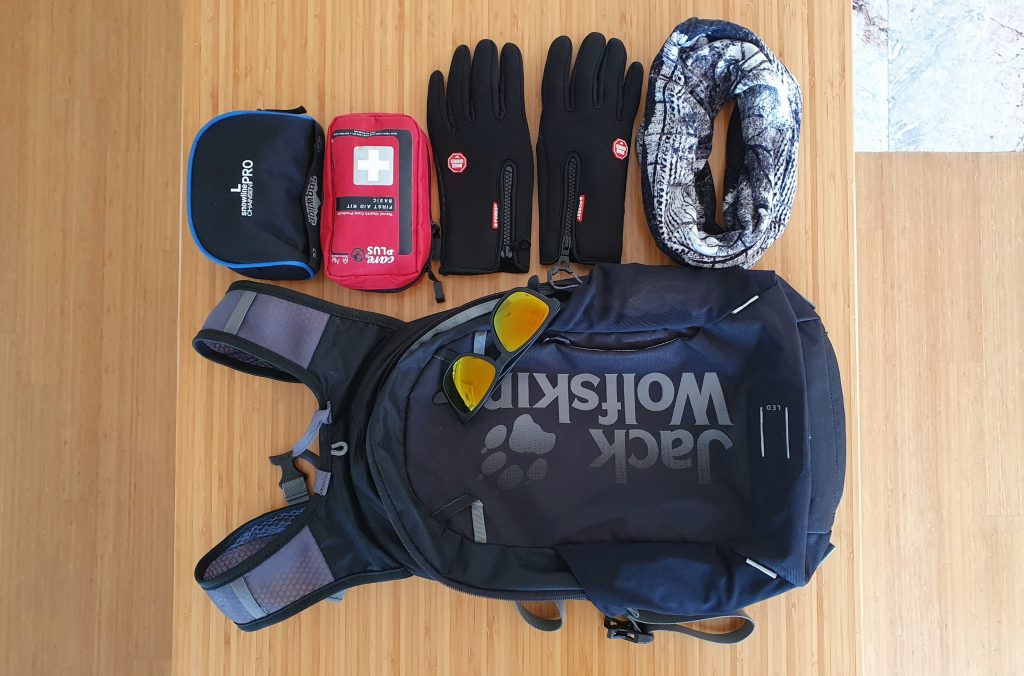 8. Mini first aid kit 
Basic first aid accessories like plasters, elastic bandages and a swiss knife don't take much space, so I recommend you to have them in your backpack all the time. I also carry lots of paper wipes because my nose is wet all the time (allergic rhinitis year-round) and Aspirin because "you never know".
9. Warmers and flashlight
Even in spring or autumn months, I usually wear some light gloves in the morning. Recently I got Craft Hybrid gloves (in Slovenia available here, use code ANDA15) and they are fantastic. I also have a multi-functional buff and/or headband in my backpack for windy days. I am in love with Buff headbands, also available on Mojsport with my discount code.
For sunset chasers a good flashlight is a must. I finally got a Ledlenser headlight, which is fantastic in terms of performance and very practical. In Slovenia you can get one in this link and use code ANDA30 for non-discounted products.
10. In winters, add crampons and gaiters
If you plan to hike in the snow, you definitely need crampons – they are super easy to use and can be a life saver, especially with descending. A pair of gaiters also helps if you don't want the snow to enter your shoes all the time. 
I hope my hiking tips and basic gear list helped you to get started. Let me know in the comments if I missed something out or if you have some other questions. And remember: hike more, worry less! 😉