Hiking is one of my favorite addictions. I'll probably never climb Mt. Everest; however, I do sweat in the mountains a lot, so I do know a thing or two about safety and how to use basic hiking equipment. Sure, at first, I thought a pair of cotton leggings, a T-shirt and tennis shoes would do just fine. But the deeper I fell in love with hiking, the more I realized I needed to get proper outdoor apparel and at least some basic equipment to hike safely. Because only safe and responsible hiking allows you to enjoy the journey and the rewarding views at the top. In this post I will introduce my basic day hiking gear for beginners and how much it all costs.
Useful information
Before you scroll down to my basic hiking gear list, do read this useful information:
My hikes are usually 4 to 8-hour round-trips, so I'm not carrying any camping gear
Always double-check the weather forecast on several web pages
I never hike when the forecast is bad (snowing, raining, foggy, windy)
I always hike in pair because 1. I am an easy quitter, 2. I could get lost in a second and 3. someone needs to take Instagram photos
NEVER forget to take your fully charged mobile phone
My basic hiking gear list
Finally, here is my hiking gear checklist by the order of the importance:
1. Hiking backpack
A backpack is the father of the hiking gear. For shorter and simple day hikes a small one (10 – 20 liters) should be enough. I used to have a normal backpack, but eventually I bought a hiking one because it's more adjustable, it has outer pockets for quick access, it comes with a breathable back, padded shoulder straps etc. I bought a Jack Wolfskin backpack from an online store for about 35 € which I thought was a real bargain. Such backpacks usually cost 40 – 100 €.
Pro tip: if you want to keep your phone close to your hands, try out the smart Reeloq package for smartphones It is very handy and reliable, you just attach it to your backpack and your phone will be within the reach to take photos, answer the calls or seach the map within seconds. You can get 10% discount by using this link. (code ANDA10)
2. Good hiking shoes or boots
Personally, I prefer hiking boots because I stumble a lot when I am tired and kicking a rock can be pain in the… well, foot. I own a pair of very old Timberlands, which are still in a good shape and I use them in muddy terrains. Recently I bought La Sportiva hiking boots (costed around 130 € with a discount) and I am very happy with their performance. I also own Adidas Terrex shoes (around 60 €) for non-demanding terrain. If you only buy one, I highly recommend paying attention to Gore-Tex (waterproof) material.
3. Upper layers
This will sound like a broken record, but if you want to be comfortable during hiking you need to dress in layers. I highly recommend wearing "Dri-Fit" T-shirts that absorb sweat quickly. Ideally, take one extra to change at the summit because it is usually windy on the top and you don't want to catch a cold. Also, buy a light windproof jacket which doesn't take much space. In the summer I usually wear casual sweatshirts, or even just sports bras. In colder months I use Craft baselayer – it is very warm and cozy. It costs around 40 – 60 € (for delivery in Slovenia, you can get 15 % off with my code ANDA15 at mojsport.si).
4. Refreshments
First, take enough water. I usually take a simple reused PET bottle because it is also the lightest. For hikes, longer than 2 hours, I also take snacks like banana, energy bar or some chocolate protein powder. The lighter the better. 😉
5. Trekking sticks
I didn't use trekking sticks in the beginning time because I thought they would make me look old :D. Until my knees started to hurt like hell, and until I fell a couple of times because I had nothing to hold on to. First I bought cheap sticks for less than 20 € but they got bended with the first challenge. Now I own Masters Ranger sticks, and so far I am happy with them. (again, for delivery in Slovenia, you can get 15 % off with my code ANDA15 at mojsport.si).
By the way, if you have issues with your joints like me, take glucosamine supplements. My favorite is Proflex from Valens and it truly helps a lot (you can get 10% discount with code ANDA10).
6. Sun protection
This one should actually come higher on my list, because I get sunburned very easy. And the sun usually leaves dark spots on my face, so I always apply thick layers of sunscreen. The one I am very happy with is Neutrogena Helioplex SPF 55 but I think it is only available in the US. Second, and my favorite but a bit more expensive is Evy SPF 50 face foam.
Almost equally important for sun protection are sunglasses. I usually buy the cheapest ones with UV 400 protection (around 50 €) because they get thrown around a lot. At last, but not the least – a sun hat because there is no such thing as too much sun protection.
7. Leggings
Leggings deserve a special chapter in my hiking gear list because I have made A LOT of research in this area. The usual sports leggings get thorn easily (even if you just so much as sit on a rock!), or they slip down your ass all the time. I was almost ecstatic when I discovered Alpine Princess brand because it represents everything I expect from good outdoor leggings. They are high quality, scratch resistant, and most important, they stay in place. I am such a fan of Alpine Princess leggings, I even made an interview with the owner – check it out here. And use code ANDA10 for 10% discount. 😉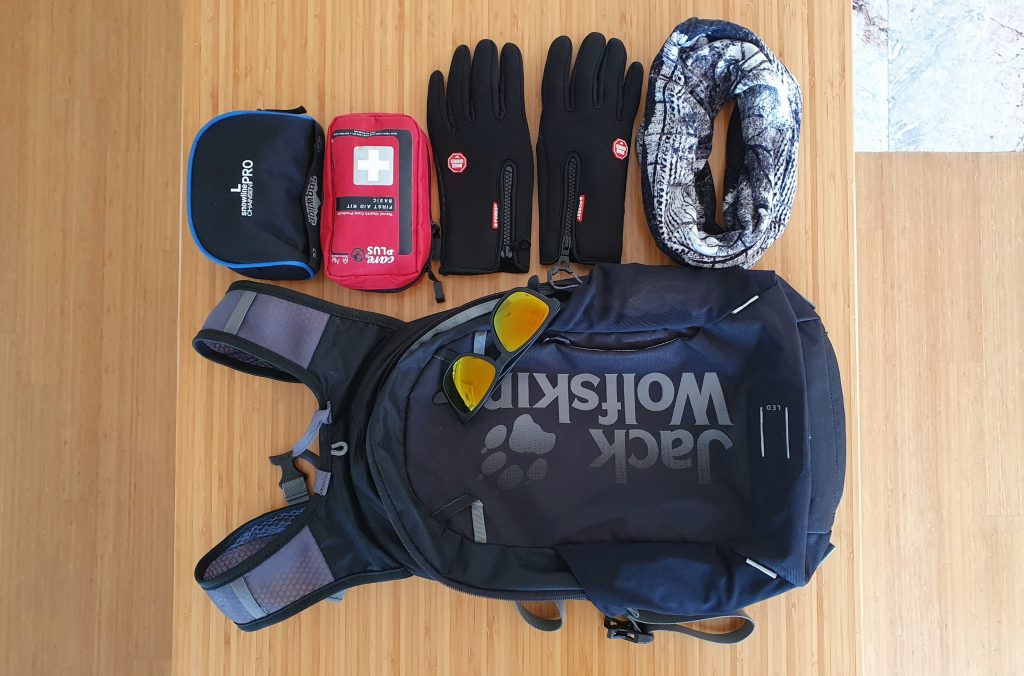 8. Mini first aid kit and
Basic first aid stuff like plasters, elastic bandages and a swiss knife don't take much space, so I recommend you to have them in your backpack all the time. I also carry lots of paper wipes because my nose is wet all the time (allergic rhinitis year-round) and Aspirin because "you never know". It also doesn't hurt to carry a flashlight (or headlight) in case you plan to chase sunsets.
9. Warmers for cold mornings
Even in spring or autumn months, I usually wear some light gloves in the morning. I literally buy them in supermarkets because I lose them all the time. I also have a multi-functional buff in my backpack for the windy days (plus, you can use it to mobilize your arm if you get hurt).
10. In winters, add crampons and gaiters
If you plan to hike in the snow, you definitely need crampons – they are super easy to use and can be a life saver, especially with descending. A pair of gaiters also helps if you don't want the snow to enter your shoes all the time. I bought both in a local sports shop (crampons 60 € and gaiters 30 €).
I hope my list helped a bit, especially if you are a hiking beginner and don't know where to start. Let me know in the comments if I missed something out or if you have some other questions. And remember: hike more, worry less! 😉