Never ever in my life have I wanted or imagined myself visiting Alaska – this boring desert of ice and snow storms, to end up running in front of a grizzly, falling into a dead cold river and sadly drown in the middle of nowhere. Until my boyfriend cunningly wrapped up our summer vacation plan of visiting Hawaii with a "short stopover" at a place he had always dreamed about. I knew that dream of his would have to come true one day, I just didn't know that Alaska road trip would happen so soon. So there I was, miserable and depressed, imagining myself freezing in the middle of summer, while all of my friends would sweat on the beach, drink cocktails and make selfies under the palms. (actually I don't have many friends who travel as much as I do, but this is MY blog and I can be as dramatic as I want 😛 ) To comfort myself and prepare for this torture, I was googling for the stunning Hawaii shots every day, like a bear who stocks up with food so he can survive winter. In the end I agreed to a 5-day-torture in Alaska, so I could get 8 wonderful days in Oahu. Oh, what a mistake that was.
Summers in Alaska can be fantastic if you are one lucky bastard
First of all, the weather in Alaska during the summer was everything I could wish for. The average temperature in July is around 20°C, however it can get a lot warmer if you are lucky. Fortunately we had 5 days of sunny to partly cloudy skies and it was really awesome. Now now, don't get too excited, because we were told that it was raining one week before like crazy. Alaskan weather is known to be very unpredictable, so be prepared for anything.
The other thing that came to my surprise was eternal daylight. I mean they do have nights, very long ones, but in winter months. In fact they have 67 days of total darkness in Barrow (up in the north), but since Alaska is huge, the daylight hours vary with the miles: the further north you go, the darker it gets. In summer, however, the story is different. The first night we spent in Anchorage, I actually had to put on the sleep mask I got on the airplane. If you think I am exaggerating, check out Alaska Daylight Hours Calculator for July and apologize.
How to plan Alaska road trip
if you only have 4 or 5 days, it isn't very hard to define the route for your Alaska road trip. For us it all had to start and end in Ted Stevens Anchorage airport. Since we wanted to visit Denali national park and we knew it would take us pretty much the whole day to do it properly, the rest was all a matter of simple map check mileage calculator. So we decided to take the total of 1.300 kilometers road trip in the following order: Anchorage – Talkeetna – Fairbanks – Glennallen – Anchorage.
Accommodation
Once the road trip was fixed, I took over the accommodation part. To my big surprise there was hardly anything left to choose from – and this was in April! I checked Expedia and Booking.com where there were only 2 options: hostels or very cheap motels on one hand or a bit "higher class" hotels with sky high prices on the other. Furthermore, there were no rooms available in Glennallen, which was a total disaster for us. I mean come on people, how far ahead do you need to book your summer vacation?!
So this was my first time to register Airbnb account and discover the world of limitless accommodation opportunities. There are literally people offering you parking space or a yard to put up a tent and sleep under the stars.  You can also rent a parked recreational vehicle or a trailer just to spend the night. Fortunately there were quite a few "normal" accommodations for reasonable prices to choose from. Just enough for what we needed: a clean place to stay with our own bathroom, safe space to park and a guarantee that someone will be there to open the door even if we came late at night.
Getting there and around
That was quite a shift we had to make. I booked a "Multitrip" ticket: Ljubljana – Anchorage – Honolulu – Ljubljana. To reach Anchorage from Slovenia we had to transfer in Paris and Seattle, so total travel time was about 22 hours.  We rented a car at Ted Stevens Anchorage International Airportair (pre booked, with over 100$ per day for economy size vehicle being our most expensive rental so far) and headed towards our first host in Anchorage. Speaking of Alaska transportation – I did quite a lot of research and Alaska Railroad with their famous yellow train looked very appealing. But because of the flexibility and luggage issue we decided to go with the car.
First stop: Anchorage
Anchorage is Alaska's most populous city with about 300.000 residents, which represents more than 40% of country's total population. We landed in the evening and since we were tired from the trip we went straight to the house which was pretty close to the airport. The host Marty and his wife were very kind and we were really lucky to have the pleasure of staying with them for our first Airbnb experience (if you want their contact, drop me a line). When we told Marty we were heading towards Talkeetna and Denali the next day, he suggested to make a small detour through the Hatcher pass. Sure, why not?
Marty's house is located about 500 meters from Lake Hood so the next day we decided to take a morning walk there to stretch our legs. The lake has a seaplane base so you can see planes landing and taking off, which is quite interesting. We were walking up and down the lake for about an hour and I think we met about 3 people. What a peace on Earth 🙂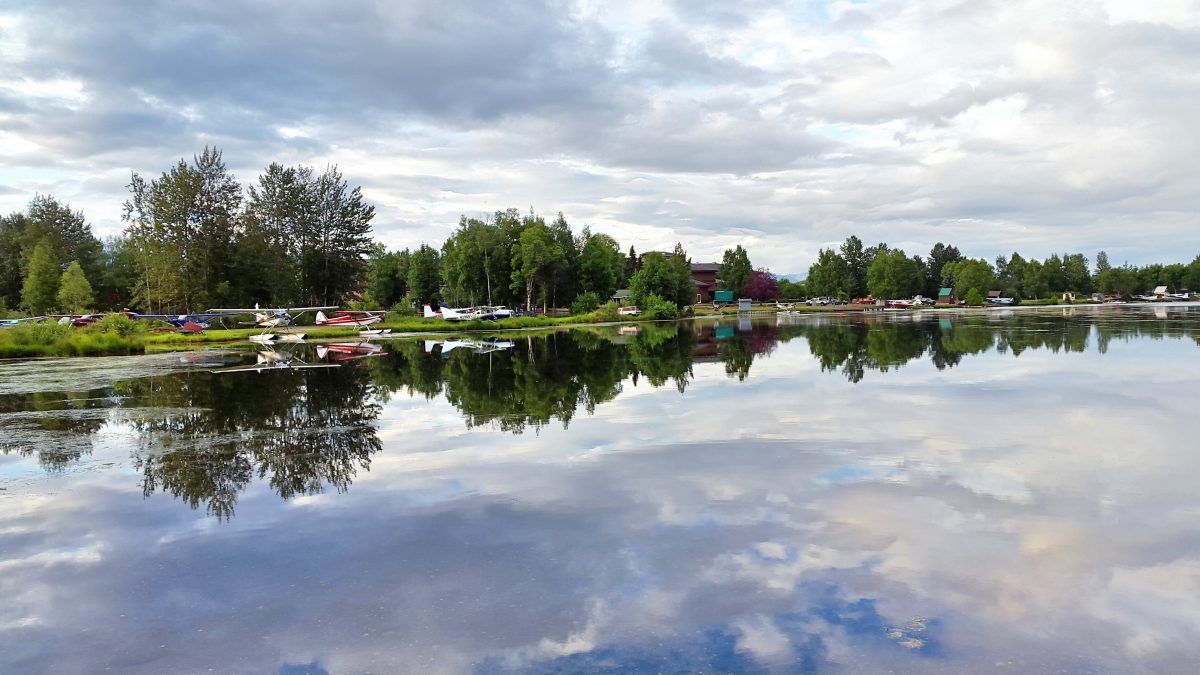 By the way, during our morning walk we saw quite a lot of Car Rentals and I am sure we could have gotten a better deal if we just "walked in". Also I think the tax is a bit lower if you don't rent a vehicle at the airport directly … However we didn't know all that and we didn't want to risk staying without a car. And unless you have more days to spend in Alaska than we did, I suggest you do the same. The summer is the busiest season so you never know … it's probably like with the accommodation.
Second stop: Hatcher pass and Talkeetna
After the morning walk we headed towards Wasilla and turned right for the Hatcher pass. That was really a memorable ride and Marty, if you are reading this, thank you again for the tip. We would surely miss it as it wasn't in our schedule. The route is very scenic and there are some locations where you can stop for gorgeous views of small lakes, streams and valleys. The road is however gravel for about 30 kilometers, so it can be rough at some parts, especially after heavy rain. Fortunately the weather was on our side and we had no problem passing it with our 2-wheel  Chevy drive.
This scenic detour only took us about 2 hours extra so we still arrived to Talkeetna as planned. We read it was a very lively town so we wanted to see it in the daylight. Which was actually not necessary since the daylight was there at least until 10 pm. Talkeetna is lively for Alaskan standards, but looks more like a big gathering and camping area. There are quite a few bars and restaurants along the main street, along with a couple of souvenir shops and so called road houses. We spent the night in one of those, which was kind of strange experience. Let's just say I missed that "tiny little detail" that we would have to use a bathroom on the hallway. Together with some locals or truck drivers who use it on a daily basis. To shower. But hey, we had to experience some wilderness, right? You know "doing what locals do" and stuff like that 🙂
Third stop: Denali National Park
We hesitated whether to see Denali by air or by bus until the very last moment. Finally we decided to take the bus tour because we really wanted to see some wildlife and after all we had reserved the whole day for the park. Flightseeing tours only take about half an hour, or an hour more if you make the big circle and land on a glacier. So after leaving Talkeetna we headed towards Visitor Center which was about 30 minutes' drive away.
And while we were driving on an empty road, surrounded by endless forests, all of a sudden we saw a glorious white monster ahead of us. The one and only Mount McKinley (renamed to Mount Denali right after we left!), the highest mountain in North America. The view of its illuminated crystal clear peak was so magical we had to stop our car in the middle of the road to take some photos. Boy I regret I didn't have a better camera with me.
After arriving to Denali Visitor Center we found out that the bus roundtrip would take about 8 hours. Wow. We had some drinks and sandwiches already with us but the tour guide frightened us badly so we took some extra water and snacks. Which was actually not necessary, because there are one or two stops where you can fill the water and there is also a small snack shop at Eielson Visitors Center (our final stop). We took a shuttle bus which is a good option if you want to hop off at certain points and take a hike from there. The bus stopped about 4 to 5 times, either to pick someone up or to take some photos. And, trust me, I don't know when and where those 8 hours went. The scenery in Denali Park is absolutely breathtaking. And the beauty of its grandness makes you realize how small you are. Leaving all your problems and worries far away. At least for a couple of hours. So refreshing indeed.
They say it is about 75% chance to see a grizzly and only 25% chance to see the peak of Mount Denali. Us lucky  bastards got to see both 😉 Bear spotting is quite an adventure, because the tour guide keeps the tension with his speech, so our eyes were wide open ALL the time. And when someone finally saw it, we were all kind of ecstatic. The bus driver stopped so we wouldn't scare him off and he got really close. It was pretty awesome, especially when you think of all those hikers who hop off from the busses to spend the night out there. Oh, by the way, we also saw quite a few moose and caribous, one of them crossed our way and he really took his time … Funny guy. Check more photos on my Facebook page in Alaska album.
Fifth stop: Fairbanks
After our Denali adventure we had to reach Fairbanks, which was on the north of our circle tour, about 2 hours away. We stayed in a relatively good low budget hotel (low budget means about 100$ per room). Fairbanks is a charming little town with a river and some nice spots. While walking along one of the streets we noticed a sign "Italian coffee" and ran in like we were on a mission. It is almost impossible to find a good "European" coffee in the USA and this time we were very lucky. Unfortunately I don't remember the name of the place, but I know it was in a small covered marketplace with lots of abandoned shops. Later we visited tourist office by the river and we saw a sign for Antique Auto Museum. Since my guy is crazy about "oldtimers" we went there to see it (10$ admission per adult). Well… you know… it was nice. But for me all cars looked the same. He, on the other hand, was happy as a hippo.
Besides from being a cute little town and that car museum there is nothing much to do in Fairbanks (or maybe we were too excited to escape to the wilderness again) so we hit the road south towards Glennallen right after lunch. That was 400 km and 4 hours' drive of pure pleasure. When you think it can't get better, it actually does. New mountain views, new lakes, new hills and valleys… and literally no one on the road. So we just had to stop over a few times and shout to hear the echoes, make a few selfies and hand stands in the middle of nowhere. Unforgettable feeling.
Last stop: from Glennallen to Anchorage
We spent the night in Glennallen because there was no other option. There aren't many opportunities to just "walk in" in Alaska unless you are driving your bed with you. Luckily Airbnb offered us a room with private bathroom in a very pretty cottage in the woods. It was almost like a dream house, really romantic. You could see that Christy (the landlady) takes care of it very well and she has a very good sense of decoration as well. Unfortunately Glennallen is not even a town – it only has a few houses and one small local shop. So bye bye Christy first thing in the morning!
Since this was our last whole day in Alaska we wanted to see Anchorage in the afternoon and with about 3 hours' drive that was totally doable. At least according to GPS. However, there are so many viewpoints to stop (they are all marked with a camera sign, so you know you can stop for a photo session) that those 3 hours almost doubled in the end. About half way between Glennallen and Anchorage there is also a Matanuska glacier, named by the river. You can drive very close to it and then walk for about 15 minutes. I think the entrance is about 20$ per person. We didn't go there because we thought it was better to see it from a distance – to see the size of it. And the view from the road is really glorious. Now when I look back I am a bit sorry we didn't go there, but hey, we have to save something for next time, right? 😉
So we came to Anchorage pretty late and just took a short walk to downtown. We looked for a place to have some descent coffee but unfortunately it was Sunday and everything was closed. We were really surprised by that. So basically we didn't see much of Anchorage, except for the river bank and a few streets. Nothing special, to be honest.
To sum up
Remember when I said "Oh, what a mistake that was" at the beginning? I meant it from the bottom of my heart. If I had to plan that combination again, I would definitely change our schedule and stay in Alaska for a couple of days more and less in Oahu. But perhaps that was the beauty of it. I have added Alaska to my travel favorites list and that means I will definitely visit it again!