So, you're traveling to Phoenix, Arizona and you're not sure what to do there? Well, me neither! 😀 Jokes aside, if you are an urban type of tourist, you will have to search for "things to do in Phoenix" somewhere else. But if you are somewhat like me, a nature lover and occasional shopaholic, you came to the right place. The capital of Arizona was the starting point and finish line on our USA road trip in October 2021. While searching for things to do in greater Phoenix area, I came up with the itinerary that involved a bit of everything. Here are 5 things to do in Phoenix for those who want so spend their days away from the hustle and bustle.
1. HIKING IN SUPERSTITION MOUNTAINS
Since hiking is my first love, I will start with two pretty awesome trails near Phoenix that are suitable for everyone. First one is located in the Lost Dutchman State Park, which is less than 1 hour drive away from the city. (In our case it was a 40-minute drive from the hotel). For hikers, the best part of the park is Superstition Mountains with many wonderful hiking trails. While the view of the Superstition Mountains itself is beautiful enough, it is even more attractive when you explore it from within. We chose the Flatiron via Siphon Draw trail because the description "demanding and rewarding trail" promised sweat, nice views and not too many people.
Tips: The trail to the Flatiron summit is rather challenging, but you can simply stop at the Siphon Draw and admire the beauty of nature from there. I have written a detailed Flatiron trail description in this post.
2. HIKING CAMELBACK MOUNTAIN
To Phoenix, Camelback Mountain is like Smarna gora to Ljubljana, Lion's Head to Cape Town and … (insert your favorite city hill because my brain is empty right now). 2 trails lead to Camelback Mountain summit, both are quite intensive and very well marked. Both trails are described as difficult, but as long as you don't hike in the summer heat, you'll be fine. Keep in mind that temperatures can reach well over 30 Celsius even in November, so I suggest you get up very early to avoid the heat. And bring enough water, of course.
Easier to park and a bit shorter is the Echo Canyon trail. The Cholla trail is a bit longer, more strenuous and less crowded. We chose the latter but we didn't know it was closed. Well, sort of. When we reached the trailhead, the entrance was marked with signs "closed" but we saw a hiker coming down, so we chose to ignore it too. It took us about 40 minutes to reach the summit. The last part is a bit rocky and I had to use my hands to climb a couple of times but nothing too serious. The summit offers 360-degree views and with good camera, you can catch pretty good photos of Phoenix downtown.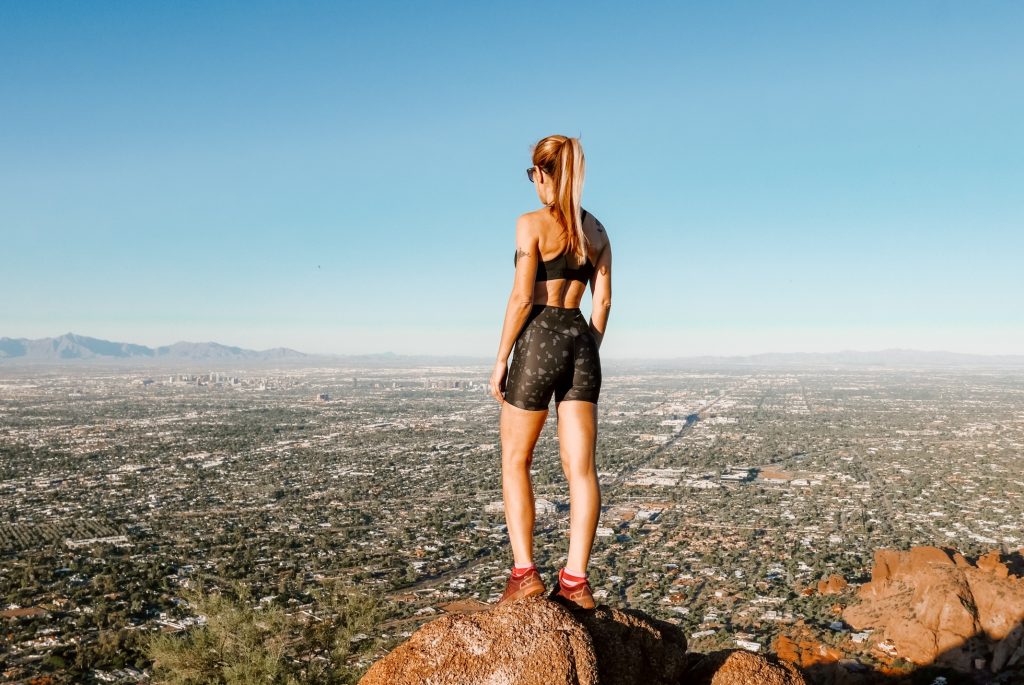 Tips: I heard that the Chola trail is closed because they're building a filthy reach house nearby. Eventually they plan to move the trail a bit more to the south. There is no entrance fee for hiking the Camelback Mountain. However, (free) parking can be a challenge. We parked around 1 km from the trail head, on a very limited part of the Invergordon Road with no parking signs. To catch a free parking spot, get there early or depend on your luck. 😉
3. SHOPPING IN PHOENIX
Even if you are more into nature and hiking, shopping is always a good idea. 😀 At least when it comes to shopping in the US for us, Europeans. You can find some very good deals and spend the whole day at Phoenix Premium Outlets. For even better bargains but limited choices visit Ross Dress for Less, Marshalls and TJ Maxx. While they (especially Ross) can sometimes look as a crazy and cheap marketplace, you'd be surprised what one can get there with a bit of luck and persistence. And yes, Victoria's Secret stores can also be found all over Phoenix. 😉
Tips: Sign in as a VIP client and get many additional discounts at Phoenix Premium Outlets. If you plan to stick around for a few days, note that shopping in the US offers customers a generous refund policy. Anything you buy can be returned back within 1 month (sometimes even longer) and you can get your money back if  returned with receipt and tags.
4. TAKE A TRIP TO SEDONA
Sedona is one of the most beautiful state parks in the US, not only in Arizona. Sedona is around 2-hour drive from Phoenix, which makes it perfect for a day trip. It offers many hiking trails, from very easy and short, to a bit more demanding and longer ones. First time we did "the classics" Cathedral Rock hike, which is rated modest to difficult but rather short and with fantastic views. The second time we took the Soldiers Pass trail which is flatter but it ends with a nice surprise: Soldier Pass cave. Both hikes can be done in one day.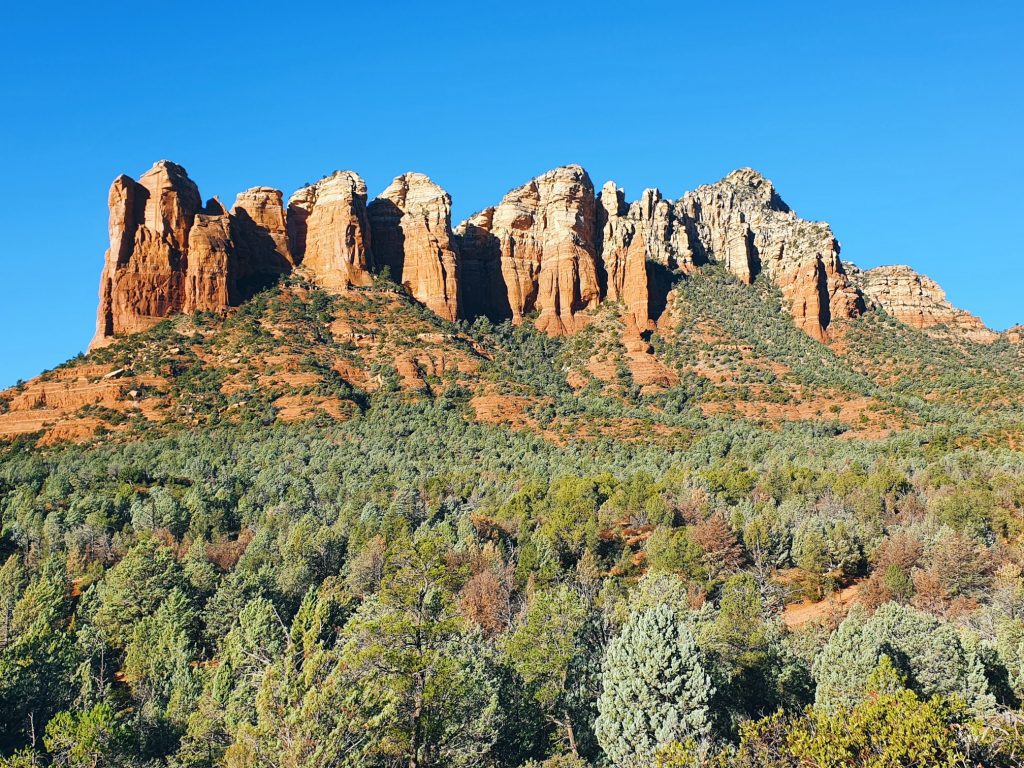 Tips: You need a Red Rock Pass to park in Sedona – the daily pass costs 5 USD, available online and in person in many places. Rooms in Sedona do not come cheap, which makes Phoenix a good "base camp". More detailed post about Sedona is coming up soon, so keep coming back.  
5. WATCH PHOENIX SUNS NBA GAME
Even if you are not an NBA fanatic, watching a basketball game live can be fun. The Footprint center is home to the Phoenix Suns NBA team and if you are in town for the game, try getting some last-minute tickets. Don't worry if you are not a big fan – a lot of people go there just to hang out, drink (loads of) beer and eat (too many) burgers. For us, NBA fans, it is actually quite depressing to see all those people walking up and down with hands full of food & drinks during the game, but this is something normal.
Tips: Alternatively, you can also go to a concert or some other event, taking place in the Footprint center. And yes, Phoenix also has museums and galleries, as well as a zoo, you just have to find them on your own.
OTHER TIPSe 
Where to stay in Phoenix
You have many options here – from rather cheap motels (which I only recommend if you are on a low budget, staying for one night), to mid-range hotels and of course the high-end options. We chose the Moxy Tempe hotel and we couldn't be happier with our choice. The location was perfect for the above-mentioned activities.
Zupas Café
This one will sound like a paid promotion but I promise it isn't. We discovered Zupas Café a couple of years ago in Salt Lake City and it was an instant crush. If you are so much as one tiny bit soup lover, you simply cannot leave Phoenix without trying one. Besides best soups in town, Zupas also offers healthy bowls and sandwiches for a very good price. Sometimes we even had soup twice in a day! 😀
This pretty much wraps up my experience with Phoenix. It was short but intensive and if I had to do it from scratch, the itinerary would probably be the same. Have you been to Phoenix? Any tips for things to do in Phoenix for my next visit? Scroll down and let me know in comments!