What do you do if you have 2 days to spend in a city that isn't very high on your bucket list? You try to get the most fun out of it. For us, fun means sweating in the nature and chasing views. While searching for best hikes near Phoenix I ran into several blogs that mentioned Superstition Mountains. A few trails looked interesting but the Flatiron hike via Siphon Draw seemed to offer exactly what we needed. It was described as one of top 10 hikes in Arizona, difficult, 6 mile out and back trail.
You can find many Flatiron trail descriptions online, so I will try to focus on the most important details. Keep in mind that we are relatively fast and fit hikers (but not runners), and we try to finish each hike without too many stops. We usually take a longer break for snacks and photos on top, and only make random quick photo or water stops on the way.
Why is Flatiron trail so popular?
To be completely accurate, the trail is called The Siphon Draw trail to Flatiron and it is considered as one of the top hikes in Arizona. The beauty of this hike is that it takes you through an amazing landscape, ever changing views, all the way to the top of a cliff that looks quite intimidating from below. It actually reminds me a lot of Angels Landing in Zion. Or Burj Al Arab hotel in Dubai, with heavy imagination. 😉
Location and getting there
The Flatiron cliff is located in the Lost Dutchman State park, around 1 hour drive from Phoenix (or 40 minute drive from our Moxy Tempe hotel). To get there, type in "Lost Dutchman State park" in Google maps and it will lead you straight to the parking lot. If you arrive there outside of working hours (6 AM to 8 PM), simply find the "self-pay" box and put in the 7 USD. Note, that if you want to go hiking before 6 AM it will probably be dark (at least that was the case in late October), so bring a flashlight. We didn't do the math properly, so we had to wait in the car for around 20 minutes for the first signs of dawn.

The Flatiron hike in numbers
The duration obviously depends on your hiking skills and fitness level. It took us 3 hours to hike up and back. We had a relatively short break at the top because we didn't want to hike back in the heat. In general, here are the most important numbers:
Distance: 6 miles out and back (around 9 km)
Length of time: 4 to 5 hours (total)
Elevation gain: 805 meters
Difficulty: Demanding
Car admission fee: 7 USD per vehicle
The trail description and directions
Since the Flatiron trail is not properly marked, it is easy to get confused or even lost. I'll try to do my best to lead you from the parking lot to the top step by step. The first part of the trail is named Siphon Draw trail. It is a relatively easy hike, hence it can get crowded throughout the day. The hike starts at the parking lot and is well marked with "Siphon Draw trail" signs for the first 1.5 miles. The start is flat, and it seems as you are walking in the park with more or less same (but nice) views. After that, the trail is still visible but it gradually takes you up in elevation, so you can expect to start sweating.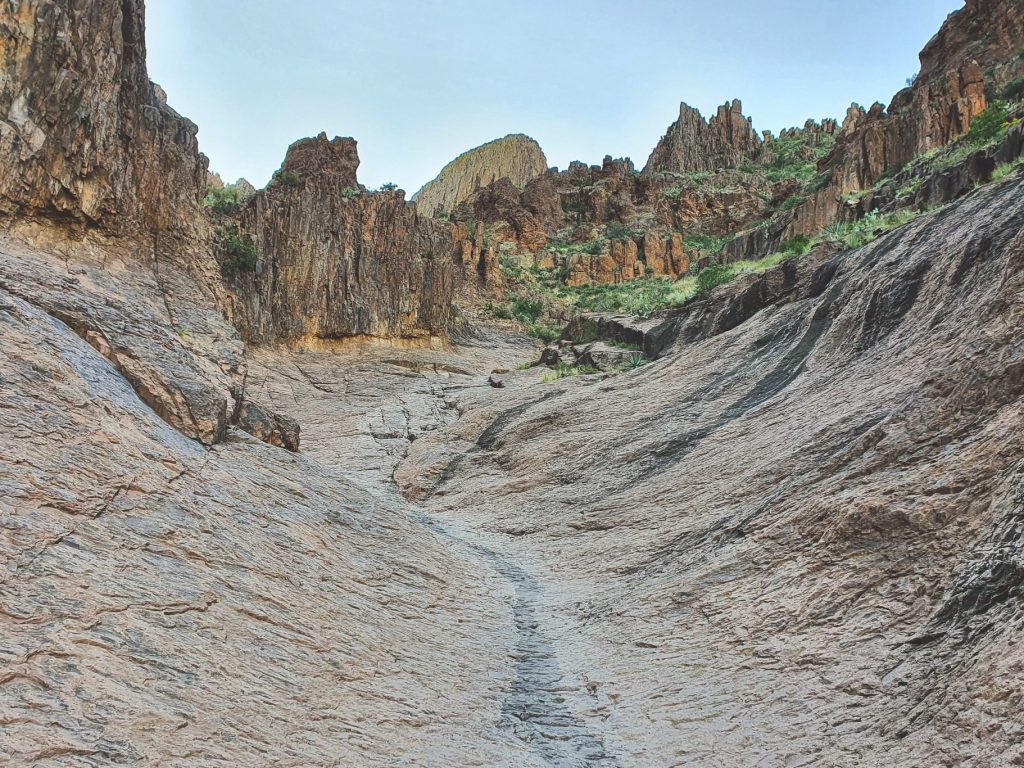 After hundreds of cactuses and funny shaped rocks you will make a few small turns and all of a sudden you will face a huge basin. This is the Siphon Draw. It's also the point where you will clearly see Flatiron high above in the far distance and you'll be seeing it throughout the entire hike. Upon reaching the top of this steep but fun basin, you will have completed the Siphon Draw Trail. A lot of tourist hikers stop there and enjoy the views. For others, this is just a stopover, before the real fun starts.
The final one-mile section, which takes you up to the very top is called the Flatiron Trail, named for the cliff's unique curvature. As you continue walking uphill, the trail begins curving inward, taking you directly into the heart of this mountain. Here the landscape becomes rockier and suddenly you'll be walking amongst beautiful cliff shaped structures. The trail is still clear but it also starts getting steeper.
When the trail slowly disappears, you need to start focusing on two things: keep left and search for the (very!) small white dots on the rocks. We kept that in mind and just when we thought we got lost for a second, there was another white dot on the rock. But don't worry, if you still see the Flatiron top, you will get there eventually.
The last part (probably around 1 km before the top) gets really strenuous. This means you will have to climb up vertically, using both hands. Here is the right moment to ask yourself: Am I fit enough to do it? There are no ropes, no chains and no protection. While I didn't find it too intimidating (and I'm a coward by nature), I couldn't have done it without basic scrambling skills. Again, don't worry – if you get scared, you can always turn back, nobody will blame you.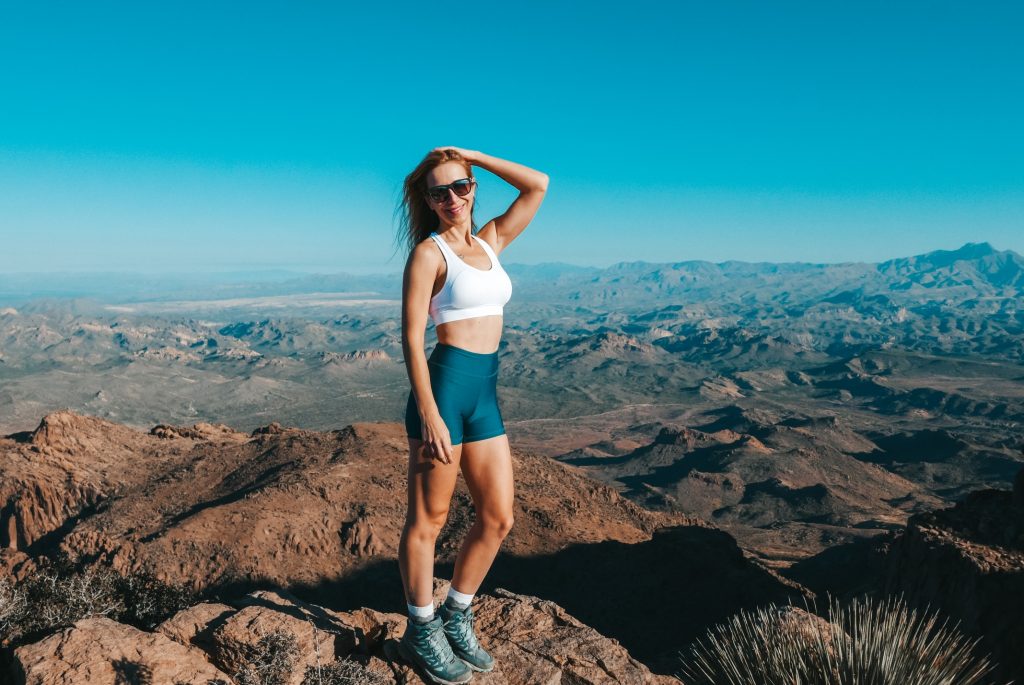 The very last part towards the Flatiron summit (I call it the home stretch) is like a walk in the park. You'll see what I mean once you get there. While Flatiron looks scary from below, it is almost completely flat on the top. For me it was almost a bit disappointing because I had imagined myself sitting on the top of the world! 😀 But when I found a comfortable spot and opened the snack box, it hit me. "It's a hell of a job you did here, congratulations babe!" Not to mention that the 360-degree views are fantastic.
Other useful tips
Get there early. We started at dawn and only met two hikers on the top. It started to get crowded after 9 AM.
Wear very good hiking shoes – it really pays off. Unless you plan to walk only to Siphon Draw; in this case normal sports shoes are also an option.
Parking spaces are plentiful, and restrooms with tap water sources are also available.
Dogs are allowed, however don't take them all the way to the top. Also make sure they have plenty of water. Like you.
At last but not the least: when asking yourself "can I climb this", you should also ask yourself "will I make it back down" too. What goes up, must come down! 😉
I have included this hike into my 5 things to do in Phoenix list
You can find more photos and some "action" stories in my Instagram highlights (Arziona)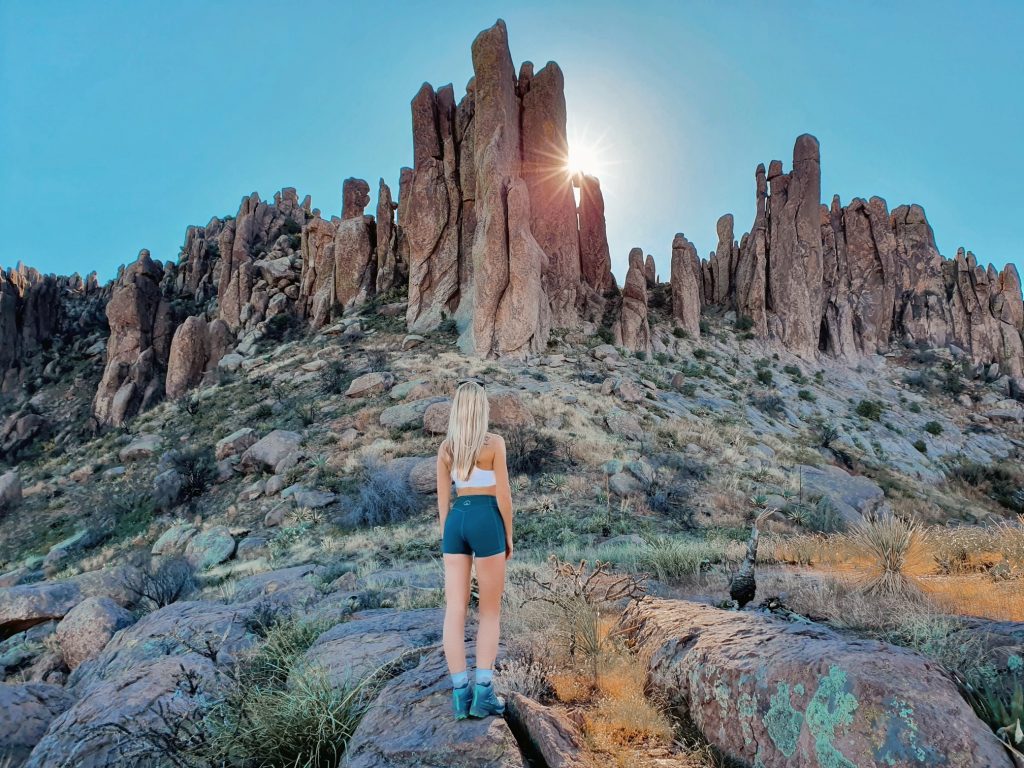 I hope you got your answer to the most frequent question: "How hard is the hike to Flatiron?" If you are an experienced hiker and happen to be in Phoenix, this one is a must. If you're not experianced but rather stuborn and want a bit of adrenaline, go for it too. But if you are an occasional "tourist" hiker, you might want to read this post twice and take my advise to turn back down when it starts to feel awkward. Let me know if you did it in the comment below! 😉