I bet every tourist who plans a self-drive trip to Namibia asks himself the same question: Is Windhoek worth visiting? Having read the reviews, we decided to give the capital of Namibia a chance. Originally, we booked one night in Windhoek, but we ended up staying there for 2. Not because of its charm, but because we saved one extra day in case anything went wrong during our Namibia road trip. The city is nothing special, however you can find some very good spots to easily spend a day or two. In this post you will find our top 5 things to do in Windhoek in one day.
Useful information
First, let me share some general information about where to stay in Windhoek, the traffic, and other tourist-friendly tips.  You'll probably land in Hosea Kutako National Airport if you arrive to Namibia by air. If your flight is not too exhausting, I suggest you to drive to your first destination as soon as possible and leave Windhoek for the last day. Because you never know what adventure brings.
With a population of around 430.000, Windhoek is not crowded, which is a blessing when it comes to traffic. If you plan to self-drive, you'll be happy to hear that the roads are safe and in good shape. Parking is free in most places, except for shopping malls (around 0.50 € for 2 hours). The only painful thing are the locals who approach your car in tourist spots, asking for some money to "guard your vehicle". We gave some change to the first one, but that was it. I'm not sure what happens if you turn them down too many times, but in my experience Windhoek and Namibia are quite safe.
There's no such thing as a perfect location, especially if you stay in Windhoek for one day only. I'd go for any homestay with good Booking ratings. We stayed in African Kwela guesthouse, which was less than 10 min away from the city center by car. Uber is not present in Namibia, but taxis are widely available. Btw, taxi drivers might pick up more people along the route, which is normal.
At last, but not least, Windhoek is one of the safest capitals in Africa. It's not recommended to walk the streets alone at night, but during the day you have nothing to worry about if you don't flash valuables. With that said, let's check out our top 5 things to do in Windhoek in one day.
1. Christuskirche
The most iconic landmark of the city is also the main tourist attraction in Windhoek. This German Lutheran Church is in the middle of a roundabout next to the Independence Memorial Museum. The church, made from local sandstone, dates to 1910. It is easy to find in the city center and tourists are welcome to visit. No entrance fee as well.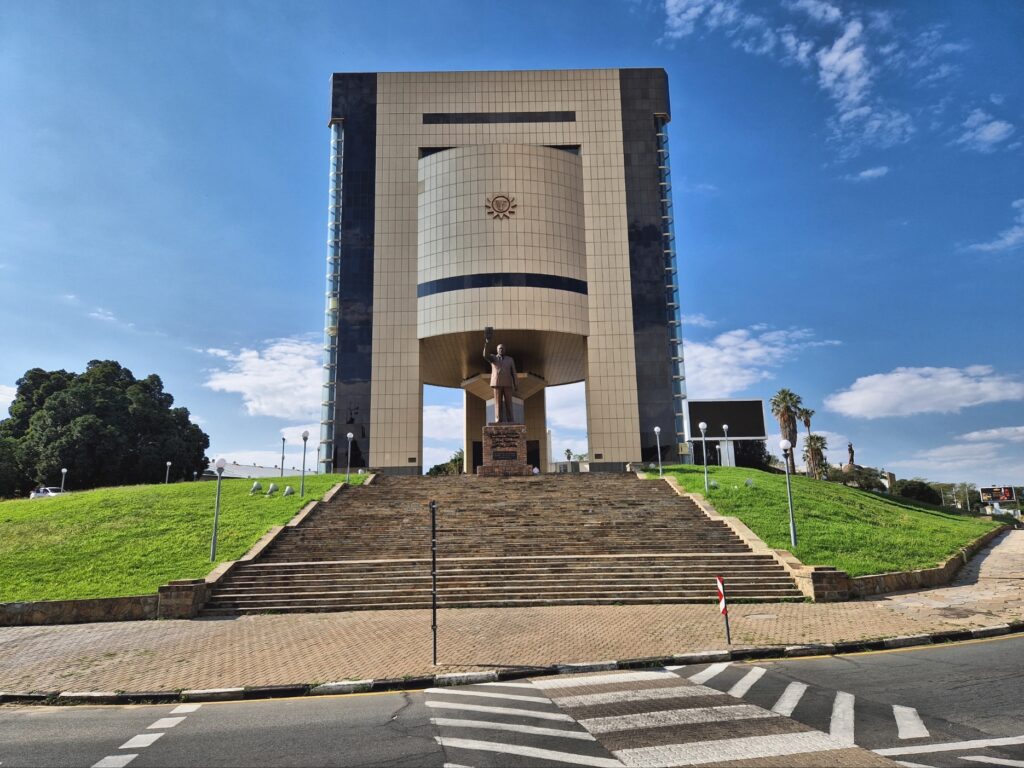 2. Independence Memorial Museum
My personal favorite site in Windhoek is the Independence Memorial Museum. A golden skyscraper stands opposite the German Lutheran Church with a statue of the first president of Namibia Sam Nujoma in front. I was surprised to find out that Namibia is a very young country and only gained independence from South Africa in 1990. Before the South Africans ruled in Namibia, it was a German colony.
Learning how Namibia became independent gives you great background information to sum up (or begin) your Namibia trip. Visiting the museum is free of charge and it is open from 9am to 5pm (closed on Sunday). I am not a fan of museums, but this one was a pleasant surprise.
3. Balcony of love
I am cheating here a bit, because this place is actually located in the Independence Memorial Museum. But it is a unique experience, hence separate mention amongst top 5 things to see in Windhoek. 😉 On top of the Museum there is a bar with 3 large balconies with amazing views over the city, each in a different direction. You are required to buy a drink if you want to take pictures, but the prices are decent and you'll need that drink anyway. Balcony of love is the best place to take a photo of German Lutheran Church, which lies beneath. A good idea is to come here for sunset as well.
4. The Grove Mall
Shopaholics will appreciate the fact that Windhoek boasts the biggest shopping mall in Southern Africa. The Grove Mall  is home to over 100 shops with international brands, local art, coffee shops, bakeries, and restaurants. You can easily spend a few hours there to hide from Namibian sun, even if you don't plan to spend money.
5. Namibia Craft Centre
Namibia Craft Centre is a place full of small shops with Namibian arts and crafts. It is situated in the city center on Tal Street, very close to Christuskirche, with free street parking available. You can hardly resist buying all those cute wooden animals, wall decors, handbags, jewelry, and other things you don't need. On the other hand, most of the shops are women-owned and community-driven, which justifies spending some extra money.
This list pretty much sumps up top 5 things to do in Windhoek if you only have one day to spend in Namibia's capital. Of course, you can find different spots for sundowners (like some rooftop bars), relax in a green urban Zoo Park and enjoy local food in different restaurants. Don't worry, the day will pass by before you know it. On the other hand, Namibia is so beautiful that spending more than 2 days in Windhoek would be a sin. 😉