If you're planning a road trip to Utah, Arches National Park is something that cannot be missed in your itinerary. This beautiful park, full of natural bridges in different shades of red is one of the most popular US national parks, for many reasons. First, it is small and you can easily do it in one day. Second, it's on the way to other Southern Utah and Arizona attractions, including Canyonlands, Dead Horse State Park and Monument Valley. And last, but not the least, it is unique and simply beautiful. In this post you will find best 5 things to do in Arches National Park, including practical tips and important information.
Arches National Park location and where to stay
Arches National Park is located in the eastern Utah, close to the border with the state of Colorado. It is less than 10-minute drive from Moab where you can find lots of hotels and motels. The park is also relatively close to both Canyonlands national park entrances, so spending the night in Moab is a good idea.
It's quite hard to find a cheap room near Arches National Park, especially in peak season. The best idea is either to book a room in advance or drive to Monticello (1-hour drive). During our 1st visit in October 2018 we stayed in Old La Sal, which was very romantic, but quite remote. For the 2nd visit in November 2021 we chose to stay in Red Cliffs Lodge and we were really happy with our choice. The suits here don't come cheap but you get all the comfort and privacy you need. And the property is only 25 km drive from the park entrance.

Arches National Park facts at a glance
Entrance fee: 30 $ per vehicle (also included in the America the Beautiful Pass which costs 80 USD and is totally worth the money)
Number of natural bridges: over 2.000 
Scenic drive lengzh: around 40 miles (60 km) round trip
Scenic loop drive time: around 2 hours round trip without stops
Visitors center: on site, including toilets and tap water
Time worth spending: at least 4 hours
How much time should you spend in Arches National Park?
It depends on your schedule, time, fitness ability and preferences. If you're tired of parks (not everyone loves those red rocks) or running out of time, 3 hours are enough. Hit the road, drive through the park, stop at the most scenic overlooks and take photos. If you're somewhere in between, you'll want to take a short hike or two to take some shots for Instagram. You can do it in roughly 4 hours. If you have time and want to do it all, you can easily spend a whole day in Arches National Park. Just bring water, lots of sunscreen and food.
5 things to see in Arches National Park
The name itself says that the park is full of natural bridge formations, which look like arches. Even though it contains over 2.000 natural bridges, it's not only about the arches. It is also about many funny rocks, hoodoos and scenic overlooks. If you can spend one day in Arches National Park, too much planning is not necessary. Just stop at visitors center which is right behind the entrance station, grab a map and decide what you want to see.
However, if you have limited time and only want to see the highlights, here are top 5 things to do in Arches National Park:

1. Delicate Arch
Delicate Arch is the one you'll see on Utah's license plate and it's there for a reason. We skipped it during our 1st visit because we were on a very tight schedule. This time we came prepared, we woke up early AF and came to the Delicate Arch viewing platform just before sunrise. To my surprise, at least 50 people had already been there but they were all patiently sitting on the rocks and waiting for the sun to come out. There was no queue for that Instagram photo beneath the Delicate Arch at all. Guess who ran there immediately! 😀
If Delicate Arch is something you want to see desperately, I suggest getting there first, and do the other attractions later. The trail to this dramatic 65-foot-tall rock starts at Wolfe Ranch parking lot, which fills up very quickly. It's a relatively easy and a slightly uphill 1.6-mile hike in one direction. It took us around 1 hour (with relatively fast pace) to get there and back, plus another 30 minutes for taking photos. Yes, it is worth it and yes, it is the most beautiful arch I've ever seen!
2. Balanced rock 
The balanced rock is actually something you will see from your car, so no need for extra hiking time (again, people are waiting there to get pictures). However, this famous rock formation that looks as if it's head is about to fall off, is a must-see. Pull over to a small parking lot and take a very short hike (around 250 meters) for an up-close view.
3. The Windows and Turret Arch
The Windows is a common name for the area with park's largest arches. This area is worth seeing even if you have very little time. On this short (around 1 km roundtrip) hike you'll see three very cool arches: North Window, South Window, and Turret Arch. All three arches are connected by one hiking trail. There are 2 car parks, one at the trailhead to the Windows and one at the trailhead for Double Arch. The latter hosted the opening scene of Indiana Jones and the Last Crusade, so check it out if you have time.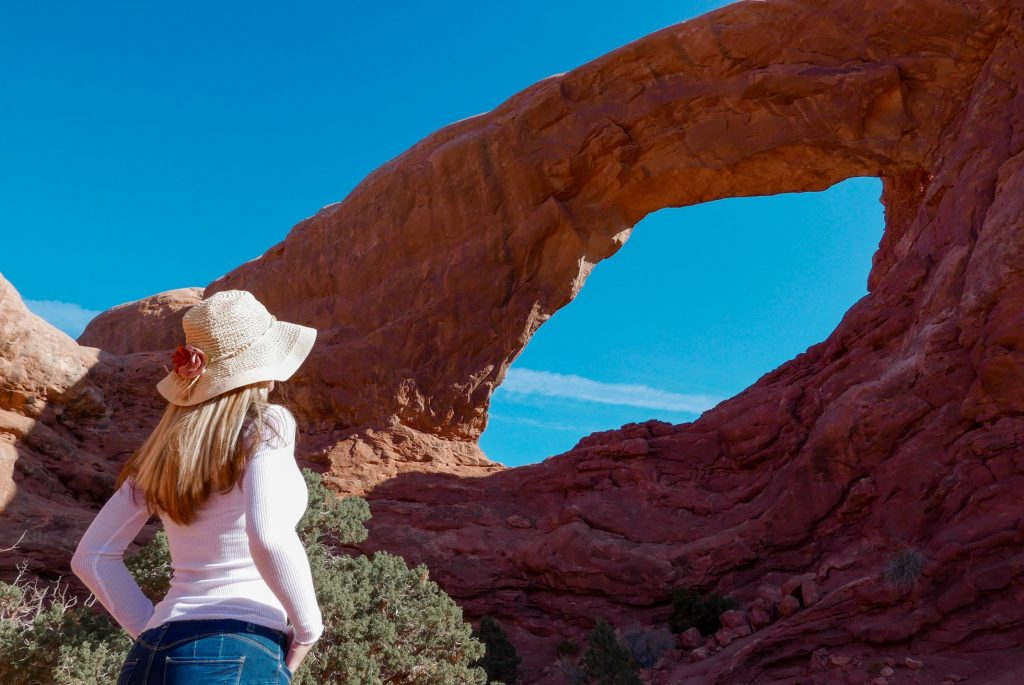 4. Delicate Arch from afar
If you don't have time or if it is too hot to hike to Delicate Arch (especially in summer months), you can also take the short option. It is not nearly as glorious as the feeling when you stand beneath the giant rock, but at least you can say "I've seen it". For this option, park at the Delicate Arch parking area and take the short trail to a long-distance look at the Lower Delicate Arch Viewpoint.
5. Random rocks and empty road sections
My favorite photos were actually taken on the empty road (see handstand photo in the end of this post) and random rocks by the road. My advice is: go with the flow, enjoy the moment and don't do anything I wouldn't do! 😉
Other useful tips
How to avoid the crowds in Arches: Arrive early, before the sunrise. It's not just about the crowds waiting in lines to pose in front of the arches. It's also about the crowds waiting to enter the park. I've heard people wait over 1 hour to enter the park during the day in peak season.
Stargazing: Another option to avoid the crowds is overnight camping. Arches is one of the best spots in the world for stargazing. On a clear night, you can see bright stars just about anywhere in the park.
Park hours: the park is open 24/7, but the entrance stations usually operate from 7 am to 5 pm, depending on the season. Which doesn't mean you cannot enter the park earlier. 😉
Water and toilets: you can fill up your water bottle at visitor center. Toilets are located also en route so you should be fine for the day.
Mobile phone coverage is VERY BAD, so try not to get into trouble and don't count on uploading Instagram and Facebook stories in real-time. Just relax and enjoy your time there – social media can wait! 😉
Pets are allowed in some areas. You may walk your dog at Devils Garden, around parking lots and along roads, but NOT on hiking trails and overlooks. And please don't leave your dog in the car, especially in the hot summer months!
Don't climb on arches! Although you can see some photos with people climbing on the arches, it is NOT allowed. To make sure you don't do that, park rangers are quite active, so don't mess with the rules. Respect the nature, use marked trails and leave this beautiful yet fragile scenery for the generations to come.
Drones are not allowed. Thumbs up for that!
Check the rest of my photos in my Facebook album (followers welcome 😉 )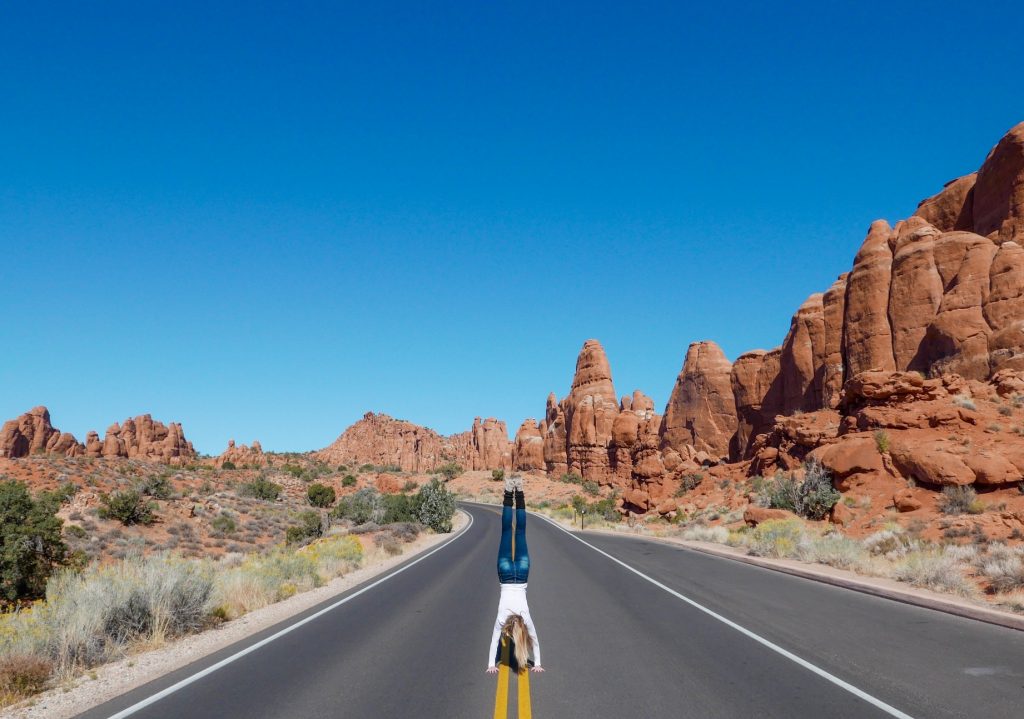 Have you visited Arches National Park before? Did you go all the way to see the Delicate Arch? Did I miss anything else? Scroll down and leave me a comment!