In the past couple of years we have been trying to avoid summer heat and crowds in popular tourist destinations, so a road trip to Baltic countries was something waiting to happen. Lithuania, Latvia and Estonia are all a part of European Union, however they still sound a bit exotic to most of us (speaking from Slovenian point of view). Probably that has a lot to do with all three of them being a part of former Soviet Union and the fact that they are always being addressed as "Baltic", putting them altogether in one basket. Which proved to be totally unfair. All three countries are fantastic, and each one of them has a lot to offer. Baltic road trip is a must for those who are seeking for something unconventional with a touch of Europe, Russia and Scandinavia.
Itinerary
We started our Baltic adventure in Poland because Slovenia offers direct flights to Warsaw at very reasonable prices. We rented a car there for 12 days and our Baltic itinerary was following:
Poland – Lithuania coast (Klaipeda, Palanga) – Latvia coast (Liepaja, Kuldiga, Riga) – Estonia (Parnu – Tallinn – Narva – Tartu) – back to Latvia (Bauska and Cesis) and Lithuania (Siaulai – Kaunas – Vilnius) – returning to Poland and spend the last day in Warsaw.
Quite a lot for 12 days, huh? 😊 But we are used to this kind of road tripping and except for all-inclusive resorts we cannot stay in one place for too long. In the end this itinerary proved to be quite doable, and we also had one day left to return to Klaipeda – our favorite spot. Of course, we could have stayed longer in Riga, which is fantastic, and we also didn't see much of Tallinn and Vilnius, but on the other hand we checked 3 new countries from our bucket list and we pretty much got a quite good impression what Baltic is all about.
If I wanted to share with you everything we experienced during our Baltic road trip, I would need a couple of days to put it all together, and I am sure no one would read it, so I am just going to highlight five things to see and visit in each country plus some practical tips for everyone who is interested in Baltic vacation, following our itinerary.
Getting there and around
A lot of people from Europe take their RV and drive all the way to the north, but if you are limited with time, I suggest flying to one of the capitals instead (all three have good connections, unfortunately that doesn't apply to Slovenia) and rent a car there. It is good to know that none of the countries have highways (with the exception of Kaunas – Vilnius road) and speed limit outside of the cities is 90 km/h. The roads are relatively nice and if you are not a speed junkie you should do just fine. The countryside in all three countries is really nice and calm, with a lot of green meadows and forests, and you will also see some storks which are quite photogenic.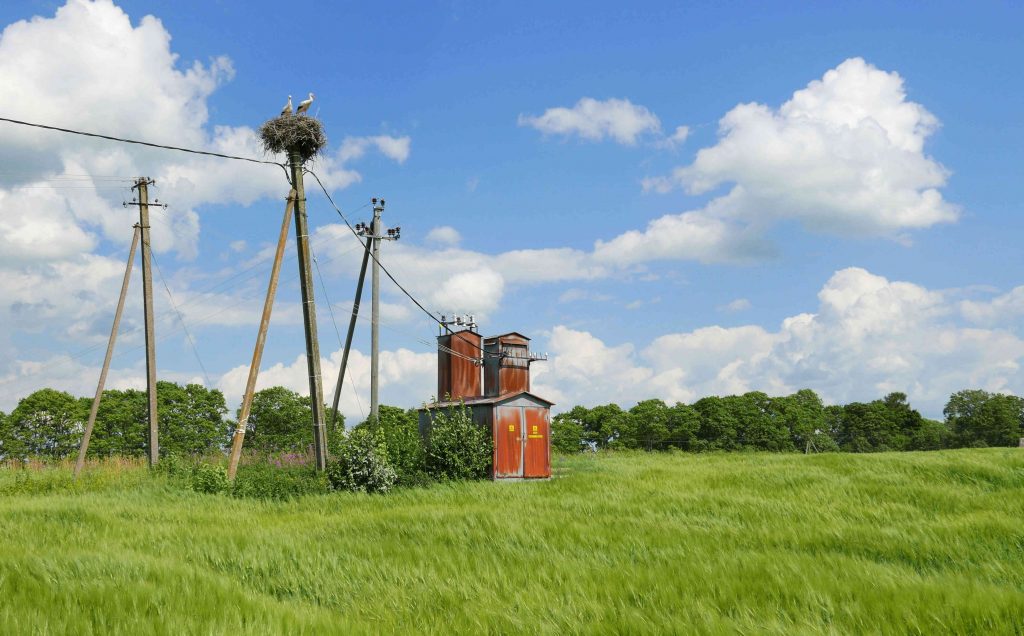 Accommodation
There are plenty of choices in all the places we visited, and of course it all depends on your daily budget. Coastal towns are slightly more expensive, so it might be a good idea for you to book some rooms in advance. Since we didn't know how our road trip would turn out (also because of the weather which could change our itinerary the other way around), we booked all our hotels on the road, practically a couple hours before arrival. No problems whatsoever. Average price for a decent 3-star hotel was around 70€ (2 person /w breakfast and parking space) and you will find the best values on Booking.com – click here to get a 15€ discount for your next booking (you are welcome). Or you can try with Airbnb, again you can get 30€ travel credit if you sign up and book with Airbnb through this link.
Food and shopping
Ah, Baltic food! I fell in love with their food the first day we arrived to Klaipeda. Smoked fish on every corner – you can buy it as a snack or you can eat it properly with some potatoes which is also very popular in Baltic cuisine. My second favorite was Soljanka soup – this is actually a Russian dish, but they prepare it in different styles. All of them include the "remainings of the day" like vegetables and pieces of different meat, plus they add a spoon of sour cream to make it even more yummy. Baltic beer is also fantastic, especially dark brands – I am not a beer lover but I had a bottle of one every day.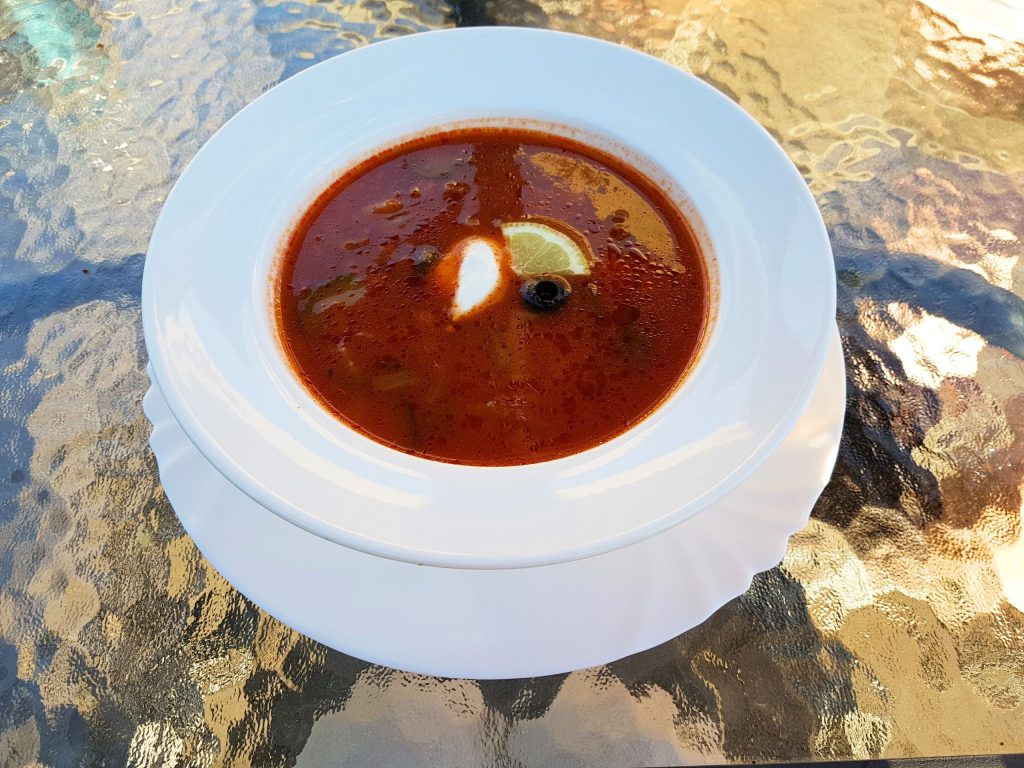 There are a lot of shops, from small groceries to big supermarkets on almost every corner, so no worries if you want to make your own meals or buy snacks for the road. I especially loved Kaunas mall with huge food corner and aquarium with sharks, which is quite impressive. It is also the biggest shopping mall in Baltics. The prices are similar to ones in Slovenia (by the way all three countries use EURO currency), so no worries in having to squeeze your wallet too much. But to be honest, it would be a sin not to eat outside because the food is really fantastic – after all you are on vacation and no one is counting the calories, right?
Baltic Sea and Weather
"Will I be able to swim in Baltic sea?" was my main concern. Well, I didn't, because it was too cool for me. But don't mind me, I am a pussy when it comes to cold. I need at least 24 °C water temperature to get wet. A lot of other tourists were swimming normally – if I can use this word at all. Because Baltic coastline is so shallow you can hardly get a decent swim. Unless you go to some wild places, which we didn't. I'd say water was around 18 – 20 °C max, and since the outside temperature was never too hot (from 22 – 26°C , which is actually perfect for me!), I didn't even have the need to "dive in" (I am still laughing by using this word when it comes to Baltic sea).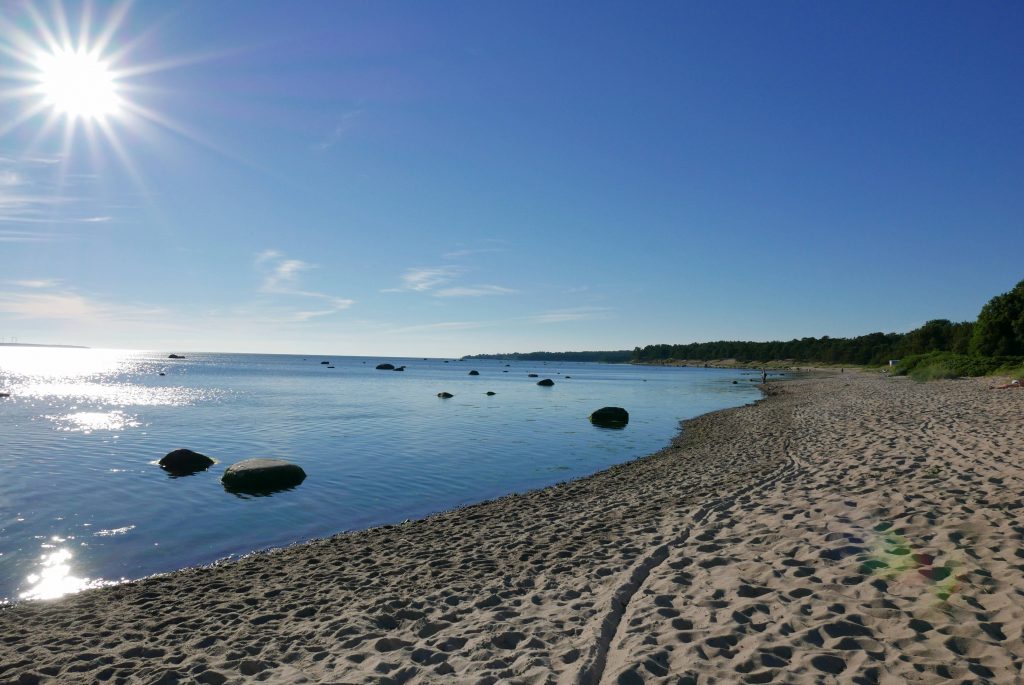 The fact that Lithuania, Latvia and Estonia are located in north continental area makes them quite cool throughout the year, so unless you don't mind wearing warm clothes, I suggest you visit them during summer. The weather is really nice – it was supposed to be very rainy, but we somehow got lucky and didn't witness even a drop throughout our entire vacation. I still suggest you to take an umbrella and some sweaters and socks for the cooler evenings.
What to see in Baltic countries
In short: really nice old towns, a lot of greens and lakes, loooong sandy beaches, beautiful castles, windmills and combination of different architecture – a mixture of medieval, Scandinavian, Soviet and modern styles. I believe that about sums up the tips from our Baltic adventure, and if you need to know anything else, feel free to scroll down and drop me a comment. You can read about 5 places to see in Lithuania here, and 5 places to see in Latvia here. I will post Estonia highlights soon as well. So stay tuned and follow my Facebook profile or Instagram profile for updates. 😉